Chemdog #4 Seeds
Your go-to source for information on growing Chemdog #4 seeds, including strain properties, medical benefits, and vital cultivation tips.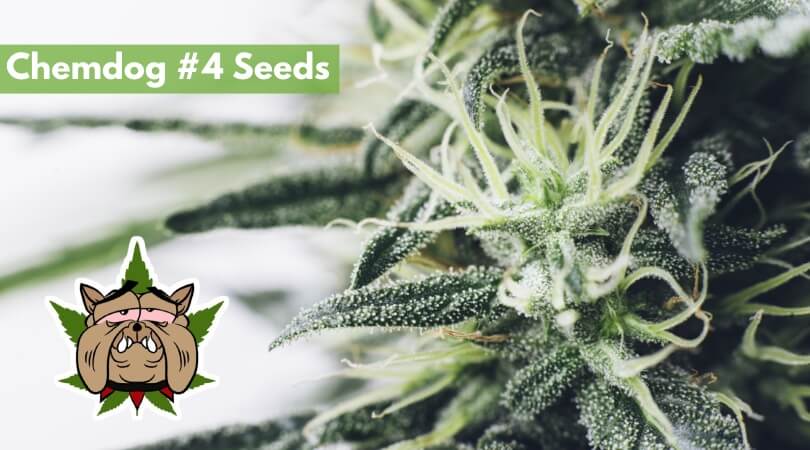 Chemdog #4 (also spelled Chemdawg #4) is a descendant of the legendary Chemdog lineage, offering experienced growers a high THC concentration, robust terpene profile, and outstanding yields. The phenotype is an indica-forward hybrid that delivers balanced sedating effects perfect for enjoying at night or combating chronic pain. Chemdog #4 seeds are difficult to cultivate; however, our guide will give you all the information you need to produce a successful harvest.
Our Chemdog #4 strain review dives into the iconic strain's cannabinoid and terpene content, physical properties, what to take into account when growing, and where to find Chemdog #4 seeds online. If you are an experienced grower looking to add an indica-dominant strain to your next harvest, Chemdog #4 is an advantageous option.
Chemdog #4 Seeds – Strain ID:
Type: Indica-Dominant Hybrid
Cannabinoids: 18-26% THC
Terpenes: Caryophyllene, limonene, pinene, myrcene
Effects: Relaxing, pain relieving, stress reducer
Landrace Strain: Thai and Nepalese Sativas
Grow Difficulty: Difficult
Harvest: 8-9 Weeks / 9-11 Weeks
Yield: 600-750g/m2
Height: Up to 7ft tall (2.13m)
(*Indoor / *Outdoor)
The Best Chemdog #4 Feminized Seeds in 2023:
• 26% THC
• Harvest: 8-9 Weeks
• Yield: 450-550g/㎡
• Shipping Discreetly Worldwide
• Germination Guarantee
• Free Seeds With Every Order
Prices
• 3 Seeds – $29.39
• 6 Seeds – $54.24
---
About Chemdog #4 Seeds
Background
Chemdog #4 is one of the most highly demanded parentage lines of North American-bred cannabis. The history of Chemdog #4 is among the many examples of marijuana lore created because of the black-market trade. Greg "Chemdog" Krzanowski, the infamous creator of the family, solidified the strain in cannabis history; however, the genetics are unknown. The mystic around the origins of Chemdog #4 continues, but most experts agree that the cultivar is a product of the original Chemdog and sativa strains from Thailand and Nepal.
Today, Chemdog #4 is a highly sought-after phenotype for consumers and veteran growers due to its potent effects and unique flavor profile. While the strain is difficult to cultivate, the rewards are abundant. If you are looking for a challenging yet highly marketable strain with strong designer cannabis genetics, Chemdog #4 is an unparalleled choice.
Follow our growing guide to ensure you understand the requirements necessary to experience the cultivar at its full potential.
Growing Chemdog #4 Seeds
As we've mentioned, growing Chemdog #4 seeds is a challenging task. The plants are susceptible to mold and require precise temperature and humidity control. If you don't have access to a ventilated grow environment, we don't recommend attempting to produce the strain.
While the phenotype leans on the difficult end of premium cannabis plants regarding cultivation, the process is attainable for a moderate to experienced grower. In addition, like all members of the Chemdog family, the plants are highly productive. When given the proper ventilation, nutrients, temperature, and humidity, the strain can reach incredible heights and deliver dense, resin-soaked flowers.
If you are an experienced cultivator or looking to challenge yourself, Chemdog #4 is an excellent option. In the latter case, patience is required, but the strain will help you develop your growing skills and knowledge of cannabis in general. Follow our grow guide for everything you need to know about optimizing the environment required to experience the potential of the incredible strain.
Grow Difficulty
Chemdawg #4 is a moderate to difficult strain to grow, but a successful harvest is completely obtainable if you have experience cultivating cannabis. Your plants will require a well-controlled environment with consistent temperature, humidity, lighting conditions, and proper nutrient management and pruning techniques.
Feeding Chemdog #4 Seeds
Regarding feeding, Chemdawg #4 tends to respond well to a relatively more potent nutrient plan. We recommend measuring electrical conductivity (EC) in your soil or hydroponic reservoir. Testing for EC is a more precise measurement in determining the amount of nutrients your plants have available. Chemdog #4 seeds can tolerate levels of up to 1.5EC in the vegetation stage and up to 2EC in the flowering stage.
A typical NPK nutrient ratio for each development stage is outlined below:
Seedling – 3:1:1
Vegetative – 3:1:1
Pre-Flowering – 1:3:2
Late Flowering – 0:3:3
While this plan will deliver sufficient yields and cannabinoid production, we highly recommend measuring EC to ensure your Chemdog #4 plants get enough nutrients to thrive.
Recommended Cultivation Techniques</h4
Chemdawg #4 seeds grow resilient plants that can withstand various techniques such as apical pruning, low-stress training (LST), and double cropping. While every grower has a different approach and environmental anomalies will go into play, we suggest considering the following advanced cultivation methods:
Topping – Trimming the top of your plant's main shoot during the vegetative stage to cut down on height and create two primary colas rather than one.
FIMing – Low-stress technique to create multiple colas by pinching the newest growth, leaving some behind. FIM only when your plants have reached at least three nodes.
Super Cropping – Crushing the interior of the stem restricting access to nutrients and water.
Proper Ventilation
Possibly the most essential aspect of growing Chemdog #4 is proper ventilation, especially when grown indoors or in low-humidity greenhouses. Our recommended low-stress techniques will help increase airflow and prevent mold.
Optimal Growing Conditions and Climate
Chemdawg #4 requires a well-controlled environment with consistent temperature, humidity, and lighting conditions to thrive. In terms of temperature and humidity, it is extremely important to carefully maintain an optimal range, ensuring healthy plant growth and development. The strain is highly reactive to moisture and temperature; becoming careless for even a few days can ruin your entire crop.
We recommend keeping the temperature around 70°F-80°F (21°C to 27°C) and the relative humidity (RH) level between 40% to 50%.
Your growing medium is also vital to developing your Chemdawg #4 seeds. The strain can be grown in soil and paired with a screen of green (ScrOG) set up to help control the plant's growth and increase yield. It is crucial to choose a high-quality soil mix and provide the plant with proper nutrients and water to support healthy development.
A well-controlled and consistent growing environment ensures optimal healthy development. While this is true for all cannabis strains, Chemdog #4 is particularly sensitive and has a far less margin of error. While the cultivar can be a challenge, the result is well worth the effort for experienced cultivators.
Flowering Time
Chemdawg #4 has a flowering time of 9-10 weeks and is ready for harvest in late September or early October (when growing outdoors). During the flowering stage, it is crucial to provide your plants with proper nutrients, a strict watering schedule, and lighting to support healthy growth and development. In addition, you must monitor your plants closely for any issues, such as pests or diseases, and address them promptly.
Proper management of the flowering stage is vital for producing premium flower. With the proper techniques, dedication, and attention to detail, you can maximize the yield and potency of your Chemdawg #4 plants.
Yield
Under the right conditions, Chemdawg #4 will deliver exceptionally bountiful yields. Indoor grows can expect to pump out around 650-750 grams per square meter, while plants outdoors can produce up to 700 grams each. Chemdog #4 plants are known to have big, bushy leaves and massive internodes packed with dense, conical-shaped resin-covered buds.
It is important to note that the yield of Chemdawg #4 plants can be affected by various environmental factors such as temperature, humidity, lighting, and nutrients. Therefore, adhering to best-growing practices and our recommendations is essential to maximize the yield of the plants.
The yield of Chemdawg #4 plants can vary significantly depending on the environmental conditions and your commitment levels. With the right techniques and attention to detail, you can maximize the yield and potency of your Chemdawg #4 plants.
Height
Chemdawg #4 seeds have the potential to grow into towering plants, exceeding heights of 7 feet outdoors and 3-4 feet when grown indoors. The height of your plants is dramatically affected by various environmental factors, such as lighting, grow space, temperature, and humidity, as well as your pruning techniques.
We highly recommend considering the above-average height of Chemdog #4 cannabis plants during the planning process. Your grow environment needs to be adaptive to taller plants. Ensure you utilize proper pruning techniques to help control the height of the plants; this will stabilize development and optimize the yield and potency of the harvest.
Resistance to Pests and Mold
Chemdawg #4 is relatively resistant to pests but can be quite prone to mold and mildew due to its lush leafage. To prevent the development of these issues, it is essential to periodically trim and prune the plants to allow for better airflow and apply adequate light to the lower nodes and leaves. Comprehensive light exposure is one of the best ways to help prevent moisture buildup and reduce the risk of mold and mildew.
Proper ventilation and humidity control can also help prevent the development of mold. We do not recommend growing Chemdog #4 outdoors if you are in an excessively humid climate. Even in the drying and storage phase, we recommend being mindful of humidity levels.
Consistent monitoring and measuring your environment is the only way to prevent damage to your Chemdog #4 plants and maximize the yield and potency of the buds.
Strain Description and Properties
Chemdog #4's Bag Appeal
Chemdog #4 seeds deliver exquisite, visually stunning flower that continues to captivate cannabis connoisseurs around the globe. The bright green leaves and blazing orange pistils are covered in an overload of glistening trichomes. Each nug is tightly packed and will leave a coat of sticky resin in its wake.
The complex aroma of Chemdog #4 is best described as citrusy or even like Pine-Sol. The limonene terpene dominates the cultivar's scent but is complimented beautifully with a subtle hint of fresh pine and diesel for an invigorating and genuinely unforgettable fragrance.
Chemdog #4's high terpene concentration also contributes to its strong and distinctive flavor. The cultivar's aroma translates seamlessly on the tongue as a tangy, citrusy taste with a pungent, earthy finish.
Cannabinoid Potency in Chemdog #4 Seeds
Chemdog #4 is known for its high levels of THC, which can exceed 25% in the right conditions. Successful grows deliver high total cannabinoid content with relatively substantial amounts of CBD, CBG, and CBN. High cannabinoid producers like Chemdog #4 produce an excellent, highly marketable flower. In addition, you can utilize the high concentration of cannabis compound for extraction in products like oil, dabs, tinctures, and edibles.
Dominant Terpenes Found in Chemdog #4 Seeds
Chemdog #4 is known for its unique and abundant terpene profile. A premium harvest of the strain will produce terpenes limonene, caryophyllene, myrcene, and pinene, four of the most sought-after aromatic oils in the commercial cannabis industry.
Effects of Chemdog #4 Cannabis
The Chemdog lineage is a highly coveted family in the cannabis community. Every member is known for its potent effects, beloved by recreational and medical users alike. Chemdog #4 is no exception. But while most of its congeners lean toward sativa characteristics, Chemdog #4 is an indica-forward hybrid.
Truly balanced hybrids are difficult to come by, but the Chemdog #4 strain comes pretty close. The high starts as an invigorating cerebral ride that transitions into relaxed full-body effects. You will gradually notice the shift from a heady high into a deep state of relaxation and sedation. Chemdog #4 is a great nighttime strain but won't put you down immediately after consumption. The sedating effects take 45 to an hour to kick in, giving you plenty of time to enjoy the high before going to sleep.
Medicinal Properties of Chemdog #4 Seeds
Chemdog #4 has various medicinal properties that make it helpful in treating a range of conditions. As we mentioned, the cultivar works well for relaxation and enjoying a higher quality of sleep. The sedating properties also make Chemdog #4 an excellent choice to combat pain, relieve stress, and potentially treat muscle spasms.
Adverse Effects of Chemdog #4 Weed
Like all strains of cannabis, Chemdog #4 can cause negative effects when consumed in large quantities or by individuals sensitive to THC. These effects may include dizziness, paranoia, and dry mouth and eyes. Therefore, starting with a low dose and gradually increasing your consumption is essential to find the optimal dosage for your individual needs.
Pros/Cons of Growing Chemdog #4 Seeds
Pros
Complex pungent odor
Sedative and relaxing effects
Highly marketable lineage
Exceptional THC content
Diverse terpene profile
High yields
Cons
Difficult to grow
Susceptible to mold
Watch: Chemdog #4 Indoor Grow
The Best Chemdog #4 Feminized Seeds in 2023:
• 26% THC
• Harvest: 8-9 Weeks
• Yield: 450-550g/㎡
• Shipping Discreetly Worldwide
• Germination Guarantee
• Free Seeds With Every Order
Prices
• 3 Seeds – $29.39
• 6 Seeds – $54.24
---
Main Category Page:
Cannabis Seed Index
– A curated index of the world's best cannabis seed strains. Each review contains vital information, such as cultivation tips, strain profiles, and where to buy the best cannabis seeds.