Best Feminized Marijuana Seeds
2023 Best Sellers and Most Popular Feminized Cannabis Seeds Reviews.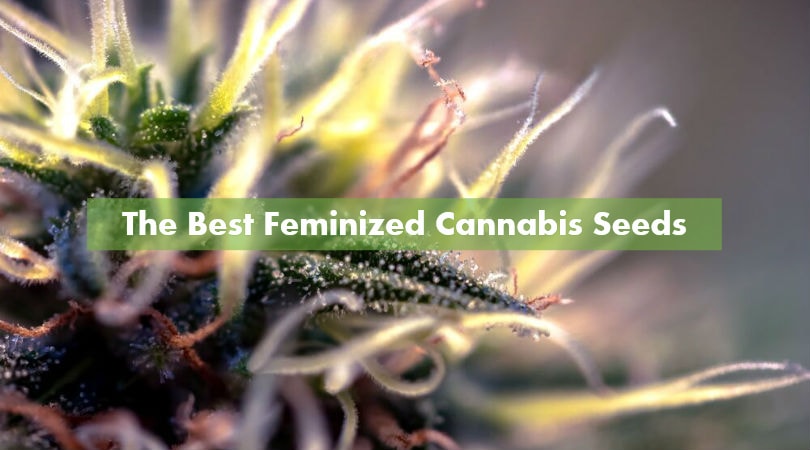 Feminized cannabis seeds take a lot of the guesswork and frustration out of growing successful marijuana plants. This is because they're guaranteed to only produce female marijuana plants, so you won't have to worry about male plants popping up and ruining your batch if you don't separate them in time. You'll just get a nice harvest of dense, sticky buds.
This gives you a much better return on your investment than regular marijuana seeds, because with feminized seeds 100% of the light, nutrients, and effort that you put into growing the plants results in a harvestable product, whereas with regular seeds only about half of your work pays off in the end.
The feminization process for weed seeds is accomplished by essentially breeding two female-dominant plants together. This is possible because marijuana plants are not always strictly male or female, each plant has the ability to produce flowers of either sex under the right conditions. So, to eliminate the male chromosomes, breeders take a female plant and put it under stress by interrupting its light cycle or using other techniques until it produces male flowers, which they use to fertilize another female plant.
After a few rounds of this, the male part of the plant will essentially be gone, and all plants grown from these seeds will be female.
In the early days of feminization, there were issues with this process producing plants that were more prone to hermaphrodity, since that was a characteristic of the female plants they were "convincing" to turn male, but that problem has since been rectified by using more feminine plants subjected to more stress to produce the feminized seeds rather than less feminine plants subjected to less stress.
Now, when you buy from any reputable merchant, you can be sure that your feminized seeds really will produce only female plants.
This list will outline some of our favorite feminized seed varieties. Try them out one by one, or buy a mixed pack to grow a wide variety at once.
The Best Feminized Cannabis Seeds in 2023
---
Mango dates back to the 1960s and has been going strong ever since! It's still a favorite feminized weed strain in 2023 and for good reason. This weed has high THC content and initially puts users into a happy, euphoric mode. You'll be looking at the brighter side of life while on this amazing high! Then you'll come down off the cloud on this cannabis strain and feel relaxed. Get set to rest your mellow self on the couch and unwind for a few hours.
Looking for a sweet tasting strain? Mango delivers one of the best flavors. The mango taste is a strong one, and it even smells like the yummy tropical fruit. Escape to paradise! For growers, the Mango feminized seeds will deliver you a good yield within just 8-10 weeks. The big size of the red and purple buds will amaze you! You can grow it indoor or outdoor, which makes it a very versatile marijuana plant.

---
Indica dominant strain with an amazingly high THC content of 18-22% to give users a strong high and body buzz.
Green Crack is a highly potent blend of Afghani and Skunk that will knock your socks off. Besides its strong effects, it is also an incredibly prolific plant, with average indoor harvests being as much as 600 grams per square meter. This strain is fairly new, but it already has a cult following – and even a celebrity endorsement from Snoop Dogg himself!
Now, how many strains can say that? The spacey strain has flavorful notes of citrus and spice that will leave you wanting more. Be careful though, especially with less experienced users, because a little really does go a long way. This plant is strong and quick growing, but will often require trellising, so make sure to be prepared for that while growing.

---
Feminized Bubba Kush is a high yield, high THC indica strain that produces a relaxing high effect. It is a cross between Bubble Gum and Original Kush.
Bubba Kush's long lasting high will keep a smile on your face. Its sweet, earthy flavor will welcome you into a full body stone. This is a great strain for recreational relaxation use or for medical purposes like relieving pain, reducing stress and anxiety, or combatting insomnia.
Whenever you just need to settle in and relax, a few puffs of Bubba Kush will have you well on your way to a quiet, content night in no time. This strain is easy to grow either indoors or outdoors, has a flowering period of 9 weeks on average, and can produce up to 400 grams per square meter when grown indoors, or up to 500 grams per square meter when grown outdoors.

---
If you want bar-none the best feminized landrace indica seeds, look no further than Mazar-i-Sharif.
The Mazar-i-Sharif seed strain is a legendary variety that hails from Afghanistan and offers cannabis cultivators a glimpse into what a pure indica looks and feels like. The Mazar seed strain is perfect for beginners and grows into small plants that produce rock-solid buds in no time.
Although the best bag appeal will be realized indoors, the Mazar-i-Sharif seed strain is a hardy cultivar that can withstand the rigors of the outdoors. After as little as 8-weeks, you'll find a hefty harvest of some of the best weed the old world has to offer.
The flowers of Mazar-i-Sharif smell like dank licorice, hashish, and pungent skunk. The Mazar-i-Sharif seed strain produces an overture of mouth watering flavors, such as pine sap, black pepper, and hints of sweet licorice.
The effects are resoundingly indica-dominant, such as sleep inducing and extremely relaxing. Furthermore, the Mazar-i-Sharif seed strain is known to produce bouts of the munchies. Don't miss out on one of the best feminized marijuana seeds in a lifetime.

---
Another one of the best feminized strains is Sour Diesel. It has a much more pleasant flavor to it than the name might suggest, with pleasant notes of fruity citrus. It does have a slight aroma of diesel, but not in an unpleasant way. It can't be that bad, anyway, since Sour Diesel is quite possibly one of the single most popular strains in the world right now.
The first 3 weeks or so of flowering will result in immense growth in this plant, and flowers will be mature within 10 weeks. It is best grown indoors by growers with a moderate amount of experience, this is not necessarily a beginner-friendly strain, but once you can master it it will definitely pay off.
The sativa shines through in Sour Diesel's spiritual and uplifting effects and 18-26% THC. This is a cerebral strain that will go straight to your head.

---
There's a reason why cannabis cultivators worldwide hunt non-stop for feminized Girl Scout Cookies seeds. The reason is simple — the Girl Scout Cookies (GSC) seed strain pumps out nothing but fire.
Loaded with some of the West Coast's best genetics, the Girl Scout Cookies seed strain exhibits the dankest qualities that indoor and outdoor growers could ever hope for. From High Times-quality buds to irresistible terpenes — it's no reason why celebrities flock to the Girl Scout Cookies seed strain.
Overall, Girl Scout Cookies seeds grow into medium-sized feminized beauties that excel in SOG or ScrOG methods. After 8-10-weeks, cultivators will be warmly greeted with a massive yield of outrageously sticky buds.
The real kicker of the Girl Scout Cookies seed strain lies in its terpene and cannabinoid profile. From dank dough to nose-curling spice, Girl Scout Cookies flowers are as good as it gets.
As for the effects, prepare your mind and body for a tidal wave of indica-dominant sensations, such as sedation, body-numbing relaxation, breathtaking euphoria, and so much more.
If you're ready to buy the best feminized seeds that the USA has to offer — look no further than Girl Scout Cookies.

---
For the cannabis connoisseur, Chemdawg (also known as Chemdog) is a beloved strain and amongst the favorites to grow too. The feminized seeds are easy to grow and have a high yield, but that's not the only reason why Chemdawg is amongst the best cannabis around in 2023. It's also very potent – so be careful if you're a newbie! This weed strain has high THC levels (19-22%), so it'll knock you off your feet and set you on couch mode.
Your body will feel heavy on Chemdawg, and its cerebral effects are tough for other marijuana strains to beat. Your head buzz will leave you feeling happy and relaxed from head to toe. As for the taste, Chemdog has a sourness to it and citrus notes, like lemon. You'll also get a bit of spiciness and pine. The smell will probably remind you of diesel fuel. The euphoric high might keep you coming back to the feminized strain, or maybe it's the way it helps you deal with stress or takes away your pain if you're a medical marijuana user.

---
Whether you're an adrenaline junky or need the extra motivation to get the ball rolling, it's time to meet Durban Poison — your soon-to-be favorite sativa-dominant feminized seed strain for your indoor or outdoor cannabis garden.
The Durban Poison seed strain is a full-blown sativa that hails from Durban, South Africa. Known for its electrifying high and ease-of-growth — the Durban Poison seed strain is an unforgettable masterpiece that deserves a spot in your garden.
Although easy to grow, Durban Poison seeds produce tall plants that take over 10-weeks to flower. However, your patience will be rewarded with gorgeous green buds that smell and taste like sweet cinnamon, anise, and licorice. Also, did we mention that the Durban Poison seed strain yields a massive amount of bud?
As for the effects, who doesn't like to smile for hours on end? The Durban Poison feminized seed strain is known to produce bouts of laughter, "trippy" sensations, and a boost in energetic creativity.
Whether you're a sativa lover or not, the Durban Poison seed strain always wins hearts and minds with its award-winning characteristics. If you're ready to buy the best feminized sativa landrace seeds in the USA — there's no better choice than Durban Poison.

---
When you won't settle for anything less but the best weed — look no further than planting Jack Herer feminized seeds in your garden for the 2023 growing season.
The Jack Herer feminized seed strain offers legendary status weed for growers of all skill levels. Although Jack Herer plants grow taller than average, you can utilize a number of training techniques to manage her rapid growth.
After 9-10-weeks, the Jack Herer seed strain offers ounces and ounces of top-shelf and award winning buds. From bottle-size flowers to snow-like trichome coverage, the Jack Herer seed strain is guaranteed to impress.
The flavor and scent of the Jack Herer feminized seed strain is composed of sweet floral sap, tropical fruit, and pine. The effects are ideal for day and night use, thanks to Jack Herer's hybrid composition.
Whether you need a jolt of energy or a boost in happiness — the Jack Herer seed strain has you covered. If you've been waiting to buy the best feminized cannabis seeds that money can buy, look no further than Jack Herer.

---
Chocolope is a throwback to the chocolate strains of the 80's, with all of the pleasure you seek in 2023! If you've got a sweet tooth, you'll want this one that tastes of yummy chocolate. You can pick out hints of coffee and earthiness in the flavor too if you try. For growers, the weed seeds are easy to cultivate, flower within only about 63-70 days, and have a high yield potential. During harvest, you'll notice a strong fruity or diesel fuel smell.
When using this cannabis strain, you will probably feel dreamy and euphoric. Many people say they are also more energetic and happy while on it. For medical users, Chocolope is one of the best feminized strains for dealing with depression, fatigue, and stress. When you're buzzed on this marijuana, you'll feel optimism and motivation you might not have felt for a while. You'll still have a clear head, which is great if you want to get stuff done instead of being on couch lock the whole time. No wonder it's a multi-award winning weed strain!

---
The best feminized seed list for the 2023 growing season wouldn't be complete without an absolute masterpiece such as White Widow.
The White Widow seed strain proves itself year after year, from outdoor gardens to indoor grow operations. However, what makes the White Widow seed strain the best of the bunch?
Overall, you can't go wrong with White Widow's ease-of-growth, predictable growth structure, and High Times' Cannabis Cup winning bud quality. In a matter of 8-weeks, the White Widow seed strain pumps out deeply resinous buds that contain delicious terpenes and body-rocking THC.
The terpene profile of the White Widow feminized seed strain exhibits classic flavors and scents, such as pine-infused diesel, hops, and pleasant baking spice. The effects are the perfect mixture of indica and sativa that'll jump-start creativity, increase relaxation, and provide hours of bliss.
Whether you're a beginner or professional, White Widow feminized marijuana seeds are a must buy for the 2023 growing season.

---
If you have a soft spot for deliciously potent weed — look no further than White Cookies feminized seeds. Once you grow the White Cookies seed strain, you'll always find yourself reaching into the cookie jar for an unforgettable treat.
The White Cookies seed strain is by far one of the best feminized hybrids to date. Known as a dessert strain — White Cookies seeds grow into magnificent plants that'll make any new cannabis cultivator feel like a green thumb.
In other words, the White Cookies feminized seed strain is easy-to-grow and produces High Times-grade buds within 9-weeks. For the best results, we recommend growing this crystal-coated beauty indoors under ample lighting.
The aroma and flavor is exactly why you'd expect from a Cookies hybrid — layers of cookie dough, baking spice, and pungent fuel that'll knock your senses silly.
The effects of White Cookies are outrageously potent and produce a wide variety of sensations, such as relaxation, euphoria, and happiness. However, too much of the White Cookies seed strain may result in body-numbing and sleep-inducing effects.
If you're ready to indulge in one of Cali's best genetics — look for White Cookies feminized seeds for sale in the USA today!
---
Super Silver Haze is an indoor growing only sativa seed strain that is moderately challenging to grow to maturity. It has a flowering time of 7-9 weeks, and a moderately high THC content that produces a creative type of high in users.
Super Silver Haze is a clone of a not one but two time back to back winner of the Cannabis Cup. For that reason alone, we think it's worth a try. Super Silver Haze will give you a full body stone but also awaken your mind which makes it a great strain to share with friends for a night of intellectual conversation.
You don't need a lot of space to grow Super Silver Haze, but it does grow quite tall so make sure you have enough vertical clearance in your grow space. The height of this plant can give successful growers up to 500 grams of product per square meter during harvest.

---
Cannabis cultivators worldwide should always have a heavy-hitting indica strain in the garden. If you've been searching for the best indica-dominant hybrid that checks all the boxes — look no further than Purple Kush feminized seeds.
The Purple Kush seed strain embodies the Kush family in every regard. From its compact stature to its unbelievable trichome coverage, the Purple Kush seed strain is a legend in its own right.
However, Purple Kush seeds aren't easy to grow. Instead, the Purple Kush seed strain needs an abundance of TLC to ensure a heavy harvest that'll make a seasoned grower blush.
With a bit of effort, cannabis cultivators will be amazed by the Purple Kush seed strain's lavender buds that scream top-shelf.
The terpene profile is complex and offers profoundly pungent aromas and flavors, such as cacao-infused hashish, star anise, cardamom, and sweet floral accents. The effects are indica in the extreme, such as pure couch lock, relaxation, and euphoria. In other words, the Purple Kush seed strain wipes away all bad feelings and offers hours of positive vibes.
If you're ready to experience one of the best feminized cannabis seeds in the world — Purple Kush seeds are the golden ticket.

---
This golden marijuana strain looks beautiful and has a high potency, which combines to make it one of the best feminized cannabis strains in 2023. Golden Nugget has an herbal, fruity smell and tastes earthy and spicy, with hints of sour and sweet left on your tongue. A cultivator of this weed strain will know that the feminized seeds grow into huge budded plants with a golden color in only 63 days and can bring high yields.
The newbies better watch out as Golden Nugget delivers a big hit! It's the marijuana strain you'll want to take for a buzz that's second to none. Your buzz will be intense and strong, which is why so many connoisseurs are drawn to it. The THC level can be as much as 22-24%, so now you know what we're talking about! You'll want to have a tolerance built up before trying this weed. Feel an energized high, motivated, and ready to take on the world! For medical users, Golden Nugget has pain management qualities and is a good choice for a daytime high because you won't feel tired on it.

---
If you've been searching high and low for the best feminized cannabis seeds for the 2023 growing season — meet Blueberry Widow.
The feminized Blueberry Widow seed strain is an indica-dominant Beauty and The Beast. From gorgeous purple and blue hues during growth to massive buds covered in resin — the Blueberry Widow seed strain will have you hypnotized from start to finish.
In our opinion, the Blueberry Widow seed strain has it all — fast flowering times, ease-of-growth, mouth-watering terpenes, sky-high THC content, and an abundant yield.
The aroma and flavor are filled with delicious accents of ripe berries, hashish, and an overwhelmingly sweet floral fragrance. The effects are notably indica-based with sativa-like qualities, such as profound relaxation, euphoria, creativity, and a sense of wellbeing for hours on end.
Bred for beginners and professionals alike, Blueberry Widow feminized seeds are clearly one of the best picks for the 2023 growing season. If you're ready to experience a true femme-fatale of a cannabis strain — look no further than Blueberry Widow feminized seeds.

---
Category Pages:
If you have come this far, you are probably still looking for your favorite seeds…
Fortunately, we have reviewed dozens of other varieties of cannabis seeds of different types that can significantly suit your needs!
Best Places to Buy Marijuana Seeds Online in 2023