Buying Marijuana Seeds in Mexico 2021
What You Need to Know About the Laws on Using Cannabis and Cultivating Cannabis Seeds in Mexico
Mexico has a long and extensive history with cannabis and cannabis seeds, but a lot of what you know is probably wrong. This country is continuously the source of rumor and speculation surrounding cannabis and cannabis use, but there is more to Mexico's relationship with cannabis than meets the eye. Whether you are a Mexican citizen, or you want to know what vacationing in Mexico means for your cannabis use, we have created this insider guide to teach you everything that you need to know about marijuana in Mexico. We are going to break down everything from smoking cannabis to cultivating cannabis seeds, so read on to learn what you need to know!
Best Online Seed Banks for Buying Marijuana Seeds in Mexico 2021:
Mexico's Extensive History with Cannabis and Cannabis Seeds
The history of cannabis in Mexico stretches all the way back to the 16th century when hemp was first introduced to Mexican farmers by Spain. Like many other countries, Mexico quickly determined that using hemp to create industrial items like rope and more was a great option that made it possible to create a variety of products for sale. After Mexico declared complete independence from Spain, growing hemp became less common since Spain had been the one primarily funding the efforts.
Traditional cannabis use happened throughout its introduction to Mexico, and the cultivation of cannabis seeds continued on. Some people were known to use it for rituals, while others enjoyed its recreational and medical benefits. By the late 1800s, cannabis use and the cultivation of cannabis seeds was largely prevalent and considered to be a fairly normal practice. Many sought the comfort of cannabis, as well as the benefits that it could bring to those in pain or suffering in any way. For this reason, it was commonly used by the impoverished as well as soldiers within the country.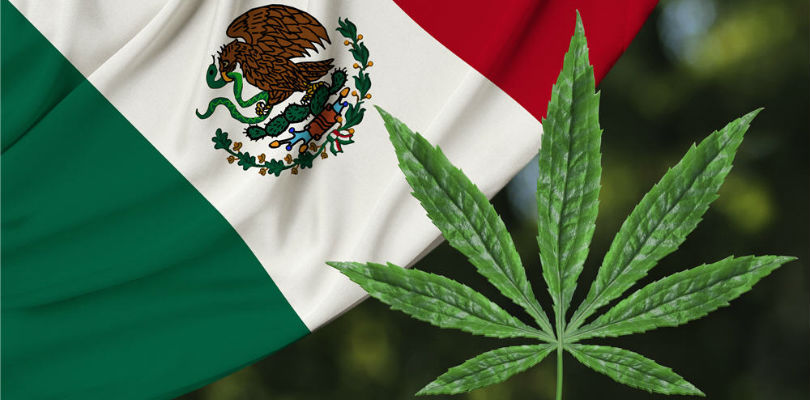 Over time, the view of cannabis within Mexico began to change. Stories that it made people disorderly and contributed to crimes being committed in local areas began to spread, and a stigma began to be applied to cannabis use and cannabis users. In 1920, the Mexican government chose to act on these rumors and banned the use, production, and sale of cannabis within the country. Seven years later, in 1927, Mexico took this a step further by also placing a ban on the export of marijuana as well. Nearly fifty years later, the United States personally attempted to contaminate marijuana fields in the country, hoping to stop the production and use of it near the border, which only resulted in contaminated products being brought into the United States instead.
Cannabis was illegal in Mexico for nearly a century before the push for reform began. In 2009, Mexico decriminalized cannabis, making it acceptable for an individual to have small amounts of cannabis that could reasonably be for personal use. Under this change, individuals found with less than five grams of marijuana would be referred to a rehabilitation center instead of being charged or arrested.
In 2015, the Mexican Supreme Court ruled that members of a pro-cannabis group called SMART (Society for Responsible and Tolerant Use) would be allowed to legally grow their own cannabis using cannabis seeds and could use the byproducts. In this landmark event, it was determined that barring individuals from personal consumption of cannabis or the growth of cannabis seeds was unconstitutional, causing a demand for immediate reform. This was followed by the 2017 ruling that completely legalized medical marijuana containing less than 1% THC, and the 2018 ruling that it was unconstitutional to legally prohibit the use of recreational cannabis use or the cultivation of cannabis seeds. This ruling made it impossible to be charged for cannabis use, which has led to current reform efforts built around making marijuana completely legal and accessible.
Mexican Laws Surrounding the Purchase and Use of Cannabis and Cannabis Seeds
Cannabis has been more or less legalized in the country, though the Mexican government is still hammering out the details regarding what this actually means. For now, we know that the average individual is not going to be charged for the possession or use of cannabis or cannabis seeds within the country, assuming that there is no reason to believe that they might working to export cannabis. For now, much of the hang up regarding marijuana sale within the country is built around waiting on the laws that will define the actual Mexican cannabis industry.
Currently, cannabis users can feel good about the fact that they can enjoy their cannabis use in peace. As long as you are enjoying your cannabis in a private setting and acting responsibly, you can rest assured that the police will have no interest in your use. In fact, with the 2018 Supreme Court ruling, it is commonly accepted that even if you were to be charged, you could have charges dismissed by citing the ruling itself. Since personal use has been completely decriminalized already, it is unlikely that any officer of the state would have a reason to bother you.
The Supreme Court ruling did not only address the use and purchase of cannabis, but also the cultivation of cannabis seeds. Since it was determined that prohibiting the cultivation of cannabis was unconstitutional, you are unofficially free to grow your own cannabis seeds at home for personal use. While this is all happening within a bit of grey zone, it seems likely that this complete freedom will persist after the actual laws surrounding recreational marijuana use and possession go through. Though it is unlikely that they are going to rescind many rights, the details about what will and will not be considered legal have yet to be determined. Currently, the new bill is set to be released by April 30th, 2020.

What Marijuana Charges in Mexico Look Like
Marijuana charges in Mexico are really up in the air right now because they are impossible to enforce for the average person. Since it was deemed unconstitutional to prohibit the use of cannabis or the cultivation of cannabis seeds, being formally charged for marijuana simply isn't a reality. There is an understanding that the charges can simply be thrown out citing these recent rulings, and an even bigger understanding that reformed laws are currently on the way, which makes it unlikely for officers of the law to even attempt to press charges for the time being. Prior to these rulings, individuals found with more than five grams were at risk of fines or even jail time, but now it seems that these charges really won't hold. The only possible exception here is individuals who are thought to be exporting the drug.
Cannabis Trafficking and the Risks Involved with Cultivating Cannabis Seeds in Mexico
The laws surrounding cannabis use in Mexico are completely up in the air, but that doesn't mean that it is a lawless cannabis culture. Even though the average person won't be charged for using or possessing marijuana, there is still the matter of cannabis trafficking and the cultivation of cannabis seeds for sale. For now, it seems unlikely that you will run into trouble for cultivating cannabis seeds unless there is intent to smuggle it out of the country or commit some other nefarious act with it. You can cultivate your cannabis seeds at home, but attempting to get cannabis out of the country is likely to result in fines, jail time, and potential charges from the country that you plan on entering as well. Even if you are carrying it for recreational use, you want to keep your cannabis within the Mexican borders.
Watch: Mexico closer to legalizing marijuana
The Mexican Government and How Cannabis Laws Are Improving
The Mexican government is a perfect example of a individuals focused on legally improving the cannabis experience within a country. After it was overwhelmingly ruled that barring cannabis use or the possession and growth of cannabis seeds infringed upon the rights of the Mexican citizen, immediate demands for reform were made to rectify the situation. Of course, creating a basis for cannabis legalization from the ground up is a fairly difficult process and does take time.
The first step was to decriminalize marijuana for personal use, which the government immediately followed through on. Local cannabis advocates continued to push for a future where cannabis use and the cultivation of cannabis seeds by the individual would be a legally acceptable process, which led to the landmark ruling. At the head of this was Mexico's pro-cannabis group known as SMART, which consists of individuals who are actively pushing to see Mexican legalization on the books. Now, under this pressure and pressure by the Supreme Court, the Mexican government is taking active steps to release a bill detailing the new laws surrounding legal recreational and medical marijuana within the country. New laws have the legal age for purchasing and using cannabis set at 18.
The Local Mexican Cannabis Industry
For the time being, the local Mexican cannabis industry is largely operating on a personal basis. While future businesses wait for the release of the new laws regarding the cannabis industry, people are relying on cultivating their own cannabis seeds or purchasing from other individuals in a less formal capacity.
The Mexican cannabis industry is expected to change immensely after the bill is formerly released and has gone into effect. In fact, many groups are predicting that Mexico is going to have the top global cannabis industry after they really begin to take off. Current drafts of the bills include focuses on keeping the cannabis industry focused within Mexico, and have suggested that there will be no priority for larger companies hoping to enter the cannabis market.

Popular Strains of Marijuana That Originated in Mexico
The cultivation of cannabis has long-since been a practice in Mexico, even as the laws have changed over the years. Many strains are said to have originated in Mexico, with a great many more coming now that legalization is well and truly on its way.
Some popular Mexican strains include:
NYPD
Mexican Sativa
Haze
Trainwreck
Acapulco Gold
How To Buy Cannabis Seeds in Mexico
In Mexico, you can buy cannabis seeds from local peddlers and some Mexican seed banks. The quality of these cannabis seeds may vary, so it is important to make purchases from places that you can trust. If you plan in cultivating cannabis seeds, you need somewhere reliable that can guarantee quality and Mexican seed banks are not always the best option since the laws are still being developed. Fortunately, there are plenty of great seeds banks that ship to Mexico. We personally recommend MSNL and Crop King Seeds. Both companies offer discreet shipping and accept multiple payment types.
The Cannabis Culture in Mexico
Mexico's cannabis culture has shifted in many ways over the years. As recently as 2008, studies revealed that only a small percentage of Mexican citizens approved of cannabis use or wanted to see it legalized. However, in recent years, likely in response to the ongoing global legalization of cannabis, that approval rating is up over 30%, and is continuing to trend up. For now, plenty of cannabis users live within the country and have been a part of efforts to make Mexico a more marijuana-friendly country in recent years.
Common Slang for Marijuana in Mexico:
Even though many people are still coming around to the idea of cannabis in Mexico due to the country's extensive religious roots, there are still enough cannabis fans to warrant a call for unique words related to cannabis. Whether you are looking to purchase cannabis as a visitor or you just want to understand the graffiti in a public bathroom, we wanted to share some common terms.
Pachequear—The act of getting high
Sabanas—Rolling papers (to smoke cannabis)
Mota—Marijuana
The Future of the Mexican Cannabis Industry
For now, the future of the Mexican cannabis industry is still being decided, but it looks overwhelmingly favorable. Since the bill is set to be drafted by the end of April in 2020, it seems likely that Mexican citizens will have more answers regarding the actual laws surrounding cannabis use and the cultivation of cannabis seeds. For the time being, it is simply a waiting game. Fortunately, Mexican citizens can enjoy marijuana and freely cultivate their cannabis seeds while they wait for the details to be hammered out.
Parent Page: Buy Cannabis Seeds Online
Best Online Seed Banks for Buying Cannabis Seeds in Mexico 2021:
Watch: Can Legal Marijuana Stop Mexico's Drug Cartels? | The Stream
Best Places to Buy Marijuana Seeds Online in 2021