Buying Marijuana Seeds in Spain 2021
What's Legal? Your Guide to the Laws on Cannabis Seeds in Spain.
If you are planning a trip to Spain or live there permanently, you may be curious about he cannabis laws in the country. If so, you've come to the right place! Here's everything you need to know about the laws that govern growing, using, possessing, selling, and buying cannabis seeds in Spain in 2021.
Best Online Seed Banks for Buying Cannabis Seeds in Spain 2021:
Overview of Spanish Law on Cannabis Seeds
Over the years, Spain's cannabis laws had started becoming more relaxed, with private use and cultivation for personal purposes being decriminalized. Spain has many independent regions and, therefore, different areas have their own weed laws. For example, the cannabis laws in Madrid differ from Barcelona. Certain places (like Barcelona) even allow the existence of cannabis clubs that buy cannabis seeds and cultivate the plants for people to come and enjoy in exchange for a membership fee.
Over the past few years, however, the laws governing possessing and using marijuana, as well as growing and buying cannabis seeds in Spain have started moving backwards. The Law on Public Safety, which was passed in 2015, is one example of how Spanish cannabis legislation has regressed. It increased the severity of penalties for consuming and possessing cannabis, as well as growing cannabis seeds in Spain. This controversial law tripled the minimum fine for cultivation, consumption, and possession of cannabis.
The Spanish Constitutional Court also joined the fray, ruling that regional parliaments can't govern the activities of cannabis clubs unless the overall penal code is modified. This leaves the cannabis clubs in a legal limbo where they're considered legal by the regional government, but are viewed as illegal by the Spanish government. No matter where or how you do it, if you choose to enjoy cannabis in Spain, please take the laws seriously and be discreet in order to stay safe!
Of course, the backwards movement of the cannabis laws doesn't mean that nobody will buy cannabis seeds in Spain. According to a 2017 survey conducted by The Telegraph, roughly 9.2% of the Spanish population partakes in cannabis. The country has a cannabis black market that is fairly lucrative, even though if they're caught and prosecuted, the participants are subject to fines and other penalties by law. In fact, it was due to an effort to contain and reduce the size of the illegal trade that legal authorities moved to increase the severity of cannabis laws.
Laws on Using, Possessing, and Buying Cannabis in Spain
The public consumption or possession of cannabis is illegal in Spain, even if it wasn't grown to be sold on the illegal market. The lowest fine is 601 euros, with more serious offenses being fined as much as 30,000 euros.
That being said, cannabis is technically legal if consumed in private areas, as per the Spanish Criminal Code. So, the laws has a public versus private consumption distinction. It's this part of the law that the cannabis clubs point to in order to defend their legality. So long as their members aren't purchasing cannabis from them, but simply enjoying the crops grown by the club as a collective and partaking of the cannabis in private, the clubs insist that their activities fall within the letter of the law.
Altogether in 2021 Spain has about 800 marijuana clubs or associations, with around 200,000 members. Most of the clubs set a minimum age for people so that minors are not allowed to be members. In order to join, you have to have an address in Spain. You also need to have a referral from a current member. This differentiates them from the well-known Amsterdam cannabis coffee shops that are open to the public.
Watch: Barcelona's Cannabis Culture | The New York Times
Although using cannabis in public is prohibited by Spanish law, residents and tourists still do it there. It is common to see people smoking weed in public bars and clubs, as well as out in the streets in many of the cities in Spain. This activity is especially true on Friday and Saturday evenings.
Usually, the law enforcement officers there overlook the public use of cannabis as it is a low priority for them. You are more likely to get a warning than be charged for public weed consumption there, although you should know that the officers are well within their legal rights to charge you for using. Especially with the increase in the fines, you are definitely taking a risk if you consume marijuana publicly in Spain.
You will notice under Spanish laws that it does not make separate laws for recreational and medical marijuana, the way that the U.S. and many other countries do. Often people there who want to use cannabis for medical reasons go to the Spanish private clubs. As the doctors in Spain are not allowed to write prescriptions for medical marijuana to their patients, many of these people seek out the private clubs to get their relief.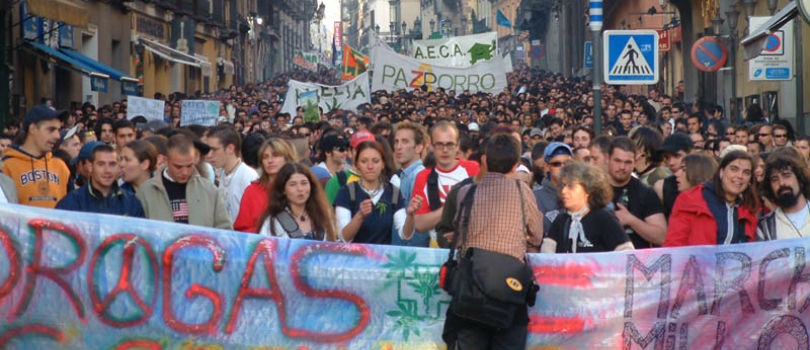 Buying Cannabis Seeds in Spain
As of 2021, buying cannabis seeds in Spain is not illegal. Of course, always do a check of local laws for anywhere you'll be traveling or staying because cannabis laws tend to change rather quickly.
Spanish Seed Banks
Since marijuana is somewhat legalized within the country, there are a variety of Spanish seed banks within the country. These popular clubs and civilians need trusted places that they can look for in order to obtain high quality cannabis seeds. Fortunately, the country has plenty to offer when it comes to cannabis seed banks, which makes it easy for the right people to obtain their seeds to begin cultivation. When it comes to cultivating cannabis plants, you will still want to make sure that you are adhering to Spanish law, but there are plenty of options available.
Seed Banks That Ship to Spain
If you want to buy cannabis seeds in Spain and you are the kind of person who is looking for more discretion when it comes to your cannabis habits, going to an actual seed bank might not be what you are looking for. Fortunately, there are a variety of online seed banks that ship to Spain, making it easy for Spanish citizens to receive high quality cannabis seeds without ever having to leave the house. You can rest assured that no one will know that you are cultivating your own cannabis products, and many of the shipping options offer quick delivery, which is ideal for getting to growing in no time!
While there are many online seed banks, we recommend these choices in 2021, in order of preference, for users traveling or residing in Spain:
1. MSNL marijuana-seeds.nl in London, UK, has been around since 1999 and ships globally. It has great service and good reputation, credit cards and Bitcoin accepted.
2. Crop King Seeds – Ships top-notch seeds worldwide straight from Canada. Excellent service and support. Credit cards and Bitcoin accepted.
3. Sensi Seeds – Ships across Europe and is based in The Netherlands. It began in 1985, is well thought of in the cannabis community, and accepts credit cards, bank transfer, and cash payments.
Growing Cannabis Seeds in Spain: What is the Law?
A few interesting facts about growing cannabis seeds in Spain: there are several growers in the country, which has a favorable climate for the crop. You can buy cannabis seeds in Spain or online, as we explained earlier. Also, Spain is one of the biggest entry points for weed seeds grown in Morocco.
However, as with using cannabis publicly, growing cannabis seeds in Spain is illegal if it is done for the purpose of trafficking. As for the smaller grows, the cultivators are not usually charged as they are a lesser concern for law officials than the big commercial operations.
If you want to plant, cultivate, and grow cannabis seeds in Spain, you will find the kinds of penalties you risk getting to be the same as for possession and use. Cultivation is illegal, with fines between 601-30,000 euros, depending on the seriousness of the offense. For minors, they have the legal option to choose a rehabilitation program rather than a fine for the sentence.
Is Selling Cannabis Legal under Spanish Law?
Under Spanish Criminal Code in 2021, the selling of cannabis in Spain is illegal. If you grow cannabis seeds with the intention to then go sell your crop, you are breaking the law. Trafficking cannabis is illegal.
Now you have the up-to-date information about buying cannabis seeds in Spain, as well as cultivating, using or possessing weed there in 2021. If you travel to Spain, always check local laws for any changes to ensure you are following them and please – be responsible.
Parent Page: Buy Cannabis Seeds Online
Best Online Seed Banks for Buying Cannabis Seeds in Spain 2021:
Watch: The Booming Business of Cannabis in Spain
Best Places to Buy Marijuana Seeds Online in 2021