Buying Marijuana Seeds in Italy 2023
Laws on Buying & Growing Marijuana Seeds in Italy. Growing Tips, Recommended Strains, and the Best Seed Banks That Ship to Italy For the 2023 Growing Season.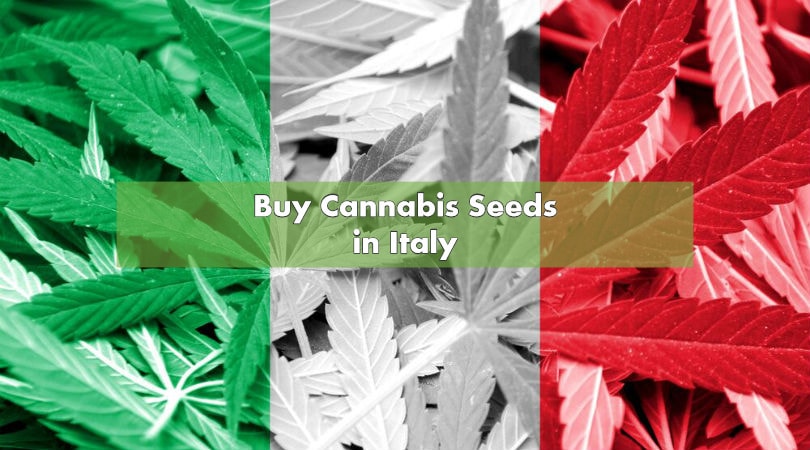 In Italy, the legality of marijuana use and possession of cannabis seeds has changed a lot over the years, and in its current state, it can be pretty confusing to residents and tourists.
Changes in Italy began in 2013 when the country legalized medical marijuana. Patients can get a medical marijuana card from a doctor and then fill their prescriptions at a local pharmacy. At the time, buying cannabis seeds and growing them, even for medical purposes, was still illegal.
Then in 2016, a new law regulating industrial hemp production made it legal to sell "cannabis light." Regulators initially allowed up to 0.6% THC but have since scaled back to the EU standard of 0.2%. However, all CBD forms still fall into a grey area because the Supreme Court held up the illegal status in 2020. However, Italians still have access to CBD products online and in retail stores nationwide.
Thankfully, in February of 2023, the Italian supreme court ruled that growing a small number of cannabis plants at home for personal use shouldn't be considered a crime. The decision opened access for medical and recreational patients and a new, emerging seed market in Italy.
If you live in Italy and want to grow your own cannabis from seed — read along and discover the best seed strains to grow in Italy, top-rated seed banks that ship to Italy, and lastly, regulatory cannabis laws.
Best Online Seed Banks for Buying Cannabis Seeds in Italy 2023:
Herbies Seeds [Read Review]:
The Booming Spanish Online Retailer. Shipping Discreetly Worldwide. Bitcoin and Credit Cards accepted.
In a Nutshell — The Legality of Buying Marijuana Seeds in Italy
If you want to grow weed that'll make you say "mama mia!" — you'll need to buy cannabis seeds from a reputable local or online seed bank.
However, Italy has a wide variety of cannabis laws that will make or break your experience. Here's a summary of the most important laws regarding cannabis use and cultivation in Italy:
Recreational cannabis is decriminalized
Medical marijuana is legal (although limited)
Hemp (<0.2% THC) is legal
Buying and growing cannabis seeds is legal
Now that you know the basics of the legality of buying marijuana seeds from seed banks in Italy let's dive into the topics that you want to know about before growing weed seeds in Italy.
Growing Cannabis Seeds in Italy
Although Italy is a small country — it exhibits a wide variety of climates that affect cannabis growers.
When to Sprout Cannabis Seeds in Italy
To foreigners, Italy is a Mediterranean climate. However, this is only partly true. The Northern region of Italy is incredibly cold — especially below the Dolomites.
Alternatively, the South is considered prime cannabis growing territory — as it reflects a genuine Mediterranean climate.
Overall, you can germinate cannabis seeds in Italy between March and May.
Issues to Consider When Growing Marijuana Seeds in Italy
If you're growing marijuana in Italy, you must consider the following issues:
Law enforcement
Thieves
Sudden weather changes
Pests and disease
Tips for Growing Cannabis Seeds in Italy
If you're ready to grow the best weed imaginable, you must read these three tips for growing cannabis seeds in Italy.
Buy Cannabis Seeds From a Reputable Online or Local Seed Bank in Italy
The most important aspect of growing cannabis is finding the right seed strain.
By buying marijuana seeds from a reputable seed bank — you'll have an incredible growing experience.
Buy Cannabis Seeds for Your Regional Climate in Italy
As we mentioned above, your local climate determines which strain is best for your garden.
If you live in the high North — you may benefit from a fast-flowering indica. If you live in the South — your seed strain options increase. Remember, you'll always find a wide variety of cannabis seed strains at a top-rated seed bank.
Plan Your Cannabis Garden in Advance
Always plan your cannabis garden.
Even if your cannabis seeds arrive faster than expected from the seed store — do not germinate them until your indoor or outdoor garden is up and running.
Which Marijuana Seed Store Is the Best Option For Italian Residents?
Now, let's take a look at the two options for buying cannabis seeds in Italy.
Local Cannabis Seed Stores in Italy
For a while, the only true Italian seed banks Italy had to offer were run by the Italian military. However, now that cannabis seeds and small-scale cultivation has been legalized, there are more options in Italy, although they are still very limited.
The changes to the legal status are still new, and the free market is catching up, so while you can likely find a seed bank in Italy, they won't likely have the selection or quality of more established retailers in Europe.
Online Cannabis Seed Banks That Ship to Italy
Seeds have been illegal in Italy for decades, but that hasn't stopped people from growing marijuana or online seed banks from shipping to Italy. Now that the government has given the green light to home cultivation, you won't have to worry about getting a ticket for having seeds or plants, but access is still a challenge.
Buying cannabis seeds online is still the best option in Italy. Because the legal market is so new, there isn't much competition. So your best bet remains buying from a reputable online retailer.
When it comes to online seed banks that ship to Italy, our favorite choices are MSNL Seed Bank and Herbies Seeds.
Recommended Cannabis Seed Strains to Buy From Online Seed Banks and Grow In Italy
Now, let's take a peek at three top-shelf seed strains that you can buy at a seed bank and grow in Italy for the best results possible.
AK-47 Feminized Seed Strain
If you're looking for a sativa-dominant powerhouse — look no further than the easy-to-grow AK-47 Feminized seed strain.
The AK-47 seed strain is renowned for its ability to flower within 8-weeks to produce trichome-covered buds like no other. Furthermore, AK-47 is tolerant to "chilly" conditions, which makes it the perfect seed strain for Northern Italian growers.
Bruce Banner Feminized Seed Strain
Whether you grow weed indoors or outdoors in Italy — Bruce Banner is an ultra-potent cannabis seed strain that's beyond easy to grow.
Notable for its short flowering time, massive yield, and sky-high THC content — the Bruce Banner seed strain is a must-have variety for the 2023 growing season in Italy.
Acapulco Gold Feminized Seed Strain
If you live in the South — you have an abundance of warm sunshine.
Therefore, why not splurge and grow a full-blown sativa seed strain? Not only is the Acapulco Gold seed strain adapted to humid environments, but it performs incredibly well in hot climates.
The Acapulco Gold seed strain is the epitome of sativa genetics and produces extremely psychoactive buds that'll have you laughing away at the beach for hours on end.
Cannabis Possession and Italian Law
The history of Italian law regarding drugs, including "soft" drugs like cannabis, has been rocky.
When the Fini-Giovanardi law was passed back in 2006, it swept away the line between how the law dealt with hard and soft drugs, stiffening the penalties associated with marijuana to be more in line with cocaine.
Then, in 2014, that law was deemed unconstitutional by the Constitutional Court, and the law returned to its older state.
Currently, the Italian government considers 1.5 grams the limit for personal use. So if you are caught with less than a gram and a half, you have nothing to worry about. However, you could be subjected to a small fine if caught with a small amount multiple times.
The Legality of Growing Marijuana Seeds in Italy in 2023
Farming cannabis is currently illegal in 2023; a person found to be growing cannabis seeds in Italy may incur criminal sanctions that rival those for sale and trafficking.
However, personal cultivation for personal use has been ruled not a crime by the Italian Supreme Court. So, as long as you aren't growing weed for commercial purposes, you shouldn't have to worry about prosecution.
The underground sale of illegal cannabis in Italy is going strong. There is a black market in Italy made up of Italian growers who cultivate their own marijuana. These people seek safe cannabis and reject the idea of buying pot from criminals.
Selling Cannabis and Cannabis Seeds in Italy
It is illegal to sell traditional, high-THC cannabis in Italy in 2023, but the penalty is lighter than for a harder drug, such as cocaine. Selling or trafficking marijuana can land you two to six years in prison or a maximum fine of €75,000.
Cannabis seeds are now legal to buy, sell, and grow in Italy as long as it's for personal use and cultivation is done at home.
Medical Marijuana in Italy
There are currently thousands of Italians with access to medical marijuana. Before cultivation was legalized, the only source of accepted medical weed was produced by the Military Chemical Pharmaceutical Plant or imported from Canada and the Netherlands.
Medical marijuana is only available from authorized pharmacies to patients with valid prescriptions. The cost can be as much as €38/gram, which is about ten times what cannabis would be if bought illegally on the streets. Low supply and high prices have driven many Italian medical marijuana patients to the black market.
Watch: CNN on the Debate to Legalize Marijuana Cultivation in Italy
Buying Cannabis Seeds From Seed Banks in Italy
The price for weed bought in Italy is not cheap because it's so hard to find.
The average price for buying cannabis seeds from local seed banks in Italy can vary by location, from Milan being much costlier than Pisa, for example.
It's currently illegal to smoke or grow pot from cannabis seeds in Italy – even, as we mentioned above, the "cannabis light" that can be legally purchased throughout the land.
There are, of course, exclusions for cannabis purchased for medicinal use. Penalties have been greatly lightened in recent years, however, so the first offense is usually just a warning.
The cannabis light is typically purchased as a "collector's item" with a "wink, wink." Meanwhile, people explain that it is important to be discreet when a person buys seeds in Italy, maintains a cannabis garden outdoors, or grows plants indoors.
The Future of Buying Cannabis Seeds in Italy
The push continues for Italy to allow people to enjoy marijuana recreationally. While medical marijuana has been legalized along with small amounts, personal cultivation, and cannabis seeds, Italy has yet to set up a legal market like in the United States or Canada. In addition, the laws are still extremely vague, especially regarding hemp. As a result, we hope Italy can pass comprehensive reforms legalizing cannabis in all forms and clarifying precisely what is permitted and what is banned.
If you're ready to buy and grow cannabis seeds for the 2023 growing season — your best options are between two top-rated seed banks that ship to Italy — MSNL Seed Bank and Herbies Seeds.
Parent Page: Weed Seeds for Sale
Best Online Seed Banks for Buying Cannabis Seeds in Italy 2023:
Herbies Seeds [Read Review]:
The Booming Spanish Online Retailer. Shipping Discreetly Worldwide. Bitcoin and Credit Cards accepted.
Watch: Italy Calls in Army to Grow Cheap Marijuana
Best Places to Buy Marijuana Seeds Online in 2023