Best Weed Strains For Home Growing
2021 Best Sellers and Most Popular Cannabis Strains Reviews.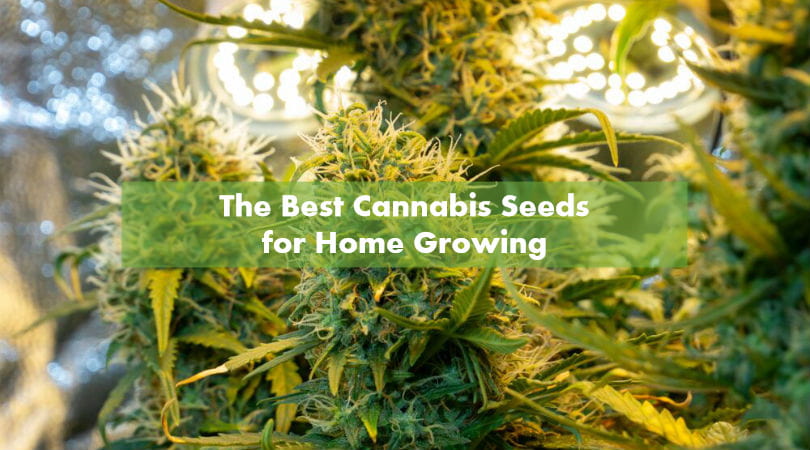 If you're a marijuana grower, experienced or not, you'll want to make sure that you seek out the best weed strains of 2021. Without the right marijuana seed, you're going to face some complications, when attempting to grow your bud. The best cannabis strains will provide you with an exceptionally high germination rate. This will help to ensure that your weed grows, without much of a struggle. Of course, this isn't the only factor that should be taken into account, when attempting to find the best cannabis seeds to buy.
Although many consumers will want to choose the most budget friendly strain, or even the best weed in the world! this isn't always a wise choice! Choosing a higher yield is more important than a cheap price for some individuals. Other consumers will suggest that the flavor and effect of the marijuana is the most integral aspects of the strain. Of course, a beginner won't be so well versed in these terms. Is indoor more suitable for your needs or would you prefer to grow your plants in an outdoor manner? All of this is absolutely vital and it may take a little bit of experience, before you begin recognizing the differentials between the strains.
The differentials do not stop there either! You're also going to need to consider the estimated flowering period! Is your strain of choice suitable for medical use? What is the precise THC content of the weed, once it has grown? Is it autoflowering? Depending on your specific experience level, you may or may not recognize these terms and phrases. This isn't too big of a problem, as long as you look for the best cannabis strains of 2021 and purchase those.
Have no fear, because we've taken the time to find and review the most popular strains of weed currently available on the market. For your consideration and convenience, here is a short and focused marijuana strain list of the best marijuana seeds on the market.
---
Wonder woman strain is derived from a hybrid plant that is capable of growing up to a medium height. The plants are extremely versatile and can be grown indoors and outdoors, as well. If you are looking for a long lasting buzz, which is intense and enlightening, you should look no further than the Wonder Woman strain. The flowering period is around 8-10 weeks, with an average yield of 450-550 g/m2 in SOG. This ensures that you obtain a massive amount of bud, without a short period of time, which makes the Wonder Woman a true wonder for all!
When smoking wonder woman, the environment will fill with a rich skunk-like aroma. This will let you know that you're about the experience an enormous high. Sit back and enjoy, because Wonder Woman will take you to new heights.
Wonder Woman
Easy
16-20%
Hybrid – Sativa Dominant
Head Trip, Body Buzz
Pungent, Fuel
8-10 Weeks
Grow Difficulty
THC Level
Indica/Sativa
Effect
Flavour
Flowering Time
Versions
---
Zensation is great for medical users looking for the best seeds for chronic and persistent pain issues in 2021. The special breeding has led to a strong Indica-dominant strain that delivers relaxation for the body and mind. All-over tranquility is the typical feeling of users of Zensation, just as you might guess from its name. It is among the most popular kinds of medical cannabis available because its provides such long-lasting, strong pain relief.
It's no wonder about the intense calming effects with the marijuana's impressive 20-24% THC levels. For the growers in the crowd, the flowering time of the best weed seeds is short at only 8-9 weeks. If growing it indoors, expect a 450-gram yield per square meter, with a slight reduction to 400 grams when growing is outdoors.
As for the taste of Zensation, you will likely notice fruity notes of cherries and other berries, as well as a pungent taste that often accompanies weed strains. The scent of cedar and juniper is appealing for many users. Enjoy the pain-free moments the Zensation Strain provide you!
Zensation
Easy
20-24%
75% Indica, 25% Sativa
Relief of Chronic, Persistent Pain
Berries, Cherries
8-9 Weeks
Grow Difficulty
THC Level
Indica/Sativa
Effect
Flavour
Flowering Time
Versions
---
The Jock Horror is an enormously popular marijuana strain, which is actually a hybrid of Haze, Skunk and Northern Light. The majority of users enjoy this variety's awkward, but ultimately fulfilling, flavor. When smoking Jock Horror, you'll experience a very strong high, which will get you on your feet! This is one of the greatest options, if you desire an up high and want an extreme burst of energy!
The plant is capable of growing to very tall heights and usually begins flowering within 9 weeks. This ensures that you get the cannabis quickly and get to enjoy it even quicker! This powerful strain is classified for medical use. Also, the yield is very good and can deliver anywhere from 350 to 450 Gr. Suffice to say, the consumer always gets their money's worth, with Jock Horror. Despite the name, this awesome strain is one of the best and offers an enhanced high, which is unmatched.
Jock Horror
Moderate
18-24%
Hybrid – Sativa Dominant
Relaxed, Euphoric
Berry, Sweet
9-11 Weeks
Grow Difficulty
THC Level
Indica/Sativa
Effect
Flavour
Flowering Time
Versions
---
#11 Hay-Z
You can be flying high with Hay-Z. As one of the most popular seeds and strains in 2021, Hay-Z gives you an intense mental high. If you're a weed connoisseur, you'll appreciate how strong it is, with 23% THC, while the less-experienced smoker will want to take it nice and slow with this tasty variety. You'll be in a positive mood and have a sharp focus on this marijuana strain. That's right, it's not so much putting you on couch lock as it is enhancing the activities of your day.
The Sativa-dominant Hay-Z has a floral scent, and its spicy flavor starts a party in your mouth. One of the best things about the cannabis seeds is its versatility when you grow it. The mature buds grow outdoors or indoors, and you can reduce the timeframe to limit the end size. Typically, the flowering phase takes just 9-10 weeks. Get ready for a super high in 2021 on one of the best seeds when you choose Hay-Z!
Hay-Z
Easy / Moderate
23%
85% Sativa, 15% Indica
Strong & Persistent Cerebral High
550-650 gr/m² Indoor
9-10 Weeks
Feminized
Grow Difficulty
THC Level
Indica/Sativa
Effect
Yield
Flowering Time
Versions
Currently Not Available
---
If you're looking for a fruity flavored cannabis strain, which is capable of getting you stoned and putting you at ease, you'll definitely want to check out the Aurora Indica. This strain is actually a mixture of the Northern Light and Afghan, which gives it the ability to be very versatile. The combination offers a great taste and will take you off of your feet!
The strain is capable of being grown indoors and out. The Aurora Indica typically stays very short, in terms of plant height. Many consumers agree that this makes it much easier to manage. Have no fear, if you've got limited growing skills, because the Aurora Indica is grower-friendly!
The average yield for this one is right around 400 to 500 gr/m2. With powerful effects and a big yield, this is one of the best weed strains on the market! This strain is brilliant, powerful and ultimately one of the top strains on the market!
Aurora Indica
Grow Difficulty
THC Level
Indica/Sativa
Effect
Flavour
Flowering Time
Versions
---
The Jack Herer is undeniably one of the best marijuana strains on the market! It is a best seller for a number of different reasons. This medical grade cannabis is an excellent option for beginners and is fairly effortless to grow. This variety of weed is capable of inducing a great stoned effect, which can help to numb pain. As far as flavor goes, Jack Herer is very fulfilling and delivers a sweet taste, which is unmatched.
Also, this strain is a perfect balance of Sativa and Indica. This is a heavy yielding plant. If you're looking for a satisfying strain, this Cannabis Cup winner will undoubtedly deliver! Truthfully, you cannot go wrong with the Jack Herer!
Jack Herer
Moderate
Up to 20%
40% Indica, 60% Sativa
Energetic, Euphoric, Creative
Earthy, Woody
7-9 Weeks
Grow Difficulty
THC Level
Indica/Sativa
Effect
Flavour
Flowering Time
Versions
---
Anyone in the industry, when asked, will list White Widow among their top best seed strains available.
It is certainly one of the most popular, well known, and critically acclaimed strains in the world.
A former winner of the prestigious Cannabis Cup, its name comes from its hearty coating of white trichome crystals that develop toward the end of its flowering period.
White Widow has been bred into several other popular strains each offering their own spin on the classic. It's an easy to grow strain that gives a great yield, but the finished product is definitely not for beginners.
It produces a very intense, strong high that comes from its 26% THC levels. It has a pungent earthy and woody flavor that gives way into a strong, cerebral high that increases energy and creativity.
White Widow is a classic for a very good reason, and deserves a special spot in any serious grower's garden.
White Widow
Easy
26%
Hybrid
Strong Sativa High
Up to 400gr Indoor
8 Weeks
Grow Difficulty
THC Level
Indica/Sativa
Effect
Yield
Flowering Time
Versions
---
Wanting that "up" feeling? If so then the Mazar strain is going to be one you want to try. It gives you a relaxing high that is strong and long lasting. No wonder we think it's one of the best weed strains in 2021! You'll likely feel sleepy too on it too, which is great if you've been having problems falling asleep lately or feeling any pain. You might get the munchies too, so prepare to have quite a day!
As one of the most popular cannabis seeds, Mazar has an earthy and fruity flavor that has some spice, heat, and sourness to it. This weed is a party for your taste buds! Yummy. It's a strong one though so go lightly – and know that your mind will be in the clouds for a while. It's a great adventure when growing Mazar seeds, which grow best indoors in high yields. Enjoy one of the best strains around.
Mazar
Grow Difficulty
THC Level
Indica/Sativa
Effect
Flavour
Flowering Time
Versions
---
If you want a trippy feeling, then Durban Poison may be the best strain for you. It is one of the most popular 2021 strains because of the "up" feeling you get with it, as well as feeling like you have so much energy! You'll be happy, euphoric, and even feel more creative than usual while you're at it. For medical use, this strain is one of the best for fighting stress and depression.
The yummy taste of Durban Poison is sweet and simple – it's a memorable flavor for sure! It'll remind you of cinnamon and yummy licorice. And the pine smell is great, without any of the funky odors you'd get in a more basic sativa. You'll like that the 2021 strain helps you focus and won't give you that tired feeling that you get with some other strains. For weed growers, you'll like that the seeds are easy to grow, with big buds, indoor or outdoor, and gives you an awesome high!
Durban Poison
Grow Difficulty
THC Level
Indica/Sativa
Effect
Flavour
Flowering Time
Versions
---
Purple Kush is a primarily Indica strain that is easy to grow either indoors or outdoors. It is famous for its distinctive purple leaves and its high THC level of over 25 percent! It's the perfect choice for when you just want to chill out, and its strong, smoky flavor will have you coming back for more and more.
While this strain is not the easiest to grow, a seasoned cannabis consumer will appreciate the strong buzz it produces in addition to its full-body sedative effects and long-lasting euphoria. In the world of medical marijuana, it has proved itself an effective treatment for pain symptoms, depression, muscle spasms or physical tics, insomnia, and anxiety. Most people report feeling primarily relaxed, sleepy, happy, euphoric, and hungry when using Purple Kush.
Purple Kush
Easy / Moderate
25.5%
Hybrid – 75% Indica
Pure Indica High
Sweet, Grape
8-10 Weeks
Grow Difficulty
THC Level
Indica/Sativa
Effect
Flavour
Flowering Time
Versions
---
For a high that is really intense, check out Neville's Haze. You'll feel in a haze alright, just like the name says, and it's a good one! The 2021 strain is one of the best for its heavy-hitting high, so it's a great choice for a cannabis connoisseur. Not so much for a beginner! The power is awesome in this weed because of its high THC level, and that's why it's amongst the most popular ones for many smokers. Want energy? You'll get it, believe us! You'll also find yourself feeling extra creative on it, and the stress you once felt will disappear.
The scent of Neville's Haze will remind you a pine cone or plant, more so than a typical strain. The spicy taste is delicious, with a bit of fruity citrus flavor to it. Think lemon line, folks. Neville's Haze won the 1998 High Times Cannabis Cup, and it's still considered one of the best around. For growers, the seeds will get you high yields over a period of about 12 weeks in outdoor conditions. Grow on!
Neville's Haze
Moderate
20-21%
75% Sativa
Powerful High, Creative, No Stress
Spicy, Citrus Fruit (Sweet & Sour)
12-14 Weeks
Grow Difficulty
THC Level
Indica/Sativa
Effect
Flavour
Flowering Time
Versions
---
Believe it or not, the white cookies strain is a genetic combination of white widow and Girl Scout cookie cannabis strains, which makes for a wonderful concoction. The seeds are cultivated indoors or outdoors, since the hybrid plant is so easy to grow. This gives you bud, without all of the trouble! White cookies strain contains 19.25% THC, which is exceptionally high and will knock you off of your feet!
The user will receive a massive body rush, which is enormously pleasing. You can put the seeds in a 5 gallon planter, since they require very little maintenance and the quick flowering time is around 9 weeks. It is capable of producing a yield of around 400 gr, if grown indoors. Overall, White Cookies is one of the greatest strains on the market and will not falter in any category.
White Cookies
Easy / Moderate
20%
Hybrid with 60% Indica
Indica Body Rush
Herbal, Smooth
9 Weeks
Grow Difficulty
THC Level
Indica/Sativa
Effect
Flavour
Flowering Time
Versions
---
For the past few years, people have been buzzing enthusiastically about Girl Scout Cookies, also affectionately called simply "GSC". Medical patients know it well, as do cannabis fans. It is one of the best and most popular strains in 2021 because it relaxes you from head to toe, as well as making you feel happy, euphoric, and even creative. Get a body buzz unlike anything else. Medically, it's most popular for helping lower stress, depression, nausea, and pain.
The name Girl Scout Cookies makes sense! It has a sweet and spicy taste like fresh cookies and even smells like the baked goods they're named after. The faint yet noticeable chocolately taste that the strain leaves behind in your mouth keeps people coming back for more. Plus, the seeds are easy to grow in almost any climate. With all of this going for it, no wonder Girl Scout Cookies has won so many Cannabis Cup awards and continues to be called one of the best marijuana strains and seeds around!
Girl Scout Cookies
Easy
22%
Indica Dominant
Happy, Relaxed, Euphoric
Sweet, Earthy
9-10 Weeks
Grow Difficulty
THC Level
Indica/Sativa
Effect
Flavour
Flowering Time
Versions
---
Blueberry Widow is again and again listed among the most popular marijuana strains of 2021. It has a sweet smell that draws you in and can also have a woodsy, sour citrus scent too. You'll think of blueberries and know just where it got its name from! As for the taste, it's a winning combination of sweet and sour that hits you first and then when you exhale you will notice the soft blueberry taste.
With Blueberry Widow, you'll enjoy some of the best, most relaxing moments ever. You'll keep smiling and feel euphoric. Stress be gone! Pain can decrease too, for anyone wanting a good medical marijuana choice. This weed can make you feel tired too so get ready to cuddle up and take a nap. You'll stick to the couch and enjoy an all-over body buzz on this strain! Are you planning to grow the colorful buds? These are the best weed seeds in 2021 for fast, big growth, especially when growing them outdoors. You'll get big yields off of this one.
Blueberry Widow
Easy / Moderate
19-22%
Hybrid
Relaxed, Happy, Sleepy
Sweet, Sour, Blueberry
8-10 Weeks
Grow Difficulty
THC Level
Indica/Sativa
Effect
Flavour
Flowering Time
Versions
---
How to Choose the Best Cannabis Seed Strain for Home Growers in 2021
Not every cannabis strain will grow the same way, or even produce the same product. There are numerous factors to consider when choosing a cannabis seed. To choose the best cannabis strain for home and outdoor growing the most important factor would be to consider the seed strain itself. Read through the guide and follow the tutorial to determine how to choose the best cannabis seed strain for your needs.
There is a marijuana seed strain that will be most rewarding for your specific home growing operation. There are strains that are best for home growing indoors, while other will successfully grow under the open skies as well. Some are harder to grow, while other cannabis seed strains will easily grow. Certain strains will grow even when subjected to an abundance of stress.
Between the three main strain types, sativa, indica and hybrid, there are many different seed options. To choose the best seed strain for home growing, read the following guide which explains the different seed types which include regular, feminized and auto flowering seeds. Online seed shops will usually have a different section for each type.
Hybrid Cannabis Seed Strains
Cannabis strains are generally categorized into two varieties – Sativa and Indica. These two varieties are often crossed by breeders to create a new strain. Crossing the two main varieties can result in a stronger strain. The new strain can have an increased yield or potency. The new strains will be sativa dominant, indica dominant or evenly balanced in sativa and indica. The hybrid strains will exhibit characteristics of both parent strains used to create the new strain
Read more: Cannabis Genetics.
Cannabis Sativa Seed Strains
Sativa plants grow taller and thinner. The buds of these plants are loose and airy. The indica plant has a flowering period that is typically 9-15 weeks. They require a longer time to flower when compared to the sativa strains.
How Sativa will make you feel:
• Energized
• Creative
• Uplifted High, Good Mood
• Happy
In short, Sativa Strains have strong brain/mind effects that will make you feel much happier while body effects are less noticeable. For that reason Sativa strains are perfect for day smokers who don't want to drop like a stone (Indica strains – Coming next). Due to lack of body effects, Sativa is not very common among medical users but can be used as natural and very effective anti depression medicine.
Browse The Best Sativa Marijuana Seed Strains.
Cannabis Indica Seed Strains
Indica plants grow short, wide and sturdy. The buds of these plants are compact and aromatic. The indica varieties typically flower sooner than sativa. The general flowering period is 6-9 weeks.
How Indica will make you feel:
• Body Buzz
• Total Body and Muscles Relief
• Sleepy
• Apathetic
In short, Indica Strains usually contain higher levels of THC and have strong body effects, It will make you feel sleepier, Heavier and less anxious (Apathetic). For that reason Indica strains are perfect for medical uses and the most common cannabis type when talking about marijuana in terms of a medicine.
Some of the Medical issues that can be treated with Cannabis Indica:
• General/Muscles/Migraines Pain.
• Sleeping Disorders
• Seizures Attacks
• Glaucoma
• Eating Disorder
Browse The Best Indica Marijuana Seed Strains.
The Many Flavors of Cannabis
One of the most exciting aspects of choosing the best strain for home growing is the flavor. There are many different flavors that each different strain will provide. Choosing a strain with your desired flavor will take the cannabis experience to new heights.
The flavors include:
• Earthy, Pungent
• Earthy, Smooth
• Fruity, Herbal
• Fruity, Fuel
• Fruity, Smooth
• Fruity, Sour
• Pungent, Fuel
• Pungent, Fruity
• Herbal, Pine
• Sweet, Sour
• Sweet, Smooth
Cannabinoids: THC and CBD
Cannabinoids are chemical compounds found in cannabis. The two major cannabinoids in cannabis plants are THC and CBD. THC is the chemical that produces psychoactive effects. These effects include changes in perception, mood and consciousness. High THC seed strains will produce a euphoric head high. Home growing THC high seed strains are often used for recreational purposes. Deciding what kind of marijuana you want for home growing will help you to choose the best cannabis seed strain.
CBD is a chemical found in cannabis that is an anti-psychotic medicinal substance. The effects experienced are noticed throughout the body. The medicinal value of marijuana comes from this chemical substance. This chemical provides therapeutic benefits. High levels of CBD are capable of enhancing the positive effects of the THC, while lessening the negative effects. THC and CBD work synergistically. To choose the best seed strain for growing you should determine if you want a seed strain high in THC, CBD – or high in both.
• Crop King Seeds Strains THC Chart
• Crop King Seeds Strains CBD Chart
Regular Seeds
Regular seeds are non-feminized seeds, they are often used for seed production. A regular seed will produce both male and female seeds.
These seeds are easily grown by beginner gardeners but require a successful sex identification in order to avoid a male plant. Regular seeds are also essential for advanced growers who breed cannabis seeds. These seeds are cheaper than feminized and auto flowering seeds.
Browse The Best Regular Marijuana Seed Strains.
Feminized Seeds
Feminized cannabis seeds have been bred to grow and mature into a female plant. They are responsible for creating buds that are actually useable. A feminized seed is capable of producing a plant with sticky buds and are good for unexprienced home growers. The plant will be a female plant in 99.9% of the cases and will produce an abundance of useable marijuana buds.
Browse The Best Feminized Marijuana Seed Strains.
Auto Flowering Seeds
Auto flowering cannabis seeds dictate the flowering time themselves, instead of the grower. For regular and feminized seeds, the grower must adjust the lighting to encourage the plant to begin flowering. The auto flowering plant will flower when it is time; no indication from the grower is required. So, for this reason beginners can find auto flowering seeds helpful. The auto flower seeds also flower sooner, when compared to other seeds, Some will flower within 35 days, this allows for multiple harvests within the same year.
Browse The Best Autoflower Marijuana Seed Strains.
Medical Marijuana Seeds
Cannabis has been known for its medicinal properties since ancient times, there are new ways to use cannabis as a medicine. Medical marijuana seeds are available to help manage a variety of ailments. Medical marijuana helps in relieving pain, stress, and is also used to combat chemotherapy side effects. There are specialized medical marijuana seed strains that you should consider when choosing which seed is best for home growing. Beginners are able to successfully grow medical marijuana with ease.
Browse The Best Marijuana Seed Strains for Medical Use.
Best Seeds Strains for Indoor Home Growing
It is possible to cultivate every strain in a grow room; there are some seeds that are best for indoor growing in particular. These seeds have been labeled best for indoor home growing due to their height potential, ability to be grown in confined spaces, as well as their vitality and potency when grown under artificial lights.
Browse The Best Marijuana Seed Strains for Indoor Growing.
Best Seeds Strains for Outdoor Growing
Growing seeds in an outdoor environment is possible as well. Indoor growing just offers the grower complete control over the elements that the seed will require to mature. Outdoor growing can be accomplished, in almost every sunny environment. Most seed strains will grow just fine as long as they receive adequate water and sun, If confidently is not an issue – The Best strains for outdoor growing are those who will result in a huge cannabis plant with massive yields amounts.
However, to choose the best seed strain for outdoor growing it is determined by climate and the seeds ability to endure the environment and thrive. The weather is not able to be controlled so, the grower must choose a strain that is able to thrive when subjected to environmental stressors. Outdoor growing is the simplest way to cultivate cannabis while Mama Nature will typically provide everything needed for the plant to mature.
Browse The Best Marijuana Seed Strains for Outdoor Growing.
Strains for Mediterranean Areas – Marijuana Strain Guide
The northern hemisphere is an ideal climate for outdoor growing. It provides a climate that all cannabis strains can be grown in.
Strains for Continental Areas
Growing outdoors in climates that are sunny and warm, in the summers, allow for the plant to flourish. Although, the humidity will need to be relatively low. Most strains can handle the continental environment.
Strains for Cool Areas
Only a few strains can survive and flower in climates where the summers are short. There are strains that have been bred to handle being grown outdoors in cooler climates. The best strain for this climate would be plants that will flower very quickly.
Conclusion
There is a seed strain that will suit your growing purpose and environment whether it for indoor or outdoor, recreational or medicinal. There are new strains available in 2021, and new strains being created all of the time. Be sure to browse the different varieties to become familiar with the different plants available. It is possible to try to grow a few different plants to see which is your true favorite, or if you prefer to have options of cannabis at your disposal.
This marijuana strain guide will provide you with the information to determine the best cannabis seed strain for home growing. The basic factors mentioned in this cannabis strain guide will lead you to the answer for how to choose the best seed strain in 2021.

---
Best Places to Buy Marijuana Seeds Online in 2021