Herbies Seeds Review 2022 – Reliable as It Seems to Be?
Is this popular seed bank really as great as it seems? Our full Herbies Seeds review has all the details.
---
Herbies Seeds, also known by its original name, Herbies Head Shop, is a highly-rated Spanish cannabis seed retailer with a huge selection. However, for all that this seed bank gets right (which is a lot), there are still a few problem areas and room for improvement. Read on for our full Herbies Seeds/Herbies Head Shop review, and discover whether this seed bank has what it takes to meet your cannabis growing needs.
Herbies History and Reputation
Herbies Seeds' track record of excellent customer service and high germination rates have earned this seed bank a positive reputation throughout the growers' community. Most reviews on public forums, as well as those left on Herbies Seeds' own website, are from satisfied customers with plenty of nice things to say about their experiences with this company. However, the areas where Herbies Seeds consistently receives negative feedback are reliability of shipping and inventory being out of stock.
Company History
Herbies Head Shop was founded in the late 2000s by cannabis experts who have, in addition to creating and operating Herbies Seed Bank, dedicated themselves to conducting cannabis research and promoting the worldwide acceptance and legitimacy of cannabis and hemp.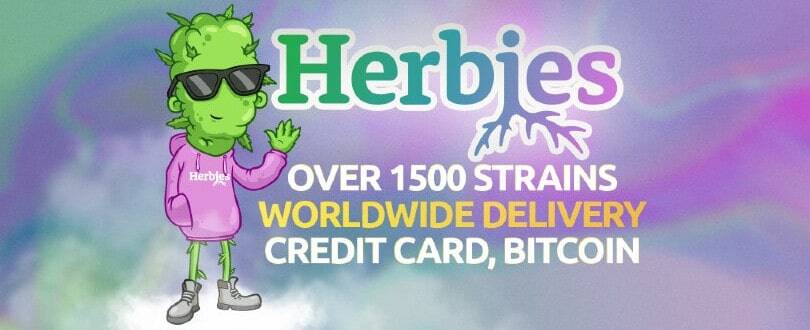 Herbies Seed Selection and Quality
Herbies Seeds carries an enormous inventory of over 2200 strains, hailing from over 120 different breeders. This seed bank stores all seeds in a temperature-controlled environment, inside durable packaging until they are ready for shipping, and every order is inspected by a quality-control manager before it leaves the warehouse. Of course, as with any seed bank, complaints about seeds failing to sprout do come up from time to time, but overall Herbies Seeds has a high germination rate.
Lack of In-Stock Inventory
However, there has been a problem with Herbies Seeds' inventory levels running low, which is certainly disappointing for would-be buyers who reach their shopping cart to the realization that only one or two seeds from their desired strain are available. Unlike most other big seed banks, Herbies Seeds does offer the option to buy single seeds at a time. So those buyers who do prefer to buy small seed quantities won't necessarily see these inventory issues as a bad thing. But this issue has caused some frustration for buyers who prefer growing large crops of their favorites.

Herbies Seeds' Germination Guarantee
Herbies Seeds does guarantee the quality of its seeds. If buyers encounter defective seeds, they are invited to fill out the Quality Control Form on Herbiesheadshop.com (within 60 days after delivery). Herbies Seeds aims to respond to all of these seed quality inquiries within 1-2 days, to determine if a seed reship is in order.
Herbies Customer Service
Herbies Seeds makes a solid effort to provide great customer service. Buyers are encouraged to contact this seed bank with questions or concerns via telephone, email, or WhatsApp. Hours of staff availability are clearly listed on their website, to ensure buyers from around the world call at the right time, though several buyers have still reported difficulty getting ahold of Herbies customer service team by phone.
Herbies Seeds also maintains a very active presence in several popular growers' forums, commenting on most posts, both positive and negative, with solutions and offers to make problems right. Considering that a number of reviewers felt inclined to revise their negative reviews after Herbies' staff intervened, it's apparent that this seed bank does place customer satisfaction high on its priority list.

Refund Policy
Herbies Seeds allows unused seeds to be returned for a full refund within seven days after the order was delivered. To be eligible for a refund, buyers must contact Herbies Seeds to formally initiate the return process, rather than simply dropping the seeds in the mail. Shipping charges are non-refundable, and buyers are also responsible for the cost of shipping returned goods back to Herbies Seeds.
Herbiesheadshop.com – Website Design and Navigation
First of all, it is worth noting that the web address for Herbies Seeds can be found at Herbiesheadshop.com, instead of at herbiesseeds, as one might assume. Herbiesheadshop.com is an attractive site with some nice features (including being mobile-friendly) and tons of useful information. Since there is so much to see, the site may feel a little overwhelming before you get a feel for how it's organized. A live chat window pops up every time you click through to a new page, which can get annoying. Though it is nice to know that help is easily accessible, should you need it.
Herbiesheadshop.com also features a helpful Glossary of Growing Terms and a blog filled with cannabis recipes, cultivation tips, company updates, sales, and more. Another nice feature of this site is the option to keep track of your favorite seed picks on a wishlist. There is also a tool that allows you to compare multiple strains side-by-side.
Creative Organization and Detail
The massive Herbies Head Shop inventory is organized into over 100 highly-specific categories to help buyers find the best weed for their intentions. These categories include desired effects (such as focus, sleep, and giggles), activities (from parties to watching Netflix), growing characteristics (including fast flowering, high yield, and low odor), strain types, best-sellers by country, and more.
Each individual product page on Herbiesheadshop.com includes close up pictures of mature plants, alongside a detailed yet easily digestible presentation of each strain's characteristics. In addition to THC levels and flavor profiles, each product page also includes growing specifics such as the best time of year to plant and how many days to expect between germination and harvest.
Prices and Payment Options
Herbies Seeds prices do run rather high, but the price per seed drops a little, the larger quantity you buy. Currently, the only payment methods this seed bank accepts are credit cards, bank transfers, and bitcoin. Cash by mail was previously accepted, but this practice was discontinued during the COVID-19 pandemic, and it is still unknown whether it will be reinstated in the future. All prices on Herbiesheadshop.com may be viewed in Euros or GBP.

Herbies Shipping Range and Stealth Methods
Herbies Seeds ships anywhere in the world from its headquarters in Spain, via the Correos National Postal Service. This seed bank aims to process every order within 24 hours of payment receipt. Orders are processed and shipped Monday-Friday, and often do arrive quite quickly – within 5 business days in Europe, 5-8 business days in the US, and 7-10 days elsewhere in the world. Unlike most other seed banks, Herbies Seeds orders bound for the United States require a signature upon delivery, and Herbies does not hold itself liable for orders refused at delivery.
All Herbies Seeds orders (excluding those sent via Airmail) include a tracking number, sent to the buyer via email upon dispatch. Buyers also have the option to track orders directly from Herbiesheadshop.com. By default, seeds are shipped in the original breeder packaging, except for pick 'n mix seeds, which are repackaged.

Stealth Shipping and Delivery Guarantee
Herbies Seeds utilizes simple, industry-standard discreet shipping methods on all orders. Seeds are sent in plain brown envelopes that read "Jiffy" instead of "Herbies Seeds." No paper receipts are included inside the envelope, and seeds are packaged inside of a DVD case. For buyers who request additional stealth, Herbies Seeds will repackage seeds into labeled Ziploc bags, instead of sending them in the original breeder packaging.
"Stealth Shipping" is Herbies Seeds' default method when shipping to countries known to intercept and open incoming parcels. If you live in one of these places, opting for the stealth option is the only way to guarantee delivery, as Herbies Seeds will not reship seeds that fail to arrive in "regular" packaging if it is requested.
Common Shipping Problems
However, Herbies Seeds' shipping process doesn't always go as smoothly as intended. Indeed, seeds taking an inordinately long time to arrive – or failing to arrive at all – is one of the most common complaints Herbies Seeds receives. Many US and Australian buyers have also had the disappointing experience of their seed orders intercepted by customs. The frequency of this particular complaint tends to raise the question of just how stealthy Herbies's shipping strategies really are.
Herbies Seeds Discounts and Loyalty Programs
To make up for its high per-seed prices, Herbies does run quite a few sales and promotions. To find the lowest prices on Herbiesheadshop.com, buyers can browse several specific "Cheap Seeds" categories. Herbies also offers a standard percentage discount on pre-shipping totals, 5% off orders over 100€, 10% off orders over 200€, and 15% off orders over 400€.
Herbies Seeds always adds plenty of opportunities to get free bonus seeds with your order. A full page of its website is even devoted to current free seed Promotions. One such long-running promotion is where every 20 euros spent earns buyers a free seed of their choice (among several approved options). Another promotions page lists all sorts of other breeder-specific percentage-off discounts and free seed deals.
Conclusion, Herbies Seeds Review 2022
We like a lot of things about Herbies Seeds. A track record of great customer service and high-quality seeds are, of course, two of the most important things to look for in a seed bank, and Herbies has both of these. However, the relative frequency of shipping problems and issues with keeping inventory in stock still prevent us from ranking Herbies Seeds as one of the very best.

---
Main Category Page
:
Cannabis Seed Banks
– Top cannabis seed banks, comparisons & reviews of the best online weed seed shops in 2022. Focused information which will help you find what you're looking for.
Best Places to Buy Marijuana Seeds Online in 2022