Buying Marijuana Seeds in Turkey 2021
What's Legal? Your Guide to the Laws on Cannabis Seeds in Turkey.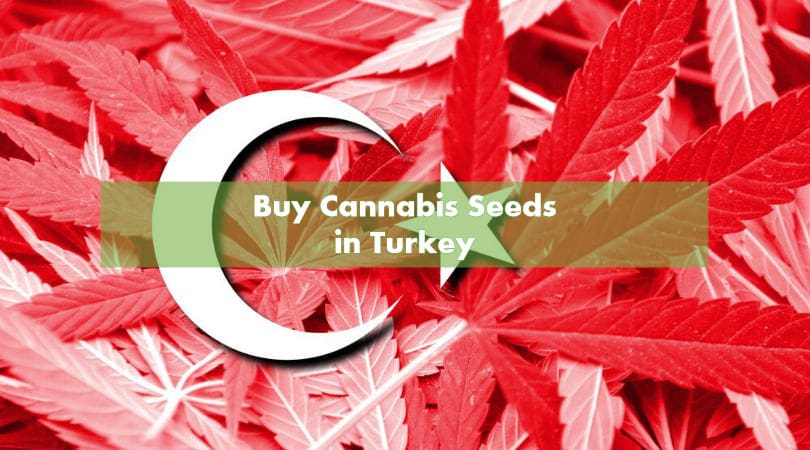 In 2021, cannabis laws still vary significantly from one part of the globe to another. In Turkey, cannabis is strictly controlled by law and has been severely criminalized since the early 1900s. Here is your legal guide on growing, using, selling, and buying cannabis seeds in Turkey, whether you live there or plan to visit.
Best Online Seed Banks for Buying Cannabis Seeds in Turkey 2021:
History of Cannabis & Cannabis Seeds in Turkey
Since 1890, cannabis and hashish have been prohibited by Turkish law. In 1925, the government intensified the criminalization of cannabis by insisting that it be part of the League of Nation's Geneva International Convention on Narcotics Control. To some people, this move was a sign of modernizing the laws in line with what the West was doing.
Cannabis Culture in Turkey
When in Turkey, you'll mostly find young people in urban areas smoking weed, growing, and buying cannabis seeds there, even though it is strongly prohibited by law. About 15-20 percent of Turkish residents are regular smokers of weed. For those who travel to Turkey and wish to be in the know, cannabis is called "esrar" or "kesh" there, while hashish is known as "toz esrar" and "kubar."
Using & Possessing Cannabis: What is Turkish Law?
Whether you're a resident or a visitor in Turkey, you cannot smoke weed in public areas under the law there. That being said, people do so frequently, even knowing it is illegal.
To stay on the safe side of the law, it's best to use cannabis discreetly in Turkey, whether you plan to purchase weed from a dealer or buy cannabis seeds and grow your own. Avoid smoking in malls and parks, which are quite visible. Examples of more private locations are at home or in a rented room.
Again, despite the fact that you may see people smoking it in public areas, it is illegal to possess cannabis in Turkey. However, some law enforcement officers can be bribed if you get caught with a small amount of weed. You may try offering the police official a $50 bribe to avoid being penalized, but you do so at your own risk.
However, if you are caught in possession of at least 12.5 grams of pot, you face a stiff penalty. Under the law in Turkey, you must attend a rehabilitation program once a week and undergo mandatory drug screenings for six months if it is your first offense. Failure to submit to the drug screenings could land you in prison up to one year. Alternately, you may choose to go to jail for one year in lieu of the six-month rehabilitation-and-drug-screening sentence.
From a medical marijuana perspective, Turkey is still fairly limited. Doctors cannot prescribe marijuana or seed options for an affected patient. However, they do allow for certain cannabis-based product options that can offer some relief of the same variety. A popular option in Turkey is Sativex. In order to get this, patients must obtain a red prescription from their doctor and can only be given in the event that more traditional methods did not help with the patient's ailments.

Can You Buy Cannabis Seeds in Turkey?
Yes. While buying cannabis seeds in Turkey in 2021 is illegal, you can still buy them there. People who live in the country frequently buy cannabis seeds in Tarlabasi. However, if you are a tourist, avoid buying cannabis seeds there, as it's not safe for you to do so there and you risk being taken advantage of by dishonest dealers.
If you are a visitor, cannabis and cannabis seeds in Turkey are available by going to tourist-friendly bars and cafes in Beyoglu and Taksim Square and asking for "esrar." Stay out of the back streets, as they can be dangerous, and do not approach strange groups as the risk of arrest can be high.
To avoid overpaying for cannabis or getting less-than-quality goods, try to go with a local when you make the purchase of esrar. If the dealer requests more than $80 for 20 grams, the dealer is trying to overcharge you.
In the event that you are not the kind of person who wants to prowl the streets looking to buy cannabis seeds in Turkey and risking getting caught by police, you might find more comfort in ordering these products online. There are currently plenty of popular seed banks that ship to Turkey and are known for their incredible quality. These online options make it easy for you to get high quality cannabis seeds in Turkey without having to hunt them down. You can enjoy convenient shipping and begin growing your own supply of marijuana in no time. While there are several shops, we recommend these seed banks as the best (in order):
#1 – MSNL or marijuana-seeds.nl in London, UK, has been around since 1999 and ships globally. It has great service and good reputation, with Bitcoin (and other crypto-currencies), credit cards, bank transfer, cash, and money orders as their preferred payment methods.
#2 – Crop King Seeds are Canadian seed breeders that ship around the world. They accept many payment methods, including convenient and private Bitcoin , credit cards, bank transfers, and cash. Each order is backed with shipping and germination guarantees!
Growing and Selling Cannabis Seeds in Turkey
The government controls the cultivation of cannabis seeds in Turkey after the passage of 2016's "Hemp Cultivation and Control of Regulations." This allows growers in 19 of Turkey's 81 provinces to grow cannabis for scientific or medical purposes. There is no provision in the law for distribution to medical patients in the country.
Interestingly, despite all of the laws that have been passed to criminalize it, evidence suggests that cannabis seeds in Turkey have been grown since 1,000 BCE. Under the strict Turkish laws in 2021, though, it is illegal for anyone besides a licensed grower to cultivate weed.
The fertile soil makes growing cannabis seeds in Turkey quite easy. Also, the climate is a favorable environment for cultivation, as is the rugged land. The most sought-after area for cultivation is Lice, which is a Turkish district in Diyarbakir Province. The region is just 1,026km. However, police seizures of cannabis plantations have been steadily increasing there.
If you buy cannabis seeds in Turkey, cultivate them, and sell the resulting product in large quantities, you risk a lengthy jail sentence. You can receive 4 to 10 years' imprisonment for selling cannabis.
Why is Turkish Law on Cannabis So Strict?
There are a few reasons for the harsh laws surrounding cannabis and cannabis seeds in Turkey. First, Turkey faces diplomatic pressure to curtail drug trafficking through the country to Western Europe and North America (starting in Pakistan and Afghanistan). Also, the outlawed PKK or Kurdistan Workers' Party is rumored to be still strong in Diyarbakir Province and heavily involved in growing cannabis seeds in Turkey.
Secondly, while the number of users of illegal drugs is small in 2021, it is growing, so the government likely wants to curb the spread of abuse of drugs. Interestingly, there is no hard drug/soft drug classification in Turkey like there is in the Netherlands, United States, and some other countries.
If you go to Turkey for a trip or live there, you now know your legal rights and risks if growing, using, buying, or selling cannabis there. While buying cannabis seeds, as well as growing them, is illegal, people still do so in Turkey in 2021, much like in other countries across the globe. Use common sense when in this country or anywhere when it comes to staying on the right side of the law when smoking or growing cannabis.
Parent Page: Buy Weed Seeds Online
Best Online Seed Banks for Buying Cannabis Seeds in Turkey 2021:
Best Places to Buy Marijuana Seeds Online in 2021