Ministry of Cannabis Review 2023
Ministry of Cannabis - Spanish Seed Bank and Seed Breeders. Barcelona, Spain.
---
It's 2023. The market for cannabis seeds is breaking wide open. You've got more choices than you can shake a Thai stick at. Though it might be hard to pick just one, everybody has a set of criteria that will help them narrow it down to a few suppliers. Reliability, selection, customer service and a range of payment options are all very important. Consider if you will, the
Ministry of Cannabis
. Founded in Amsterdam in 2007, they are now located in Barcelona, Spain, and over the years have built a solid reputation for innovation in strain breeding, research and development that adds up to great value added for any buyer of cannabis seeds.
History and Legacy
The founders of Ministry of Cannabis have been in the industry for more than fifteen years, and have gained valuable experience working for some of the world's most reputable growers and breeders. Their mission is quite simple: maintain availability of the world's most popular strains, and continue to research and develop new strains that will outclass the competition. Their in-house breeders have developed many new and popular strains, including Zensation and Carnival, two wildly popular new varieties that are currently smoking the planet.
In 2008, Ministry of Cannabis introduced autoflowering varieties in regular and feminized form, and since 2009, their seed selection is 100% feminized to meet popular demand. Passionate about making the world greener, one plant at a time, they put a particular focus on customer service, and will always go the extra mile to provide each client with the kind of personal attention they need. Whether for large commercial growers, medical marijuana growers or hobbyists, Ministry of Cannabis has a pot seed solution for you.
Online Reputation
The reputation of a seed bank is built on its interactions with customers. While all seed banks have at least a couple of negative reviews, it's easy to gauge the perception of the cannabis community if there are multiple points of reference.
So, the best way to understand the quality of a seed bank is to look at as many reviews as possible from various sources. Thankfully, we can look on the MoC website and external review forums to understand the quality of seeds and customer care customers receive.
On MoC Platforms
There are multiple ways to review Ministry of Cannabis. You can write reviews on product pages; most strains have at least one review to reference or on the seed bank's Facebook page. Most of all, reviews within MoC's network are positive. The customers that claim to have had bad experiences are usually drowned out by happy growers.
External Reviews
The reviews outside the direct sphere of MoC influence are also generally positive. You'll find some negativity, such as unexpectedly low yields or genetic issues. We haven't seen any complaints on shipping, customer service, or germination rates from reputable sources, which is surprising as these are the most common complaints on grower's forums.
While the Ministry of Cannabis' online reputation is solid, most reviews are dated. The frequency of customer feedback has significantly dropped off after the pandemic.
MOC Seed Selection, Quality and Value
Ministry of Cannabis has a relatively small seed selection of notable strains in addition to their own hybridized varieties. The owners of MoC have in the past worked with some of the world's top growers and seed banks, so they have good knowledge about what the people want and how to deliver it.
Varieties like White Widow and Northern Lights are offered alongside their own hybrids, such as Zensation, Carnival and Hay-Z. Whether you're into sativa or indica, or like to mix it up a bit, Ministry of Cannabis always has something for you. They even offer wholesale pricing for distributors all over the world, all the better to share the green love. Their mixed packages offer great value (six seeds per package in a mixed box), and provide you with a variety of feminized seeds that are tailored to your tastes. Though their selection may not be as vast as some seed banks, the varieties they offer are handpicked to represent the best of the best, no matter what sort of stone you are after.
Feminized Seeds by Ministry of Cannabis.
Autoflower Seeds by Ministry of Cannabis.

Germination Guarantee
Ministry of Cannabis offers a germination guarantee. However, claims are handled on a case-by-case basis, and are up to the reviewer to determine if the seeds were duds or if the blame lies on the grower.
If your seeds fail to germinate, you'll need to send a message with a complete description of the procedure used. MoC asks for the following information:
Medium
If the medium was pre-fertilized or contained fertilizer
Depth of the seeds
Temperature
Quantity and quality of the water supplied
Follow germination best practices outlined by MoC's guides and document the process as much as possible if you want to cover your purchase. However, most customers have reported successful germination of MoC seeds.
CBD Varieties
Ministry of Cannabis also offers two feminized CBD strains available in autoflower and photoperiod varieties, CBD Star and Cannabis Light. While we'd like to see more selection, CBD Star is a 1:1, which is quite rare even in the modern cannabis industry. 1:1 strains have equal parts THC and CBD and are highly sought after in the medical marijuana community due to the challenge of breeding a high-quality, balanced variety.
MOC Payment Methods
Ministry of Cannabis bills only in euros, but they accept several forms of payment, including credit card, debit card, bank transfer, moneygram, bitcoin and cold hard cash. All transactions are guaranteed secure, although they make no guarantees if you choose to send cash. Payment options are very well outlined on their payments page, and give you some good information as to the pros and cons of each method.
All invoices will be billed in euros, and if you send a money order you must exchange the currency to euros first before sending. The exception is cash, as they accept many forms of hard currency. If you have any questions, they are very quick to answer if you send them an email. You can also call them directly, though most of your questions will likely be answered if you take the time to check around their site and FAQ. Depending on where you live in the world, they may have a local distributor that might be able to offer other payment options. Check their list of resellers for more information.
For more information: Ministry of Cannabis Payment Information Page.
Delivering the Goods
Ministry of Cannabis ships to all global destinations. There is a very short list of terms and conditions, which you should read before ordering. It contains information and disclaimers on seed viability and liability. If you have any doubts as to the legality of growing cannabis in your domicile country, please refer to your local, state and federal regulations.
Possession of cannabis seeds may be illegal in some countries, but it is up to you to discover what you may or may not be allowed to do. They promise to ship within 24 hours, though delivery times will vary depending on where you are in the world. If you require a tracking number, you have the option of using a courier or registered mail. If you choose to ship without a tracking number, your order will be shipped via regular mail. All orders are stealth-shipped, meaning that packages are unmarked except for an initialed notation regarding the specific strain.
There will be no reference to cannabis on any of the packaging. When you order off the website, only the available shipping methods for your country will be shown. It is as secure as it can be, private and discreet to assure your peace of mind. Your credit card statement will not show the order coming from Ministry of Cannabis. They do not state the name of the company they will show, but do guarantee it will be completely discreet.
For more information: Ministry of Cannabis Shipping Information Page.
Customer Service
The Ministry of Cannabis collective is well-established in the industry; part of its success is consistently offering exceptional customer service year after year. There are multiple ways to get in touch with the team if a problem arises, including through their contact form, Whatsapp, and Telegram. Their social media channels were highly active in the past, but they have gone stagnant in recent years. As a result, we recommend contacting MoC customer service through the website or Whatsapp.
Customer satisfaction is high; according to reviews and forum comments, and by most accounts, they deliver on all their promises.
Ministry of Cannabis Website
Ministry of Cannabis website is super easy to navigate and full of useful information. Each variety is well documented with information on yields, THC and CBD content, grow times and more. If you have any questions, they are almost guaranteed to be answered in a clear, concise and informative manner. The design of the site is clean and modern, and it is completely responsive for viewing and ordering from your mobile device.
Whatever you are looking for on the site is easy to find and well laid out. No busy, worthless pages full of junk or rehashed information.
Ministry of Cannabis Blog and Guides
The seed bank has excellent resources for newbies, so if you're interested in how to get growing, this is a good launching pad. While the 'How to Grow Cannabis' guide could be longer, it is a great starting point. You'll also find a plethora of information in the blog, including articles on cultivation, medical use, and cannabis culture. From tips on hiding the smell of your grow to articles diving into entertaining topics like 'Did Shakespeare Smoke Marijuana,' you won't get bored reading the MoC blog.
While the existing information on the blog is valuable, posting has gone stagnant since 2021.
Social Media
In the past, social media was one of Ministry of Cannabis' best qualities. They would regularly post grow updates and photo submissions from customers. However, like the blog, MoC has gone dark. The last post on Facebook and Instagram was in January 2023. Hopefully, the seed bank gets back on its socials to keep the cannabis community informed on what they've been up to.
Rounding Up
In conclusion, Ministry of Cannabis is an established, reputable seed bank and cannabis seed breeder that ships all over the world. With a reputation for reliability and innovation, you can always count on Ministry of Cannabis to provide quality seeds and authoritative information that will help you reach your cannabis growing goals. Reported seed viability is well over 90% for all varieties, and the quality of their strains is unbeatable.
---
Main Category Page
:
The Best Weed Seed Banks
– Top cannabis seed banks, comparisons & reviews of the best online weed seed shops in 2023. Focused information which will help you find what you're looking for.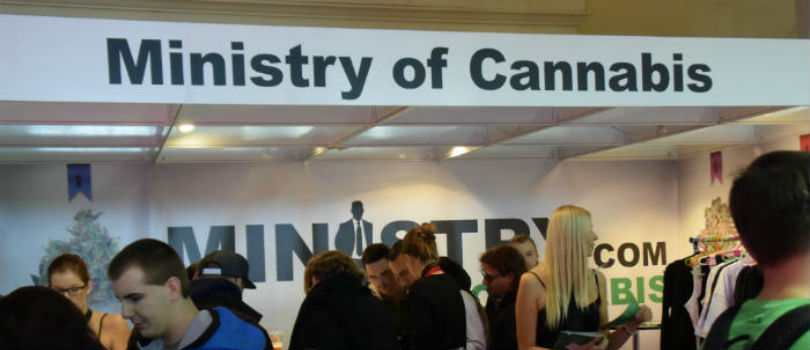 Best Places to Buy Marijuana Seeds Online in 2023