Buying Marijuana Seeds in South Korea 2021
2021 Laws and Public Opinion on Possessing, Using, Growing, and Buying Cannabis Seeds in South Korea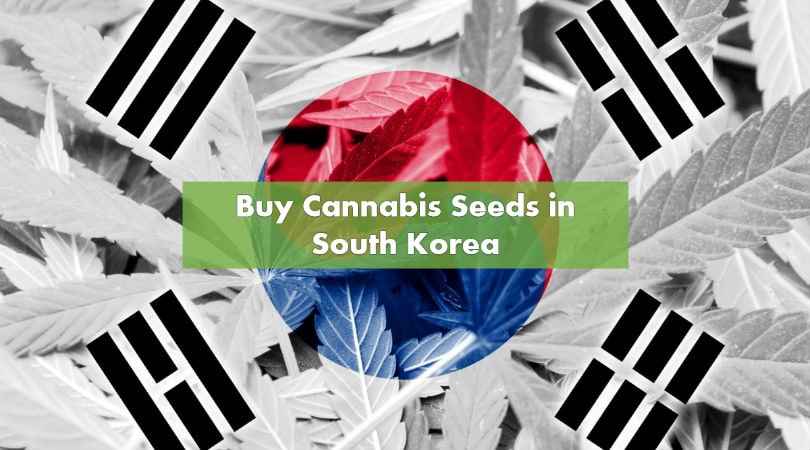 South Korea, like most Asian countries, has had strict anti-cannabis laws in place for decades. However, the South Korean government broke new ground in 2018 as the first East Asian country to approve the use of medical marijuana. Overall national opinions on cannabis remain largely unfavorable, though cannabis use is slowly growing in popularity. Whether you reside in South Korea or are planning a visit, this guide has everything you need to know about the legal and practical aspects of buying, possessing, and growing cannabis seeds in South Korea.
Best Online Seed Banks for Buying Marijuana Seeds in South Korea 2021:
The History of Cannabis and Cannabis Seeds in South Korea
Hemp grows naturally in the wild in South Korea, and people in this part of the world have harvested it for its fiber, dating as far back as 3000 BCE. In the 1930s, hemp was still widely cultivated for textile production in every province of South Korea. In 1957, as many countries around the globe began restricting the use of cannabis and other psychotropic substances, President Syngman Rhee put the Narcotics Act into place. This act criminalized the use of several controlled substances, including Indian-grown marijuana. Korean-grown marijuana seeds were still legal under the Narcotics Act at that time – but it did not remain legal for long.
Cannabis's popularity in South Korea (and many other parts of the world) grew in the 1960s as many young Korean citizens, and popular musicians embraced the "happy smoke." South Korea's government, concerned over the development of a "rebellious" shift in culture, implemented The Cannabis Control Act in 1976, banning all forms of cannabis.
New Exceptions for Medical Cannabis
In January 2018, Shin Chang-Hyun, a representative of the National Assembly of South Korea, proposed an amendment to the Narcotics Control Act that would permit Koreans with certain rare and intractable medical conditions to use cannabis medicinally. In July 2018, South Korea's Ministry of Food and Drug Safety expressed willingness to permit the import and use of cannabis-derived pharmaceutical medications that were already available in the United States and European markets. On November 23, 2018, the National Assembly agreed (with a 205 to 1 vote) to the amendment, making South Korea the first East Asian country to legalize the controlled use of cannabis. On March 12, 2019, the new rules officially took effect.
The Korean Cannabinoid Association (KCA), previously known as The Organization of Legalizing Medical Cannabis in Korea, is still lobbying the government to expand the current medical marijuana program to cover more health conditions and to allow CBD oil as an over-the-counter treatment option. The high demand and prohibitive cost of the cannabis-based pharmaceuticals currently approved in South Korea make them an unrealistic treatment option for many families. A 100 ml bottle of oral use CBD-based medication, for example, is currently priced around 1.5 million won (1,358 USD), and health insurance does not cover cannabis medicines.
However, the Korea Cannabinoid Association faces the challenge of being on the other side of popular opinion on this matter. Individual Korean citizens who support medical marijuana legalization tend to be less vocal in their support, as showing too much interest in cannabis may attract unwelcome attention and investigation by law enforcement.

South Korean Marijuana Laws – Is Weed Legal in South Korea?
In nearly all cases, using, possessing, selling, or growing cannabis from seeds in South Korea is illegal. Cannabis seeds, stems, and roots are exempt from the ban, but germinating cannabis seeds in South Korea is only allowed with the express permission of the Ministry of Food and Drug Safety, under Presidental decree. The South Korean government has a goal of maintaining a "drug-free nation." This means that no person may be under the influence of drugs at any time on Korean soil. Korean citizens and visitors alike will even find themselves in legal trouble upon their return to South Korea if they're discovered using marijuana outside of the country.
Medical Cannabis Medications Are Now Legal
The South Korean government legalized the use of imported marijuana-based medications in 2019. However, at this time, they have only approved a small number of cannabis-derived medications, and only for the treatment of a select few rare and intractable medical conditions (including epilepsy, HIV/AIDS, and wasting syndrome associated with cancer and other conditions). The only approved medical cannabis products at this time are Sativex, Eipidolex, Cesamet, and Marinol.
The Korean Orphan Drug Center is the government agency responsible for facilitating prescriptions of medical marijuana. All applications for medical marijuana must pass through this agency, which then imports and distributes the approved prescription medications to patients.
Watch: South Korea to Allow Sales of Imported Medical Cannabis for Self-Medication
Smuggling Is on the Rise
The legalization of marijuana in a growing number of countries has led to a higher incidence of marijuana smuggling into or through South Korea. In the first six months of 2018, following the legalization of recreational cannabis in the U.S. state of California, The Korea Customs Service seized 18 kilograms of cannabis at South Korea's ports of entry – more than it had throughout the entire year in 2017 (13.6 kilograms). The Port of Seoul is a frequently-used drug-smuggling point between China and Japan, but penalties are severe for those caught doing so.
Despite its non-psychoactive properties, CBD oil is still treated as a controlled substance and is also illegal to import into South Korea. Bringing CBD products into the country with the intent to treat persistent health conditions has caused the arrests of several Korean citizens in recent years.
Consequences and Enforcement of Cannabis Laws
South Korean police may stop and search you without a warrant if they suspect you of using, buying, or selling drugs. Prison terms of up to 5 years and/or fines up to 50 million won (equivalent to 48,000 USD) are common for buying or selling marijuana in South Korea. Having any amount of THC in your system can also result in fines and jail time. South Korean law enforcement most often use the hair follicle test for THC detection.
Police presence in South Korea is heavy, and citizens with biases against cannabis may report suspected use. The police here are highly unlikely to let offenders off with a warning or accept bribes. However, the courts may reduce sentences for those who provide information on other drug users or dealers. Purchasing weed from South Korean dealers does carry the risk of being outed to police if your dealer ends up getting arrested.
Foreigners arrested for marijuana use in South Korea often serve short sentences, ranging from a few days to a few months before being deported. There is no program in place subjecting everyone entering the country to random drug tests, but there is a government watchlist to keep tabs on people with previous drug-related arrests. Alluding to cannabis use on your internet social media accounts may also be enough to get you onto one of these watchlists.

Buying, Selling, Possessing, and Growing Cannabis Seeds in South Korea
Though the sale, use, and possession of cannabis are strictly prohibited, it is legal to possess roots, stems, and cannabis seeds in South Korea. This exception exists to allow for the production of textiles, rope, and other products made from hemp fiber. However, germinating cannabis seeds into marijuana plants in South Korea is highly illegal. Despite a climate where hemp grows easily and naturally, attempting to grow your own cannabis seeds in South Korea is a risky venture, especially outdoors.
Stealth Shipping Cannabis Seeds into South Korea
At this time, there are no South Korean cannabis seed banks, but some international seed banks will ship marijuana seeds there. Our favorite trusted seed bank for shipping to South Korea is MSNL (Marijuana-seeds.nl), a UK-based company with discreet shipping options. MSNL carries a wide variety of high-quality seeds, and they even throw in a few extra bonus seeds with every order.
When ordering cannabis seeds in countries with strict anti-cannabis policies, the stealth shipping option can be just as important as the seed quality. Stealth shipping means that your seeds will be sent in packaging that gives no indication of being cannabis-related, and your bank statement won't reveal that you've ordered from a cannabis company either. Cannabis seeds are legal to possess in South Korea, but if the government suspects you of ordering them with intent to grow marijuana, legal trouble may follow.
South Korean Cannabis Culture
The overall public opinion of cannabis, known in South Korea as daemacho or ddul, is unfavorable. Since the government has put marijuana in the same category as hard drugs such as heroin or methamphetamine, many Korean citizens believe it is just as dangerous. A 2009 survey found that only 0.36% of South Korea's adult population reported ever having used drugs of any sort.
However, a growing number of Korean citizens are warming up to the idea that cannabis isn't so dangerous after all, and rates of recreational use are rising. The illegal import of marijuana has also been steadily increasing, particularly as cannabis becomes legal and easier to obtain in many other parts of the world.
These trends have naturally led to an increase in marijuana-related arrests. In 2017, South Korean law enforcement arrested 1,044 people on cannabis-related charges – a 49% increase from 2014. Tourists and ESL (English as a Second Language) teachers from the U.S. and Canada are among those often arrested for cannabis use. Sometimes these offenders are simply and quickly deported, but being fined and detained is always a possibility.
Black Market Cannabis is Easy (But Risky) to Find
It's actually relatively easy to find and purchase weed in South Korea. Many overseas-based websites advertise marijuana delivery anywhere in South Korea within one hour. In some popular nightlife spots in Seoul (such as the Hong-Dea Club Street), you may be able to buy weed or hash on the street. Many of these street dealers are Canadian and African visitors hanging out at hookah bars or reggae cafes. The quality of cannabis available from these illicit sources is often low, and the prices average 35,500 – 59,200 won ($30 – $50 USD) per gram.
South Korean Celebrities Arrested for Marijuana Use
Celebrity status does not put you above the law in South Korea. In recent years, cannabis use has led to the arrest and disgrace of a number of famous South Korean musicians. In 2010, Korean rapper Kim Kye-Hoon (known by the stage name Crown J) served 8 months in prison for smoking weed while recording an album in the United States. Other notable Korean musicians caught using cannabis include Psy and T.O.P. (a member of the band Big Bang). In addition to fines and prison sentences ranging from 25 days to 10 months, these celebrities faced considerable career backlash. Bans on performing following a cannabis-related arrest average 40 months and can significantly derail Korean entertainers' careers and popularity with fans.
The Future of Cannabis and Cannabis Seeds in South Korea
The movement to break the negative stigma against using weed and growing cannabis seeds in South Korea still has a long way to go. While social and legal approval of recreational marijuana is unlikely in the near future, the recent legalization of medical cannabis products is a monumental step in the right direction for South Korea and East Asia as a whole. At the very least, many Koreans may soon soften their opinions on marijuana as they are now able to see its remarkable medicinal effect firsthand.
Parent Page: Buy Cannabis Seeds Online
Best Online Seed Banks for Buying Cannabis Seeds in South Korea 2021:
Watch: Marijuana in Korea
Best Places to Buy Marijuana Seeds Online in 2021