Buying Marijuana Seeds in New Zealand 2022
Laws on Buying & Growing Marijuana Seeds in New Zealand. Growing Tips, Recommended Strains, and the Best Seed Banks That Ship to New Zealand For the 2022 Growing Season.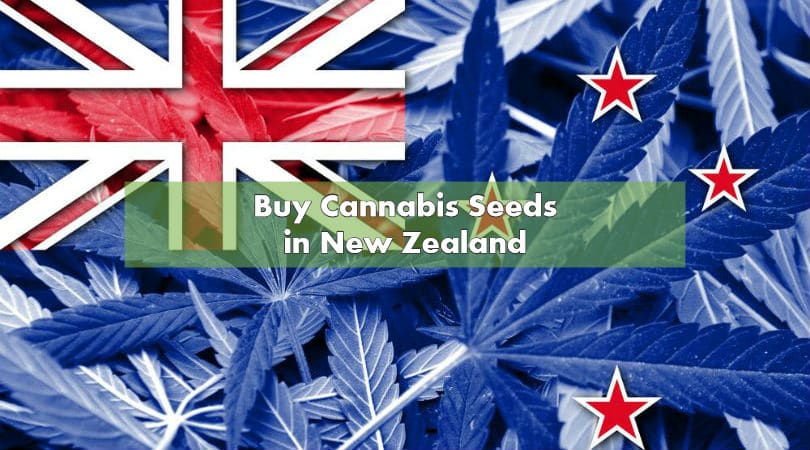 If you are in the beautiful land of New Zealand, you may feel like smoking weed or growing cannabis seeds.
This is understandable, as cannabis is growing in popularity around the globe. Whether you are in New Zealand in 2022 for pleasure or business and whether you are staying there permanently or visiting, you will want to know the cannabis laws there.
Here is the ultimate legal guide to buying cannabis seeds from seed banks in New Zealand, as well as using, possessing, selling, and cultivating cannabis seeds.
Best Online Seed Banks for Buying Cannabis Seeds in New Zealand 2022:
In a Nutshell — The Legality of Buying Marijuana Seeds in New Zealand
If you live in New Zealand and want to grow weed — this guide is exactly what you need to read.
Although New Zealand is one of the best places to live in the world, it's missing one thing — legal cannabis. There's a lot to know about New Zealand's cannabis laws, but we've summarized the most important aspects below:
Recreational cannabis is illegal
Medical marijuana is legal (limited and can only be prescribed by a doctor)
Cannabis seeds are illegal to buy and grow
Now, read along to learn everything about top-rated seed banks, recommended seeds strains, grow tips, and cannabis laws in New Zealand.

Growing Cannabis Seeds in New Zealand
Growing marijuana seeds in New Zealand is like driving on auto-pilot.
The climate in New Zealand is extremely accommodating to cannabis plants. Here are a few aspects that you must understand before growing cannabis seeds in New Zealand.
When to Sprout Cannabis Seeds in New Zealand
As you know, New Zealand is in the Southern Hemisphere, which means the best time to germinate marijuana seeds is between September to October.
Issues to Consider When Growing Marijuana Seeds in New Zealand
Considering the laws surrounding cannabis seeds, plants, and flowers, here's a list of issues to consider when growing weed seeds in New Zealand.
Law enforcement
Thieves
Pests and disease
The aroma of cannabis (if growing marijuana seed strains indoors)
Tips for Growing Cannabis Seeds in New Zealand
Now, let's get to the fun part of growing cannabis seeds in New Zealand!
Buy Cannabis Seeds From a Reputable Online or Local Seed Bank in New Zealand
Without a doubt, buying marijuana seeds from a reputable seed bank is the most important tip.
By choosing a top-rated seed bank, you'll have an endless selection of top-shelf seed strains that'll keep you flying high for the rest of the 2022 season.
Buy Cannabis Seeds for Your Regional Climate in New Zealand
Although New Zealand is pleasant for most months of the year — you must consider your local climate when deciding on seed strains at a seed bank.
Remember, if your region gets cold soon after autumn arrives, make sure to buy a fast flowering cannabis seed strain.
Plan Your Cannabis Garden in Advance
Always plan ahead.
By doing so, you'll never run into unwanted surprises. Don't germinate your cannabis seeds the moment they arrive from the seed bank. Instead, make sure your indoor or outdoor garden is ready.
Which Marijuana Seed Store Is the Best Option For New Zealand Residents?
Now, let's talk about the two most popular methods to buy weed seeds in New Zealand.
Local Cannabis Seed Stores in New Zealand
Since NZ citizens are incredibly interested in the legalization of marijuana, it comes as a new surprise that many are wondering about seed banks in New Zealand.
For the time being, there are no true New Zealand seed banks. However, with the changing opinions on marijuana as well as shifting laws, it seems likely that Kiwis can expect some in the future.
Now that the country is shifting towards medical marijuana use with potential for recreational additions, these kinds of products will become more readily available.
Online Cannabis Seed Banks That Ship to New Zealand
Though the laws are still shifting in the Kiwi nation, that doesn't mean that there aren't ways to get the cannabis seeds you have been looking for.
Another option is to go online to buy cannabis seeds from a reputable seed bank in New Zealand that you can grow indoors or outdoors, depending on which ones you choose and the region where you live.
Many seed bank options are available for New Zealand residents. In fact, plenty of online companies are known for shipping to New Zealand. You can choose from a variety of qualified suppliers who can discreetly deliver marijuana seeds to your door.
This makes it easy for you to begin growing so that all of your cannabis needs can be met. Our top picks for where to buy cannabis seeds online from seed banks in New Zealand in 2022 are:
1. Herbies Seeds – Herboes Seeds ships seeds across the world from its headquarters in Spain. It is a trusted seed bank, credit cards, and Bitcoin accepted.
2. Crop King Seeds – The seed breeder ships weed seeds worldwide from Canada and you can use Bitcoin and credit cards for your orders.
Recommended Cannabis Seed Strains to Buy From Online Seed Banks and Grow In New Zealand
Now, let's head over to our favorite cannabis seed strains to grow in New Zealand for the 2022 growing season.
Shiskaberry Feminized Seed Strain
We can't get enough of the indica-dominant Shiskaberry Feminized seed strain's incredible ability to pump out diamond-encrusted buds indoors or outdoors in 8-weeks.
From ultra-relaxing effects to mouth-watering flavors, don't allow the 2022 growing season to pass by without growing the Shiskaberry seed strain.
Cheese Feminized Seed Strain
When we think about dank weed — we immediately dream about the Cheese Feminized seed strain.
If you want the loudest weed on the block — there's no better option than growing the Original Cheese seed strain. The Cheese strain is a must-have for the 2022 growing season, from easy-to-grow plants to versatility indoors and outdoors.
Afghan Feminized Seed Strain
When you want a bone-crushing indica to chill out under the NZ sun — look no further than growing the Afghan Feminized seed strain.
Not only is the Afghan seed strain easy to grow indoors and outdoors, but its short stature allows you to fit in any grow space.
About Cannabis & Cannabis Seeds in New Zealand in 2022
The cannabis plant and cannabis seed is a Class C drug in New Zealand.
"Class C" is used to categorize drugs that represent a moderate risk. The marijuana laws are part of the 1975 Misuse of Drug Acts.
While there have been campaigns to soften the laws that date back decades, none has yet been successful. The Green Party, for example, is calling for the legalization of cannabis for anyone over age 18, with no legal consequences for using.
New Zealand Laws on Using Cannabis
Currently, an estimated 13 percent of New Zealand residents smoke pot, and their ages range anywhere from 16 to 64.
This level of consumption puts the country in ninth place for illegal cannabis consumption in the world. However, cannabis remains illegal in New Zealand, despite its extensive use.
New Zealand's Cannabis Tolerance
If you are caught smoking marijuana in 2022, the police will probably tolerate it even though it is against the law, as this activity is low on the list of priorities for them.
But it is up to their discretion, and they do have the right to fine you or give you a jail sentence for using cannabis (no matter if you bought it on the street or grew it after buying cannabis seeds in New Zealand).
If you want to smoke in public, be very discreet about doing it. A private location, such as your room or home, is probably more ideal. However, letting someone use cannabis on your property can land you up to three years imprisonment. It's also illegal to sell cannabis utensils such as pipes, bongs, or vaporizers.
The Tide of Cannabis Prohibition is Turning
In an interesting turn of events, New Zealand government officials are working on a referendum that will be voted on in 2020. The stipulations of this referendum are still being ironed out, but so far it seems promising for users.
It would make it legal for individuals over twenty to use, cultivate, and sell marijuana and marijuana products. This would apply to recreational users as well as medical users, so all kinds of NZ citizens would benefit from this change in the event that it gets passed.
About Possession of Cannabis & Cannabis Seeds in New Zealand
It is illegal to possess weed in New Zealand.
A possession charge can result in a $500 fine or a 3-month jail sentence. Importing, supplying, or cultivating marijuana after you buy cannabis seeds from a seed bank in New Zealand could garner a sentence of 7 years in prison.
Although Sativex, a cannabis-derived pharmaceutical, has been legal for medical use since April 2016, advocates for medical cannabis in New Zealand have struggled to garner governmental approval until recently. Unapproved products such as Cesamet, Marinol, and Elixinol had been subject to ministerial approval.
Finally, in February of 2017, the Minister of Health announced that he was releasing a list of cannabis-derived products for which patients would no longer have to get ministerial approval.
This does not mean an overall approval of medical cannabis, as the government is opting for pharmaceutical solutions in favor of legalizing medical cannabis flowers or other products.

Watch: Time to Legalize New Zealand?
Can You Legally Buy Cannabis Seeds From Seed Banks in New Zealand?
If you want to buy cannabis or cannabis seeds in 2022, be aware that if you're caught, you will likely either have to pay a fine or go to jail. Those who buy cannabis seeds from seed banks in New Zealand should be aware that they are violating the law and risk harsh penalties by doing so.
As for where to buy cannabis seeds in New Zealand, as well as joints, you can find them on the black market in many cities there.
In Auckland's Aeotera Square, for example, you will likely find young people trying to get extra money by selling weed. Be aware, though, that the quality of pot sold on the street may not be the best. You might have problems finding hash, as it is rarer in that country than marijuana.

New Zealand Legal Guidelines on Growing Cannabis Seeds From Seed Banks
Under the current laws, you are prohibited from growing cannabis in New Zealand, either for recreational or medical purposes.
If you're interested in cultivating cannabis for personal use, then you must prepare for potential legal consequences. You can get one of several penalties, including a maximum seven years in jail, a two-year jail term with a $2,000 fine, or just a $2,000 fine.
The laws regarding growing cannabis seeds in New Zealand could possibly change in the future, especially if restrictions are lifted for cannabis flower use for medical users there.
Over time, laws regarding whether you can grow cannabis seeds, possess, or use marijuana may change, so make sure you check the current laws while you are there (as either a resident or tourist).
New Zealand Laws: Selling Cannabis & Cannabis Seeds in 2022
A dealer is someone with 28 grams or 100 joints, as per New Zealand laws.
If caught distributing cannabis, the person will be subject to legal punishments unless they can prove that they are not selling cannabis or cannabis seeds in New Zealand.
If an individual is caught with this specified amount, it is considered an "indictment" or a conviction to be dealt with in Crown Court, and the maximum jail term that can be given is 8 years.
Final Thoughts: Looking Ahead at New Zealand Cannabis Laws
In 2022, it is illegal to grow, buy, sell, possess, or use cannabis in New Zealand for recreational purposes.
Certain cannabis-derived products have been approved for medical purposes. The laws there toward recreational cannabis are not likely to change anytime soon, as most government ministers there show no interest in liberalizing the regulations.
Statements against the decriminalization of pot have been made by Health Minister Jonathan Coleman, as well as many other government officials. Regardless, New Zealand is on the path of cannabis legalization; however, it may take longer than anticipated.
Until legalization sweeps through New Zealand — your best option is to buy your own weed seeds from a reputable seed bank and grow them according to our tips.
Parent Page: Buy Weed Seeds
Best Online Seed Banks for Buying Cannabis Seeds in New Zealand 2022:
Watch: Interview Abe Gray; The Curator of New Zealand's Only Cannabis Museum
Best Places to Buy Marijuana Seeds Online in 2022