The Best Grow Tents for Cannabis Cultivators
Use our in-depth experience and hands-on reviews to choose the best cannabis grow tent for the 2022 season.
When it comes to indoor cannabis cultivation, there's nothing more convenient or cost-effective than a grow tent.
Unlike a converted room or garage, grow tents allow cannabis cultivators to create the perfect contained environment for their marijuana plants. From year-round growing capabilities to beyond-top shelf cannabis production, grow tents allow you to produce phenomenal weed at home with minimal effort.
However — which grow tent is right for you?
Should you buy the most expensive grow tent? How about the cheapest one? These questions, and more, are what you must be asking, which is why I sat down and reviewed countless grow tents to make your decision easier.
Whether you grow a handful or armful of cannabis plants, our guide is all you need to buy the best marijuana grow tent. If you're ready to get started on your indoor cannabis cultivation journey — make a beeline to the next section!
Note: Growing cannabis indoors requires more than just a grow tent. If you're searching for a bundle that contains everything you need to begin growing marijuana right away – head over to The Best Grow Tent Kits section. If you just need a tent (or you're not sure), then keep reading!
The Best Grow Tents -Summary
If you're ready to buy an indoor grow tent but need a brief of the best options – here's an upfront look at our most highly-reviewed grow tents.
You won't regret buying any of these top-rated grow tents, but if you need more time to decide which tent works best for you — continue reading below.

The Best Grow Tents
Product
Rating
More Info

Best Overall

Mars Hydro Grow Tents
[Read Review]

Best for Beginners

CoolGrows Grow Tents
[Read Review]

Best Multipurpose

ViparSpectra 2-in-1 Series
[Read Review]

Best for Professionals

Gorilla Grow Tents
[Read Review]

Best Premium

AC Infinity Grow Tents
[Read Review]

Best for Low Budget

Opulent Systems 3×3
[Read Review]

Best for Limited Spaces

Mars Hydro 2x2x36″
[Read Review]

Best for Large Spaces

Vivosun 10×10
[Read Review]
How Do You Choose a Grow Tent?
In all my years of growing cannabis, one of the most popular questions is how do you choose a grow tent?
It's no wonder why this question is so popular. Grow tents cost money, come in different sizes and shapes, are made of different materials, and there are dozens of brands with hundreds of options to choose from, making the decision process an absolute nightmare.
So, we'll skip the formalities and head straight into the meat and potatoes of how you should choose an indoor grow tent.
Here are the four most important factors:
How many cannabis plants do you want to grow?
How much space are you working with?
What is your budget?
What type of features do you need in the tent?
We'll discuss each factor further in detail in the next section. Remember, your needs will likely differ from another cannabis cultivator, which is why you need to consider these personal questions when selecting the best possible grow tent.
Choosing an Indoor Grow Tent Based on Plant Count
If you're like me, the first thought that comes into your mind is, how many weed plants can I fit in here?
Although it's normal to want to stuff your grow tent full of gorgeous green weed plants, there's a rule of thumb to abide by. Remember, these are general guidelines and are only meant to make the decision process easier for you.
Below, I've provided a table that contains specific grow tent sizes with their corresponding plant count.
| | |
| --- | --- |
| Grow Tent Size | Ideal Plant Count |
| 2′ x 2′ | 1-2 |
| 2′ x 4′ | 2-4 |
| 3′ x 3′ | 3-5 |
| 4′ x 4′ | 4-6 |
| 4′ x 8′ | 5-12 |
| 5′ x 5′ | 4-10 |
| 5′ x 10′ | 9-16 |
| 8′ x 8′ | 9-16 |
| 10′ x 10′ | 10-20 |
Although this table isn't the be-all and end-all — it gives you a quick rundown on how many marijuana plants you can fit in a grow tent without overdoing it.
As a final tip to consider, I believe that sizing up when buying a grow tent is a practical method to future-proof your indoor garden. You'll be surprised by how fun growing weed is — especially come harvest day.
Unless you're absolutely limited on space, why should you limit yourself to one or two cannabis plants? The bottom line is to size up your tent to ensure years of fruitful harvests of homegrown weed.
Choosing a Cannabis Grow Tent Based on Available Space
From spare bedrooms to walk-in closets and everything in between, you need to break out the measuring tape before you buy a grow tent to make sure it'll fit.
If you fail to do this, you may buy a grow tent that is too large or too small. Sometimes, the measurements are a bit tricky, so I've compiled a table below that converts grow tent sizes into feet, inches, and centimeters.
Grow Tent Size
Feet
Inches
Centimeters
2′ x 2′
24″ x 24″
61 x 61
2′ x 4′
24″ x 48″
61 x 122
4′ x 4′
48″ x 48″
122 x 122
4′ x 8′
48″ x 96″
122 x 244
5′ x 5′
60″ x 60″
153 x 153
5′ x 10′
60″ x 120″
153 x 305
8′ x 8′
96″ x 96″
244 x 244
10′ x 10′
120″ x 120″
305 x 305
Remember, most grow tent manufacturers size their products in feet or inches. However, it's always helpful to have the centimeter conversion just in case.
Once you've measured the area where you'd like to set up your indoor grow tent, you'll have a very clear idea of which size to purchase.
Choosing a Cannabis Grow Tent Based on Available Budget
Ah, the woes of money.
If we all had access to unlimited cash, we could buy top-of-the-line grow tents without a moment of regret. Instead, most of us, including myself, have a set budget that we can allocate towards a grow tent.
Grow tents maintain a wide price range, such as $80 to well over $1,000. Therefore, your budget plays a key role in which grow tent you decide to buy.
Remember, you do not need the most expensive grow tent to yield top-shelf weed. At the same time, you do not want to buy the absolute cheapest tent on the market that can leach harmful chemicals onto your weed crop.
As you can see, you need to find a tent that's within your budget and provides exceptional quality control. The last thing you want to happen during the middle of the flowering stage is the stitching to come undone and allow a light leak to occur.
Luckily for you, I gathered and reviewed many different grow tents that will satisfy all budget types below.
Choosing an Indoor Grow Tent Based on Features and Accessories
The grow tent is the main body of the indoor cannabis garden.
Without the body, you don't have space for your cannabis plants, grow lights, ventilation system, and other essential pieces of equipment. Therefore, you need to select a grow tent that comes equipped with the necessary features and accessories to sync your growing equipment seamlessly.
Here is a list of excellent features that you will discover throughout our recommended list of grow tents:
Ducting ports
Cable ports
Height-adjusted roof
Industrial strength zippers
IR blocking roof
Heavy-duty canvas thickness
Reflective mylar
Non-corrosive metal poles
Mesh viewing window
Removable tray or spill tray
Rear access door
Waterproof
Each of these features makes it easier to grow top-shelf weed.
For example, a grow tent with heavy-duty metal poles will not rust over time or collapse under heavy load. Remember, some of the most basic features are often overlooked by new cannabis cultivators, such as I experienced many years ago.
From rapid clean-up (spill tray) to convenient access (rear door), a grow tent's features are the key to success.
Although it's great to learn by trial and error, I want you to make the right choice on the first go-round. Therefore, you need to read our grow tent reviews to get up-to-date information.
Considering Your Indoor Grow Tent Options
As you can see — there is a lot to consider when buying a grow tent for cultivating marijuana.
However, my goal is not to overwhelm you. Instead, my objective is to make your decision process much easier. Therefore, if you want a plug-and-play experience, you may want to consider a grow tent kit that offers a tent with all the necessary pieces of growing equipment in a single package.
However, if you'd rather have complete control of every aspect of your grow tent and growing equipment, continue reading below for my full list of indoor grow tent recommendations.
The 10 Best Cannabis Grow Tent Reviews
Without further ado, join us below as we review all of our most recommended grow tents for indoor cannabis cultivation.

---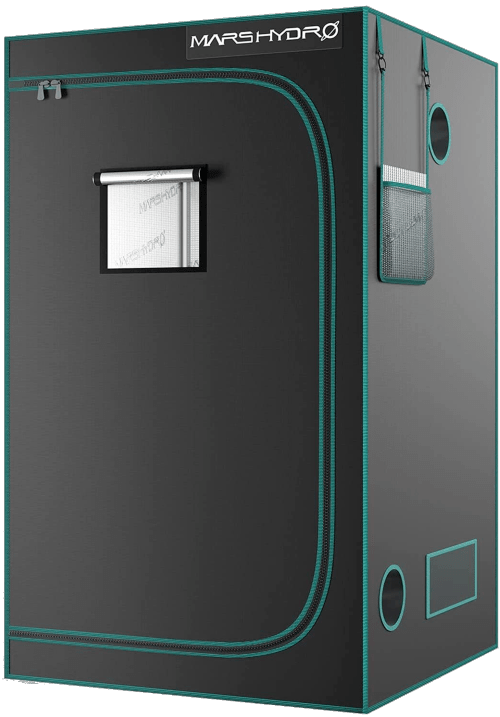 – Available Sizes: 2'x2′ (*best for limited spaces), 2.6'x2.6′, 2'x4′, 3'x3′, 4'x4′, 4'x3′ (2-in-1), 5'x4′ (2-in-1), 5'x5′,4'x8′, 8'x8′
– Best Overall: The perfect balance of quality and affordability is wrapped into a high-performing grow tent.
Mars Hydro offers some of, if not the best, grow tents on the market — hands down.
The Mars Hydro team has clearly taken the best of Gorilla and AC Infinity to create robust, intuitive, and, most importantly, durable indoor grow tents. If you've been waiting for a tent that provides everything you need — it's time to buy a Mars Hydro Grow Tent.
In any case, let's take a look at the pros and cons of the Mars Hydro Grow Tent Series.

Pros:
● Built-tough 1680D fabric that's tear and puncture-resistant
● All-metal support structure increases stability and weight capability
● Unbeatable 30-day unconditional refund
● Must-have features that beginners and professionals enjoy (viewing window, removable spill tray, heavy-duty zipper)
● Set up in minutes
Cons:
● Pricey (compared to other grow tents on the list)
● Heavy
● Minimal light leak at stress points (i.e., corners and zipper area)*
Mars Hydro offers a wide range of grow tent sizes to choose from. After a few months of using a Mars Hydro 4'x4′, it'll be hard to go back to anything else!
From its unbeatable warranty to top-notch build quality, the Mars Hydro Grow Tent Series is well worth your money, time, and effort.

---
Mars Hydro grow tents are available as a complete grow kit
---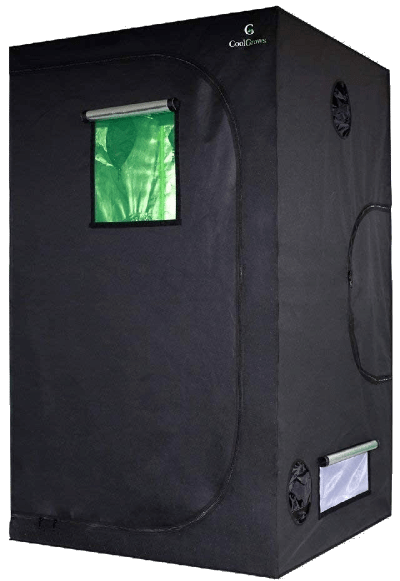 – Available Sizes: 24″x24″x36″/48″/55″, 32″x32″x63″, 36″x20″x63″, 36″x24″x53″ (2-in-1), 36″x36″x72″, 48″x24″x60″/72″, 48″x36″x72″ (2-in-1), 48″x48″x80″, 60″x48″x80″ (2-in-1), 96″x48″x80″
– Best for Beginners: A beginner-oriented grow tent that offers durability, ease of use, and functionality in an affordable package.
Sometimes, the name of a grow tent is on point.
CoolGrows offers some of the best grow tents on the market due to their one-two punch of affordability and quality control. From durable fabric to reduced light leaks, CoolGrows' products are the perfect entry-level grow tent.
I remember as if it was just yesterday when I bought my first CoolGrows tent. The package arrived insanely fast, and all the parts were professionally packaged. In less than 10-minutes, I had my grow tent fully set up without having to look at the included instructions.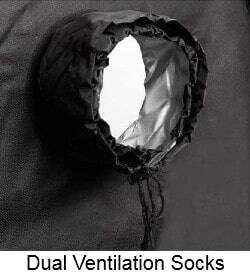 The heavy-duty stitching prevented significant light leaks and even reduced the aroma of the weed growing within. From the zipper to the observation window, everything worked swimmingly.
Although I recommend CoolGrows' grow tents for beginners and professionals, here's a list of the pros and cons that I experienced:
Pros:
● Ultra-reflective 99% mylar
● No tools needed for a fast installation
● Steel support poles
● Dual ventilation ports
● One-year hassle-free warranty
● Large door for easy access
Cons:
● Pricey (compared to other grow tents on the list)
● Occasional zipper snag
● A minor case of loose threads
All in all, CoolGrows' grow tents are what I recommend to any up-and-coming cannabis cultivator.

---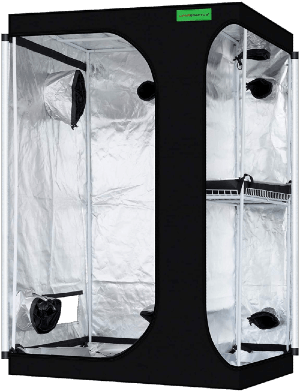 – Available Sizes: 3'x2′, 4'x3′, 5'x4′
– Best Multipurpose: Multi-function design allows cultivators to grow cannabis from seed to harvest in a stand-alone tent.
When I first read about 2-in-1 grow tents — I thought it was a gimmick.
After using a ViparSpectra 2-in-1 grow tent — boy was I wrong! Before using the ViparSpectra 2-in-1 grow tent, I always germinated cannabis seeds in a separate space.
Having the convenience of a siloed space for my weed seedlings was a game-changer. Suddenly, I could germinate marijuana seeds (and veg juveniles!) while my primary crop was vegetating or flowering.
Ultimately, the ViparSpectra 2-in-1 Series allowed me to produce a perpetual harvest. Instead of needing another grow tent for germination or early veg, the ViparSpectra lived up to its 2-in-1 name.
In any case, here are the pros and cons of the ViparSpectra 2-in-1 Grow Tent Series:

Pros:
● Multi-purpose grow tent
● 30-day money-back guarantee
● Affordable for most budgets
● Easy to set up and take down
● 2-tier vestibule that allows for propagation, early growth, and drying
● Roomy primary vestibule for the vegetative or flowering stage
● Sturdy design
Cons:
● Minor light leaks along zipper area and corners*
● The plastic viewing windows are not very clear
Ultimately, the ViparSpectra 2-in-1 Series is ideal for anyone looking for an all-in-one weed growing solution. By allowing you to propagate weed seeds, cultivate cannabis plants, and dry marijuana flowers, you'll never need another tent once you get ahold of ViparSpectra's 2-in-1 Grow Tent Series.

---
– Available Sizes: 2'x2.5′, 2'x4′, 3'x3′, 4'x4′, 4'x8′, 5'x5′, 8'x8′, 8'x16′, 10'x10′, 10'x20′
– Best for Professionals: Pro-grade features, massive weight-bearing potential, and a state-of-the-art height extension kit that's the perfect choice for green thumbs.
The Gorilla Grow Tent series is well-known for its laser-focused attention to detail, from the height extension kit to its beefy 1680D fabric and more.
After spending months (and growing pounds of top-shelf weed) with this professional-grade grow tent, here's what I liked and didn't like:

Pros:
● Roomy design that's feature-rich and ready to handle heavy-yielding crops and weighty grow equipment
● Ultra-thick 1680D canvas that
feels
bulletproof
● Quality control is
on point
and reduces instances of light leaks and stitching errors*
● Height extension kit allows you to boost the size of your weed crop
● Easy to set up and take down
● The zipper was
buttery
smooth
● Large dual 10″ ports
● IR blocking roof (
just in case
)
● The 360-degree doorway offers maximum access
Cons:
● Pro-grade price tag (
it's expensive!
)
● The velcro on the window wears out over time (especially if you check your plants as often as me)
The advantages of the Gorilla Grow Tent Series clearly outweigh the disadvantages.
However, the price tag is a glaring issue for many. If you're not strapped for cash and want a professional-grade grow tent that will last for years — the Gorilla Line is as good as it gets.
---
– Available Sizes: 24″x24″x48″, 36″x20″x62″, 48″x24″x72″, 36″x36″x72″, 48″X48″X80″, 60″X60″X80″
– Best Premium: Industry-leading quality, future-ready design, and outfitted for heavy harvests.
If you're looking for the Rolls-Royce of indoor grow tents for cannabis cultivation — the AC Infinity Cloud Lab Series is all you need.
Loaded with future-ready options, I was immediately impressed with the AC Infinity Cloud Lab Series's versatility. Seamless cable routing and perfectly placed mounts for my environmental monitor made me feel spoiled after years of fiddling with scotch tape and DIY methods.
I've grown weed in countless grow tents, and the AC Infinity hit the nail on the head with the Cloud Lab Series. However, let's take a look at the advantages and disadvantages of AC Infinity to paint a clear picture of why we can't get enough of these grow tents.

Pros:
● Premium-grade build quality prevents light leaks like no other*
● Industry-leading 2000D fabric provides extreme insulating qualities
● 150-pound weight capacity for all of your growing equipment needs
● Clear viewing windows that don't fog up
● Reinforced ducting and heavy-duty zippers
● High-end mylar increases light intensity
● Easy to set up and take down
Cons:
● Heavy (not easy to move around)
Overall, the AC Infinity Grow Lab Series offers a wide variety of sizes to meet your needs. With so many positive attributes, there's no reason to skip AC Infinity's epic grow tent lineup — even the price is right!
---
– Available Sizes: 24″x24″x48″, 32″x32″x64″, 48″x48″x80″, 120″x60″x80″, 36″x24″x53″ (2-in-1), 48″x36″x72″ (2-in-1), 60″x48″x80″ (2-in-1)
– Best for Low Budget: Provides the most bang-for-your-buck by combining high-quality materials, ample space, and ultra-affordable pricing.
Early in my career as a cannabis cultivator, I found myself low on funds.
My previous tent broke (I won't name names), and I needed a new one — stat. Thus, I found myself with a grow tent from Opulent Systems.
Although I didn't have much confidence in Opulent Systems at the time, I changed my tune soon after my first harvest. Overall, I was utterly impressed that a grow tent this cheap could pump out buds this good.
For all its advantages, Opulent System's tents has a few downsides. Below, we'll discuss the pros and cons of Opulent System's Grow Tent Series:

Pros:
● All-metal support that can handle up to 110-pounds of growing equipment
● Heavy-duty zipper that doesn't snag
● 98% reflective mylar increases lumen output (think bigger buds)
● Value-packed accessories (flood tray, carbon filter belts, dual ventilation ports)
● Incredibly affordable
● Wide range of grow tent sizes
Cons:
● Pinhole leaks near the corners and zipper*
● Quality control (stitching errors)
Ultimately, I was impressed by the overall value that Opulent Systems' Grow Tent Series offers. With very limited funds, I produced a stellar crop of weed that made my professional friends gasp.
If you're ready to take your cannabis garden to the next level without splurging — Opulent Systems' Grow Tent Series is the perfect option.

---
– Available Sizes: 120″x120″x80″, 96″x96″x80″, 120″x60″x80″
– Best for Large Spaces: Massive size meets durable materials for a palatial grow tent for your next large-scale grow.
For years, the industry standard for grow tents always landed on the shoulders of Vivosun.
The Vivosun brand was my very first grow tent. Not only did I grow some of the best weed ever in it, but it also lasted over a decade of serious abuse.
Although Vivosun's Grow Tent Series doesn't come equipped with bells and whistles (looking at you, Gorilla, and AC Infinity) — it does offer a reliable space to grow top-shelf buds.
Vivosun's Grow Tent Series solidified itself as the ultimate workhorse for cannabis cultivators. Below, I'll provide the key pros and cons that make Vivosun one of the most respected brands in the industry.

Pros:
● Strong metal poles and surprisingly durable fabric
● High-quality construction (minimal light leaks)*
● Many different sizes to choose from
● Affordable
● Easy to set up and take down
● Feature-rich (flood tray, viewing window, and large ducting ports)
Cons:
● The zipper may snag on the lining
● Metal poles may rust
Overall, Vivosun's Grow Tent Series is perfect for cannabis cultivators that require a trustworthy product that keeps on giving. Vivosun's Grow Tent Series is optimized to keep your plants and wallet happy, whether you're gentle or rough.
---
Vivosun grow tents are available as a complete grow kit
---
* All grow tents are prone to light leaks regardless of construction and material. However, some grow tents are more light leak-resistant than others, which we provide in our reviews.
Everything You Need to Know About Grow Tents
Now that you've gone over each of our most highly recommended grow tents for indoor cannabis cultivation — it's time to learn what grow tents are and how they function.
What is an Indoor Grow Tent?
An indoor grow tent is an enclosed space that allows you to create the perfect growing environment for marijuana plants.
The tent itself is composed of various materials, sizes, and features. However, the overarching point is to optimize the environment for maximized yields of weed.
Although we speak about the importance of it — the significance of the equipment used within the grow tent is of equal value.
Think of the grow tent as the atmosphere and the growing equipment (grow lights, ventilation, irrigation system) as the planet. Without the atmosphere, the earth could not support life — let alone cannabis plants.
Why Do You Need a Grow Tent to Cultivate Weed Indoors?
Marijuana grow tents are used for a number of beneficial reasons. Here is a list of why you may want to use one for your upcoming indoor cannabis crop:
Discrete
Protection
Controllable environment
Year-round growing
Simplicity
Energy Efficient
Now, let's briefly discuss each so you can better understand why it's recommended to use grow tents for indoor marijuana cultivation.
Discrete
As you power up your 1,000-watt HID — you'll suddenly realize that your apartment looks like it's about to blast off to outer space.
Without a grow tent to contain the light, your room will be flooded with uncontrollable lumens. Grow tents contain light within their four walls, thus achieving discretion.
Additionally, grow tents reduce the spread of odor and noise. With the help of carbon filters, inline fans, and fan silencers, you won't have to worry about your nosy neighbor.
Protection
One of the best benefits of using an indoor grow tent is for protection.
If you've grown weed outdoors, you know there's a high probability of encountering wind, rain, and snow. Additionally, roaming pests and wildlife present a severe problem for outdoor marijuana growers.
Growing cannabis seeds and plants within a grow tent will protect your cannabis crop from the elements and more.
Controllable Environment
Grow tents allow you to grow cannabis under ideal conditions.
By using grow lights, fans, environmental controllers, irrigation equipment, and more, you can dial in the perfect environment for your weed crop. From optimized temperatures to honed in humidity, you'll have the ability to ensure your cannabis crop receives the very best conditions.
Year-Round Growing
Outdoor cannabis cultivators are typically limited to a single harvest per year due to seasonal shifts.
Grow tents, on the other hand, allow year-round weed growing capability.
Through the use of grow lights, indoor growers can produce weed at any point in the year while using a marijuana grow tent. Overall, grow tents allow you to determine when you want to grow cannabis instead of relying on mother nature.
Simplicity
Grow tents are the best alternative to complicated grow room build-outs.
Converting a garage or spare bedroom into a customized grow room takes a lot of money, time, and effort. Alternatively, grow tents can be set up within minutes and do not require tools or complicated renovation.
Energy Efficient
Another notable benefit of grow tents is their energy efficiency.
Energy efficiency is achieved through a number of avenues, which we'll list below. Remember, the greater the energy efficiency, the lower your overall electricity costs and carbon footprint.
Mylar's reflective material enhances lumen output from grow lights
Grow tent design efficiently manages temperature fluctuations
Grow lights are on a timer
Now that you understand the significant benefits of indoor grow tents let's look at other notable aspects that can affect your upcoming cannabis grow.
The Differences of Grow Tent Quality
Next, let's talk about the differences in grow tent quality and how they may affect your upcoming grow.
With hundreds of different brands, it's safe to say that not all grow tents are created equal. Below, we'll discuss key elements that can make or break your cannabis crop.
Canvas Material
When it comes to the canvas (outer body) material of grow tents, there are two standard thickness ratings:
Denier describes the thickness of individual threads. The greater the thickness, the increased likelihood of durability.
As you can imagine, you want a robust grow tent that can handle a room full of growing equipment and constant use. Therefore, understanding the difference in denier rating is crucial when choosing a top-of-the-line grow tent.
Overall, manufacturers use 1680D fabric when crafting a heavy-duty grow tent. On the other hand, grow tent makers may choose the lighter 600D fabric for smaller tents that aren't meant to handle many marijuana plants.
In any case, high-denier fabrics will last much longer than low-denier fabrics. Additionally, a thicker denier is crucial in blocking light and preventing light leaks, which we'll cover in the next section.
Light Leaks vs. Lightproof
As we mentioned in the previous section, canvas material (denier thickness) is the primary factor in determining the light proofness of a given grow tent.
Remember, light leaks are a grower's worst nightmare. Cannabis plants are prone to hermaphroditism when exposed to light during the 12-hours off period.
Therefore, you must select a grow tent manufacturer that utilizes high-denier fabrics in conjunction with professional craftsmanship.
In general, the higher the denier count, the greater the chances are that your grow tent is lightproof. However, quality control is an essential factor in blocking disastrous light leaks.
From loose threads to messy stitch-jobs, a lack of quality control from a grow tent manufacturer can result in stressed-out marijuana plants. Although it's virtually impossible to find a 100% light proof tent, our most recommended grow tents are close.
Mylar Quality
Mylar is the reflective material that's placed on the inner portion of the tent.
Mylar is an excellent innovation because it reflects light all around the plant. As the grow lights send lumens to the canopy of the marijuana crop, the mylar reflects the light to the undergrowth.
Therefore, mylar plays two roles:
Increase the overall brightness of grow lights
Increase reflective potential to underside growth
However, not all grow tent manufacturers utilize high-quality mylar.
As you've seen in our reviews, we always tell you the type of mylar used. Whether it's 99% reflective mylar or diamond-shaped, our reviews provide you with answers.
Lastly, low-quality mylar is known to leach poisonous lead, cadmium, or mercury on your weed crop — especially when high heat is introduced. Therefore, mylar quality is an important consideration when buying an indoor grow tent.
Plastic vs. Metal Support Poles
Grow tents are supported by a series of poles, which also bear the weight of various pieces of grow equipment.
Similar to the bones in your body, support poles keep the tent standing. Therefore, you need to understand the key differences between grow tents with plastic and metal poles.
When possible, you should always avoid grow tents equipped with plastic support poles. Remember, your grow tent contains grow lights, which can significantly increase the temperature.
Plastic can melt when exposed to high temperatures, making plastic support poles a terrible choice.
On the other hand, metal (steel) support poles do not rust nor melt when exposed to high heat or moisture. Additionally, metal support poles are less likely to break under pressure when holding up to 120-pounds of grow equipment.
There is, however, one downside of metal support poles. If the grow tent manufacturer does not provide adequate quality control, the welding points on the support poles may be weak.
If the welding point is weak, the support pole has a higher chance of snapping. Thankfully, we've covered the best grow tents that offer exceptional welding quality.
What Can Grow Tents be Used For?
Grow tents have many uses.
From growing cannabis to drying harvested buds, grow tents are a jack-of-all-trades for indoor cultivation. Below is a list of grow tent use cases that you can use to enhance your overall indoor marijuana garden.
Seedling/cloning room
Mother room
Vegetative room
Flowering room
Drying/curing room
Overall, grow tents can be transformed into anything that you want. With a little bit of creativity, you can transform a small grow tent into a seedling chamber.
Alternatively, a mid-sized grow tent can provide the optimal location for vegging your weed crop before it heads into the flowering chamber.
Lastly, you don't need to have a grow tent for every occasion. Instead, you can go from seed to harvest in a single tent.
Conclusion
Once you spend a growing season with an indoor grow tent — you'll never look back.
From total environmental control to massive hauls of resin-drenched buds, cannabis grow tents are a dream come true for marijuana cultivators. Whether you're on a budget or not, each of our most recommended grow tents will produce a harvest worth tweeting about.
If you're still on the fence, don't worry — any tent you choose from our curated list will get the job done with style.
Alternatively, if you want to buy a grow tent kit with all the bells and whistles — head over to our Grow Tent Kits section. Once you buy one of our recommended grow tents or grow tent kits, make a beeline to our Grow Guide to get your garden off on the right foot!

---
Category Pages:
If you've come this far then you're probably doing your research on all grow tents. Luckily, we've reviewed dozens of high-quality grow tents so you don't have to. We have more grow tents for you to look at and find the one that will suit your garden!
The Best Grow Tents
Product
Rating
More Info

Best Overall

Mars Hydro Grow Tents
[Read Review]

Best for Beginners

CoolGrows Grow Tents
[Read Review]

Best Multipurpose

ViparSpectra 2-in-1 Series
[Read Review]

Best for Professionals

Gorilla Grow Tents
[Read Review]

Best Premium

AC Infinity Grow Tents
[Read Review]

Best for Low Budget

Opulent Systems 3×3
[Read Review]

Best for Limited Spaces

Mars Hydro 2x2x36″
[Read Review]

Best for Large Spaces

Vivosun 10×10
[Read Review]