Buying Cannabis Seeds in South Africa 2022
Laws on Buying & Growing Marijuana Seeds in South Africa. Growing Tips, Recommended Strains, and the Best Seed Banks That Ship to South Africa For the 2022 Growing Season.
South Africa is a regional center for cannabis production, and it is a leading export in 2022.
However, cannabis remains illegal there, so you won't want to get caught taking part in the South African drug market. If you are traveling to the region, live there, or simply want to brush up on the laws, this is your legal guide to buying cannabis seeds in South Africa.
From seed bank recommendations, top-rated seed strains, professional grow tips, and cannabis regulations — you'll learn everything you need to know to stay safe while buying and growing dagga seeds in South Africa.
Best Online Seed Banks for Buying Cannabis Seeds in South Africa 2022:
In a Nutshell — The Legality of Buying Marijuana Seeds in South Africa
There's no denying it — South Africa is one of the most incredible climates to grow cannabis seeds.
If you're ready to germinate seeds and get a garden of green going — you must understand the laws surrounding dagga in South Africa. Here's a summary of the key points that you must know:
Cannabis is decriminalized to the extent that adults may consume it at home
It's illegal to grow cannabis seeds
Recreational cannabis is illegal
Medical marijuana is legal (limited)
Now, let's dive into the in-depth sections about growing cannabis seeds in South Africa, recommended seed banks, top-shelf seed strains, and the laws surrounding marijuana.

Growing Cannabis Seeds in South Africa
South Africa is a paradise for growing weed seeds.
However, you must understand a few key points to ensure a successful harvest of top-rated dagga.
When to Sprout Cannabis Seeds in South Africa
The best time to germinate cannabis seeds in South Africa is between September-November.
Issues to Consider When Growing Marijuana Seeds in South Africa
When growing marijuana seeds in South Africa — you must always be aware of a few issues that can make or break your indoor or outdoor garden.
Here's a list of issues that you must be aware of at all times when growing marijuana seeds in South Africa:
Law enforcement
Thieves
Pests and diseases
Inclement weather
Tips for Growing Cannabis Seeds in South Africa
There's nothing like pulling out a top-shelf bud of dagga after harvest.
If you want to grow the best weed possible, here's a list of three of our most recommended grow tips.
Buy Cannabis Seeds From a Reputable Online or Local Seed Bank in South Africa
Always buy cannabis seeds from a reputable seed bank. Seed banks, especially online seed banks, offer endless seed selection and affordable prices. However, the most important aspect is that seed banks provide verified seed strains.
Buy Cannabis Seeds for Your Regional Climate in South Africa
You must buy cannabis seeds from seed banks according to your regional climate. In other words, you should have an idea of when the weather cools down to ensure you buy a seed strain that does not overshoot into autumn.
Plan Your Cannabis Garden in Advance
Once your marijuana seeds arrive from a seed bank — don't germinate them until your indoor or outdoor garden is complete!
Remember, the best cannabis gardens are prepared well in advance, which makes them more successful.
Which Marijuana Seed Store Is the Best Option For South African Residents?
Now, let's look at the two different seed bank options for South African residents who want to grow their own dagga.
Local Cannabis Seed Stores in South Africa
For now, South Africa seed banks are not a legal reality.
This is a bit of a gray area because there are actually a lot of them in the underground market. Since marijuana use and cultivation is not technically legal, there are no seed banks in South Africa where you can legally walk in and pick up cannabis seeds.
Online Cannabis Seed Banks That Ship to South Africa
To be very discreet, if you decide to buy cannabis seeds in South Africa, you can conveniently buy them online from seed banks that ship to South Africa.
Our top online choice of online cannabis seed banks is Crop King Seeds. Crop King Seeds sells high-quality marijuana seeds at affordable prices. Furthermore, you can pay by cash, credit/debit cards, and Bitcoin. Remember, Crop King Seeds ships directly to South Africa!
Another top-rated cannabis seed bank is none other than MSNL Seed Bank. MSNL Seed Bank has a solid reputation throughout the world because it offers worldwide shipping and a huge selection of seed strains. Bitcoin and credit card payments are accepted, and you can expect your seeds in no time when ordering from South Africa.

Recommended Cannabis Seed Strains to Buy From Online Seed Banks and Grow In South Africa
If you want to grow the most mind-blowing weed in South Africa — here's our top three seed strain picks for the 2022 growing season.
White Widow Autoflower Seed Strain
We recommend the autoflowering version of the White Widow seed strain because who doesn't want frost-covered buds in 8-weeks flat?
From White Widow's short stature to audacious terpene profile — you'll be happily surprised by everything that the White Widow seed strain offers. Furthermore, the White Widow seed strain provides an excellent yield for an autoflowering variety.
Big Bud Feminized Seed Strain
If you want a massive harvest in SA — look no further than the Big Bud Feminized seed strain.
From its fast flowering time to outlandish potency, you'll find yourself covered in so much bud you won't know what to do!
Amnesia Haze Feminized Seed Strain
If you're looking for a mind-blowing sativa to grow in South Africa — look no further than the Amnesia Haze Feminized seed strain.
South Africa's climate is ideal for the Amnesia Haze feminized seed strain, and outdoor growers will be heavily rewarded with gorgeous buds dunked in resin.
About South African Cannabis Laws in 2022
In South Africa, cannabis is illegal; it is classified as a Schedule 7 narcotic.
But with its huge underground cannabis industry, the country is facing pressure to work hard to reduce the amount of weed and cannabis seeds in South Africa.
For this reason, cartels appear to be moving their cannabis production to Western Africa and are now only operating in limited parts of South Africa. In recent years, U.S. counter-narcotics teams have been specifically targeting Ghana, Nigeria, Kenya, and Senegal, as well as giving special training to the South African police.
South African's Official Stance on Cannabis and Cannabis Seeds
The Central Drug Authority (CDA) in South Africa handles drug policy across the area. As per the South African Position Paper on Cannabis, the government there takes the official position that prohibition is a must to maintain good public health.
Critics of the report and laws prohibiting buying cannabis seeds in South Africa explain that cannabis causes almost no toxicity and there are no known overdoses of it.

Personal Cannabis Use Wins in South African
In a case brought before the Western Cape High Court in March 2017, a judge ruled that laws banning an adult individual from using and cultivating cannabis in a private dwelling are unconstitutional.
However, this decision still needs to be confirmed by the Constitutional Court and suspended for 24 months to allow Parliament to make the proper legislative changes. This could result in limited decriminalization, but as of 2022, it has not gone into effect yet.
Marijuana advocates are hopeful that once legislation is passed in line with this court ruling, this could be a huge step towards overall decriminalization and eventually, legalization of the use of cannabis, as well as growing and buying cannabis seeds in South Africa. With so many places around the world opting for legalization, the stigma around cannabis use is becoming less and less prevalent.
Possessing, Using & Buying Cannabis Seeds From Seed Banks in South Africa
However, since the country has a climate that is favorable for germinating weed seeds, there are plenty of people who are cultivating plants and selling seeds.
Now, let's take a look at what happens if you're found with cannabis seeds from a seed bank in South Africa.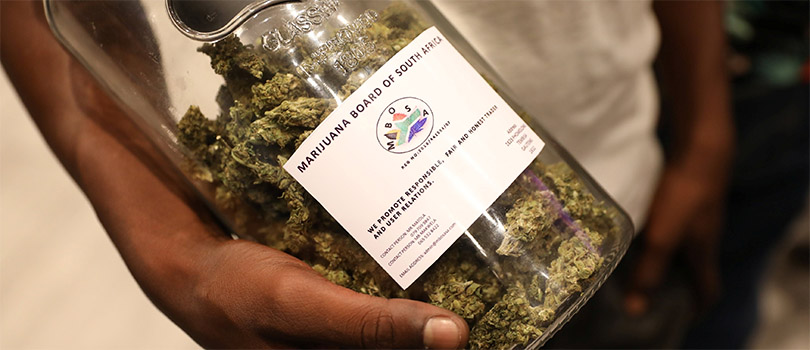 Penalties for Possessing Marijuana Seeds in South Africa
If you are caught in possession of cannabis seeds in South Africa in small amounts, you will likely get a warning or a fine.
As corruption is quite frequent in the area, big sentences are rarely given for weed possession. But, if a maximum sentence were to be handed down for possession, it would mean 25 years in prison.
Using cannabis or buying cannabis seeds in South Africa is prohibited by law in 2022. If you're caught, your weed will be confiscated by the police and you may get a fine or potentially just a warning.

Watch: Cannabis Activists Take Legalization Case to Constitutional Court
Ways to Buy Cannabis Products or Marijuana Seeds as a Tourist in South African
In 2022, tourists are generally not targets for South African police. Instead, the police are focusing their energy and resources on crystal meth.
When wandering around South Africa, if you'd like to get the attention of someone selling cannabis, you can rub your fist in your palm, or you can say "chise iree."
Typically, cannabis is bought by the bag or "bankie" in South Africa, meaning the amount that will fit in a bank coin bag (although it doesn't have to be sold in that bag). To avoid legal penalties for using, keep your use of cannabis confined to your room if you choose to purchase and use it there.
Medical Use of Cannabis Under South African Law
There have been efforts from within the South African Parliament to alter the Medical Innovation Bill to make cannabis legal for medical use only.
The bill was rejected in November 2017 because the Parliament's Portfolio Committee on Health insists that the Medicines and Related Substances Act already contains a provision for cannabis to be used for medicinal and research purposes.
In 2022, a patient may submit a Section 21 Application through his or her doctor to the Medicines Control Council. If the Director-General approves the Section 21 Application, the patient is allowed medical use of cannabis under certain conditions.
Growing & Selling Cannabis Seeds in South Africa
In the poor farming communities in South Africa, growing cannabis plants is an important source of income for families, even though doing so is illegal there.
Many rural families earn income to supplement their day jobs through cannabis cultivation. These small harvests, rather than production from larger plantations, make up a lot of the cannabis production in South Africa.
South Africa's Incredible Climate to Cultivate Cannabis Seeds
South Africa is a great climate for growing dagga or weed seeds because of its long stretches of land and agreeable climate.
The places you'll find the crop growing most often are KwaZulu-Natal, Eastern Cape, Mpumalanga, and Limpopo. However, in 2022, police are targeting growers, so be careful if you choose to engage in illegal activities.
Sellers of cannabis seeds in South Africa must be aware that police are focusing as much on curtailing selling it as they are in its cultivation. Selling weed seeds remains illegal in South Africa in 2022, regardless of whether you are a tourist or a resident.
By getting the most up-to-date information about laws for growing, using, selling, and buying cannabis seeds in South Africa, you can make the most informed decisions about cannabis.
As the laws differ from one country to another, it is important to understand weed regulations whenever you travel or move to a new country. Have fun, but be safe as you travel!
However, if you're ready to grow cannabis seeds in South Africa, head over to our top-rated seed banks to find the perfect seed strains for your 2022 grow!
Parent Page: Where to Buy Marijuana Seeds
Best Online Seed Banks for Buying Cannabis Seeds in South Africa 2022:
Watch: South Africans Can Legally Smoke Dagga in Their Homes
Best Places to Buy Marijuana Seeds Online in 2022