Buying Marijuana Seeds in Australia 2023
Laws on Buying & Growing Marijuana Seeds in Australia. Growing Tips, Recommended Strains and the Best Seed Banks That Ship Down Under For the 2023 Growing Season.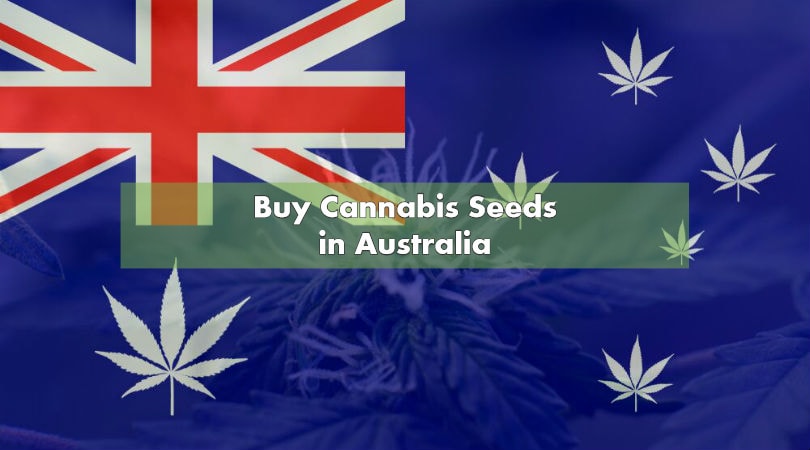 Australia has experienced a significant shift in medical cannabis laws in recent years, with a growing push to legalize recreational cannabis.
With more than 7-million active cannabis users and counting, Australia is on the cusp of a green wave. However, finding information on buying cannabis seeds in Australia from reputable seed banks is still hazy — until now.
Join us as we dive into the topic of buying marijuana seeds in Australia legally, safely, and with maximum ease. Furthermore, you learn all about Australia's cannabis history, recent laws, cannabis culture, and, of course, the best marijuana seed banks that serve Australia and its residents.
Additionally, you'll gain insight into:
Tips for growing cannabis seeds in Australia
The best cannabis seeds to buy in Australia
Ultimately, this guide on buying cannabis seeds in Australia will prove useful for people traveling as tourists or living as Australian residents.
As cannabis laws are constantly evolving worldwide, it's always prudent to check local laws for any relevant updates. By doing so, you'll ensure that you're purchasing legal marijuana seeds from top-rate seed banks in Australia for the best experience possible.
Without further ado — let's begin!
Best Online Seed Banks for Buying Marijuana Seeds in Australia 2023:
Herbies Seeds [Read Review]:
The Booming Spanish Online Retailer. Shipping Discreetly Worldwide. Bitcoin and Credit Cards accepted.
In A Nutshell: The Legality of Buying, Selling, Possessing, and Growing Marijuana Seeds in Australia
We know — the legality of buying, selling, possessing, and growing marijuana seeds in Australia is complicated.
Here is a quick recap of the most critical aspects of the legality of cannabis seeds in Australia:
Medical and recreational cannabis is legal in the Australian Capital Territory (ACT), including growing marijuana seeds from local or online seed banks.
Recreational cannabis is illegal in all other territories and jurisdictions outside of the ACT.
Once outside of the ACT, it's illegal to grow marijuana seeds. If you decide to purchase cannabis seeds from a seed bank and grow them — it's at your discretion.
Medical marijuana exists in Australia; however, you must have a valid license. Furthermore, the government supplies cannabis by allowing licensed companies to cultivate marijuana seeds and distribute marijuana-based products. Ultimately, medical marijuana patients in Australia (outside of ACT) are not allowed to grow marijuana seeds themselves.
Continue reading below for an in-depth guide on the legal aspects of marijuana and marijuana seeds in Australia.
Growing Cannabis Seeds in Australia
If you want to grow cannabis seeds in Australia — this is the section you need to read.
When to Sprout Marijuana Seeds in Australia
A typically ideal time to begin growing cannabis in Australia is October (Southern Hemisphere).
Seedlings may be sprouted indoors while the winter season transitions to spring. When the spring season begins a few weeks later, the marijuana plants can then be moved outdoors. Harvests typically start in March and run through May in regions with seasonal temperature changes.
In milder regions of Australia, cannabis seeds can grow any season of the year outdoors, giving growers up to four harvests in a single year.
Issues to Consider When Growing Marijuana Seeds in Australia
However, Australian outdoor growers are generally plagued by issues with the intense sun and the plants' inability to handle scorching or freezing temperatures.
Outdoor-grown cannabis buds may also be susceptible to mold, which can ruin a harvest, theft, or being eaten by wild animals. With that being said, most of Australia's general climate and soil conditions create an excellent environment for growing marijuana. However, doing so will be a much easier undertaking for those who already have experience in the field.
Tips for Growing Cannabis Seeds in Australia
When it comes to growing marijuana seeds in Australia, you must understand a few critical factors to have a successful harvest.
Below, you'll find three essential tips that'll ensure a stellar harvest of ounces of buds that are drenched in resin.
1. Buy Cannabis Seeds From a Reputable Online or Local Seed Bank in Australia
Although it may sound obvious, buying marijuana seeds from a legitimate seed bank is the key to success.
By purchasing marijuana seeds from a tried-and-true seed bank in Australia, you'll find weed seeds with:
High germination rates
Vigorous cannabis plants
Verified marijuana seed strains
2. Buy Cannabis Seeds for the Australian Climate
One of the most important aspects of growing marijuana seeds in Australia is understanding the climate.
Are you growing cannabis seeds in Victoria or Brisbane (Bris-Vegas)? Overall, you'll want to find marijuana seeds that produce plants that are:
Drought tolerant
Resistant to mold and pests
Resilient against extreme heat or sudden cold
As long as you choose cannabis seeds with these inner-traits, you'll find buckets of bud come harvest time.
3. Plan Your Cannabis Garden in Advance
Remember, most Australian populations live in a Mediterranean climate, allowing cannabis plants ample time to finish flowering.
However, what many cannabis cultivators in Australia forget is to plan the garden months before planting the first cannabis seed of the season.
Therefore, you must figure out which cannabis seeds you'll grow, where you'll grow them, and what you'll grow the weed seeds in. If you need help, we have guides on How to Plan an Indoor Cannabis Garden and How to Plan an Outdoor Cannabis Garden.
Once you plan these three factors — all you'll need to do is kickstart your cannabis seeds and let the Australian sun (or artificial lighting) do its trick!
Which Marijuana Seed Store Is the Best Option for Australian Residents?
Remember, it's illegal to possess and grow marijuana seeds in all states and territories outside of the ACT.
However, it's easy to discreetly buy cannabis seeds in Australia online or locally from reputable seed banks.
Read along to learn about the two options for buying cannabis seeds in Australia — online or in-person at a local seed bank.
Local Australian Seed Banks
At the moment — there isn't much in terms of selection when it comes to seed stores in Australia.
In other words, it's tough to buy marijuana seeds at a local seed bank in Australia. Besides meeting other cannabis enthusiasts in Australia, such as PotPlace, your best bet for finding marijuana seeds is via online seed banks.
Online Seed Banks That Ship to Australia
Overall, online seed stores are the place to buy marijuana seeds in Australia.
However, not all marijuana seed banks ship to Australia. Luckily, we found the best online marijuana seed banks that ship to Australia.
Our most recommended seed bank to buy marijuana seeds and have them shipped to your door in Australia is Herbies Seeds – A fan favorite seed bank for customers Down Under. Herbies Seed Bank is renowned for its shipping speed and top-shelf seed selection. From award-winning strains to wallet-friendly prices, you'll find everything you need when buying marijuana seeds from Herbies.
Herbies is a top pick for Australian customers because:
Rapid shipping to Australia
Stealth packaging
Exemplary customer support
Top-shelf cannabis strains
Ample payment methods
As for the fine print — be aware that buying cannabis seeds from seed stores in Australia (except ACT) and then getting caught possessing, using, or selling cannabis is illegal as per the federal government. Always review the local laws where you live to ensure you understand the potential repercussions of non-compliance.
Recommended Cannabis Seed Strains to Buy and Grow in Australia
If you're ready to buy the best cannabis seed strains to grow down under — here's our top picks that'll produce the best (and biggest) buds that Australia has ever seen.
Each of these seed strains can be found at our two highly recommended online seed banks — ILGM and MSNL. The best part? Both ILGM and MSNL ship to Australia!
Without further ado — here's our recommended seed strains to buy and grow in Australia:
Critical
Jack Herer
Girl Scout Cookies
In most cases, you may find both feminized and autoflowering seed types, making each of these seed strains even easier to grow. However, let's briefly discuss the benefits of growing these three seed strains in Australia.
Critical
As the name implies, the Critical seed strain leaves anyone who indulges in her trichome-packed buds in a critically-stoned state.
Perfect for Australia's hot and dry summer, Critical feminized seeds grow tall and finish flowering within 10-weeks. Huge buds, extreme resin coverage, and ease-of-growth beckon Australian cannabis cultivators of all skill levels.
Jack Herer
Jack Herer is the ace of spades in any cannabis cultivator's seed collection.
Known for its remarkable potency, resilience in hot and dry climates, and resistance to mold, Jack Herer is a must-have seed strain when growing in Australia's outback.
Girl Scout Cookies
Last but not least is Girl Scout Cookies — the West Coast legend.
If you're in Australia and wish to leave everyone in "shock-and-awe" with top-shelf weed — look no further than growing this gorgeous indica-dominant seed strain.
Overall, Girl Scout Cookies feminized seeds are a must if you grow indoors or outdoors in Australia.
History on Growing, Using, Selling, and Buying Cannabis Seeds From Seed Banks in Australia
Like most countries in the world, Australia's history is loaded with strict cannabis laws.
From barring residents from buying marijuana seeds from seed banks to making it a crime to consume weed — Australia is another prime example of prohibition gone wrong.
Let's take a look at the past, present, and potential future of Australia's cannabis regulations.
1924: Buying Cannabis From Seed Banks in Australia Becomes Illegal
Restrictions on buying cannabis seeds from seed banks in Australia date back to 1924 at the Geneva Convention on Opium and Other Drugs.
The decriminalization of marijuana for recreational use was proposed in the 1970s. This movement received support from the 1978 New South Wales Joint Parliamentary Committee on Drugs. However, no legal changes happened because of opposition from the 1979 Australian Royal Commission of Inquiry into Drugs, which stated that decriminalizing weed and allowing Australian residents to buy marijuana seeds would conflict with the UN Single Convention on Narcotic Drugs.
Recent Cannabis Legalization Efforts in Australia And a Big Win for the Greens Party
Australia has a National Drug Strategy, which is its federal drug policy regarding criminal sanctions and favors harm minimization. Overall, Australia does not have a severe system for drug offenses; instead, it focuses on reducing harm and using treatment strategies within the law enforcement system.
In recent years, the Greens party has worked to legalize the use of recreational marijuana in Australia, despite pushback from Greg Hunt, the country's Minister for Health. Their efforts bear fruits, with the ACT (which includes the capital city of Canberra and several neighboring townships) legalizing recreational cannabis as of January 31, 2020.
Growing Marijuana Seeds in ACT Becomes Legal
ACT Residents over the age of 18 are now allowed to possess up to 50 grams of dried cannabis and even cultivate the plant from seed. By enabling the growth of up to 2 plants per person, or 4 per household, ACT residents can now legally buy marijuana seeds in Australia from a reputable seed bank.
Taxes generated from all legal marijuana sales will fund drug education programs and harm-reduction and treatment programs. Although marijuana seeds are now legal in the ACT, it is still illegal at the federal level.
Looking to the Future
As we can see, public opinion regarding medical and recreational marijuana is rapidly changing.
With the Greens Party and many other pro-cannabis supporters, Australia may soon see recreational cannabis laws in the not-too-distant future. Although residents in Australia's ACT are the only individuals allowed to buy recreational marijuana seeds from in-store and online seed banks — the rest of Australia may follow suit very soon.
Cannabis Culture in Australia
Cannabis is the most widely used "illegal" substance in Australia, and support for its use is growing.
As per the 2019 National Drug Strategy Household (NDSH) Survey, 36% of Aussies aged 14 years and older have used cannabis at least once in their lives, with 6.6% of respondents using it within the last month.
In 2019, when the most recent NDSH Survey was conducted, its results indicated growing Aussie support for the legalization of cannabis, with 41% of respondents in favor of it.
Are Medical Cannabis Seeds Legal in Australia?
On February 24, 2016, the Australian parliament passed legislation approving medical marijuana use by people with chronic, severe health conditions. It also legalized growing weed seeds for scientific purposes – an important step towards allowing for mandatory cannabis research.
With optimal growing conditions, such as warm temperatures, humid climate, and other notable agricultural requirements, Australia is the perfect place to grow marijuana seeds en masse. However, extensive licensing is required to grow cannabis seeds currently.
Medical Marijuana's First Appearance in Australia
With this legislation, the Narcotic Drugs Act 1967 was amended to allow cannabis seeds to be grown for the purpose of manufacturing medicinal weed products in the country. The update came after a suggestion proposed by Malcolm Turnball's federal government and was supported by the main opposition party.
2021 — The Year of Medical Marijuana in Australia
The use, production, manufacturing, and distribution of medical marijuana are legal at the federal level in Australia in 2021, provided that you meet a few stipulations.
Under the new regulations, patients who have a valid prescription can use and possess medical cannabis grown in Australia. An additional requirement is that the weed must have been approved under the Therapeutic Goods Act and comply with laws in the relevant state and territory. A national regulator tracks medical weed products on behalf of the government from the growing stage to supply and restrict any criminal activity.
While the legislation is a huge move for Australian patients looking for relief from medical marijuana, it doesn't legalize home cultivation. Furthermore, access to medical marijuana in Australia is limited, creating calls for additional legalization.
The change to the legislation of medicinal cannabis came one year after Daniel Haslam died, at just 25 years old, from bowel cancer. Daniel was an advocate for medicinal marijuana in New South Wales and received national attention in 2014 by sharing his story of how battling cancer and managing cancer treatments were made tolerable by the use of marijuana. He had used medical weed to relieve nausea and poor appetite that his chemotherapy-induced before he passed away in February of 2015. Following his death, his mother Lucy started a group called United in Compassion to petition for the legality of medical cannabis.
Victoria was the first state in Australia to create legal access to medical cannabis when it enacted the Victorian Access to Medical Cannabis Act 2016. Although it provided limited access, it restricted the eligible patient groups and specified the only products covered under the act would be Victorian-made. In 2018, Victoria lifted the restrictions on eligible patient groups and canceled the plans for the cannabis-specific manufacturing license scheme initially laid out.
New South Wales, which had notoriously strict laws regarding cannabis criminalization, started allowing doctors to prescribe medical marijuana in 2016 legally. While the patients' approval process was initially prolonged, the New South Wales government made further improvements in 2018 to provide better, more timely access to much-needed treatment.
Australian Legislation on Growing Cannabis Seeds From Seed Banks
As of January 31, 2020, it is now legal – in the ACT only – to grow marijuana seeds from a local or online seed bank for personal medical or recreational use.
The new law allows two plants per person and no more than four plants per household. In other words, you may own many marijuana seeds — but you can only germinate a few cannabis seeds at a time.
What You Can't Do With Weed Grown From Seed
Security measures must be taken to prevent your crop from being stolen (and potentially sold on the black market). Distribution of the weed you grow to the public is still highly illegal, and getting caught doing so will lead to unpleasant legal consequences. Sharing cannabis seeds with a friend or gifting it is classified as distribution.
Outside of the Australian Capital Territories, cultivating your own cannabis from seed is still illegal, even for medical marijuana patients. It is important to note that hydroponic growing techniques are unlawful throughout Australia, and getting caught with grow lights or other hydroponic equipment can land you in legal hot water.
The laws on growing marijuana seeds vary quite a bit as you move through the various Australian states and territories, so it's a good idea to do a bit of research and understand what sort of fines or other legal repercussions you could be facing if you find cannabis seeds for sale in an Australian seed bank or online and do a bit of recreational gardening in Australia.
Possessing, Using, and Selling Marijuana Seeds or Flowers: What Does Australian Law Say?
Whether you're an Australian resident or simply a traveler to the country, growing and possessing cannabis seeds for recreational purposes is still federally illegal in Australia. However, a growing number of citizens support marijuana legalization.
In January 2020, the ACT became the first Australian region to legalize recreational marijuana use and possession. However, it is illegal to use, grow, or possess cannabis seeds in public places within the ACT. Selling or distributing marijuana (which includes sharing your stash with a friend) and driving with any trace of cannabis in your system are also illegal.
The current criminal sanctions for possession, distribution, cultivation, and use of weed seeds throughout the rest of the country vary by state or territory. For example, in South Australia, you will find the most relaxed penalties of any state in the country.
Australian Cannabis Laws By Territory
South Australian police officers have the option of issuing a citation and fine instead of charging you with a crime if you're found to be consuming cannabis or in possession of up to 100 grams of weed, 20 grams of resin, one cannabis plant, or cannabis-use paraphernalia, such as seeds.
In the Northern Territory, if you are in possession of fewer than 50 grams of marijuana at your home, you may only be subjected to a fine. However, possession of any quantity of weed in public still carries the risk of imprisonment.
Are you going to New South Wales? First-time offenders without a criminal history who are found in possession of fewer than 50 grams of weed for personal use may be offered the opportunity to participate in a Drug Diversion Assessment Program (DDAP) instead of being charged with a crime.
The same policy holds true in Queensland, Tasmania, and Victoria. In Western Australia, the threshold of what constitutes a "personal use" quantity is even smaller, at 10 grams or fewer.
Lenience At First — But Don't Push It
Australia's Drug Diversion Assessment Programs typically include mandatory counseling sessions designed to address the underlying reasons that a person may turn to drug use, encouraging offenders to find healthier ways of coping with stressful situations. Of course, subsequent offenses carry the likelihood of more significant consequences, from higher fines to imprisonment.
Fines issued for cannabis-related offenses typically must be paid within 28-60 days to prevent further legal repercussions. Should you be particularly unlucky and be sentenced to imprisonment for a simple (small quantity for personal use) cannabis offense, the maximum sentence is two years in most territories, three years in Queensland.
Legal Guide to Buying and Growing Cannabis Seeds In Australia: Summing It All Up
As of 2023, buying cannabis seeds online or from local seed banks for recreational grow purposes in Australia and the possession, use, and sale of recreational cannabis is still illegal under federal law.
However, on January 31st, 2020, the ACT was the first state to legalize the cultivation, use, and possession of recreational marijuana – up to 50 grams of dried weed per person and a limit of 2 plants per person. The status of medical marijuana in Australia underwent a significant change when it was legalized in 2016 and has since positively impacted the Australian economy and quality of life for patients there.
Possessing, distributing, and growing marijuana to resell are still considered illegal activities and are punishable by the law's fullest extent. However, the penalties for engaging in these marijuana activities vary by state and even between different territories.
If you're thinking of buying marijuana seeds from a local or online seed bank, possessing it, or using it in any way, always remember to check the specific laws where you reside or travel in Australia to avoid criminal penalties.
Parent Page: Buy Cannabis Seeds
Best Online Seed Banks for Buying Marijuana Seeds in Australia 2023:
Herbies Seeds [Read Review]:
The Booming Spanish Online Retailer. Shipping Discreetly Worldwide. Bitcoin and Credit Cards accepted.
Best Places to Buy Marijuana Seeds Online in 2023