Dinafem Seeds Review 2023
Dinafem Seeds, Cannabis Seeds Breeders. Spain.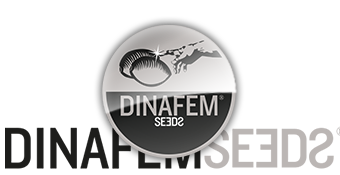 ---
Dinafem is a major name in the marijuana seed world. They are a seedbank and grower based in Spain, although they have several official distributors located throughout mainland Europe. It is highly regarded in online growing communities for its superior seeds and excellent customer service. What people love most about Dinafem, though, is the strength and reliability of their strains.
They produce plants that are very easy to grow and take care of, with fast flowering times that give you a lot of reward for all your efforts. They go through a rigorous and unique process for cleaning their seeds, ensuring their quality, and packaging them in innovative glass Eppendorf tubes that include moisture control and a thermo-hygrometer that allows customers to see the conditions their seeds have been subjected to during the shipping process and helps to ensure a fresh product once they arrive.
Better Alternatives
Herbies Seeds [Read Review]:

*Best Alternative*


The Booming Spanish Online Retailer. Shipping Discreetly Worldwide. Bitcoin and Credit Cards accepted.

ILGM Seed Bank [Read Review]:

*Ships to USA Only*


A Reputable Dutch Brand. Shipping Discreetly to USA. Bitcoin and Credit Cards accepted.
History and Reputation of Dinafem Seeds
Like many seed shops, Dinafem grew out of a simple love for weed. The company was started in 2002, when its founders devoted an entire year to finding the best places to grow and methods for producing their now-legendary custom strains (including Moby Dick, Critical+ and Blue Widow). After a few years of perfecting the craft, Dinafem Seeds was opened as an official company with product for sale in 2005. At the time, they were the first company specializing in feminized seeds in the whole country of Spain, and they had made it their mission to compete with the heavyweights in Amsterdam.
In just five short years, they became the first non-Dutch breeder to receive the Soft Secrets "Girl of the Year" Award for their popular strain, Moby Dick. Now almost 11 years since its start, the company still remembers its humble roots and remain dedicated to offering customers a no-hassle buying experience with a strong quality guarantee.
Seed Selection and Product Quality
Dinafem's own seed selection is more limited than some seed shops, but its quality more than makes up for that. In their online shop, they also sell seeds from other breeders like Barney's Farm, Dutch Passion, and Sensi Seeds, which helps to round out the selection. Dinafem's proprietary strains are all feminized or autoflowering. Some of their bestselling strains include Moby Dick, Amnesia, White Widow, Haze XXL, Cheese, Industrial Plant, and Critical Jack.
Dinafem is famous for the strength of their strains and how easy to grow they all are. Their unique packaging precautions including the color-change thermometer and moisture control also help to ensure that the seeds get to you in top condition. The consensus in online communities is that Dinafem seeds are a great buy and you'll rarely if ever be disappointed in the quality. The genetics are solid and they produce highly reliable, consistently good plants.
Customer Service
Customer service is one of the things that makes online weed seed buyers so anxious. Not knowing what kind of seed quality you'll be getting, along with being unsure about the kind of customer service you can expect is enough to make anyone hesitant to spend their hard earned money. Rest assured that with Dinafem, if something does go wrong with your order, they will do what they can to make it right for you.
One review says that a buyer ordered Dinafem seeds from Attitude that came in rotten. While Attitude was not able to help him, Dinafem offered to send him a replacement order, completely free of charge. Now that's customer service, especially considering that he didn't even buy through Dinafem's shop.
So there's really no reason to worry. Not only does Dinafem deliver a reliably high quality product, but they're willing to go out of their way to correct any mistakes that may happen. You can buy with confidence here.
Website Usability
Dinafem's website is well-designed with a professional feel to it. It is available in many different languages like English, Spanish, Italian, Dutch, French, and a bunch of others, so you should have no problem navigating it no matter where you're located. The site has good search features that let you easily find what you're looking for, whether you're searching by seed type or by breeder. They provide a lot of useful information on their blog, plenty of growing advice, and answers to a lot of frequently asked questions.
Payment Options
However, the one thing that is lacking from their website is concrete information regarding the payment methods that they accept. With a little digging, we were able to find out that they accept credit and debit cards, bank transfers, or cash on delivery for customers located in Spain, France, Italy, Portugal and Germany. They don't appear to accept PayPal or Bitcoin payments at this time, which is a shame. One good thing is that you can shop on their website and see the prices in a variety of different currencies, like the Euro, American dollars, or Pounds sterling.
Shipping and Stealth
Dinafem's shipping methods are unique in the industry and result in a superior, fresh product no matter where it's shipping to. Orders are packaged in plain brown envelopes so as not to arouse unnecessary suspicion. All packages ship with a guarantee of delivery and come with a tracking number. Different shipping options are available to different countries, but Dinafem does ship worldwide.
Overall
Dinafem is a big name in the industry for good reason. They offer great products backed by responsive customer service. Most people never have a problem with their seeds, but those rare ones who do are treated to caring customer service agents that help them sort out their issues. No one can complain about the high quality strains and genetics that Dinafem has on offer.
Worldwide shipping and the extra measures they take to keep the seeds fresh give it an edge on the competition, but the limited payment options bring it back down to level again. If Dinafem could just add in some Bitcoin and PayPal support, it would definitely be a contender for the #1 seed bank!

---
Main Category Page
:
Seed Banks
– Top cannabis seed banks, comparisons & reviews of the best online weed seed shops in 2023. Focused information which will help you find what you're looking for.
Better Alternatives
Herbies Seeds [Read Review]:

*Best Alternative*


The Booming Spanish Online Retailer. Shipping Discreetly Worldwide. Bitcoin and Credit Cards accepted.

ILGM Seed Bank [Read Review]:

*Ships to USA Only*


A Reputable Dutch Brand. Shipping Discreetly to USA. Bitcoin and Credit Cards accepted.
Best Places to Buy Marijuana Seeds Online in 2023