Dinafem Seeds Review 2023
Dinafem Seeds, Cannabis Seeds Breeders. Spain.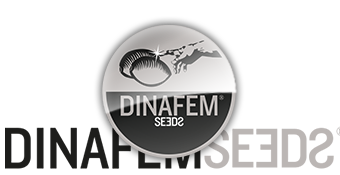 ---
Dinafem was a major name in the marijuana seed world. They were a seed bank and cultivation collective based in Spain with several official distributors throughout mainland Europe. It was highly regarded in online growing communities for its superior seeds and excellent customer service. What people loved most about Dinafem, though, is the strength and reliability of their strains.
Unfortunately, Dinafem was shut down in 2020, along with La Mota and Humboldt Seeds, by an operation by the Spanish Guarda Civile. The seeds collective is now under the name Silent Seeds and operating out of The Netherlands.
The Dinafem name is no longer, but the web property still exists. So, we've decided to leave our review up to keep cannabis cultivators and enthusiasts informed. In addition, resources like the blog and Dinafem TV can still provide value in 2023.
Better Alternatives
Herbies Seeds [Read Review]:

*Best Alternative*


The Booming Spanish Online Retailer. Shipping Discreetly Worldwide. Bitcoin and Credit Cards accepted.

ILGM Seed Bank [Read Review]:

*Ships to USA Only*


A Reputable Dutch Brand. Shipping Discreetly to USA. Bitcoin and Credit Cards accepted.
History and Reputation of Dinafem Seeds
Like many seed shops, Dinafem grew from a simple love for weed. The company started in 2002 when its founders devoted an entire year to finding the best places to grow and methods for producing their now-legendary custom strains (including Moby Dick, Critical+, and Blue Widow). After a few years of perfecting the craft, Dinafem Seeds was opened as an official company with products for sale in 2005. At the time, they were the first company specializing in feminized seeds in the whole country of Spain, and they had made it their mission to compete with the heavyweights in Amsterdam.
In just five short years, they became the first non-Dutch breeder to receive the Soft Secrets "Girl of the Year" Award for their popular strain, Moby Dick. Dinafem continued making a name for itself by producing very easy plants to grow and manage, with fast flowering times that delivered a lot of reward for all your efforts. They went through a rigorous and unique process for cleaning their seeds, ensuring their quality, and packaging them in innovative glass Eppendorf tubes that include moisture control and a thermo-hygrometer that allows customers to see the conditions their seeds have been subjected to during the shipping process and helps to ensure a fresh product once they arrive.
Dinafem is Shut Down
After 15 years in the business, Dinafem was shut down by Spanish authorities. The Guarda Civile Operation forced Dinafem, La Mota, and Humboldt Seeds to stop selling seeds. According to Cannabis Mag, the investigation consisted of 14 people, 17 searches of houses and industrial properties, the intervention of 207 people, €207,000, 20 million cannabis seeds, and a lab specializing in genetic manipulation. A press release was issued by the Spanish police stating the defendants were accused of crimes against public health, money laundering, and electricity fraud.
Unfortunately, while Spain has an incredible cannabis culture, the laws don't reflect the country's tolerant attitude regarding marijuana. Thankfully, it appears that the operators are back doing what they love under a new name. But we'll likely never see premium cannabis seeds sold under the Dinafem name.
Seed Selection and Product Quality
Dinafem's seed selection was smaller than some seed shops with under 100 strains. However, its quality more than made up for the limited inventory. Since our first review of Dinafem, they stopped carrying seeds from other breeders and went 100% in-house. All the seeds available were stabilized by the experts at the collective. Dinafem's proprietary strains are all feminized or autoflowering. Some of their bestselling strains include Moby Dick, Amnesia, White Widow, Haze XXL, Cheese, Industrial Plant, and Critical Jack.
Currently, it is unclear how much of Dinafem's proprietary strains were preserved after the criminal investigation and raid by Spanish authorities.
Seed Categories
Shopping through Dinafem's seed selection was a seamless experience due to the execution of categories. You could shop the entire seed collection or narrow your search by choosing feminized, autoflowering, high-CBD, or Quick Cannabis seeds. If you wanted to optimize your search further, you can filter with the following:
Indoor Growing
Outdoor Growing
Cup-Winning
Sativa
Indica
High THC
Quick Cannabis Seeds
Dinafem's expert breeders solved one of the most challenging aspects of cannabis cultivation by developing photo-dependent strains that flower 1-2 weeks faster. The last 2 weeks of the flowering period exposes fully developed plants to mold, mildew, and pests putting months of hard work at risk. Dinafem only had 4 Quick Seeds available before their closure, but we expect the breeders to continue their work revolutionizing the cannabis industry under the new brand.
World-Class Strain Images, Detailed Reviews, Customer Feedback
The shopping experience at Dinafem was among the best in the industry due to the time that went into each individual product page. You'll find multiple high-quality photos of what you can expect once your plant's flower, accompanied by a lengthy strain description with essential information. In addition, every stain has dozens, if not hundreds, of reviews from happy customers.
Dinafem's product pages are still a fantastic resource for growers looking for pictures, information, and feedback from the community.
Customer Service
Customer service is one of the things that makes online weed seed buyers so anxious. Not knowing what kind of seed quality you'll be getting and being unsure about the type of customer service you can expect is enough to make anyone hesitant to spend their hard-earned money. Rest assured that with Dinafem, if something went wrong with your order, they would do everything they could to make it right.
One review says that a buyer ordered Dinafem seeds from Attitude that came in rotten. While Attitude was not able to help him, Dinafem offered to send him a replacement order completely free of charge. Now that's customer service, especially considering he didn't even buy through Dinafem's shop.
We are unsure if the tradition of excellent customer service will transfer to Silent Seeds, as they are still very new to the industry, but we hope it does. Dinafem was among the best in the business, and it's sad to see what they built taken away.
Online Reputation
The consensus in online communities is that Dinafem seeds were a great buy, and you'd rarely, if ever, be disappointed in the quality. The genetics were solid, producing highly reliable, consistently good plants. If you go to any online cannabis cultivation forum, you'll still see endless positive reviews about the collective. Customers got their strains on time, and they almost always germinate into healthy plants. And most importantly, in the instances that customers receive faulty seeds, they are backed by a 3-month replacement guarantee.
Website Usability
At the top of the page of Dinafem.org, you'll notice a banner stating, "We are unable to process any orders until further notice." It's been over 3 years since the investigation, so we can assume sales will never resume, and you'll have to look elsewhere online for seeds.
However, Dinafem's website is an excellent example of how an online cannabis seed market should look. It's well-designed with a professional feel and available in English, Spanish, Italian, Dutch, and French. The site has good search features that let you quickly find what you're looking for, whether by seed type, cultivation preference, or cup winners.
Blog
The blog has an impressive collection of articles with invaluable information. However, they haven't updated the blog since 2020, obviously due to the raid, but the posts are still a great read. Dinafem regularly informed its community with news, research, and detailed strain reviews.
Dinafem TV
Dinafem TV was one of the most valuable features of the website, other than being able to buy premium cannabis seeds, of course. Here you'll still find videos on essential cultivation information, strain reviews, and R&D. So, if you want to see what Dinafem was up to in their hay day and what you may expect going forward, the best place to look is the video library.
FAQs
One of the most impressive aspects of Dinafem's website was the FAQ section. If you had a question, you'll likely find an answer. The FAQ featured multiple pages including:
Order and Shipment FAQs
Payment FAQs
Product FAQs
Technical FAQs
Other FAQs
You'd be hard pressed to find a seed bank with a more comprehensive collection of common questions and detailed, informative answers.
Payment Options
Dinafem offered an assortment of payment options but preferred credit card. This was the easiest, fastest, cheapest, and safest way to pay for Dinafem seeds according to the payment FAQ. You could also pay with wire transfers, cash, or Bitcoin. International customers were happy to see prices in a variety of different currencies, like the Euro, American dollars, Canadian dollars, and Pounds.
Shipping and Stealth
Dinafem's shipping methods were unique in the industry and resulted in a superior, fresh product no matter where they were going. Orders were packaged in plain brown envelopes so as not to arouse unnecessary suspicion. All packages shipped with a guarantee of delivery and come with a tracking number. Different shipping options were available to different countries, but Dinafem did ship worldwide.
Again, we're unclear at this time if Dinafem's business practices were transferred over to Silent Seeds.
Overall
Dinafem was a massive name in the industry for a good reason. They offered great products backed by responsive customer service. Most people never had a problem with their seeds, but those rare ones who did were accommodated by professional customer service agents that helped them sort out their issues. No one could complain about the high-quality strains and genetics that Dinafem has on offer.
Unfortunately, their success attracted the attention of the Spanish authorities and resulted in the closure of Dinafem.org. The unclear and complicated cannabis laws in Spain make operating a large-scale seed bank with proprietary strains nearly impossible. Fortunately, the legacy lives on, and we hope to see the tradition of innovation, professionalism, and customer service in the new operation.
---
Main Category Page
:
Seed Banks
– Top cannabis seed banks, comparisons & reviews of the best online weed seed shops in 2023. Focused information which will help you find what you're looking for.
Better Alternatives
Herbies Seeds [Read Review]:

*Best Alternative*


The Booming Spanish Online Retailer. Shipping Discreetly Worldwide. Bitcoin and Credit Cards accepted.

ILGM Seed Bank [Read Review]:

*Ships to USA Only*


A Reputable Dutch Brand. Shipping Discreetly to USA. Bitcoin and Credit Cards accepted.
Best Places to Buy Marijuana Seeds Online in 2023