Runtz Seeds
An eye-opening review on the strain of the year — Runtz. Learn everything about the award-winning Runtz strain, such as its binge-worthy flavor and where to find real Feminized Runtz seeds for sale online.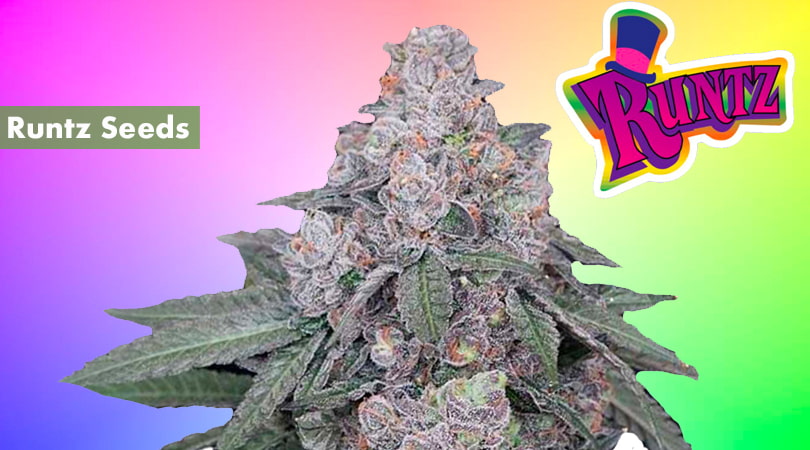 Remember way back when during your childhood when you used to run after the ice cream man?
If you were lucky enough to grab a few treats from the ice cream man — you surely snagged a pack of runts. For those of you that don't know, runts are those tiny, multicolored candies coated in sugar that kids go crazy for.
The moment a runt hit your tastebuds — it was flavor city. Basically, life couldn't get any better once you smashed a pack of runts with your neighborhood friends.
Fast forward to the future, and it's time to bring your childhood enjoyment full circle.
Meet the Runtz strain — one of the most sought-after varieties in the cannabis industry due to its insane terpene content and sky-high THC potential.
Continue reading below to discover everything there is to know about the Runtz strain. From essential grow tips to where to buy real Runtz seeds online — you've come to the right place!

Runtz Seeds – Strain ID: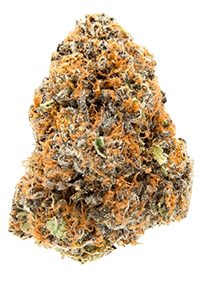 Type: Hybrid
Cannabinoids: Up to 24% THC
Terpenes: Caryophyllene, Linalool, Limonene
Effects: Anti-anxiety, Relaxing, Euphoria
Landrace Strain: Gelato x Zkittlez
Grow Difficulty: Easy
Harvest: 9 Weeks / 10+ Weeks
Yield: 400-500g/㎡ / >450g/plant
Height: 3-6 feet/ >6 feet
(*Indoor / Outdoor)
The Best Runtz Feminized Seeds in 2023:
• 25% THC
• Harvest: 8-9 Weeks
• Yield: 450-500g/㎡
• Shipping Discreetly Worldwide
• Germination Guarantee
• Free Seeds With Every Order
Prices
• $16.6 Per Seed
• Bulk orders get discounted rate
• 20-24%+ THC
• Harvest: 8-10 Weeks
• Yield: 400-500g/㎡
• Shipping Worldwide
• Including Free Seeds
• Credit Cards & Bitcoin Accepted
Prices
• £7 Per Seed
• Bulk orders get discounted rate
---
About the Runtz Strain
Background
Out of thousands of cannabis strains — a handful of varieties hit the bullseye.
In this case, Runtz did exactly that. However, before anyone knew who bred Runtz seeds, the main question was what is Runtz in the first place. This question, however, immediately disappeared once more information came out about this legend-in-the-making.
Bred by the master growers at Cookies, Runtz seeds are a mixture of Zkittlez and Gelato.
As you can imagine, Zkittlez and Gelato are premier dessert strains, which made it obvious from the get-go that Runtz would be a total tongue twister.
During its first release in California, cannabis enthusiasts went wild. Review after review talked about the ultra-potent flavor that tasted exactly like runts candy.
Although cannabis consumers in Los Angeles were head-over-heels because they had access to beyond top-shelf bud — cultivators felt left out in the cold.
As usual, Cookies isn't quick to release genetics because they don't want to flood the market. However, select individuals gathered real Runtz seeds or clones and created Feminized Runtz seeds.
Now, growers around the world can grow their own Runtz weed at home. Although still difficult to find, you can find Runtz seeds under different names, such as Runtz OG, White Runtz, Purple Runtz, and Pink Runtz.
Last but not least, Runtz is openly regarded as the strain of the year — making it a must-have variety for cannabis enthusiasts and medical marijuana patients alike.
Growing Runtz Seeds
When growing genetics this new — you need to give enough room for error.
In other words, Runtz isn't battle-tested by thousands of growers across different environments. Although the current word on the street says that Runtz is suitable for home cultivation — you need to be aware that just released genetics can be unstable.
Therefore, you need to pay close attention during all stages of growth when growing out Runtz. In any case, you want to taste Runtz's deliciously potent buds — so TLC is necessary when growing any number of Runtz plants.
Grow Difficulty
Runtz is an easy strain to grow, making it the perfect strain for beginners looking for a strain with mouth-watering flavors.
Whether you're a beginner or professional, Runtz plants are not demanding and tend to grow vigorously indoors or outdoors. Remember, both Gelato and Zkittlez are very easy to grow, making the hybrid Runtz equally simple.
As long as you provide TLC and a watchful eye — you'll harvest delicious buds covered in trichomes in no time.
Optimal Growing Conditions and Climate
We know — it's tiring that all the best weed strains are born and bred in California (unless you live there).
Once again, we're here to tell you that the Runtz strain enjoys Mediterranean conditions because it's from the heart of Los Angeles. Therefore, sunshine, low humidity, and warm weather are the preferred conditions of Runtz cannabis plants.
If you grow Runtz seeds outdoors, always choose a sunny location that has easy access to water. Additionally, providing shade may be necessary during an epic heatwave to protect Runtz plants from dehydration.
Overall, the best location to grow Runtz seeds is indoors. Indoor environments allow you to control the temperature and humidity — thus increasing trichome, terpene, and cannabinoid production.
Flowering time
The average flowering time of Feminized Runtz seeds is 9-weeks.
However, cultivators may find fast-flowering phenotypes that complete the cycle in as little as 8-weeks. In some cases, some Runtz phenos finish flowering in as long as 10-weeks.
Remember, the Runtz strain is a true hybrid, making its flowering time 8-10-weeks. When grown indoors (especially in hydroponics), Feminized Runtz seeds may finish within 8-weeks.
When grown outdoors, Feminized Runtz seeds may finish by the beginning or middle of October.
Yield
Although the name Runtz implies a small size — that couldn't be further from the truth.
When grown indoors, Feminized Runtz seeds can produce 400-500g/m2. If you grow Feminized Runtz seeds outdoors, each plant can produce upwards of 450-grams.
Overall, the Runtz strain produces medium-sized buds that will stack your jars and keep your taste buds on red alert for months on end.
Height
Once again, the Runtz name is outrageously deceiving when taken at face value.
Instead, Runtz plants grow to a medium height of 100-180cm. When vigorously trained in outdoor or indoor gardens, cultivators can easily manage Runtz plants to remain around 100cm.
When allowed to vegetate naturally, such as in an outdoor garden, the Runtz strain can reach upwards of 180cm. In any case, your garden's space will dictate how large your Runtz plants can be — so plan accordingly.
Resistance to Pests and Diseases
The last thing you ever want to see on Runtz is pests or diseases.
Luckily, the Runtz strain is well-equipped with pest and disease resistance right off the bat. However, this does not mean you can slack on your IPM strategy.
The best practices to ensure the health of your Runtz plants are:
Remove the lowest growth (lollipop)
Add one oscillating fan per meter squared (indoors)
Adequately space each plant
Keep your garden clean
Always wear clean clothes into the grow room
Apply organic neem oil during the vegetative stage
Manage humidity (indoors)
Remember, constant inspection during all stages of growth is the key to ensuring a healthy harvest of dense Runtz buds. As long as you follow the tips mentioned above, your garden should be free from pests and diseases.
However, pests and diseases always find a way into the garden — which is why preventative methods should be your preferred choice.
Runtz Strain Description and Properties
The Appearance of Runtz Weed
Where do we begin when describing weed this fire?
Let's take it step by step so we cover every angle of one-of-a-kind strain. First, the buds are incredibly dense. Each Runtz bud feels like a rock in your hand — as if they are blown-up versions of runts candies.
Second, the colors splashed across the calyxes are beyond standout with pink and purple hues. Overall, the buds from Runtz look like a Cali sunset right before twilight.
After mesmerizing at the sheer color tone of Runtz weed, the trichome coverage is through the roof. Once you see how much resin covers these buds, you'll understand why it's also known as White Runtz or Runtz OG.
Last but not least, the fire orange pistils blaze across the surface, creating an explosion of color that truly makes the Runtz strain look like it's from another planet.
Dominant Cannabinoids Found in Runtz Weed
The dominant cannabinoid found in the Runtz strain is none other than THC.
On average, the Runtz strain produces 21% THC. However, skilled growers that fine-tune their garden can push the THC content beyond 24%.
Overall, Runtz packs a hefty amount of THC under its buds.
Dominant Terpenes Found in Runtz Weed
What makes Runtz weed taste exactly like runts candy?
Well, terpenes are to thank, and boy do they come on strong with each puff or whiff. Once you crack open a jar full of Runtz buds, prepare your nose to get decimated by unrefined sugary sweetness, fermenting berries, and a splash of floral and earthy undertones.
Once you indulge, however, the flavor takes your taste buds for a wild ride. From pure sweet candy to citrus-infused hashish, the Runtz strain is a must-try strain just for the taste.
Overall, the three dominant terpenes responsible for Runtz's flavor and aroma are caryophyllene, limonene, and linalool. The caryophyllene is likely responsible for the spicy dankness, and the limonene generates the citrus hues that grab your senses. Lastly, the linalool offers floral characteristics and dark sweet berry tones.
Effects of the Runtz Strain
Whether you use a vaporizer or break out a glass that's meant for a special occasion — the Runtz strain is a fast worker.
The minute you exhale a massive plume of smoke, the head rush that occurs is instant. From zero to blitzed in no time flat, you won't know what hit you until you look down at your still-smoking bowl.
As your mind soars through the clouds, you'll begin to feel a tingling and relaxing sensation throughout your body. Soon, euphoria and happiness cascade throughout your being, and you'll have a sudden urge to talk to anyone who's willing to listen.
Overall, the Runtz strain is perfect for social occasions where conversations, laughter, and getting weird are top priorities.
However, after a few hours, you'll notice a heavy hand of relaxation overcomes your mind and body. Once you're ready to sleep — you'll drift without a moment's notice.
As you can see, it's no wonder why cannabis enthusiasts rush to buy Runtz seeds the minute they go on sale.
Medical Properties of the Runtz Strain
The Runtz strain is one of the best varieties for medical marijuana patients.
Although Runtz doesn't contain CBD — it's clear that it can help with a myriad of medical issues. Here's a list of the significant medical attributes that Runtz can assist with:
Anxiety
Stress
Depression
Pain
Fatigue
Due to the popularity of Runtz among medical marijuana patients in the USA, Canada, and the rest of the world, it's not easy to find real Feminized Runtz seeds at local seed stores. Overall, your best bet is to buy Feminized Runtz seeds via online seed banks.
Negative Effects of the Runtz Strain
As with anything — too much of a good thing has its downsides.
When consuming too much Runtz weed, you may experience:
Extreme drowsiness or sleepiness
Paranoia
Dry mouth
Red eyes
As you can see, you must always consume Runtz weed with care. Unless your THC tolerance is high, you should always begin with a small dose to ensure an enjoyable time!
Pros/Cons of Growing Runtz Seeds
Pros
Beyond top-shelf weed
Extreme resin production
Massive yield
Dense flowers
High disease and pest resistance
High potency
Colorful buds
Medium height
Cons
Average flowering time
Challenging to find real seeds
The Best Runtz Feminized Seeds in 2023:
• 25% THC
• Harvest: 8-9 Weeks
• Yield: 450-500g/㎡
• Shipping Discreetly Worldwide
• Germination Guarantee
• Free Seeds With Every Order
Prices
• $16.6 Per Seed
• Bulk orders get discounted rate
• 20-24%+ THC
• Harvest: 8-10 Weeks
• Yield: 400-500g/㎡
• Shipping Worldwide
• Including Free Seeds
• Credit Cards & Bitcoin Accepted
Prices
• £7 Per Seed
• Bulk orders get discounted rate
---
Main Category Page:
Marijuana Seed Index
– A curated index of the world's best cannabis seed strains. Each review contains vital information, such as cultivation tips, strain profiles, and where to buy the best cannabis seeds.