Sour Diesel Seeds
Looking for a soaring pick-me-up? The Sour Diesel strain is for you. Find everything you need to know, including grow tips, in this complete Sour Diesel strain review.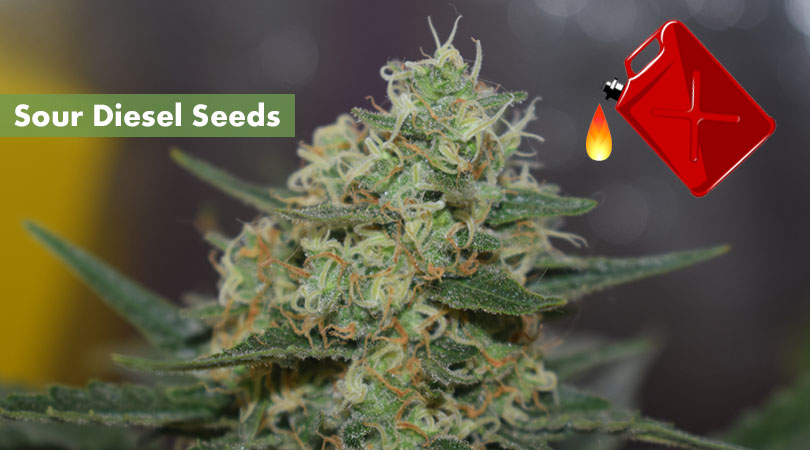 Not all weed is created equal.
Some strains put you on the couch and keep you there, but what happens when you need to crush work, join meetings, take care of business, and stay productive?
That's where the legendary Sour Diesel weed strain comes in to lend you a hand.
Affectionately known as Sour D by the legions of people who swear by it, Sour Diesel has the power to provide uncompromising focus with a very positive buzz that lasts for hours and hours.
Taking a rip of Sour Diesel weed in the morning can even replace a bold cup of coffee — helpful if you're trying to wean yourself away from caffeine toward a more herbal remedy for energy.
The Sour Diesel strain isn't just for people looking for a daytime boost, however. The strain is a powerful remedy for everything from pain to writer's block, making it a broad-spectrum panacea worth keeping stocked in your medicine cabinet.
However, Sour D's loveable effects only account for half of what has propelled this strain to legendary status. True to its name, Sour Diesel weed is a beast in the bag — think overripe citrus fruit soaked in skunky-sweet gasoline.
The very unique way this strain hits your senses makes it unforgettable — but judging by how often you'll probably be hitting it through the day, you won't have many opportunities to forget it anyway.
With a strain as famous and well-bred as Sour Diesel, there's plenty of info to unpack below — especially if you want to learn how to grow Sour Diesel seeds for maximum yields.

Sour Diesel Seeds – Strain ID:
Type: Sativa
Cannabinoids: 15-20% THC
Terpenes: Myrcene, Caryophyllene, Limonene,
Effects: Uplifting, Energetic, Creative
Landrace Strain: Chemdog 91 x Super Skunk
Grow Difficulty: Intermediate to Hard
Harvest: 10-12 Weeks / >12 Weeks
Yield: Up to 515g/㎡ / 700g/plant
Height: Up to 5 feet/ Up to 9 Feet
(*Indoor / Outdoor)
The Best Sour Diesel Feminized Seeds in 2023:
• 25% THC
• Harvest: 10-11 Weeks
• Yield: 600g/㎡
• Shipping Discreetly Worldwide
• Germination Guarantee
• Free Seeds With Every Order
Prices
• 3 Seeds – $28.99
• 6 Seeds – $53.5
• 6 Seeds – $75.82
• 19-22% THC
• Harvest: 12-14 Weeks
• Yield: 500-600g/㎡
• Shipping Worldwide
• Including Free Seeds
• Credit Cards & Bitcoin Accepted
Prices
• £5.9 Per Seed
• Bulk orders get discounted rate
---
About Sour Diesel Seeds
Background
Like many classic weed strains with deep cultivation roots going back to ganja prohibition days, the Sour Diesel strain's exact origins are something of a mystery.
After some pretty hardcore sleuthing performed by cannabis-industry botanists, there's relative certainty that Sour Diesel's parents are Chemdog 91 and Super Skunk. One whiff of a lean Sour Diesel nug and you'd be hard-pressed to deny such a lineage given that Super Skunk and Chemdawg 91 both contain precursors of Sour D's characteristic sweet dankness.
However, if you've been smoking long enough, you've probably come across various iterations of the Sour Diesel strain. As a heritage strain that spread across the United States during the early 90s, Sour Diesel seeds have been crossed with innumerable others.
Over time, true Sour Diesel seeds have emerged after repeated lab tests since, after all, terpene profiles never lie. No longer an underground strain, you can rest assured that when you buy Sour Diesel seeds online from a trusted seller, they're the real deal.
Today, Sour Diesel gets love and shoutouts everywhere it goes. Wu Tang's Redman claims it's the only strain he smokes in the studio to stay energized, while user-reviews from growers, smokers, and medicinal patients everywhere gush over its ability to keep them in the zone all day long.
Growing Sour Diesel Seeds
A lot of today's contemporary strains, like Zkittlez and Gelato, are awesome to buy at the dispensary but are nightmares to train in the grow room.
On the other hand, Sour Diesel is a truly classico strain that is meant for being grown first-hand by anyone who loves weed. When grown properly following the guidance in this review, Sour Diesel seeds can make even the most experienced grower smile throughout the experience.
Like most sativa-dominant strains, Sour Diesel seeds grow into tall, rangy plants that will take over all the space you're willing to throw at them. But, what unruly Sour Diesel plants lack in terms of compactness, they make up for with a rewarding yield of some of top-tier cannabis meds.
How do you grow Sour Diesel from seed? Start with seed selection.
To begin with, there are two choices when it comes to buying Sour Diesel seeds. You can go either for regular Sour Diesel seeds, or feminized Sour Diesel seeds.
The difference between the two is simple, but the results they offer are pretty different.
In a nutshell, feminized Sour Diesel seeds are all females, meaning they are the plants that grow Sour Diesel weed flowers (males don't flower). When you go with feminized Sour Diesel seeds, the upsides are convenience, no need to weed out male plants, and a less technical grow overall. These are the seeds that a beginner who is short on time should opt for.
Regular Sour Diesel seeds, on the other hand, offer a classic growing experience where you will have to sort out males but will get other benefits to offset the hassle. Increased phenotype selection that stems from growing regular Sour Diesel seeds means you can exert greater control over your grow, terpene profiles, and the final product. As such, regular seeds are the right choice for anyone seeking to put in the time, research, and legwork to harvest exceptional flowers.
Grow Difficulty:
Sativa and 'easy grow' don't generally belong in the same sentence.
Growing Sour Diesel seeds is no exception here — Sour D is not an easy strain to grow, with a difficulty level that ranges from intermediate to hard.
If you want to grow Sour Diesel seeds, the first quality you'll need is commitment. That's because Sour Diesel plants seem to have a mind of their own while having many specific needs to thrive well.
An abundance of care needs to be put into lighting conditions when grown indoors, site selection when growing Sour Diesel seeds outdoors, and constant monitoring for mold and mildew, both of which commonly afflict this strain.
Also of note when growing Sour Diesel seeds is that this plant is a poor choice for anyone trying to grow it in secret. Because of the strain's loud pungence, it does not make a good bedroom closet grow and will need lots of powerful ventilation to dilute the dank.
All in all, growing Sour Diesel seeds is recommended for experienced growers with established best practices and at least a few tricky strain grows notched in the belt.
Optimal Growing Conditions and Climate:
Sour Diesel seeds grow into lanky plants with fan leaves that reach with all their might for the light. Their stretch is the first telling clue that the Sour Diesel strain is a true heat lover — it thrives in very warm, dry, Mediterannean climate scenarios.
Because of the amount of stretch you can expect from your Sour Diesel seeds as they grow into flowering plants, the best medium for them is soil. Growing Sour Diesel seeds in soil allows them to firmly anchor themselves in a way that a hydroponic grow or loamier-medium simply won't allow.
If you have outdoor or greenhouse space, opt to grow your Sour D there rather than indoors so they have extra room to bush out — something they love to do. How do you grow Sour Diesel outdoors? To start, give them plenty of room.
Regardless of where you plant your Sour Diesel seeds, ensure that temperatures stay within the med zone of 65°F and 85°F. They can tolerate even warmer temps if necessary, but don't enjoy getting cold.
Flowering Time:
Sour Diesel seeds take their time growing into flowering plants.
As such, this is not a strain for the impatient. When grown indoors, flowering time is between 10-12 weeks, while outdoor growers will begin harvesting in the first half of November.
Owing to the late outdoor harvest period, Sour Diesel plants require a climate that stays balmy deep into autumn.
Yield:
Sour Diesel plants deliver medium-sized yields that can increase with constant topping and efforts to divert the plant's stretch in a productive direction.
Indoors, expect roughly 515 grams per square meter, whereas outdoor harvesters can pull down a respectable 550 to 700 grams per plant.
Height:
Sour Diesel seeds grow into tall, lanky plants.
If you're growing indoors, account for this by making sure you have enough room for raising your lights as the plants grow to at least 160cm without adequate training. Outdoors, Sour Diesel plants can reach up to 300cm!
Resistance to Pests and Mold:
Sour Diesel seeds contain hearty genetic resistance to pests and several forms of mold — but they do have trouble with powdery mildew without proper TLC.
Because Sour Diesel seeds prosper in high heat climates, any addition of humidity without adequate plant spacing and ventilation welcomes mildew. Staying on top of these elements will help you to grow Sour Diesel weed without problems.
Strain Description and Properties
The Appearance of Sour Diesel Weed:
Sour Diesel weed has that killer old-school funk look that says "for a good time, smoke me."
There's something about its fox-tailed, spacious calyx structure that emanates flavor even before you smoke it. In your hand, Sour Diesel flower breaks up softly, evenly, and with just enough stickiness that you're tempted to lick your resin-covered fingers.
The frost factor on Sour's nugs is also high but not overdone, leaving plenty of room for your eyes to wander over the brightly accented lime-green leaves and plentiful pistils wrapping the nug like Medusa's hair.
Dominant Cannabinoids Found in Sour Diesel Seeds:
Sour Diesel is a THC dominant strain that is certainly no slouch when it comes time to test.
As a 70% sativa, 30% indica strain, Sour Diesel flowers normally test in the 15% to 20% THC concentration range. Some phenotypes have registered as high as 27% THC, so toke lightly if it's your first time packing a bowl of Sour.
Dominant Terpenes Found in Sour Diesel Seeds:
Sour Diesel terpenes are like a harmonious concerto. When played alone, each instrument is pleasant enough but put them together, and an indescribable lushness comes alive.
At the top of the set is caryophyllene, closely followed by limonene, and topped off with a healthy dose of myrcene.
Caryophyllene brings on euphoria, a positive mindset, and counteracts pain, while limonene works out your stress and makes you smile. Myrcene, though normally responsible for sedation, works with caryophyllene and limonene in Sour Diesel to ease pain in the joints, muscles, and provides an extra touch of relaxation to help you float through the day.
Effects of Sour Diesel Weed:
Have you ever been hit by what felt like a brilliant idea, or woken up in an awesome mood and felt like everything was gonna go your way?
That's what smoking Sour Diesel weed is like. Sour D just kills it in the good vibes department by bringing on a rush of positive emotions, very cool associative thoughts that aid creativity, and a straight-up abundance of energy that doesn't quit.
Sour Diesel weed is for anyone seeking that Kanye West All Day effect where you jump from hour to hour, just knocking things off the task list with an upbeat and humorous mood.
The classic Sour Diesel euphoria also works as an excellent hater blocker, helping you always to see the bright side no matter what happens.
Medical Properties of Sour Diesel Seeds:
Sour Diesel seeds are at their most promising — and potent — for medical users.
Several years ago, High Times named Sour Diesel the third-best strain of all time in large part owing to its effectiveness as incredible medicine for a variety of ailments, mostly psychological.
Growing Sour Diesel flowers makes for a powerful, renewable resource of medicine when treating:
Anxiety
Depression
PTSD
Low motivation
Lack of energy
Procrastination
Pain
Negative Effects of Sour Diesel Weed:
Sour Diesel weed has so many upsides that it's easy to forget about a few common negative effects associated with it.
The Sour D strain is famous for producing epic cottonmouth, making it essential to have your reusable water bottle on hand and filled to the brim at all times.
Aside from a Saharan dry mouth, Sour Diesel's cerebral effects can lead to some paranoia if you smoke too much. As always, dose in small quantities to start before increasing to larger hits.
Pros/Cons of Growing Sour Diesel Seeds
Pros
Awesome for mood
Creative, energetic buzz
Great daytime smoke
Highly unique pungent aroma
Grinds up beautifully
Cons
Needs lots of space to grow
Late flowering period
Powerful high for novices
Watch: 16 Facts You Need to Know About Sour Diesel Strain
The Best Sour Diesel Feminized Seeds in 2023:
• 25% THC
• Harvest: 10-11 Weeks
• Yield: 600g/㎡
• Shipping Discreetly Worldwide
• Germination Guarantee
• Free Seeds With Every Order
Prices
• 3 Seeds – $28.99
• 6 Seeds – $53.5
• 6 Seeds – $75.82
• 19-22% THC
• Harvest: 12-14 Weeks
• Yield: 500-600g/㎡
• Shipping Worldwide
• Including Free Seeds
• Credit Cards & Bitcoin Accepted
Prices
• £5.9 Per Seed
• Bulk orders get discounted rate
---
Main Category Page:
Cannabis Seed Index
– A curated index of the world's best cannabis seed strains. Each review contains vital information, such as cultivation tips, strain profiles, and where to buy the best cannabis seeds.