Buying Marijuana Seeds in Thailand 2023
Laws on Buying and Growing Marijuana Seeds in Thailand. Growing Tips, Recommended Strains, and the Best Seed Banks That Ship to the Land of Smiles in 2023.
This post is also available in:

ไทย (Thai)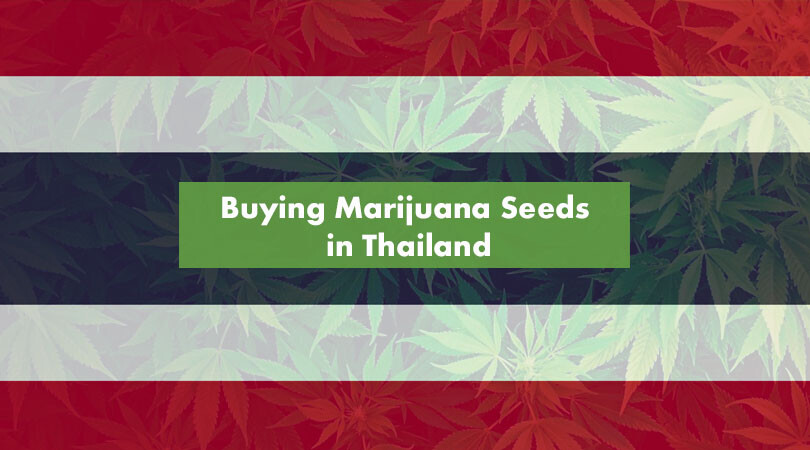 From epic white sand beaches to mouth-watering culinary dishes — Thailand is a quintessential paradise for cannabis users.
Adding to the perfect climate and incredible scenery, government officials have removed marijuana and hemp from the Category 5 narcotics list, essentially decriminalizing weed! As a result, just a few months after legalization, thousands of cannabis stores have popped up in now what is known as the "herbal hub" of Southeast Asia.
If you live in Thailand and want to grow weed seeds at home — continue reading! Soon, you'll discover the best online seed banks that deliver Thailand's top-shelf seed strains, grow tips, and Thailand's long history with cannabis.
Best Online Seed Banks for Buying Cannabis Seeds in Thailand 2023:
Herbies Seeds [Read Review]:
The Booming Spanish Online Retailer. Shipping Discreetly Worldwide. Bitcoin and Credit Cards accepted.
In a Nutshell — The Legality of Buying Marijuana Seeds in Thailand
Thailand is a world-renowned location for growing cannabis seeds.
However, years of strict regulations against cannabis have left its mark. Luckily, the times are changing as the Thai government looks to the future. Below, you'll discover a brief overview of the legality of marijuana seeds in Thailand.
Medical marijuana is legal
It's tentatively legal to buy cannabis seeds from online seed banks
It's legal to grow cannabis seeds (registry with state is required)
Cannabis is decriminalized
Cannabis extracts are limited to 0.2% THC
As you can see — the path is paved for Thai residents to cultivate marijuana seeds at home. However, the situation is not as clear as it seems.
Continue reading below to discover the laws regarding cannabis cultivation, along with grow tips, recommended seed strains, and which seed banks to buy marijuana seeds.
Growing Cannabis Seeds in Thailand
Growing weed seeds in a tropical paradise isn't as easy as it sounds.
Overall, growing marijuana presents a wide host of issues to contend with in a highly humid environment. Therefore, continue reading below to discover essential aspects of growing cannabis seeds in Thailand.
When to Sprout Cannabis Seeds in Thailand
Thailand features a tropical climate.
Therefore, you need to pick the optimal season if you decide to grow marijuana seeds outdoors. Overall, the best time to germinate marijuana seeds outdoors in Thailand is between November and December.
November to February is known as dry months because they don't fall within the monsoon season. Depending on your location, nighttime temperatures may become relatively cool — especially in mountainous regions like Chiang Mai.
Remember, the monsoon season begins in mid-May — meaning you must harvest your cannabis crop before they get drenched.
Alternatively, indoor growers can germinate weed seeds year-round.
Issues to Consider When Growing Marijuana Seeds in Thailand
Next, let's discuss issues to consider when growing weed seeds in the Land of Smiles.
From thieves to inclement weather and everything in between, there's a host of problems that you may encounter while cultivating weed seeds indoors or outdoors. Here's a list of issues you may experience while growing cannabis in Thailand:
Thieves
Pests and disease
Inclement weather
Law enforcement
Below, we'll discuss each problem in detail and how to avoid these issues in the first place.
Law Enforcement
Although the Thai government recently decriminalized cannabis — you must be aware of law enforcement in your local community.
The decriminalization law has gone into effect, legalizing home cultivation; however, you must register with the local government to ensure you aren't growing for commercial purposes.
It's also a great idea to keep your grow on the down low. Cultivating your weed seeds in a grow tent will prevent unwanted attention. Additionally, your grow tent should be outfitted with a carbon filter and inline fan to reduce the odor of weed.
Ultimately, it's in your interest to avoid any complaints from your neighbor.
Lastly, erecting a tall fence is wise if you plan on growing marijuana seeds outside. Doing so will prevent prying eyes from looking into your weed garden.
Thieves
Although Thailand is a safe country — thieves exist.
Therefore, you need to protect your weed garden at all costs. There are many ways to protect your crop, which we'll discuss below.
If you grow marijuana indoors, always install a security system. From surveillance cameras to motion-activated alarms, security systems are an easy method to deter thieves.
Furthermore, security systems will provide local law enforcement with evidence if you are robbed. Thus, there's no reason not to get a security system for your cannabis garden.
Tall fencing and motion-activated floodlights are a must if you grow weed outdoors. Additionally, you can add outdoor surveillance cameras for an added boost in protection.
Inclement Weather
The postcards from Thailand always display idyllic beaches and endless levels of sunshine.
However, Thailand experiences the monsoon season every year from May to October. Therefore, you need to be ready to protect your weed crop if your grow extends into the rainy season.
The best way to plan for an increased chance of bad weather is by buying robust seed strains from online seed banks. Mold-resistant and heat-resistant seed strains are your best ally when avoiding the pitfalls of Thailand's inclement weather.
Pests and Diseases
With so much rainfall during the monsoon season — it's clear that you'll need to prepare for an onslaught of pests and diseases.
Whether you grow cannabis seeds indoors or outdoors in Thailand — you need to be ready to defend your crop. Here is our two-part IPM (insect pest management) program to do just that.
First, always buy disease and pest-resistant seed strains from online seed banks. By doing so, you'll avoid any significant problems during the growing season.
Second, always harness organic pesticides and fungicides during the vegetative stage. Your garden will fight off minor outbreaks with ease by applying organic deterrents.
Remember, resistant seed strains and organic deterrents are top-rated methods to ensure a massive harvest of top-shelf buds!
Tips for Growing Cannabis Seeds in Thailand
Below, you'll find a few grow tips to ensure your marijuana garden gets off on the right track in Thailand.
Buy Cannabis Seeds From a Reputable Online or Local Seed Bank in Thailand
First, you must buy cannabis seeds from a reliable seed bank that ships to Thailand.
Once you find a reputable seed bank that delivers to Thailand — you've got the green light to find the best marijuana seeds that the industry has to offer. From award-winning strains to terpene-packed seed packs, you'll have hundreds of varieties to choose from.
Always remember to check customer reviews to ensure you're buying seeds from a reputable seed bank. Ultimately, online seed banks are your best chance to secure top-shelf strains for your upcoming garden in 2023.
Buy Cannabis Seeds for Your Regional Climate in Thailand
Another excellent idea is to buy marijuana seeds according to your local climate.
In other words, whether you live in Chiang Mai or Bangkok, you should always buy sativa-dominant cannabis seeds that are resistant to powdery mildew and bud rot.
Remember, Thailand exhibits high humidity levels during non-monsoon months, making disease-resistant seed strains a must-have. You should only buy non-sativa dominant strains if you grow marijuana indoors in Thailand.
Plan Your Cannabis Garden in Advance
Before you rush and plant your just arrived cannabis seeds from a seed bank — make sure your marijuana garden is set up!
Which Marijuana Seed Store Is the Best Option For Residents in Thailand?
Now, let's talk about the two primary types of seed banks that Thai residents can purchase marijuana seeds from.
Local Cannabis Seed Stores in Thailand
Thanks to Thailand's new decriminalization measures, all parts of the cannabis plant are now legal as long as you are over 20 years old and not breastfeeding, including seeds. There are thousands of cannabis stores nationwide, and new ones are popping up every day.
Seed banks are among the cannabis-centric retail stores that have emerged since the rescheduling. However, the market is still new, and the quality can be questionable when shopping locally.
Online Cannabis Seed Banks That Ship to Thailand
Considering the quality control and consistency issues with the local seed banks, your best bet is to buy cannabis seeds in Thailand via online seed banks.
We recommend Herbies Seeds or MSNL Seed Bank because both seed banks offer quick stealth shipping to Thailand and accept different payment types. Furthermore, Herbies Seeds and MSNL Seed Bank offer top-shelf seed strains at unbeatable prices.
However, we must reiterate — both Herbies Seeds MSNL Seed Bank offer exceptional service and provide numerous easy-to-grow seed strains for your marijuana garden.
Recommended Cannabis Seed Strains to Buy From Online Seed Banks and Grow In Thailand
If you want massive buds, sky-high potency, and ease of growth — here are our top-rated seed strains to grow in Thailand in 2023.
Amnesia Haze Feminized Seed Strain
If you're looking for a mind-blowing sativa to grow in Thailand — look no further than the Amnesia Haze Feminized seed strain.
Thailand's climate is perfect for the Amnesia Haze feminized seed strain because it grows well in humid climates. Additionally, outdoor growers will be heavily rewarded with gorgeous buds dunked in potent resin.
Remember, Amnesia Haze has a long flowering time — making it the clear choice in Thailand's climate.
Bruce Banner Feminized Seed Strain
The Bruce Banner Feminized seed strain is for those who need potent weed.
From nearly 30% THC content to face-melting effects, the Bruce Banner seed strain is the perfect variety to grow this year in Thailand. From indoors to outdoors, the Bruce Banner feminized seed strain excels and produces gorgeous buds packed with psychoactive resin.
Furthermore, the Bruce Banner seed strain is easy-to-grow, mold-resistant, and flowers quickly. Within 8-weeks, you'll find dense buds ready for harvest long before the monsoon rains arrive in Thailand.
If you're ready to indulge your mind and body with the most potent weed in Thailand — look no further than growing the Bruce Banner seed strain this season.
Do Si Dos Feminized Seed Strain
The Do Si Dos Feminized seed strain is the variety you've been dreaming of for your next grow in Thailand, from mold resistance to ease of growth.
Do Si Dos is a powerful indica-dominant hybrid that sets tongues wagging instantly. Therefore, the Do Si Dos Feminized seed strain is a must-have when you want to wow and decimate the crowd.
The Do Si Dos Feminized seed strain is at home indoors or outdoors, making it perfect for growers in Thailand. Additionally, the Do Si Dos Feminized seed strain's notable mold resistance is perfect for Thailand's humid climate.
Last but not least, the Do Si Dos seed strain pumps out pounds of picture-perfect buds in as little as 8-weeks. Once harvest time comes, you'll be astonished by the sheer quality of each bud from the Do Si Dos Feminized seed strain.
The History of Cannabis in Thailand
Now, let's talk about the history of cannabis in Thailand.
There is a large misconception among the Western world that cannabis has always been legal in Thailand. However, this could not be further from the truth.
Although deeply rooted in Thai culture, cannabis has undergone decades of prohibition. Below, you'll discover the in-depth history of cannabis in Thailand.
Cannabis Laws in Thailand
From cannabis prohibition to decriminalizing cannabis — Thailand has come a long way.
Continue reading to learn about all of the important moments that have led Thailand towards progressive cannabis laws.
The Origin of Cannabis in Thailand
Although historians don't know the exact time — it's clear that marijuana found its way to Thailand from India.
The primary evidence for this origin story is the name for cannabis in the Thai language — ganja (kancha). As such, cannabis plants became a part of the natural landscape across Thailand.
Furthermore, Thai history cites cannabis as a notable ancient medicine for pain relief and other health-related issues.
Thailand Bans Cannabis
Thailand joined much of the world by banning all forms of cannabis in the 1930s.
After centuries of use, Thai citizens suddenly found themselves locked away from marijuana. However, the cannabis ban of 1930 did not stop Thai cultivators from growing it as a cash crop.
Thailand Legalizes Medical Marijuana
In 2018, Thailand's junta-appointed parliament voted to legalize medical marijuana.
The vote to legalize medical marijuana had overwhelming support and amended the Narcotic Act of 1979. The National Legislative Assembly said that the medical marijuana bill was a "gift" to the Thai people in a surprise statement.
Under the new law, medical marijuana patients could grow up to six cannabis seeds or plants at home.
How to Obtain a Medical Marijuana in Thailand
If you want to obtain medical marijuana in Thailand — take a look at this website to view all of the local medical marijuana clinics in Thailand.
As long as you meet the medical requirements — you can access medical marijuana in Thailand at a participating clinic.
Thailand Decriminalizes Cannabis
In December 2021, Thailand reached a milestone in cannabis reform — the government voted to decriminalize cannabis.
Overall, the vote to decriminalize struck cannabis off the Narcotics list. Since 1930, cannabis has remained on a Controlled Substance list, making it illegal in all forms.
By removing cannabis from the Controlled Substance list, Thai residents can grow marijuana seeds at home as long as they report it to their local government. In addition, all forms are legal to possess and buy from a licensed dispensary with no limitations! The only form of cannabis that remains on the controlled substances list is extracts with over 0.2% THC.
The Legality of Cannabis Seeds and Seed Banks in Thailand
If you're wondering about the legality of cannabis seeds in Thailand — don't worry; they're finally legal.
With the decriminalization bill, all parts of the marijuana plant are no longer illegal. In other words, seeds are not classified as a controlled substance.
However, local seed banks are practically non-existent. Furthermore, Thailand does not allow imported items, such as cannabis seeds.
But, the gray zone of the current decriminalization laws lends itself to multiple interpretations. Therefore, you must use stealth services if shipping cannabis seeds to Thailand. Luckily, MSNL and Crop King Seeds offer the best stealth shipping in the industry.
Penalties for Cannabis Possession in Thailand
Here are the current penalties for possessing cannabis in Thailand:
Minors in possession of any amount of cannabis can result in up to a year in jail or a fine of 10,000 Baht
Possessing up to 10kg of cannabis results in a 5-year jail term
Possessing more than 10kg of cannabis with intent to sell can result in a prison term of 2-15-years
As you can see — the punishment for cannabis possession in Thailand is steep. However, all of these penalties will be adjusted once the Thai government clarifies the law by April 2022.
Penalties for Cannabis Trafficking in Thailand
Here are the associated penalties for selling weed in Thailand:
Selling any amount of cannabis without a proper license may result in 2-15-years in jail
As you can see — do not sell cannabis in Thailand unless you have a specific license to do so. Once again, it's best to wait until the Thai government clarifies commercial cannabis production.
Penalties for Cannabis Seed Cultivation in Thailand
Here are the penalties associated with growing cannabis seeds or plants in Thailand:
Growing up to six cannabis seeds or plants at home is legal
Growing more than six cannabis seeds or plants is a crime
Thai residents can now grow up to six cannabis plants at home; however, you must register with your local government.
Transporting Marijuana Seeds and Products Out of Thailand
It is strictly forbidden to transport cannabis seeds or products out of Thailand unless you have a commercial license.
Therefore, avoid transporting cannabis seeds or flowers out of Thailand. Remember, Thailand is the first Southeast Asian nation to decriminalize cannabis. Therefore, traveling to another country with cannabis will result in serious consequences.
Cannabis Culture in Thailand
Thailand is a cultural hotspot for cannabis.
Since the 1960s, tourists have flocked to Thailand to enjoy the famed Thai sticks. Additionally, cannabis breeders have long traveled to Thailand to collect rare landrace strains.
However, Thai residents have long used cannabis as a potent medicine — especially for pain relief. In any case, cannabis is not taboo in Thai culture and can be found with ease across all major cities and agricultural communities.
Thailand's Booming Cannabis Industry
The driving force behind the recent decriminalization of cannabis in Thailand is focused on creating a lucrative cannabis industry.
In the past, Thailand's economy depended on tourism and the service industry, which took a significant hit during the first two years of COVID. Now, Thailand's government sees an opportunity to be the first Southeast Asian nation to decriminalize marijuana.
Overall, Thailand's recreational cannabis industry is estimated to eclipse the current market value of the medical marijuana industry. The medical marijuana industry in Thailand is worth over $20 million as of 2020. Currently, there are over 5,000 marijuana shops around the country. Business Wire predicts the industry will exceed 9 billion by 2030.
Thailand's Illicit Market for Cannabis Seeds and Products
Although you can grow your own cannabis and easily buy marijuana at dispensaries in Thailand — the illicit market is alive and well.
Many residents in Thailand buy cannabis from the illicit market because it's cheap. Moreover, tourists make up a large portion of the illegal cannabis market in Thailand.
However, residents and tourists won't know the actual quality of cannabis products bought from the illicit market. Whether a seed or flower — it's nearly impossible to gauge if the product is what the dealer says.
In other words, always buy cannabis seeds from seed banks and marijuana products from local clinics. By doing so, you'll avoid harmful chemicals and unverified seed strains.
Conclusion
After a long wait, The Land of Smiles has officially given the green light to grow, purchase, and possess cannabis. The industry is already a huge success providing the residents with a new, booming industry and tourists one more reason to visit the beautiful country.
If you're looking to take advantage of the new cannabis policies, head over to Herbies Seeds or MSNL Seed Bank and select your favorite seeds while they are still in stock.
Parent Page: Marijuana Seeds for Sale
Best Online Seed Banks for Buying Cannabis Seeds in Thailand 2023:
Herbies Seeds [Read Review]:
The Booming Spanish Online Retailer. Shipping Discreetly Worldwide. Bitcoin and Credit Cards accepted.
Best Places to Buy Marijuana Seeds Online in 2023
This post is also available in:

ไทย (Thai)