Buying Marijuana Seeds in Jamaica 2023
Laws on Buying & Growing Marijuana Seeds in Jamaica. Growing Tips, Recommended Strains, and the Best Seed Banks That Ship to Jamaica For the 2023 Growing Season.
Jamaica as a country has long since been associated with marijuana use, but this image isn't necessarily one that portrays the truth.
The media depictions would have you believe that it is commonplace for everyone in Jamaica to partake in cannabis use or grow cannabis seeds and that it has been this way for years.
However, the reality is actually very different from what most people have been led to believe. In fact, until some fairly recent changes, getting in trouble for cannabis in this country was quite easy.
Much like any other country, Jamaica has laws surrounding cannabis and cannabis seeds that dictate whether you can possess these products, and more importantly, if you can use them.
For all of the insider details regarding cannabis laws, cannabis seed cultivation, grow tips, and cannabis sales from seed banks within Jamaica, keep on reading.
Best Online Seed Banks for Buying Marijuana Seeds in Jamaica 2023:
Herbies Seeds [Read Review]:
The Booming Spanish Online Retailer. Shipping Discreetly Worldwide. Bitcoin and Credit Cards accepted.
In a Nutshell — The Legality of Buying Marijuana Seeds in Jamaica
If you're ready to grow weed that'll make you say ja' mon — it's time to learn about the primary laws that govern cannabis cultivation, distribution, and consumption.
Here's a summary of the most important aspects of cannabis regulations in Jamaica if you want to buy and grow marijuana seeds.
Medical marijuana is legal
Recreational cannabis is illegal
Cannabis is decriminalized
Marijuana seeds are legal to buy
It's legal to grow five mature cannabis seed strains
Now that you understand the basics read along to get in-depth information regarding top-rated cannabis seed banks, grow tips, seed strain recommendations, and cannabis regulations.
Growing Cannabis Seeds in Jamaica
If you're ready to grow top-shelf Blue Mountain cannabis — here are essential aspects of growing weed seeds in Jamaica.
When to Sprout Cannabis Seeds in Jamaica
Jamaica is a tropical climate that's always warm.
In other words, ditch your jacket and grab the sunscreen — Jamaica never goes over 91°F and doesn't dip below 82°F.
The best time to germinate marijuana seeds in Jamaica is by the spring Equinox — March 20th.
Issues to Consider When Growing Marijuana Seeds in Jamaica
Although you may legally grow up to five cannabis plants — you must exercise caution.
If you grow marijuana seeds in Jamaica, make sure you're aware of:
Law enforcement
Thieves
Pests and disease
Sudden rainfall and increased humidity
Tips for Growing Cannabis Seeds in Jamaica
Growing amazing weed isn't as easy as the pros make it out to be.
However, here are three tips that'll ensure your cannabis garden pushes out ounce after ounce of top-shelf buds.
Buy Cannabis Seeds From a Reputable Online or Local Seed Bank in Jamaica
The most important decision you can make is to buy cannabis seeds from a reputable seed bank in Jamaica.
Whether the seed bank is local or online — you'll find ample cannabis seed varieties that fit your needs and skill level.
Buy Cannabis Seeds for Your Regional Climate in Jamaica
Another top-rated tip is to always buy cannabis seeds according to your local climate.
As we mentioned — Jamaica is tropical. Therefore, it's best to buy seed strains resistant to mold and excess humidity while browsing a seed store.
Plan Your Cannabis Garden in Advance
Last but not least is always to plan your indoor or outdoor cannabis garden.
Never germinate your just-arrived cannabis seeds unless your garden is up and running.
Which Marijuana Seed Store Is the Best Option For Jamaican Residents?
As we mentioned, there are two primary ways to buy marijuana seeds in Jamaica — read below to find out.
Local Cannabis Seed Stores in Jamaica
Local Jamaican seed banks are popular in Jamaica.
However, local Jamaican seed banks are not known for quality. If you're in a pinch and need seeds that moment — then local seed banks in Jamaica are your best bet.
Here are a few local cannabis seed stores in Jamaica:
Epican Jamaica
Island Strains Herb House
Kaya Herb House
Online Cannabis Seed Banks That Ship to Jamaica
If you plan to cultivate cannabis seeds, you need somewhere reliable that can guarantee top-quality.
Fortunately, there are plenty of terrific seed banks that ship to Jamaica with lightning speed. We personally recommend MSNL Seed Bank and Herbies Seeds. Both companies offer discreet shipping and accept multiple payment types.

Recommended Cannabis Seed Strains to Buy From Online Seed Banks and Grow In Jamaica
Now, let's talk about three recommended cannabis seed strains to grow in Jamaica.
Do-Si-Dos Feminized Seed Strain
The Do-Si-Dos Feminized seed strain is a modern variety that's filled with everything an outdoor or indoor grower wants — yield, potency, flavor, aroma, and unbelievable effects.
Although we recommend growing the Do-Si-Dos seed strain indoors, Jamaican cultivators will succeed while growing this fast-flowering beauty outdoors.
Neville's Haze Feminized Seed Strain
Neville's Haze is the quintessential sativa.
Most cannabis growers are unable to grow Neville's Haze because it requires a long flowering period. Luckily for Jamaican cannabis cultivators, Jamaica proves to be one of the best locations to grow the Neville's Haze seed strain.
The Neville's Haze seed strain is resistant to mold, pests, and high humidity, making this sativa queen the perfect seed strain for outdoor cultivators.
Acapulco Gold Feminized Seed Strain
If you want to grow flowers worth their weight in gold — look no further than the Acapulco Gold Feminized seed strain.
Not only is the Acapulco Gold strain perfect for the Jamaican climate, but it also pumps out incredible buds that you won't soon forget!
Jamaica's History With Cannabis and Cannabis Seeds
The history of cannabis in Jamaica is actually an interesting bit of history that speaks to the power and distance of British rule back in the country's prime.
Marijuana actually wasn't present in Jamaica initially, which many people find to be a surprising fact. The country that we all tend to relate to marijuana because of media stereotypes ended up having access to marijuana relatively late in the game compared to many other countries. Cannabis didn't truly exist in Jamaica until the mid-1800s, but it is safe to say that it has left its mark since.
Jamaica Makes Cannabis its Own
Initially, cannabis in Jamaica was brought over from India. At this point in time, Britain ruled over both India and Jamaica, which meant that both countries ended up with similarly exchanged resources within the country.
Since indentured servants were still legal at this point in time, many were being imported from India over to Jamaica, and with these indentured servants came cannabis, and more importantly, cannabis seeds.
Though Jamaican cannabis culture is often referenced as a base for other cannabis subcultures, much of the stereotypical Jamaican terminology that you will see with cannabis use is actually Indian in origin, including words like 'ganja' and more.
Cannabis and Cannabis Seeds Become Popular in Jamaica
After its introduction, cannabis became a fairly popular resource within the country.
Cannabis was commonly grown and used, with many people dealing in cannabis seeds as well. This accepting and open cannabis culture was active until 1913, when the Ganja law, legally known as the Dangerous Drugs law was passed. The initial versions of this law were incredibly severe.
It was created in an attempt to ban opium, but also included bans on marijuana as well. The end result was an illegal but lucrative cannabis and cannabis seed industry that operated under the table and led to many problems politically and legally.
Since so much money was being made on cannabis, it became common to hear of dirty cops or politicians who were secretly protecting the people who were growing cannabis, while real laws continued to target the impoverished citizens within the country.
Jamaican Cannabis Laws Coming Full Circle
Fortunately, a full 112 years later in 2015, amendments were made to decriminalize certain aspects relating to cannabis and cannabis use.
Shortly after, Jamaica's first legal cannabis plant was planted at a local university. This change made it possible for everyday people, including those of the Rastafarian faith to interact with marijuana in some ways without complete fear of arrest.
Shortly after that, changes were made to legalize medical marijuana for those in need of it. In 2018, the first legal medical marijuana dispensary was opened by one of the biggest marijuana advocates in the country.
Jamaican Laws Regarding the Purchase and Use of Cannabis and Cannabis Seeds
Cannabis is still mostly illegal within Jamaica.
However, there are some legal exceptions that make cannabis use and the cultivation of cannabis seeds possible. First, small amounts of cannabis were decriminalized, making it possible for casual users to embrace cannabis without fear.
The 2015 Cannabis Amendment in Jamaica
The 2015 amendment states that a person can be in possession of two ounces of cannabis or less.
While you can still be ticketed for being in possession of a cannabis supply of this amount, you will not be arrested for it and it will not add to a criminal record. These amendments also added additional supports for medical use, therapeutic use, and the support of scientific research.
Additionally, the laws are meant to be in support of the Rastafarian faith. When the amendment went into place, it made it possible for a legal medical marijuana and a budding hemp industry to be born for those operating within these parameters.
In fact, Jamaican law actually allows for permits for tourists with existing medical marijuana prescriptions to use and purchase within the country. Since licensing of marijuana is technically legal, approved authorities can grow and sell marijuana.
Legalizing Cannabis Seeds in Jamaica
The real benefit to this amendment isn't only that cannabis users can embrace cannabis for their own personal use.
More importantly, it allows for the complete legalization of cannabis seeds bought from seed banks as well as the cultivation of cannabis seeds. According to Jamaican law, an individual may use cannabis seeds to grow up to five plants legally on their own property.
This means the purchase and use of cannabis seeds from local seed banks within the country is completely legal, which many consistent users consider to be a tremendous win for their personal rights.
Since you can use cannabis seeds to grow your own marijuana in Jamaica, it comes as no surprise that many people purchase cannabis seeds from seed banks to sustain their use rather than relying on other avenues. Purchasing cannabis seeds from local and online seed shops in Jamaica is a common practice, and a legal one at that.
The "Grey Zone" Regarding Cannabis Seeds and Cultivation
Though it might seem like cannabis and the cultivation of cannabis seeds is legal in Jamaica, it is important to remember that it is technically not.
Specific parameters relating to cannabis use and the growth of cannabis seeds have been decriminalized, but cannabis itself is still illegal. With that in mind, if you are caught in possession of more than the decriminalized limits, you will be legally charged and likely arrested with a criminal record at stake.
Since they have decriminalized elements of personal use, the Jamaican police force and government is very serious about anything that might be considered marijuana trafficking, or anything pertaining to global distribution of cannabis.
Marijuana Charges in Jamaica
While cannabis is decriminalized, it is still illegal, and you can still get a ticket for it.
Even if you are carrying acceptable amounts on you, you can legally be ticketed by the police. What makes this interesting is that for most people, the ticket is absolutely nothing to worry about.
You will have to pay a penalty fee if ticketed. However, the fee is a fixed rate and comes out to a near comical charge that is less than five U.S. dollars when you pay it.
Jamaican law also makes accommodations for medical marijuana users. Individuals who are found in possession of legal medical marijuana are not at risk of being ticketed and are operating within the confines of the law.

Watch: Is Smoking Ganja Really Legal in Jamaica? | The Noble Cop
Growing or Consuming Cannabis in Public
Though it is legal to be in possession of marijuana and even to use marijuana in certain locations, smoking cannabis or growing cannabis seeds in public is still considered illegal.
What is most interesting about Jamaican law is that, unlike many other countries, it permits individuals to smoke within Jamaican seed banks and dispensaries.
While most other countries only allow smoking at private residences and strictly forbid marijuana use at dispensaries, Jamaica allows for individuals to get their dosing handled immediately rather than forcing them to go home first, which is a benefit for those who might not live near a legal medical marijuana dispensary.
The Legal Age to Consume and Grow Marijuana in Jamaica
While the laws surrounding decriminalization are true for adults, exceptions are made when it comes to individuals under the age of eighteen.
Minors are considered an at-risk group in Jamaica, so the law is stricter when they are involved. Most countries have special laws surrounding minors and Jamaica is no different.
In fact, minors found with cannabis or growing cannabis seeds in Jamaica are more likely to be referred to counseling for potential drug abuse given the fact that their brains are still developing.
Cannabis Trafficking and the Danger of Cultivating Cannabis Seeds
The biggest area of concern in Jamaican law is surrounding marijuana trafficking.
Since Jamaica has a long history of producing marijuana as an export, much of the law has become focused on stopping this from happening. While the Jamaican government is fine with the possession and use of cannabis as well as the cultivation of cannabis seeds for personal use, it has a completely different opinion surrounding the suspected sale or export of cannabis.
If you are found to be trafficking cannabis or growing more cannabis seeds than the legal limit permits, you can run into some very serious trouble that will result in high fines as well as years of jail time depending on the extent of the offense.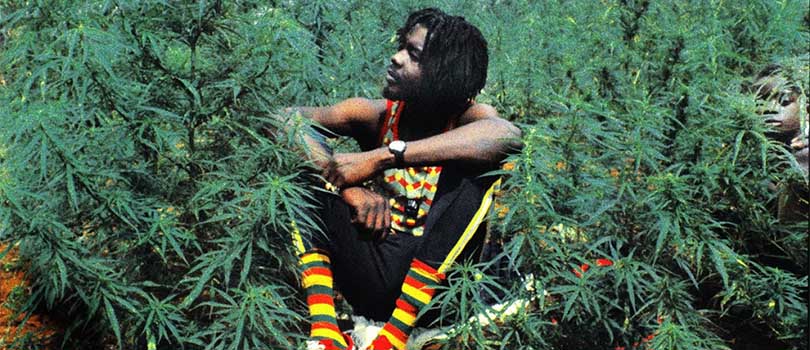 Improving Cannabis Laws and the Jamaican Government
In recent years, Jamaica has dramatically relaxed its laws on cannabis possession and use, even legalizing the growth of cannabis seeds.
Since this is the case, the fight for legalization has slowed. Now that medical marijuana is legal and personal use has been decriminalized, advocates like prominent figure Balram Vaswani are more focused in improving marijuana use and distribution within legal parameters rather than necessarily pushing for legalization like in previous years.
Though the decriminalization of cannabis and the cultivation of cannabis seeds has been a major win for advocates within the country, there is still work to be done when it comes to complete legalization.
Seeking Broader Cannabis Laws to Allow Access to Marijuana Products and Seeds
Currently, groups and individuals are pushing for broader legalizations surrounding recreational dispensaries and purchases.
Many of the rights sought by these groups have been granted, but there are still only a few medical Jamaican seed banks, and many people want to see easier access. Fortunately, the government seems interested in the blossoming cannabis industry as long as it does not result in further drug trafficking.
Jamaica's Local Cannabis Industry
The local cannabis industry in Jamaica is a combination of legal Jamaican seed banks and dispensaries, and underground sales.
Now that medical marijuana has been legalized, finding a seed bank in Jamaica or a simple dispensary is easy because they are beginning to open, with more currently being planned. This is an excellent way for medical users to gain access to marijuana, but it isn't the only way.
Jamaica's Underground Cannabis Economy
Jamaica has a notorious underground cannabis industry composed of individuals who are more than ready to sell cannabis and cannabis seeds.
In fact, it is commonly stated that many of these individuals are waiting for tourists to come by boat or plane so that they can offer up their wares. There is no denying that it is easy to access cannabis and cannabis seeds in Jamaica, but some of the underground peddlers simply will not have the same commitment to quality.

Jamaican Figures in Popular Cannabis Culture
Jamaica has held tight to its rich cannabis culture for many years, and we can expect that to continue going forward.
Whether it is the Rastafarian faith or the inspired music scene that was made popular by Bob Marley, Jamaica has had a vibrant cannabis culture for almost 200 years. In Jamaica, cannabis use is simply a way of life.
It isn't uncommon to learn that your neighbors are cultivating cannabis seeds, and it is common for people to purchase and smoke it. If there is one country where you can plan on cannabis to be sold, it is Jamaica.
You can see the local cannabis culture everywhere you go when you tour this country, and it is considered a haven for many marijuana enthusiasts.
The Future of the Jamaican Cannabis Industry
Since Jamaica has made it possible for plenty of locals and tourists to enjoy cannabis in a semi-legal capacity, the future of the Jamaican cannabis industry is focused more on opportunity.
As individuals continue to push for broader laws, it is likely that truly industrialized cannabis and cannabis seeds will become more broadly available to the general public.
So much work has been done to get the Jamaican cannabis industry this far, and it is safe to assume that as more time passes, there will be a heavier focus on creating better ways for people to purchase cannabis as well as other cannabis-related products.
The battle wages on, but for now, Jamaican citizens are enjoying the rights that they have. If you're ready to grow top-shelf weed in Jamaica — head over to an online seed bank and buy the best weed seeds that money can buy!
Parent Page: Buy Marijuana Seeds
Best Online Seed Banks for Buying Cannabis Seeds in Jamaica 2023:
Herbies Seeds [Read Review]:
The Booming Spanish Online Retailer. Shipping Discreetly Worldwide. Bitcoin and Credit Cards accepted.
Watch: Jamaican Bud Business - Meet Medicanja, VICE News
Best Places to Buy Marijuana Seeds Online in 2023