Buy Marijuana Seeds in California
Laws on Buying & Growing Marijuana Seeds in California in 2023. Growing Tips, Recommended Seed Strains, and the Best Seed Banks That Deliver to The Golden State.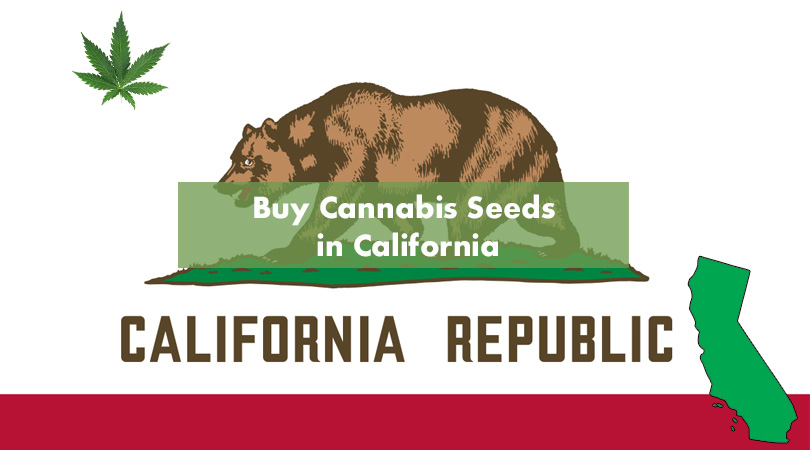 The Golden State is one of the earliest adopters of medical marijuana and recreational cannabis.
If you live in California and you're ready to grow your own marijuana seeds — it's time to get educated about growing cannabis seeds, recommended seed banks, suggested seed strains, and legal aspects of weed cultivation.
Read along and discover why cannabis cultivators worldwide are California Dreamin' — from its epic weather to booming cannabis industry. Are you ready?
Let's go!
Best Online Seed Banks for Buying Marijuana Seeds in California 2023:
ILGM Seed Bank [Read Review]:
A Reputable Dutch Brand. Shipping Discreetly From California. Bitcoin and Credit Cards accepted.

Herbies USA Express [Read Review]:
The Booming Online Retailer is Now Shipping From Inside the US. Shipping Within 24 Hours. Cards, Bitcoin, PayPal, Zelle, Cash App, Popmoney, Venmo and ACH Transfers Accepted.
In a Nutshell — The Legality of Marijuana Seeds in California
Before we get into the nitty-gritty details about growing cannabis, recommended seed banks, top-shelf seed strains, and more, let's summarize the legality of cannabis and marijuana seeds in California.
Here's a list of everything you must know before you plant your first weed seed:
Recreational cannabis is legal
Medical marijuana is legal
It's legal to buy and grow cannabis seeds from seed banks
As you can see — it's a boomtown for anyone who wants to grow their own cannabis in California. Continue reading below to discover in-depth aspects of cannabis cultivation in California that'll ensure a safe and substantial grow.

Growing Cannabis Seeds in California
When the Mama's and The Papa's sang California Dreamin', they spoke about California's near-perfect weather.
Even during the depth of winter — it's nothing but sunshine and mild temperatures throughout California's major cities. Of course, the further south you go (SoCal), you'll find endless sunshine that'll leave your skin sun-kissed with a golden tan.
In other words, California's climate is ideal for cultivating cannabis seeds.
Below, you'll find a few different aspects to consider while growing weed seeds in the Golden State.
When to Sprout Cannabis Seeds in California
If you grow cannabis indoors — any time is a good time to germinate seeds.
However, if you're an outdoor grower, the best time to sprout weed seeds is between March and May. Although you could grow cannabis seeds year-round, you would need to buy autoflowering seeds to avoid any problems associated with light and dark hours.
In general, the Southern portion of California, such as SoCal, is the prime location to grow cannabis year-round. The further North, however, you will run into colder temperatures as the seasons change from autumn to winter.
Therefore, the further South you live in California, the earlier you can start your seeds. Alternatively, the further North you live — the later you should germinate your weed seeds.
Issues to Consider When Growing Marijuana Seeds In California
As you probably know — recreational and medical marijuana is legal in California.
Therefore, unless you're growing a massive amount over the limit — you shouldn't have any legal issues with law enforcement. However, there are other issues to consider when growing cannabis seeds in California that you should be aware of, such as:
Thieves
Pests and disease
Inclement weather
Remember, whether you grow cannabis indoors or outdoors — you should always keep your crop out of sight. If you don't, you may find your crop decimated by thieves during the night trying to score an easy buck.
Furthermore, California's perfect weather is also ideal for many pests and diseases. If you don't set up natural deterrents or implement organic pest control solutions — you may find your crop overwhelmed by aphids, spider mites, or powdery mildew.
Lastly, California is known to produce some nasty weather out of the blue. In Southern California, you'd be wise to prepare your outdoor crop for sudden blasts of 40mp/h (64km/h) wind.
Additionally, wildfires are a thing throughout California, and many outdoor crops have been lost to these devastating blazes. Therefore, you should always be aware of the potential of natural and human-made wildfires in your region.
Tips for Growing Cannabis Seeds in California
Now, let's discuss a few tried-and-true tips for growing weed seeds in California.
By following these tips, you'll increase your chances for a heavy harvest of top-shelf buds.
Buy Cannabis Seeds From a Reputable Online or Local Seed Bank in California
If you want to grow cannabis on cruise control — you must buy marijuana seeds from a reputable online or local seed bank.
Seed banks are your gateway to thousands upon thousands of seed strains. From heavy-hitting indicas to award-winning sativas and everything in between, you'll find everything you could ever dream of at a trustworthy seed bank.
When you buy weed seeds from a seed bank, the benefits are trifold, such as:
Access to verified cannabis seed strains straight from the breeder
Lowest prices on the market
Extensive selection for your needs (personal or garden related)
Guaranteed healthy seeds with high germination rates
As you can see, there are too many benefits to pass up buying from a seed bank.
Buy Cannabis Seeds for Your Regional Climate in California
As you scour a seed bank — we recommend that you choose seed strains that exhibit qualities in tune with your local climate.
In other words, you should always buy weed seeds that will flourish in your environment.
For example, if you live in Southern California and the summer reaches well over 100°F, you'll need to find a seed strain that's drought and heat-resistant.
On the other hand, if you live in the hills of Mendocino, you'll want to buy cannabis seeds that exhibit mold and cold resistance. Remember, it's easier to control cannabis plants when they feel at home in a given environment.
Believe us when we say that cannabis plants won't adapt overnight to an environment they were not bred for.
Plan Your Cannabis Garden in Advance
Last but not least is always to prepare your garden before you germinate your recently arrived weed seeds.
In general, seed banks surprise most cultivators with their neck-breaking shipping speed. Therefore, many cultivators get the urge to pop their seeds once they arrive. Instead of jumping the gun — ensure your weed garden is prepped for the long months ahead.
Which Marijuana Seed Store Is the Best Option For Residents in California?
Now, let's talk about seed banks.
There are two types of seed banks available to Californians — online and local seed banks.
However, which is best for Californians and why?
Read along to discover local seed banks near you and online seed banks that deliver to California addresses.
Local Cannabis Seed Stores in California
When it comes to local seed banks in California — you'll find the pick of the litter considering most of the famous breeders have set up a dispensary in most major cities in California.
If you're looking for the best seeds from a local seed bank, it's time to visit:
The Jungle Boys (LA Farmers)
South Sac Care Center (The Village)
Cookies (multiple locations)
Above are some of the most exclusive dispensaries and seed banks to find the best cannabis seed strains California offers.
Without a doubt, The Village, Cookie Fam, and the Jungle Boys have transformed California's cannabis industry into the shining example that the rest of the world follows.
However, it's safe to say that you'll be hard-pressed to find seeds in stock at any of these locations. Believe us — we've tried, and it's expected that seed strains sell out within minutes of their release.
Therefore, it's best to buy cannabis seeds from online seed banks that offer a fighting chance when buying exclusive and limited seeds.
Online Cannabis Seed Banks That Ship to California
Whether you appreciate the convenience of buying marijuana seeds from home or you can't get enough of the extensive selection and discounts — online seed banks are an excellent choice for the home grower.
When it comes to online seed banks, we recommend two brands that have proven to the world that they're the best in the business:
From ultra-fast and stealth shipping to California to unbeatable prices and selection, you'll always find the seeds you need at ILGM or Herbies Seeds.
If you're tired of long lines and perpetually finding your desired seed strain marked as sold out — it's time to hop online and grab a pack of seeds (or more) with the click of a button on ILGM or Herbies USA Express.

Recommended Cannabis Seed Strains to Buy From Online Seed Banks and Grow In California
Although there's an infinite number of weed strains that grow exceedingly well in California, here's our list of recommended seed strains to grow this season in California.
Mimosa Feminized Seed Strain
When it comes to growing weed in California, we couldn't help but mention one of the best seed strains that Cali has to offer — Mimosa.
The Mimosa seed strain was bred by Sactown's finest — The Village Genetics. The moment the Mimosa seed strain hit the shelves — it became an immediate hit among cultivators worldwide.
From unbelievable flavors to bone-crushing potency, you'll be floored by everything that the Mimosa seed strain has to offer.
Whether you grow the Mimosa seed strain indoors or outdoors, you'll find a hefty harvest of beyond top-shelf buds after 8-weeks. Soon, you'll enjoy Mimosa for your evening brunch once this beauty finishes up in your garden.
Gorilla Glue Feminized Seed Strain
Once again, all cannabis gardens should feature at least one award-winner — such as The Gorilla Glue Feminized seed strain.
From its chocolate-fuel-covered-coffee-bean flavor to mind-erasing potency, you'll be shocked by the sheer quality that Gorilla Glue has to offer.
We recommend the Gorilla Glue strain to indoor and outdoor growers alike, and with a bit of TLC, your buds will look like they're straight out of a High Times magazine.
Trainwreck Feminized Seed Strain
We recommend Trainwreck to any grower that wants top-shelf sativa buds and a piece of California history.
The Trainwreck seed strain is a somewhat mythical variety due to its history. Allegedly born and bred in Arcata (Northern California), the Trainwreck seed strain is a true legend among growers worldwide.
From its ability to yield ounces of bud the size of your arm to its devastating potency, you'll be glad you bought Trainwreck seeds from a participating seed bank.
The History of Cannabis in California
Cannabis seeds and cannabis products, such as flowers and concentrates, have a long history in California.
However, the history related to cannabis is strictly in the legal sense. Unlike other parts of the world, cannabis is not native to California and was originally imported for Mexico, Central America, and South America.
Therefore, let's discuss the history of cannabis laws in California.
Cannabis Laws in California
From prohibition to modern-day legalization, California has a love-hate relationship with cannabis.
Luckily, we're currently in the love phase with cannabis. However, the road to legalization was challenging. Read along and learn about the arduous path to cannabis legalization in the Golden State.
California's Pre-Prohibition View of Cannabis and Marijuana Seeds
Before the United States government prohibited cannabis — Californian farmers grew a massive amount of hemp.
Surprisingly, the majority of hemp grown in California in 1795 was on missionary land. Overall, missionaries in California grew hemp seeds for its fiber to produce rope. Leading into the early 1800s, hemp production sky-rocketed as it proved useful for making various textiles.
However, the tensions between Mexico and Spain destroyed subsidies for growing hemp. Thus, hemp seed cultivation plummeted.
The Criminalization of Cannabis in California
By the early 1900s, cannabis (otherwise known as locoweed) became prohibited under the Poison Act. Under the Poison Act, cannabis materials, such as seeds, tinctures, plant matter, and so forth, were banned.
Overall, the early 1900s were increasingly dangerous for anyone who consumed or grew cannabis. Subsequent laws banned cannabis distribution and even made simple possession a serious crime.
In other words, California suddenly became the epicenter of the earliest form of the War on Drugs.
Cannabis's Spotlight in California
Luckily, the hippie movement catapulted the awareness of cannabis in the 1960s and 1970s.
From beatniks to California Dreamers, cannabis was an in-demand substance that became incredibly commonplace. Due to the lax sentiment surrounding marijuana during this period, many cannabis advocates took center stage to demand cannabis reform in California.
Sinsemilla is Born in California
During the 1960s and 1970s, Californian cannabis growers were the first to discover the most revolutionary cultivation method for marijuana plants.
When growing cannabis, cultivators in California learned that removing male plants from the garden resulted in bigger buds from the females.
Thus, the sinsemilla technique was born. Sinsemilla means without seed, and it's clear that nobody enjoys smoking cannabis buds loaded with seeds.
Ultimately, all cannabis growers (except breeders) grow cannabis without males to avoid pollination and seeded buds.
California Begins to Decriminalize Cannabis
Starting in 1975, the Moscone Act (Senate Bill 95) transformed possession of small amounts of cannabis from a criminal offense to a civil infraction.
In other words, the Moscone Act allowed individuals caught with a few grams of cannabis off the hook in the form of a citation.
However, decriminalizing small amounts of cannabis gave way to strange laws, such as 1999's "smoke a joint, lose your license" campaign and 2000's Proposition 36, which forced cannabis offenders into mandatory drug treatment programs.
Medical Marijuana Breakthrough in California
Finally, in 1996, California became the first state in the USA to allow medical marijuana.
Proposition 215 was a grassroots movement by cannabis advocates. Tired of vetoes and legal pushback from conservatives, medical marijuana advocates gathered enough signatures to get Prop. 215 on the ballot.
After a 56% win, Proposition 215 was set into law and began legal precedence for all other states in the USA.
Thus, caregivers and dispensaries were born in California. Furthermore, medical marijuana patients were allowed to cultivate their own cannabis seeds.
In 2003, an additional bill was introduced to clarify the legal grounds of Prop. 215. The aptly named Senate Bill 420 (Medical Marijuana Act) created a system for medical marijuana patients, including a licensing program to identify MMJ patients in California easily.
Getting an MMJ Card
California has the United States' largest and longest-running medical marijuana program, with over 2 million medical patients and counting.
Obtaining your medical marijuana card in California has numerous perks, including:
Massive discounts at dispensaries
Exemption from sales and use tax when making a retail purchase
Access to more dispensary locations
California offers medical marijuana cards to a wide range of patients; however, the process can be tedious and time-consuming. If you want to save time and avoid seeing a doctor in-person, you can get your MMJ card online. Once you get your card, you will save at least 7% in sales tax and get access to more cannabis products at lower prices.
California Goes Legal With Cannabis
Finally, after years of advocacy, California voters turned a dream into reality.
Voters overwhelmingly voted yes to Proposition 64 — California's Adult Use of Marijuana Act. With Prop. 64 adults (21 and over) were allowed to buy recreational cannabis from licensed dispensaries without a medical marijuana card.
Furthermore, Prop. 64 enabled Californians to grow their own weed seeds from seed banks and purchase a large supply of cannabis each month.
The Legality of Cannabis Seeds and Seed Banks in California
When it comes to cannabis seeds and seed banks in California — you'll soon realize that Californians have thousands of seed strains at their fingertips.
It's legal to buy, possess, and grow cannabis seeds in California. Furthermore, dispensaries are allowed to sell seeds, making them the de-facto seed bank for local consumers.
Additionally, it's legal to buy cannabis seeds from online seed banks and have them shipped directly to your door.
Penalties for Cannabis Possession in California
As always, it's illegal to go overboard when possessing cannabis.
Here's a list of penalties for cannabis possession in California:
Possessing over an ounce without an MMJ card is a misdemeanor
Penalties for Cannabis Trafficking in California
Remember, only licensed cannabis dispensaries are allowed to sell marijuana seeds and products. Therefore, it's illegal to sell even a gram in California — especially if the person is underage.
However, you may gift another adult cannabis without any repercussions. Let's take a look at the different penalties for cannabis trafficking in California.
Possession with intent to distribute over an ounce is a misdemeanor
If you are under 18 selling cannabis is an infraction
Gifting up to 28.5 grams to an adult over 21 is legal
Selling or gifting cannabis to minors is a felony with significant jail time
Penalties for Cannabis Seed Cultivation in California
Now, let's take a look at the penalties for cannabis seed cultivation in California.
Although it's legal to buy cannabis seeds from seed banks — there's a limit to how much you can grow. Remember, adults are allowed to grow up to six cannabis plants without a medical marijuana license in California.
It's a misdemeanor to grow more than six seeds (mature plants) without an MMJ card
Transporting Marijuana Seeds and Products Out of California
California is bordered by multiple legal states.
From Arizona, Nevada, and Oregon — Californians are lucky because everyone around them offers recreational and medical marijuana.
However, it's illegal to cross state borders with cannabis. The federal government classifies cannabis as a Schedule I drug, which means it's a federal crime to cross a state boundary with marijuana or cannabis seeds.
To ensure your safety, always leave your cannabis at home when crossing a state border and buy weed at your destination.
Cannabis Culture in California
California's cannabis culture is booming.
From massive cannabis-inspired festivals to legendary marijuana strains (think Cookie Fam), there's no shortage of cannabis culture in California.
Let's take a look at various aspects that make California the epicenter of the global cannabis industry.
California's Booming Cannabis Industry
California is a massive state.
From the Golden State's sheer size to massive populace — everything is big in Cali. As you can imagine, Californians have an insatiable appetite for cannabis seeds and weed.
In 2020, California's cannabis dispensaries sold a record-busting $4.4 billion worth of cannabis products. Furthermore, the Golden State reaped over $160 million in tax revenue.
In other words, California's cannabis industry eclipses many global industries and is set to increase in the coming years.
Cookie Fam Becomes Legendary in California
Whether you're from California or not — you've definitely heard of Cookie Fam.
If you've fallen in love with the Girl Scout Cookies seed strain or any other notable dessert strain — it's all thanks to Berner and the Cookie Fam.
You can't talk about California's cannabis industry without giving a nod to Cookie Fam and their close associates, such as the Jungle Boys and The Village.
Most modern-day hybrids are crossed with Girl Scout Cookies due to their immense flavor, potency, and sheer quality. Although it's challenging to find verified GSC seeds in person — you'll surely find them at ILGM or MSNL Seed Bank.
California's Black Market for Cannabis Seeds and Products
As with all states in the USA — the black market poses a problem in California.
Even with recreational cannabis, the black market siphons millions of dollars annually. Although the weed is cheaper — it's untested and may contain harmful pesticides and present illicit cultivation practices that harm the local environment.
Furthermore, buying cannabis seeds from the black market may result in a lackluster crop. Remember, unverified seed strains are exactly that — knock-offs. Therefore, always buy cannabis seeds from reputable seed banks and weed from licensed dispensaries in California.
Conclusion
Ultimately, California is the place to be if you want to grow weed seeds without the threat of the law hanging over your shoulder.
From legal seed banks to dispensaries on every block — you'll find cannabis freedom in California. If you're ready to grow the best weed you've ever had — it's time to head over to our recommended seed banks and search for a top-rated seed strain for this year's grow!
Interested in cannabis laws for other US states? Click here: Buy Cannabis Seeds in the United States
Best Online Seed Banks for Buying Marijuana Seeds in California 2023:
ILGM Seed Bank [Read Review]:
A Reputable Dutch Brand. Shipping Discreetly From California. Bitcoin and Credit Cards accepted.

Herbies USA Express [Read Review]:
The Booming Online Retailer is Now Shipping From Inside the US. Shipping Within 24 Hours. Cards, Bitcoin, PayPal, Zelle, Cash App, Popmoney, Venmo and ACH Transfers Accepted.
Best Places to Buy Marijuana Seeds Online in 2023