Banana Kush Seeds
An in-depth review of the one-and-only Banana Kush strain. Learn everything from cultivation tips, effects, healing qualities, and where to find Banana Kush seeds for sale.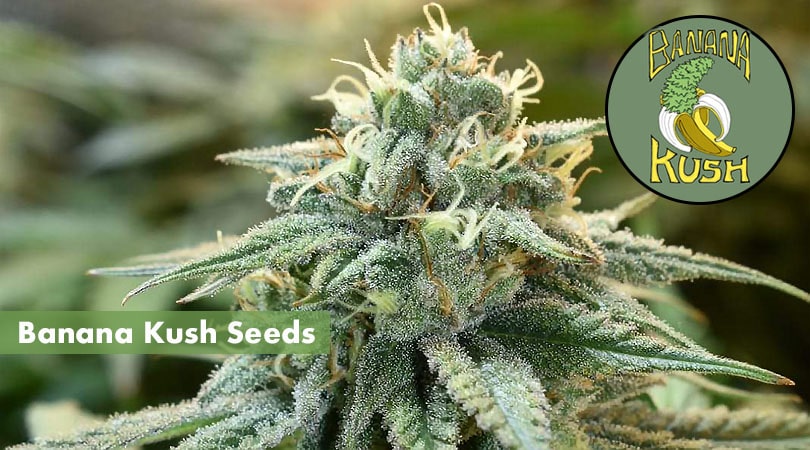 As the afternoon drags on, do you reach for the indica or the sativa?
If you choose the indica, your afternoon and subsequent evening will immediately cease to exist. If you go the sativa route, you may become too immersed in another dimension to continue the day.
The clear alternative is a hybrid strain, which can help you relax, stimulate creativity, and boost motivation at the same time. However, the sea of hybrid cannabis strains is vast, but there is one that shines above the rest.
Banana Kush is an indica-dominant hybrid with a complex character that's perfect for any moment. Banana Kush's unique terpene profile, sky-high cannabinoid content, and varied effects are ideal for recreational and medical users.
Read along to understand all of the relevant info about the Banana Kush strain, such as its not-so-mysterious origin, growth characteristics, and where to buy Banana Kush seeds online.

Banana Kush Seeds – Strain ID:
Type: Indica Dominant Hybrid
Cannabinoids: 16-22% THC
Terpenes: Limonene, Caryophyllene, Myrcene
Effects: Euphoria, Relaxing, Uplifting
Landrace Strain: Ghost OG x Skunk Haze
Grow Difficulty: Easy
Harvest: 8-9 Weeks / 10 Weeks
Yield: >500g/㎡ / >600g/plant
Height: Up to 4 feet/ >4 feet
(*Indoor / Outdoor)
The Best Banana Kush Feminized Seeds in 2023:
• 22%+ THC
• Harvest: 8-10 Weeks
• Yield: 500-600g/㎡
• Shipping Worldwide
• Including Free Seeds
• Credit Cards & Bitcoin Accepted
Prices
• £8.2 Per Seed
• Bulk orders get discounted rate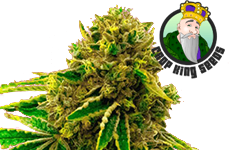 • 17-21% THC
• Harvest: 9 Weeks
• Yield: 500g/㎡
• Shipping Worldwide
• Germination Guarantee
• Credit Cards & Bitcoin Accepted
Prices
• 5 Seeds – $65
• 10 Seeds – $120
• 25 Seeds – $240
---
About Banana Kush Seeds
Background
As you browse the internet, the strain information of Banana Kush is relatively inaccurate.
Multiple stories about Banana Kush hypothesize various lineages and claim that Banana Kush mysteriously appeared from thin air. Allow this Banana Kush review to shed light on one of the most popular hybrids around.
Banana Kush began with Dave Crockett, the legendary West Coast cannabis cultivator, and breeder. Dave wanted to create something unique — something that no one else had. Dave had a particular phenotype of OG Kush, which is known as Ghost OG.
Dave remembered that he had Skunk Haze seeds in storage. The Skunk Haze seeds were from the 1970s, and it was a miracle that they germinated. Once Dave found a distinct Skunk Haze, he crossed it with Ghost OG.
The result was something no one has ever seen before, a crystal-coated indica-hybrid that produced pungent banana-like fumes. Furthermore, Banana Kush pumps out massive THC, making it an instant hit with cannabis connoisseurs and producers alike.
Banana Kush seeds can now be found in regular or feminized form. Additionally, Banana Kush is a primary ingredient in many recent hybrids that follow the "dessert" fad.
Growing Banana Kush Seeds
If you're ready to embark on a terpenous journey, you must first acquire Banana Kush seeds.
Banana Kush made headlines ever since its release, so you can count on other breeders trying to impersonate Banana Kush. Once you find genuine Banana Kush seeds, it's time to get growing.
Before we begin, you must understand a few cultivation tips that are essential for success. First, Banana Kush is not a set-it-and-forget-it type of strain. Instead, you will need to pay attention and trim Banana Kush to maximize its yield potential.
Lastly, Banana Kush excels in both indoor and outdoor environments. Growing Banana Kush indoors, however, proves to generate the most frost. If trichome production and bag appeal are your top priorities, then indoor production is a must.
Grow Difficulty:
Banana Kush is moderately easy to grow.
Many experienced cannabis cultivators find Banana Kush a breeze to grow. Beginners may find Banana Kush moderately easy to grow, as long as you prune and train your crop accordingly. Overall, the experience of growing Banana Kush shouldn't be missed — especially for anyone who wants the frostiest nugs they've ever set their eyes on.
Optimal Growing Conditions and Climate:
Banana Kush prefers a Mediterranean climate.
Remember, Banana Kush was created in the hills below the Sierra's in California and is accustomed to hot summer days and abundant sunshine. The optimal temperature for Banana Kush is between 72-85°F. The relative humidity should sit between 40-45%.
Banana Kush seeds perform best in hydroponic systems indoors. Furthermore, 600-watts and above of intense light are necessary to reach all of the bud sites. If you grow Banana Kush seeds outdoors, pick a sunny area, and build support structures during the vegetative stage.
Flowering Time:
Banana Kush flowers in 8-9-weeks.
If your Banana Kush seeds produce an 8-week pheno — consider yourself lucky. Overall, Banana Kush should finish flowering under 9-weeks in indoor conditions. If you grow Banana Kush seeds outdoors, expect to harvest in mid to late September.
Yield:
Banana Kush yields ounces on top of ounces of premium-grade weed.
Indoors, Banana Kush is capable of upwards of 500-grams per meter squared. Outdoors, Banana Kush can produce over 600-grams of weed per plant.
Overall, the yield is medium to high, and you'll be more than excited to sample one of the trichome-drenched nugs.
Height:
The Banana Kush strain grows to a medium height.
The indica-side of Banana Kush's lineage shines indoors because it does not shoot through the roof. Instead, the plant bushes out and produces a multitude of branches. However, you must trim and prune your Banana Kush plants to ensure an even canopy.
The best methods are the Screen of Green technique and LST. Once you tie Banana Kush down, it'll do anything you want.
Resistance to Pests and Mold:
One of the best features of Banana Kush is it's highly resistant to common pests and diseases. Banana Kush's strong resilience is another reason why it's suitable for new growers.
If you worry about mite infestations or mold outbreaks, grab a few Banana Kush seeds to experience a hassle-free grow.
Strain Description and Properties
The Appearance of Banana Kush Weed:
The appearance of Banana Kush is unique because there's only one thing you'll see — trichomes.
The resin content covers the bud, and the lime-green hues of the calyx are lost underneath the immense level of frost. As for the pistils, we know they're there, but we just can't see them.
Overall, Banana Kush weed is one of the frostiest strains you will ever witness. If you're ready to get down and dirty with resin, Banana Kush seeds are all you will ever need.
Dominant Cannabinoids Found in Banana Kush Seeds:
Banana Kush boasts a lot of THC.
Although the average THC level is 16-22%, various phenotypes test as high as 27%. One of your Banana Kush seeds may contain a THC-rich phenotype, which is why growing from seed is so rewarding.
Dominant Terpenes Found in Banana Kush Seeds:
The terpenes in Banana Kush weed are out-of-this-world.
As you unlock a jar of Banana Kush weed, an onslaught of ripe banana, lemon-diesel, and spicy floral tones fill the air. The aroma isn't abrasive, but instead, delicate and alluring.
The flavor is similar to the aroma, but it also adds a complex depth of lemon skunk, ripe bananas, and spicy sweetness. The taste of banana is upfront, personal, and utterly delicious. Once you indulge in Banana Kush weed, you'll always want to indulge in its complex terpene profile.
Banana Kush seeds contain three primary terpenes:
Limonene – The limonene in Banana Kush seeds is responsible for the OG-esque lemon-fuel dankness.
Caryophyllene – The caryophyllene in Banana Kush seeds produces the skunky-spice that'll kick your senses into overdrive.
Myrcene – The myrcene content in Banana Kush seeds provides the distinct aroma and flavor of ripe bananas.
Effects of Banana Kush Weed:
The effects of Banana Kush weed is complex.
As the delicious smoke of Banana Kush hits your lungs, the effects immediately begin. At first, a blinding rush of euphoria cascades throughout the mind.
As the mind experiences waves of happiness and joy, the body simultaneously receives a jolt of relaxation that numbs the body. As Banana Kush massages your body, an urge to create, move, and socialize takes effect.
As we said, the effects of Banana Kush weed are unique. As the assortment of effects mixes, you will experience an undeniable sensation of wellbeing. Overall, Banana Kush stimulates, relaxes, and eases the mind and body to create a state of pure bliss.
Medical Properties of Banana Kush Seeds:
Banana Kush weed is exceptionally beneficial for medical marijuana patients. Medical marijuana patients in the USA, Canada, and the European Union scramble to grow Banana Kush seeds.
Let's take a look at the medical issues that Banana Kush weed can assist:
Depression
Anxiety
PTSD
Fatigue
Insomnia
Pain
And Much More
Negative Effects of Banana Kush Weed:
Banana Kush contains a lot of THC, which means it's easy to overindulge. If you consume too much Banana Kush, you may find yourself glued to the couch. One-hi-too-many with Banana Kush may result in a blackout; therefore, novices must take it easy when consuming Banana Kush.
Additionally, Banana Kush weed produces bright red eyes and an intense sensation of cottonmouth.
Pros/Cons of Growing Banana Kush Seeds
Pros
Ultra-Potent Cannabis
Unique and Delicious Terpene Profile
Large Yield
Thick Resin Coverage
Ideally Suited For Indoor Grows
Excellent Bag Appeal
Easy to Growl
Highly Resistant to Pests and Diseases
Cons
Difficult to Find Genuine Banana Kush Seeds
Average Flowering Time
Watch: Banana Kush Strain Week 8
The Best Banana Kush Feminized Seeds in 2023:
• 22%+ THC
• Harvest: 8-10 Weeks
• Yield: 500-600g/㎡
• Shipping Worldwide
• Including Free Seeds
• Credit Cards & Bitcoin Accepted
Prices
• £8.2 Per Seed
• Bulk orders get discounted rate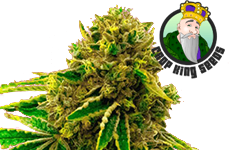 • 17-21% THC
• Harvest: 9 Weeks
• Yield: 500g/㎡
• Shipping Worldwide
• Germination Guarantee
• Credit Cards & Bitcoin Accepted
Prices
• 5 Seeds – $65
• 10 Seeds – $120
• 25 Seeds – $240
---
Main Category Page:
Cannabis Strain Index
– A curated index of the world's best cannabis seed strains. Each review contains vital information, such as cultivation tips, strain profiles, and where to buy the best cannabis seeds.