Banana OG Seeds
Keep your eyes peeled for Banana OG, a potent cannabis strain with tropical fruit funk. Learn how to grow Banana OG seeds, and discover details about its high-flying effects.
Remember popping a quarter or two into one of those hard candy dispensers as a kid? Every one of them had the same fruit-shaped candies inside, but that didn't stop you from going for it anyway.
The cherry, strawberry, and even grape flavored candies tasted fine, but the disappointment was evident every time the banana candy came up. Isn't it strange considering actual bananas are delicious?
So it goes with Banana OG, a hard-hitting indica-dominant hybrid with incredible banana fruit funk aromas wafting out of the nugs.
Unlike other strains that require you to stretch your imagination to get why they're called Lemon Meringue or Wedding Cake, Banana OG smells like just peeled overripe bananas. And, like a banana, the sweetness imparted by this strain makes you feel pretty damn happy.
Oh, one other thing — Banana OG is an ultra-high THC strain. As in, one of the highest THC strains on Earth, ever. Smells like a bunch of bananas and hits harder than a ton of bricks, what's not to love?
This Banana OG review peels away the mystery behind this original strain and will give you top tips for growing Banana OG seeds at home.

Banana OG Seeds – Strain ID: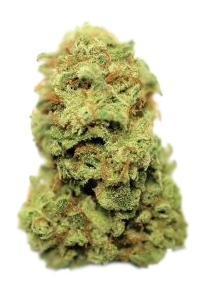 Type: Indica-Dominant Hybrid
Cannabinoids: 23-30% THC
Terpenes: Limonene, Caryophyllene, Myrcene
Effects: Couch-Lock, Relaxing, Pain-Relieving
Landrace Strain: Banana x Ghost OG
Grow Difficulty: Medium
Harvest: 8-10 Weeks / 10 Weeks
Yield: Up to 450g/㎡ / Up to 600g/plant
Height: Up to 4 feet/ >4 feet
(*Indoor / Outdoor)
---
About Banana OG Seeds
Background
While we'd love to claim that Banana OG is an Ecuadorian landrace strain cultivated by Miss Chiquita, it unfortunately just isn't true.
The good news is that the real history of Banana OG is way more interesting than that.
You've smelled and smoked OG Kush before, haven't you? It smells like a gas station pump doused in lemons and tastes like sweet composted earth.
In a seemingly impossible move, a legendary cultivator named OrgnKid was somehow able to extract banana-inflected terpenes from OG Kush. Well, it isn't only OG Kush hiding in the genetic background of Banana OG seeds.
You see, OrgnKid is regarded as a sort of god amongst cannabis cultivators. He built his fame on internet forums in the early 2000s and was widely reputed for his envious collection of OG Kush cuts.
OrgnKid's penchant for discovering stunning and singular OG Kush phenotypes was such that many of today's biggest-name breeders got their start using OG Kush cuts hunted by OrgnKid.
Think Archive Seed Bank, Rare Dankness, OG Raskal, DNA Genetics, and even Jungle Boys. At some point or another, all of them have based famous strains on a foundation built by OrgnKid.
But, we digress. OrgnKid was gifted — or bought — a strain of unknown origin cultivated by Sagarmatha seeds. Known only as 60/40, OrgnKid set to work hunting phenotypes when he came across one that he called Banana in an ode to its aroma.
He then crossed this Banana phenotype with Ghost OG, an OG Kush cut of his that also happens to be the world's most potent strain. What do you get when you cross Banana with Ghost OG? A banana that is very much worth peeling.
Infamously potent strains like Utopia Farms Chiquita Banana and DNA Genetics Strawberry Banana are both derivatives of Banana OG. While those strains are fantastic, why not go straight to the source by growing Banana OG seeds yourself?
The next section will show you how, along with where to buy authentic Banana OG seeds.
Growing Banana OG Seeds
You want to grow Banana OG seeds. That isn't even a question — after all, who would want to miss out on a prolific producer of terpinous 26% THC flowers?
Since that's settled, let's focus on getting your Banana OG seeds in the ground and on their way to bearing fruit. The first choice you'll need to make is: which type of Banana OG seeds will you choose?
Here's a quick guide to help you.
Feminized Banana OG seeds — If you want the least fuss during flowering, go with feminized seeds. They're 100% female, meaning no need to weed out males later.
Autoflower Banana OG seeds — Some cultivators live in areas with a short growing season and cooler temperatures. If that's you, then consider autoflowering seeds. They flip into flowering mode without input from light changes.
Regular Banana OG seeds — Regular seeds will contain both male and female genetics, so this is an option for more experienced growers. Go with regular Banana OG seeds if you want to do your own phenotype hunting or create the next big hybrid.
Grow Difficulty:
Banana OG seeds are rated medium difficulty for novice growers, and normal difficulty for experienced cultivators.
Optimal Growing Conditions and Climate:
Banana OG seeds do well indoors and outdoors when planted in nutrient-rich organic soil. Like most OG Kush varieties, this strain likes warmth, airflow, and low-humidity. If your outdoor environment can't provide these three essentials, plant Banana OG seeds indoors.
Keep temperatures between 70°F and 82°F with relative humidity levels below 55%. Strong airflow is recommended to keep buds and leaves from developing signs of rot.
Banana OG plants require heavy feedings of calcium, magnesium, and occasional nitrogen — especially at the start of flowering. Additionally, you can use natural amendments like compost tea to keep up plant immunity.
Flowering Time:
Banana OG plants have an 8 to 10 weeks flowering period.
Yield:
Indoors, expect a bountiful yield of up to 450 grams per square meter. Outdoor growers can anticipate up to 600 grams per plant.
Height:
Banana OG plants are medium-compact with an average amount of stretch during flowering. Top them early to encourage bushy growth indoors, or let them run wild outdoors for maximum yield.
Resistance to Pests and Mold:
This strain is highly resistant to pests and mold but is subject to bud rot without enough air circulation.
Strain Description and Properties
The Appearance of Banana OG Weed:
How stunning is the appearance of Banana OG weed? Let's count the ways.
First, the frost factor is kind of insane. As in, don't stare directly into these nugs 'cause you might go blind from the shine. Think that's an exaggeration? Just wait until you pull your first harvest down.
Second, the bud density and diamond egg shape make each Banana OG ball worth cherishing in your hands. Squeeze them, then peel them (or grind them, if you prefer).
Finally, the lime green leaves with hints of occasional magenta and crimson are wound tightly by flaming pistils surrounding the buds like the accouterments of a Greek chariot.
Dominant Cannabinoids Found in Banana OGSeeds:
Banana OG seeds are all THC, all the time. As one of the most potent strains on Earth, Banana OG contains anywhere from 23% to 30% THC.
Dominant Terpenes Found in Banana OG Seeds:
By now, you probably understand that Banana OG smells like bananas. But, in case you haven't gotten that, let's just repeat it once more for the record — Banana OG smells like funky, loud, gassy bananas.
Where does this sweet magic come from? A unique combination of terpenes is responsible.
Limonene — Highly uplifting terpene used to reduce stress, depression, and bad moods. Found in citrus rinds and other sweet fruits.
Caryophyllene — Extremely effective pain-fighting terpene. Contributes spiced fragrances and deep earth musk.
Myrcene — Responsible for relaxing, sedating, and sleepy effects. Found in lavender and other calming herbs.
Effects of Banana OG Weed:
It's unfair to say that smoking Banana OG leads to couch-lock because that would be too gentle of a description. Instead, a bowl of Banana will render you comatose. However, don't worry, it's a fun comatose!
Expect feelings of introspective joy paired with a body-numbing amount of physical relaxation. Whatever you do, don't smoke Banana OG before something important, like a job interview or math test.
Instead, reserve it for the end of the day when it's perfectly fine for the world to fade away.
Medical Properties of Banana OG Seeds:
Banana OG is revered for its medicinal properties. Use Banana OG to help:
Deep muscular pain
Ongoing arthritis
Chemotherapy effects
Lack of appetite
Stress
Depression
Insomnia
PTSD
Negative Effects of Banana OG Weed:
Smoking Banana OG can cause dry mouth and dry eyes.
Due to the strain's very high THC levels, measure your hits and don't smoke more than your tolerance allows.
Pros/Cons of Growing Banana OG Seeds
Pros
Incredible potency for recreational & medicinal users
Some of the frostiest weed you'll ever see
Smells like ripe bananas
Generous yields
Cons
Growing Banana OG seeds is a bit tricky
Requires lots of nutrients
Too potent for novices
Watch: Banana OG Strain Review
---
Main Category Page:
Cannabis Seed Index
– A curated index of the world's best cannabis seed strains. Each review contains vital information, such as cultivation tips, strain profiles, and where to buy the best cannabis seeds.