Banana Punch Seeds
A must-read review on the terp-heavy Banana Punch strain. Discover everything about Banana Punch, such as its ultra sedating effects and where to find real Feminized Banana Punch seeds for sale online.
If you've been looking for the ultimate heavyweight weed strain — the search is over.
Meet Banana Punch — a deceptively delicious marijuana strain that's loaded to the brim with THC. From fruit-forward terpenes to bone-crushing effects, you won't know what hit you indulge in Banana Punch.
These days, however, it's not just about potency and flavor. Instead, cannabis enthusiasts are also concerned about yield, bag appeal, and more.
Luckily, the Banana Punch strain is the perfect package, and once you continue reading the rest of this guide — you'll understand why.
From growing tips to where to buy Banana Punch seeds, allow this review to shine an informative light on a once-in-a-lifetime strain — Banana Punch.

Banana Punch Seeds – Strain ID: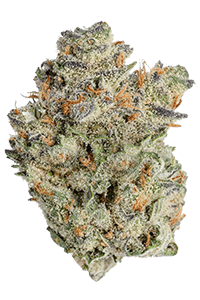 Type: Hybrid
Cannabinoids: 20-26% THC
Terpenes: Limonene, Pinene, Caryophyllene
Effects: Uplifting, Anti-stress, Relaxing
Landrace Strain: Banana OG x Purple Punch
Grow Difficulty: Very Easy
Harvest: 7-8 Weeks / 8+ Weeks
Yield: >500g/㎡ / Up to 550g/plant
Height: 4-6 feet/ 6+ feet
(*Indoor / Outdoor)
The Best Banana Punch Feminized Seeds in 2023:
---
About the Banana Punch Strain
Background
The Banana Punch strain was originally bred by the master growers at Symbiotic Genetics.
Known for their top-shelf creations and dedication to unique genetics, Symbiotic Genetics is a tour de force in the cannabis industry. As usual, Symbiotic Genetics created Banana Punch out of the desire for an ultra-potent strain with an undeniably delicious flavor.
The breeders at Symbiotic Genetics crossed two of the hard-hitting strains in the cannabis industry — Banana OG and Purple Punch.
Unless you've been living under a rock — Banana OG held the record for the most THC for a time. Similarly, Purple Punch swept nearly every award in existence immediately after its release.
As you can imagine, the Banana Punch strain was quick to turn heads. With mind-blowing THC content, mouth-watering terpenes, and stunning bag appeal, Banana Punch signaled a paradigm shift in cannabis quality. Soon after its release, Banana Punch took first place at the Karma Cup.
Ever since, cannabis connoisseurs worldwide have gone through extreme efforts to secure a pack of Banana Punch seeds. Luckily, growers now have access to Feminized Banana Punch seeds via online seed banks.
Growing Feminized Banana Punch Seeds
If you're ready to grow Feminized Banana Punch seeds — you've come to the right place.
In this review, we will discuss key aspects regarding the cultivation of Banana Punch. From difficulty ratings to yield and everything in between, you'll learn enough to take your Banana Punch from seed to harvest.
However, you must remember that your desire to learn and grow as a cannabis cultivator is your responsibility. Cannabis plants cannot grow themselves, which makes you a key player in determining your final harvest.
Before you begin, always remember to relax, keep it simple (KISS), and have fun. Below, you'll find essential tidbits of information regarding the Banana Punch strain.
Grow Difficulty
The Banana Punch strain is very easy to grow, making it perfect for beginners and professionals.
In most cases, top-shelf weed strains are challenging to grow. However, it's not always the case that amazing weed requires green thumb skills to produce a hefty harvest.
Luckily, Banana Punch is a breeze to grow indoors or outdoors — as long as you treat it nicely. In other words, daily inspections, proper nutrient dosages, and adequate growing conditions are essential to produce a bountiful crop of Banana Punch buds.
Whether it's your first grow or not — grab a pack of Feminized Banana Punch seeds and see what happens!
Optimal Growing Conditions and Climate
The Banana Punch strain was born and bred in California.
Therefore, it goes without saying that Banana Punch plants prefer warmth, sunshine, and low humidity. However, Banana Punch requires a bit of TLC, and non-stop direct sun is a big no-no.
Ultimately, outdoor growers must plant Banana Punch seeds in a sunny location that receives shade throughout the day. Furthermore, you must do your best to cover your cannabis crops if rain is forecasted at the onset of autumn.
If you grow Banana Punch seeds indoors, you must maintain optimum conditions in the grow tent. You must ensure a temperature range of 75-86F and a humidity level of 50-70%.
Furthermore, oscillating fans are necessary to move plant leaves and reduce the chance of mold and mildew. Lastly, Banana Punch is a fast grower, and CO2 devices in the grow room will enhance this trait.
Overall, Banana Punch is a vigorous grower indoors or outdoors. As long as you treat it with the respect it deserves — it'll treat you to ounces of deliciously potent buds!
Flowering Time
The flowering time of Banana Punch is surprisingly fast.
At 7-8-weeks, Banana Punch is one of the fastest weed strains on the market. You can count yourself as blessed if you land a 7-week pheno. However, the 8-week pheno is just as good — so don't fret!
Remember, Banana Punch may finish flowering sooner when grown indoors under optimal conditions. However, the time to harvest is strictly dependent on the ripeness of trichome heads.
If you grow Banana Punch seeds outdoors, you may expect to harvest by the middle or end of September. Luckily, most locations throughout the world are not too cold by the end of September.
However, growers in northern latitudes should do their best to harvest Banana Punch before night temperatures drop below freezing.
Yield
The yield of Banana Punch is enough to make you go ape.
When grown indoors under optimal conditions, Banana Punch may produce upwards of 500g/m2. Outdoors, Banana Punch is capable of unloading 550-grams per plant, depending on its total size.
As you can see — Banana Punch has everything going for it. From the ease of growth to top-shelf yields, you'll never find another strain that knocks it out of the ballpark like Banana Punch.
Height
The Banana Punch strain is a medium-sized plant.
At 120-180cm, Banana Punch plants are ideally suited to a number of locations. However, growers with limited space must train their plants accordingly to reduce the risk of the plant outgrowing their garden.
The Banana Punch strain responds well to SOG, ScrOG, FIM, topping, and LST. Depending on your style, nearly all training methods are suitable for Banana Punch plants.
Ultimately, indoor growers will benefit from training their Banana Punch plants. Outdoor growers will benefit by allowing their Banana Punch plants to increase in size to ensure a massive harvest.
Resistance to Pests and Diseases
The Banana Punch strain offers medium pest and disease resistance.
Although Banana Punch can withstand minor outbreaks of annoying pests, such as gnats, spider mites, and powdery mildew are entirely different beasts.
Therefore, you must implement an IPM strategy to protect your Banana Punch plants. The best practices to ensure the health of your Banana Punch plants are:
Remove the lowest growth (lollipop)
Add one oscillating fan per meter squared
Adequately space each plant
Keep your garden clean
Always wear clean clothes into the grow room
Apply organic neem oil during the vegetative stage
Inspect your crop daily
Banana Punch Strain Description and Properties
The Appearance of Banana Punch Weed
The buds from the Banana Punch strain are beyond top shelf.
Whether you're trimming your weed or taking a peek at your buds in the curing jar, you'll know that you're about to embark on an incredible journey with Banana Punch.
One of the first aspects that you'll notice is the silly amount of frost on each flower. That's right; Banana Punch is coated head to toe in heavy-hitting resin.
Second, Banana Punch buds are delightfully light green with patches of purple. Overall, you'll need to take a second take just to make sure your eyes aren't deceiving you.
Lastly, the nugs from Banana Punch are surprisingly dense, making each bud worth its weight in gold.
Dominant Cannabinoids Found in Banana Punch Weed
The dominant cannabinoid found in Banana Punch weed is THC.
Considering its lineage, you can expect the Banana Punch strain to produce weed that lands between 20-26% THC. Remember, Banana Punch is a relatively new strain, so the current THC levels are not set in stone.
Overall, Banana Punch carries a stout amount of THC, making this a one-hit-quit for most.
Dominant Terpenes Found in Banana Punch Buds
The Banana Punch strain is a fusion between dessert and punchbowl weed.
Once you open a bag full of Banana Punch weed — get ready for maximum terpene exposure. From tidal waves of banana, pineapple, pine sap, and extreme lemon fuel — your nostrils may experience sensory overload.
Once you indulge in Banana Punch weed, your taste buds will jump for joy as the flavor of fermenting pineapple, Gushers candy, and intoxicating berries float across the palette. In other words, your tongue is about to worked by the terpene content found in Banana Punch.
The three primary terpenes found in Banana Punch buds are limonene, pinene, and caryophyllene. Limonene and pinene are responsible for pine sap, lemon juice, and other fruit and herbal-oriented flavors.
Lastly, the caryophyllene produces ample layers of rich spice. In any case, the mixture of these three terpenes is responsible for a symphony of flavors and aromas.
Effects of the Banana Punch Strain
The effects of the Banana Punch strain are rated as extreme.
As you begin to smoke or vape Banana Punch, you won't notice much — at first. After a few minutes, however, Banana Punch's effects begin to creep through the background.
Known as a creeper strain, Banana Punch suddenly grabs ahold and doesn't let go for hours on end. The initial effects are extreme levels of euphoria and happiness.
Soon, a tingly sensation overcomes the entire body — starting from the limbs. As you begin to notice these effects, a tidal wave of relaxation glues you to the couch.
Ultimately, the Banana Punch strain eases your body and mind into a state of pure bliss. Whether you're at the park or binging your favorite show on Netflix, Banana Punch is sure to turn an average day into perfection.
Medical Properties of Banana Punch Weed
Banana Punch is made for medical marijuana patients.
If you're searching for an ultra-potent cannabis variety, there's no better choice than Banana Punch. Although the name sounds like it's strictly for recreational users, Banana Punch is loaded with therapeutic properties.
Here's a list of the major medical attributes that Banana Punch weed can assist with:
Insomnia
Pain
Anxiety
Depression
Nausea
As you can see, Banana Punch is clearly suitable for medical marijuana patients. If you're ready to grow your own medicine — Feminized Banana Punch seeds are the best place to start!
Negative Effects of the Banana Punch Strain
Although Banana Punch is perfect for medical marijuana patients and recreational enthusiasts — it has a few adverse effects.
Here's a list of drawbacks when consuming too much Banana Punch weed:
Dry mouth
Red eyes
Extreme drowsiness
Paranoia
Remember, Banana Punch is incredibly potent weed. Therefore, beginners with a low THC tolerance must begin with a small dosage of Banana Punch to avoid adverse effects.
Pros/Cons of Growing Feminized Banana Punch Seeds
Pros
Beyond top-shelf bag appeal
Heavy resin production
High THC content
Delicious terpene profile
Massive yield
Easy to grow
Cons
Challenging to find real Feminized Banana Punch seeds for sale
Watch: Banana Punch Strain Grow
The Best Banana Punch Feminized Seeds in 2023:
---
Main Category Page:
Weed Seed Index
– A curated index of the world's best cannabis seed strains. Each review contains vital information, such as cultivation tips, strain profiles, and where to buy the best cannabis seeds.