Birthday Cake Seeds
An eye-opening guide on the legendary Birthday Cake strain. Learn everything about the deliciously potent Birthday Cake strain, such as its mouth-watering flavors and where to buy real Feminized Birthday Cake seeds online.
Nothing is more exciting than unwrapping birthday presents.
Whether the gift is big or small — it's the thought that counts. This year, however, the best presents come in the form of ultra-dense buds coated in enough resin to make your head spin.
If you want to make every day feel like your personal holiday — it's time to grow indica-dominant Birthday Cake seeds. Birthday Cake is a one-of-a-kind strain that's making waves among cannabis enthusiasts worldwide due to its stellar bag appeal, mind-blowing potency, heavy-weight yield, and superstar terpene profile.
If you're ready to experience the best birthday gift that keeps on giving — continue reading this review on Birthday Cake.
Soon, you'll discover everything you need to know about Birthday Cake. You'll learn essential aspects about Birthday Cake, such as its cannabinoid and terpene profile, effects, grow tips, and where to find real Birthday Cake seeds for sale online.

Birthday Cake Seeds – Strain ID: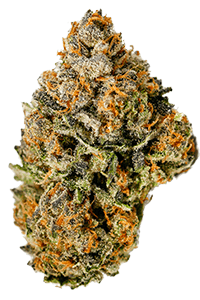 Type: Indica-Dominant
Cannabinoids: 25%+ THC
Terpenes: Caryophyllene, Limonene, Myrcene
Effects: Uplifting, Euphoric, Relaxing
Landrace Strain: Cherry Pie x Girl Scout Cookies
Grow Difficulty: Moderate
Harvest: 7-9 Weeks / 9+ Weeks
Yield: Up to 600g/㎡ / 550g/plant
Height: 4-5 feet/ 6 feet
(*Indoor / Outdoor)
The Best Birthday Cake Feminized Seeds in 2023:
About the Birthday Cake Strain
Background
Although the origins are up for debate — it's clear that Birthday Cake's lineage is composed of two legendary strains: Cherry Pie and Girl Scout Cookies (GSC).
Although originally crafted as a clone-only variety, Feminized Birthday Cake seeds are available from notable breeders, such as Cannarado Genetics. Additionally, Birthday Cake is also known as Birthday Cake Kush — so don't worry if you see this name when searching online.
Remember, many online cannabis resources claim that Birthday Cake is the same as the Wedding Cake strain. However, this claim couldn't be further from the truth.
Although similarly named, Wedding Cake was bred by crossing Triangle Kush and Animal Mints. As you can see — Birthday Cake has nothing to do with Wedding Cake.
Cultivators worldwide have a new secret weapon ever since Feminized Birthday Cake seeds were released into the wild. Now, you can join the party and produce top-shelf weed for your needs — whether it's your birthday or not!
Growing Feminized Birthday Cake Seeds
Before we describe all of the notable traits of Birthday Cake plants — let's talk about a few important aspects of cannabis cultivation.
First, if you want top-shelf Birthday Cake buds — you need to put in the leg work. From finding real Birthday Cake seeds to planning your weed garden — it's your responsibility once you germinate your seeds.
Remember, Birthday Cake is a challenging strain to find for sale, so it's best to grow them once you and your garden are ready. Once you germinate your seeds — you can't call time out and expect your plants to wait for better conditions.
Ultimately, your crop's life is in your hands.
Grow Difficulty
The Birthday Cake strain is rated as moderately challenging to grow.
The primary difficulty of growing Birthday Cake is the necessity to prune the plants midway through the vegetative cycle. If you fail to train your cannabis crop — the yield suffers, and your plant(s) may break once the flowers grow in size.
Ultimately, beginners can grow Birthday Cake — as long as they are committed to training the plant at the optimal time. Marijuana cultivators with experience will find ease in growing Birthday Cake.
As you can see — your experience will determine how easy (or not) it is to grow Birthday Cake Kush.
Optimal Growing Conditions and Climate
The Birthday Cake strain was born and bred for Mediterranean climates.
In other words, sunshine, low humidity, and warmth are prerequisites for growing Birthday Cake. If you live in a non-Mediterranean climate, you can grow Birthday Cake during the summer as long as you harvest your crop before the chill of autumn arrives.
On the other hand, indoor growers can grow Birthday Cake seeds year-round as long as they provide optimal conditions. The best temperature range to grow Birthday Cake is between 72-88F.
Additionally, humidity must not exceed 70% during the flowering phase to prevent mold or rot. As long as you provide the optimal environment for your Birthday Cake crop — you'll witness explosive growth and massive colas at the end of the season.
Flowering time
Birthday Cake finishes flowering between 7-9-weeks.
Overall, Birthday Cake seeds are rated as a fast-flowering hybrid that can finish by day 49. However, certain phenotypes of Birthday Cake seeds may finish by day 63. In any case, the flowers of Birthday Cake are well worth the wait.
If you grow outdoors, Birthday Cake typically finishes flowering by the end of September. As long as you plan accordingly, you'll avoid the onset of frigid temperatures that continental climates experience.
Yield
The yield of Feminized Birthday Cake is the perfect gift after months of growth.
Indoors, the Birthday Cake strain can unleash up to 600g/m2. If you're wondering — 600-grams per meter square is enough weed to make every day your birthday until next year.
Outdoors, Birthday Cake is capable of unloading 550-grams per plant. Therefore, cultivators with land at their disposal are uniquely positioned to produce pounds of gorgeous buds.
Remember, the final yield is determined by your skills as a cultivator and your choice of training. Untrained cannabis plants tend to yield less compared to those in the ScrOG or LST category.
Height
Birthday Cake's height is rated as medium.
However, the term medium has many implications depending on the type of space you grow weed in. Birthday Cake does not grow more than 180cm for outdoor growers, making it ideal when some form of discretion is necessary.
Indoors, however, cultivators must train Birthday Cake if they do not want the plants to exceed 150cm. To manage the height of Birthday Cake, reduce the vegetative time or train early and often.
As you can see — Birthday Cake Kush is a versatile plant and grows incredibly well in outdoor and indoor conditions.
Resistance to Pests and Diseases
Birthday Cake offers moderate pest and disease resistance.
In other words, cultivators must implement a sound IPM program in their indoor or outdoor garden to guard against outbreaks. Many beginners and professionals alike fall victim to tiny pests and diseases, which is why we stress pest management as a core strategy when growing cannabis.
The best practices to ensure the health of your Birthday Cake plants are:
Remove the lowest growth (lollipop)
Add one oscillating fan per meter squared
Adequately space each plant
Keep your garden clean
Always wear clean clothes into the grow room
Apply organic neem oil during the vegetative stage
Do not allow humidity to exceed 70%
Birthday Cake Strain Description and Properties
The Appearance of Birthday Cake Weed
You'll understand where the Birthday Cake strain gets its name once you unwrap these jaw-dropping flowers.
The flowers of the Birthday Cake strain are decked head to toe in stupid amounts of resin. The trichome coverage is so extreme that the flowers reflect ample light, making them look nearly white.
The calyxes burst forth and present a surreal 3D look, thus making the appearance of Birthday Cake weed ever more impressive. Additionally, the fluorescent orange pistils crop up at perfect intervals throughout the buds to present an awesome firework display of color.
Each bud is dense and sits perfectly in the palm of the hand. Ultimately, Birthday Cake weed is the perfect gift that'll never let you down.
Dominant Cannabinoids Found in Birthday Cake Weed
The Birthday Cake strain is astoundingly potent.
Known as one of the strongest weed strains on the market, Birthday Cake can hit 30% THC. On average, however, cultivators of all skill levels may produce buds that contain 20-25% THC.
Ultimately, indoor-grown Birthday Cake presents the highest THC content. However, outdoor-grown Birthday Cake isn't far behind in the THC department.
Lastly, it's our responsibility to warn beginners about the potency of Birthday Cake. Although Birthday Cake is the perfect strain to celebrate with — it's rip-roaring strong.
Therefore, enjoy Birthday Cake responsibly!
Dominant Terpenes Found in Birthday Cake Weed
Half the fun of Birthday Cake is its decadent flavor and nose-curling aroma.
As you unseal a jar loaded to the brim with Birthday Cake buds, you'll have to take a step back once the scent hits your nostrils. From tangy citrus to dank hashish, the terpenes within Birthday Cake explode with festive overtones.
Once you indulge, the flavor within each puff is mesmerizing. As if slicing into a sweet birthday cake drenched in icing, Birthday Cake's buds are delightfully flavorful. Expect a mouthful of vanilla and pungent baked dough once you take in a massive rip from your favorite piece of glass.
Effects of the Birthday Cake Strain
Whether you're celebrating your birthday or not — the Birthday Cake strain produces effects that are perfect for nearly any occasion.
Remember, the Birthday Cake strain is indica-dominant, however, it also produces sativa-like effects. Therefore, Birthday Cake strikes a perfect balance for indica and sativa lovers and makes it a popular treat for most cannabis enthusiasts.
The initial effect after consuming Birthday Cake weed is a rush of pure euphoric bliss. As your mind spins from the instant head change, your body will try to catch up with tingling sensations across the limbs.
Soon, the entire is wrapped in a blanket of relaxation while the mind is free to roam creative thoughts and happy-go-lucky vibes. In other words, laughter and extreme feelings of happiness are not uncommon when under the influence of Birthday Cake.
As the hours pass, the feeling of relaxation and sleepiness begins to overpower the sativa side of things. At this point, getting comfortable on a bed is recommended because you're likely on the path to falling asleep for hours on end.
Ultimately, Birthday Cake Kush lifts you way up and gently puts you down at the end of the day. If you're ready for the perfect day — grab the gift that'll put you above the clouds: Birthday Cake!
Medical Properties of the Birthday Cake Strain
Due to its outstanding potency and long-lasting effects, the Birthday Cake strain is the perfect match for medical marijuana patients.
From insomnia to depression, Birthday Cake weed is a one-stop-MMJ shop for those in need. Here's a list of the major medical attributes that Birthday Cake can assist with:
Depression
Pain
Anxiety
Insomnia
As you can see, medical marijuana patients in search of potent medicine should grow Feminized Birthday Cake seeds at home. By doing so, your medicine cabinet will always be full with top-shelf buds for any time of the day.
Negative Effects of Birthday Cake Weed
As with anything — too much of a good thing has its downsides.
When consuming too much of the Birthday Cake strain, you may experience:
Extreme drowsiness or sleepiness
Paranoia
Dry mouth
Red eyes
As you can see, you must always consume Birthday Cake weed with care. Unless your THC tolerance is high, you should always begin with a small dose to ensure an enjoyable time!
Pros/Cons of Growing Birthday Cake Seeds
Pros
Top-shelf bag appeal
Intense trichome production
Extreme potency
Heavy yield
Long-lasting effects
Connoisseur-grade terpenes
Cons
Moderately challenging to grow
Difficult to find real Feminized Birthday Cake seeds
Moderate pest and disease resilience
Watch: Birthday Cake Grow: Week 9
The Best Birthday Cake Feminized Seeds in 2023:
Main Category Page:
Marijuana Seed Index
– A curated index of the world's best cannabis seed strains. Each review contains vital information, such as cultivation tips, strain profiles, and where to buy the best cannabis seeds.