Black Gorilla Seeds
An in-depth review of the Black Gorilla strain. Discover Black Gorilla's incredibly potent effects, growth traits, and where to find feminized Black Gorilla seeds for sale online.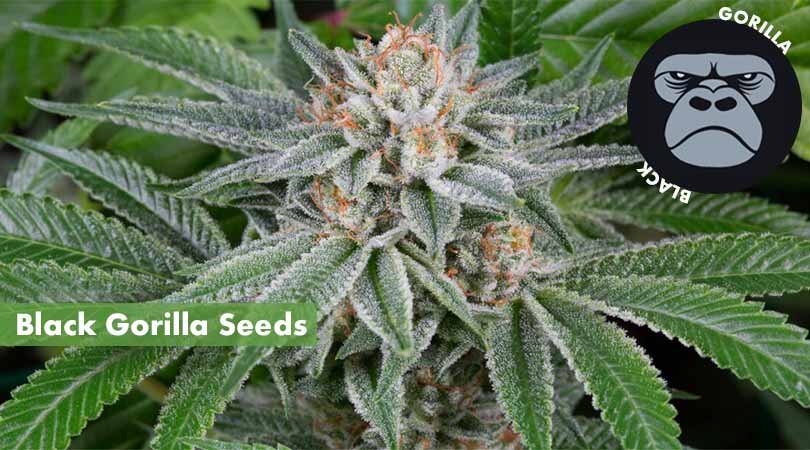 One of the best aspects of cannabis is the fact that certain strains are perfect for specific times of the day.
Whether you're a night owl or you need help falling asleep — there's nothing better than Black Gorilla weed when the sun dips below the horizon.
Read along as we review the Black Gorilla strain. Soon, you'll discover how to grow Black Gorilla plants, their body-numbing effects, and where to buy feminized Black Gorilla seeds.

Black Gorilla Seeds – Strain ID:
Type: Indica-Dominant Hybrid
Cannabinoids: 24-32% THC
Terpenes: Linalool, Limonene, Myrcene
Effects: Sedation, Bliss, Sleepy
Landrace Strain: Gorilla Glue #4 x Brightberry
Grow Difficulty: Moderate
Harvest: 8 Weeks / 8-9 Weeks
Yield: Up to 400g/㎡ / 350g/plant
Height: Up to 2-3 feet / 3+ feet
(*Indoor / Outdoor)
The Best Black Gorilla Feminized Seeds in 2023:
---
About Black Gorilla Seeds
The History of the Black Gorilla Strain
Black Gorilla is built on the shoulders of some of the most legendary cannabis strains in history — Gorilla Glue #4 (GG4) and Brightberry.
The breeders at Farmhouse Genetics were head-over-heels with the top-shelf quality of GG4 and Brightberry. Thus, they felt compelled to light the cannabis industry on fire with a new indica-dominant hybrid that offered award-winning traits around every corner.
Since their creation, Black Gorilla seeds have been coveted by recreational and medical marijuana users worldwide. From searing levels of THC to body-melting effects, you'll understand why it's so challenging to find Black Gorilla seeds for sale.
Luckily, you can now buy feminized Black Gorilla seeds — and you'll soon find out where below!
How to Grow Black Gorilla Seeds
If you want to harvest a massive stockpile of Black Gorilla weed — you need to learn how to grow these seeds from start to finish.
Below, we'll get down and dirty with all the details you need to know to pull off a successful harvest of Black Gorilla. From ideal growing conditions to final yield and everything in between, you're about to master the Black Gorilla strain.
Grow Difficulty
Black Gorilla is rated as moderately challenging to cultivate.
Remember, Black Gorilla is indica-dominant — and its growth profile exhibits indica traits primarily. Therefore, most beginners are caught off guard when presented with a short and bushy marijuana plant.
Overall, cultivators find Black Gorilla tricky during the vegetative stage due to its vigorous growth. As branches and leaves appear throughout the plant — it's your job to prune them.
Pruning Black Gorilla plants achieves multiple goals:
Increases airflow
Increase budding sites
Reduces vertical growth
From increasing yield and reducing the chance of pest and disease outbreaks, pruning is the key to taming the Black Gorilla strain.
Here are a few select pruning methods to keep your Black Gorilla plants in check:
Optimal Growing Conditions and Climate
The Black Gorilla strain enjoys a Mediterranean climate.
However, this isn't to say that you can't grow Black Gorilla seeds anywhere else outdoors. You're golden as long as your climate provides frost-free conditions until the end of September.
If you're growing Black Gorilla seeds indoors, ensure these climatic parameters:
Bright light (LED or HID)
68-84F
40-60% RH
Adequate airflow
If you grow Black Gorilla seeds outdoors, here are a few conditions to keep in mind:
Plant in a sunny location
Protect the crop from the elements
64-88F
35-65% RH
Adequately space your plants
Flowering time
The flowering time of the Black Gorilla strain stands between 8-9-weeks.
When grown indoors, Black Gorilla plants may finish by the middle of week 8. However, you must use a magnifying glass to ensure the trichomes are milky or amber.
You can expect to harvest Black Gorilla plants outdoors by the end of September or the beginning of October. Remember, if your climate cannot ensure a frost-free environment by the beginning of October, you should use a greenhouse.
Yield
The yield of the Black Gorilla strain is rated as moderate.
Although the yield of Black Gorilla is in the medium-range of cannabis strains — you can rest assured that each bud is worth its weight in gold. With enough THC to destroy a veteran's tolerance, you'll covet each bud that your Black Gorilla plant yields.
Overall, Black Gorilla plants cultivated indoors can yield up to 400-grams. Outdoors, Black Gorilla is capable of producing 350-grams per plant.
Height
The height of the Black Gorilla strain is short.
Therefore, indoor growers limited on space will find Black Gorilla's height more than ideal. However, don't forget that Black Gorilla is a fast-growers — so make sure you follow our pruning tips!
Resistance to Pests and Diseases
The Black Gorilla strain offers moderate resistance to pests and diseases.
However, given the uber-dense nature of its flowers, you'll want to implement an IPM program to prevent any form of pest or disease outbreak. Below, we'll provide a few tips on how to avoid pests and diseases while cultivating Black Gorilla:
Apply organic pesticides 1-3 times prior to flowering
Trim undergrowth to improve air circulation
Space plants accordingly
Ensure climate (temperature and humidity) are at ideal levels
Provide adequate nutrition and water applications
Black Gorilla Strain Description and Properties
Black Gorilla's Bag Appeal
Black Gorilla weed is everything that cannabis cultivators and enthusiasts want — tight flowers covered in a thick coat of potent resin.
The buds from Black Gorilla are typically golf-ball shaped. However, their small size is deceiving, and you'll find grams packed away in each flower.
From purple hues to dark green calyxes, you'll be astounded by the beauty of each Black Gorilla flower.
Black Gorilla's Cannabinoid Content
The Black Gorilla strain is a THC powerhouse that you won't soon forget.
It should come as no surprise that Black Gorilla weed tests between 24-32% THC considering its genetic lineage. At the upper range, Black Gorilla is rated as one of the most potent weed strains on the market.
There's no way around it — whether you're a THC veteran or a newbie, Black Gorilla weed is a one-two punch.
Black Gorilla's Terpene Concentration
Black Gorilla weed is filled with delightful terpenes that'll make your senses jump for joy.
As you unlock your head stash jar, you'll be greeted by a massive whiff of dank blackberries, diesel fuel, dark-roasted coffee, and sweet herbal hues.
Once you indulge in Black Gorillas' potent buds, you'll find your taste buds awash in juicy berries, creamy vanilla, cacao nibs, and dank pine needles covered in diesel fuel. Overall, Black Gorilla will slap your senses silly with an armful of heavy-duty terpenes.
The Black Gorilla strain contains three primary terpenes, such as:
Linalool
Limonene
Myrcene
Black Gorilla's Recreational Effects
The effects of Black Gorilla are filled with relaxation, sedation, and utter bliss — in no particular order.
As you inhale the velvety smoke of Black Gorilla, your mind will instantly let go of all worries. As your mind ascends to the pinnacle of bliss, your body simultaneously releases tension.
A tingling sensation spreads across the body, and you'll quickly realize that it's time to sit down on the couch. As time loses its meaning, you'll spend the remainder of your evening glued to your screen or fantasizing about your impending kitchen raid.
As the hours' tick by, you'll experience an unrelenting urge to fall asleep. Once you hit the hay, you'll instantly drift asleep for hours of restorative rest.
Black Gorilla's Medical Potential
The Black Gorilla strain is one of the most appealing medical marijuana strains because it offers extreme medical potential.
Medical marijuana patients in the USA and abroad seek Black Gorilla seeds because they assist:
Depression
Anxiety
Chronic pain
Insomnia
Loss of appetite
Overall, Black Gorilla is one of the most potent strains globally and provides hours of medical effects. If you've been waiting for the ultimate MMJ strain — Black Gorilla is it.
Adverse Effects of Black Gorilla Weed
Although Black Gorilla weed is renowned for its medical and recreational effects — there are adverse effects.
Consuming too much Black Gorilla weed will land you in an unenjoyable state. Considering the delicious terpene content — it's easy to overindulge in Black Gorilla weed.
Here's a list of common adverse effects when consuming too much Black Gorilla weed:
Blackout
Cottonmouth
Munchies
Red eyes
Remember, Black Gorilla weed can reach 32% THC — making it one of the strongest strains out there. At this level, your tolerance won't matter much. However, beginners are urged to start extremely slow when consuming Black Gorilla.
The Benefits of Growing Black Gorilla Seeds
Pros
Top-shelf bag appeal
Extremely dense flowers
Massive trichome production
Ideal for producing concentrates
Sky-high THC content
Short stature
Delicious terpene content
Cons
Moderately challenging to grow
It may be too strong for beginners
Watch: Black Gorilla Strain Info
The Best Black Gorilla Feminized Seeds in 2023:
---
Main Category Page:
Weed Seed Index
– A curated index of the world's best cannabis seed strains. Each review contains vital information, such as cultivation tips, strain profiles, and where to buy the best cannabis seeds.