Black Jack Seeds
An in-depth review of the Blackjack strain. Discover Blackjack's sky-high THC level, how to grow Blackjack, and where to buy Black Jack seeds.
There's nothing better than a long-lasting cannabis strain.
We've all experienced trichome-dusted flowers that bring you up, only to let you down. Even if a strain has an abundance of THC, the duration of the effects widely vary. If you're ready to grow a hybrid that'll keep you elevated for hours on end, we have just the strain for you.
Meet Blackjack — a hybrid strain that packs a potent punch, turns up the terpene content, and unloads ounces of picture-perfect weed.
Read along to discover all of Blackjack's fascinating traits. From grow tips to where to find Blackjack seeds, we have everything you need to know in this in-depth review.

Black Jack Seeds – Strain ID: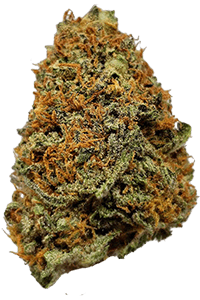 Type: Hybrid
Cannabinoids: 20-25% THC
Terpenes: Terpinolene, Ocimene, Caryophyllene
Effects: Euphoria, Creative, Long-High
Landrace Strain: Black Domina x Jack Herer
Grow Difficulty: Easy to Moderate
Harvest: 9-10 Weeks / 10+ Weeks
Yield: Up to 600g/㎡ / >700g/plant
Height: Up to >6 feet/ Up to 9 feet
(*Indoor / Outdoor)
The Best Black Jack Feminized Seeds in 2023:
---
About Black Jack Seeds
Background
Sweet Seeds initially created Black Jack by crossing the legendary Black Domina with the award-winning Jack Herer.
Although there are other strains with the same name, Sweet Seeds is widely recognized as the creator of Blackjack seeds.
Cultivators worldwide enjoy Black Jack's incredible color show near the end of flowering and hefty yields. If you're ready to join the ranks and produce exceptional cannabis, look no further than Blackjack seeds.
Lastly, you can now find Black Jack seeds in several forms, such as regular or feminized. Depending on your style as a grower, each of these types of Black Jack seeds has its merits.
Growing Black Jack Seeds
Before you germinate Black Jack seeds, allow us to share a few insightful tidbits about the Blackjack strain.
First, Black Jack contains hybrid vigor, which means it grows quickly. As such, you must not allow Black Jack plants to outgrow your garden. Always have a plan beforehand, such as a 3-week maximum vegetation period indoors.
Next, you can utilize both ScrOG and SOG — depending on available space and vegetation time.
Therefore, one of the essential aspects of growing Black Jack seeds is determining vegetation time in your garden. With a bit of planning, you can easily maximize your Black Jack harvest.
Grow Difficulty:
The Blackjack strain is easy to moderate to grow.
Growing Black Jack plants is easy; however, it's maintaining it that's difficult. Overall, Blackjack plants can grow unruly and tall. Therefore, you must prune at opportune moments and add branch support.
Remember, Black Jack plants are top-heavy, and if you forget to trellis or add support — you may find your flowers on the ground.
Optimal Growing Conditions and Climate:
The best growing conditions for Black Jack plants are in Mediterranean climates.
The ideal temperature range is between 72-86°F. Furthermore, the relative humidity of 45% and less is necessary to reduce bud rot or powdery mildew.
Overall, Black Jack seeds were bred for indoor growers. However, if you prefer the great outdoors, worry not — Black Jack performs swimmingly outside as well.
Flowering Time:
Black Jack flowers in 9-10-weeks.
Black Jack is a true hybrid, and as such, it maintains an average flowering time. Your patience, however, will be rewarded with massive nugs that scream top-shelf.
Indoors, Blackjack seeds finish flowering in 9-weeks. If you grow Black Jack outdoors, expect to harvest by the middle of October.
Yield:
Black Jack produces enough resin-coated buds to make you feel like a lottery winner.
Outdoors, Black Jack plants can produce upwards of 700-grams per plant. If you grow Blackjack seeds indoors, you may harvest up to 600-grams per meter squared.
Height:
Remember, everything hinges on Black Jack's vegetation time.
Outdoors, Blackjack can reach above 3-meters. If you need to ask — Blackjack gets tall. Indoors, however, you can decrease the veg time if you lack overhead space. Overall, your garden's available space determines how long you can vegetate Black Jack plants.
Resistance to Pests and Mold:
Blackjack is resistant to common pests, mold, and disease.
You must, however, remember to implement preventative techniques to reduce the risk of outbreaks or infestations.
Simple methods, such as keeping the garden free of debris or organic Neem oil applications, are beneficial.
Strain Description and Properties
The Appearance of Blackjack Weed:
If you consider yourself as a cannabis connoisseur — feast your eyes on Blackjack's buds.
As you gaze at Black Jack's nugs, you'll notice lavender hues mixed with lime-green across the bud's surface. You'll see nothing but blown-out calyxes and numerous pistils, all of which enhance the 3D effect.
However, the most notable aspect of Black Jack weed is its outrageous level of resin. As if dipped in trichomes, Black Jack weed glistens when held to the light.
If you're ready for drop-dead-gorgeous buds, look no further than Blackjack seeds.
Dominant Cannabinoids Found in Blackjack Seeds:
The primary cannabinoid in Blackjack weed is THC.
The overall THC content in Blackjack buds, according to lab results, is 20-25%. Overall, Blackjack weed is rated as strong, so proceed with caution.
Dominant Terpenes Found in Black Jack Seeds:
As you inhale Black Jack weed's aromatic scent, you'll quickly pick up notes of pine, spicy sandalwood, morning dew, sweet licorice, and bubble gum.
Once you indulge, your taste buds will be overwhelmed by overtones of sweet bubblegum, pine sap, incense, and raw spice.
The three primary terpenes in Black Jack seeds are:
Terpinolene
Ocimene
Caryophyllene
Effects of Blackjack Weed:
The effects of Black Jack weed are nothing short of astounding.
As you blow out a cloud of terp-infused smoke, you'll experience a burst of euphoria and creativity. As the effects dig in, everything you see or do instantly becomes interesting.
Furthermore, you may also notice that Black Jack's effects keep going. Similar to the Energizer Bunny, Black Jack's effects just don't seem to quit. You'll finally plateau after 3-4 hours, and finally, you will experience a profound sense of relaxation.
Medical Properties of Black Jack Seeds:
Black Jack weed is the very definition of medical marijuana. Medical marijuana patients worldwide agree that Blackjack is incredible for a variety of ailments.
Here's a list of mental and physical conditions that Blackjack weed may assist:
Depression
Anxiety
Chronic Pain
Loss of Appetite
ADD/ADHD
Inflammation
If you're a medical marijuana patient that needs long-lasting medicine, the Blackjack strain is the answer.
Negative Effects of Blackjack Weed:
Remember, Black Jack is a potent strain.
If you overindulge, Black Jack might give you a black eye. In other words, Black Jack has the potential to knock you out. If you're a beginner, allow your tolerance to build by consuming small amounts of Black Jack weed.
Furthermore, Black Jack is known to produce bloodshot eyes and a dry mouth.
Pros/Cons of Growing Black Jack Seeds
Pros
Desirable Terpene Profile
Incredible Bag Appeal
Heavy Resin Coverage
High THC Content
Massive Yield
Cons
Average Flowering Time
Grows Tall
Watch: Black Jack Strain Grow Week 4
The Best Black Jack Feminized Seeds in 2023:
---
Main Category Page:
Cannabis Seed Index
– A curated index of the world's best cannabis seed strains. Each review contains vital information, such as cultivation tips, strain profiles, and where to buy the best cannabis seeds.