Blue Cheese Seeds
An in-depth review of the Blue Cheese strain. Learn about Blue Cheese's distinct terpene profile, effects, grow tips, and where to buy Blue Cheese seeds.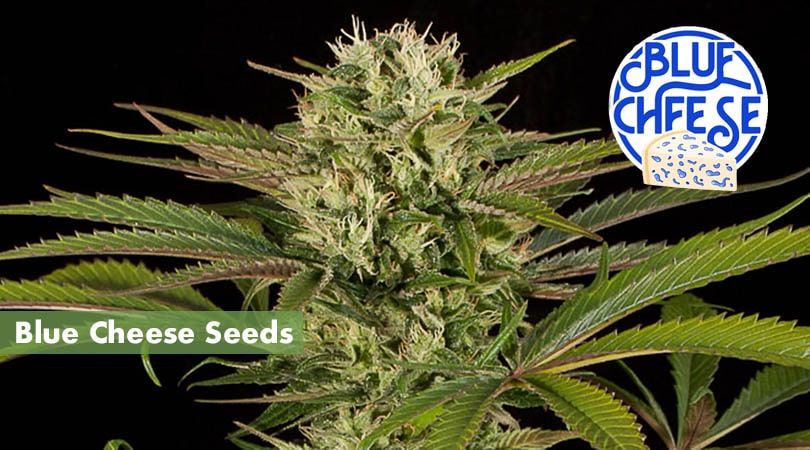 Once it's time to clock out, the excitement of the first post-work-bowl begins.
Its been a long day, your body aches, and your mind is ready to sink into oblivion. If you're prepared to cast aside mental and physical fatigue, it's time to reach for the stash jar and pull out a trichome-covered nug of Blue Cheese.
Blue Cheese is a phenomenal strain that offers therapeutic qualities, unique terpenes, powerful effects, and a hearty yield to make even the most seasoned cultivators proud. Allow this review to enlighten you about the Blue Cheese strain, along with cultivation tips, growth characteristics, effects, and where to find Blue Cheese seeds.

Blue Cheese Seeds – Strain ID:
Type: Indica Dominant Hybrid
Cannabinoids: 17-20% THC
Terpenes: Myrcene, Limonene, Caryophyllene
Effects: Euphoria, Relaxing, Bliss
Landrace Strain: Blueberry x Cheese
Grow Difficulty: Easy
Harvest: 8-9 Weeks / 10 Weeks
Yield: 500g/㎡ / 600g/plant
Height: Up to 5 feet/ >5 feet
(*Indoor / Outdoor)
The Best Blue Cheese Feminized Seeds in 2023: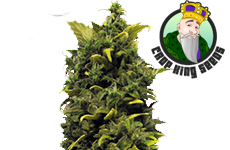 • Up to 18% THC
• Harvest: 8 Weeks
• Yield: 500g/㎡
• Shipping Worldwide
• Germination Guarantee
• Credit Cards & Bitcoin Accepted
Prices
• 5 Seeds – $65
• 10 Seeds – $120
• 25 Seeds – $240
---
About Blue Cheese Seeds
Background
As you browse the internet, you may notice that a multitude of breeders offer Blue Cheese seeds. However, Blue Cheese began its journey with Big Buddha Seeds in the early 2000s.
The breeders at Big Buddha Seeds had the original cut of Exodus Cheese — the UK's landmark strain. After narrowing down the candidates, the breeders decided that DJ Short's Blueberry would pair perfectly with Cheese.
The result of this unique cross was the original Blue Cheese seeds. The Blue Cheese strain presents indica-dominant characteristics and effects. Although there is a small amount of sativa-leaning genetics within Blue Cheese, the effects are primarily indica.
The unique terpene profile, heavy-handed effects, generous yield, and ease-of-growth have made Blue Cheese an instant hit within the cannabis community.
Since its release, Blue Cheese has taken multiple awards and has been used as a basis for many new hybrids. If you're ready to grow Blue Cheese seeds, you can find them in both regular and feminized forms.
Growing Blue Cheese Seeds
Before you begin to grow Blue Cheese seeds, allow this guide to help you along the way. First, let's cover a few basic concepts when cultivating Blue Cheese.
Blue Cheese is not a vigorous grower, which means you must vegetate the plants to produce a large yield. Blue Cheese benefits from 14-24-days of vegetation. However, the number of days that you veg Blue Cheese plants depends entirely on the space of your garden.
If your garden is small, err on the side of 14-days and less. If your grow area is large, opt for 21-days and above before you switch to 12/12.
Furthermore, Blue Cheese enjoys a dose of CalMag during the vegetative stage and before flowering begins. Remember, micronutrients are just as essential as macronutrients.
Grow Difficulty:
The Blue Cheese strain is easy to grow.
Whether you're new to the cannabis scene or have been neck-deep since the early days, Blue Cheese offers top-shelf buds with minimal effort. Who can complain about rock-solid nugs without breaking a sweat?
If you want a cannabis strain that nearly grows itself — Blue Cheese seeds should be at the top of your must-have list.
Optimal Growing Conditions and Climate:
Blue Cheese grows best in Mediterranean zones.
Whether you live in SoCal or the South of Spain, Blue Cheese enjoys an abundance of sunshine and long summer days.
The ideal temperature range for Blue Cheese is between 70-84°F. Additionally, the RH must be set to 40-45%. Remember, Blue Cheese produces tightly woven buds that should avoid elevated moisture levels.
You can grow Blue Cheese indoors and outdoors as long as it receives the optimal conditions. Furthermore, Blue Cheese excels in both organic soil and hydroponic systems.
Flowering Time:
Blue Cheese flowers in as little as 8-weeks. However, the phenotype of the Blue Cheese seed will dictate the final flowering time. Therefore, you can expect to harvest your Blue Cheese seeds between 8-9-weeks.
If you grow Blue Cheese seeds indoors, you will likely harvest by the 8-week mark. If you grow Blue Cheese seeds outdoors, you may harvest by the end of September or the middle of October.
Yield:
Blue Cheese produces an abundant yield of top-shelf flowers that will make your pupils double in size.
If you grow Blue Cheese seeds indoors, expect to pull down a minimum of 500-grams per meter squared. If you grow Blue Cheese seeds outdoors, prepare your trimming fingers for 600-grams per plant.
Height:
The height of Blue Cheese is manageable for both indoor and outdoor cultivators.
Indoors, Blue Cheese may reach upwards of 120-150cm. However, indoor cultivators can reduce height by vegetating less. If you grow Blue Cheese seeds outdoors, expect a maximum height of 3-meters.
Overall, Blue Cheese produces a gorgeously multi-branched structure that allows you to focus on multiple bud sites.
Resistance to Pests and Mold:
Blue Cheese is naturally resistant to common pests and diseases.
Even though Blue Cheese can withstand cold temperatures and heightened moisture levels, it's best to avoid certain conditions to decrease the likelihood of an outbreak.
Here are a few tips to increase your chances of a successful harvest:
Always clean the garden of debris
Avoid overwatering
Use preventative insecticides, such as organic Neem oil
Never accept clones from another grower
Always wear clean clothes in the grow room
Strain Description and Properties
The Appearance of Blue Cheese Weed:
As you take out a glistening bud from the jar, the flowers of Blue Cheese emit a light blue hue.
Upon closer inspection, you'll notice the bud isn't blue. Instead, the amalgamation of trichomes and the light green color of the calyx produces a hypnotic blue-tint. The pistils are a dull orange that blends in with the color palette of the entire bud.
Overall, Blue Cheese weed is entirely caked in trichomes, and it's challenging to get a good look at the rest of the bud's features. Each of the medium-sized nugs is incredibly dense, and a subsequent squeeze leads to utterly sticky fingers.
Dominant Cannabinoids Found in Blue Cheese Seeds:
The dominant cannabinoid in Blue Cheese seeds is THC.
Blue Cheese produces 17-20% THC, which is considered an average potency level. However, Blue Cheese's effects are not solely dependent on the concentration of THC. Continue to read this Blue Cheese review to gain insight into its effects and medicinal quality.
Dominant Terpenes Found in Blue Cheese Seeds:
The most notable aspect of Blue Cheese weed is the terpene profile. Although the flowers are beyond top-shelf, the terpene concentration intrigues cannabis connoisseurs worldwide.
Open a jar of Blue Cheese weed and enter a world filled with skunky-sour-cheese and bitter tones of spice. Be warned — the aroma of Blue Cheese is enough to blow your hair back. Furthermore, the flavor is a mixture of sweetness and sour milk, along with hints of citrus and spice.
When it comes to Blue Cheese, remember the mantra: the stinkier — the better.
The three dominant terpenes in Blue Cheese seeds are:
Myrcene – The myrcene content in Blue Cheese seeds is responsible for the abundance of sweetness in Blue Cheese buds.
Limonene – The limonene concentration in Blue Cheese seeds promotes a tangy, sour, and citrus-like aspect to Blue Cheese weed.
Caryophyllene – The caryophyllene in Blue Cheese seeds provides the skunky, bitter, spicy, and cheese-like attributes that make Blue Cheese unique.
Effects of Blue Cheese Weed:
Take a deep breath. Inhale. Exhale.
As the thick smoke of Blue Cheese expands the lungs, a surge of relaxation engulfs your mind and body. The effects are nearly instantaneous, and all of your worries will become a thing of the past.
Whether you just got off work or it's time to cram for finals — Blue Cheese offers an abundance of respite from the stressors of daily life.
As the smoke clears, your body will sink into oblivion, and happiness will overtake your state of mind. Aside from euphoria and relaxation, Blue Cheese weed will put you down for the count as the effects come to a close.
Medical Properties of Blue Cheese Seeds:
Medical marijuana patients prefer Blue Cheese weed for therapeutic effects that assist a wide range of mental and physical issues.
Let's take a look at the medical issues that Blue Cheese weed can help with.
Depression
Anxiety
Chronic Pain
Insomnia
PTSD
And Much More
Overall, medical marijuana patients view Blue Cheese as a must-have medical marijuana strain because of its innumerable benefits. If you're a medical marijuana patient, you'll be hard-pressed to find a more medicinal strain than Blue Cheese.
Negative Effects of Blue Cheese Weed:
There are two primary adverse effects of Blue Cheese — bloodshot eyes and a cottonmouth sensation.
However, both of these issues are common among all cannabis strains. Furthermore, if you consume too much Blue Cheese weed, you may sign up for an early bedtime.
Pros/Cons of Growing Blue Cheese Seeds
Pros
Distinct Cheese Aroma and Flavor
Significant Yield
Medical-Grade Effects
Incredible Bag Appeal
Medium-Sized Plant
Easy To Grow
Cons
Average Flowering Time
Normal Potency
Challenging To Find Real Blue Cheese Seeds
Watch: Blue Cheese Strain Harvest
The Best Blue Cheese Feminized Seeds in 2023: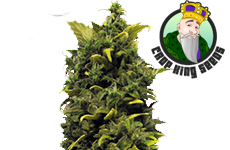 • Up to 18% THC
• Harvest: 8 Weeks
• Yield: 500g/㎡
• Shipping Worldwide
• Germination Guarantee
• Credit Cards & Bitcoin Accepted
Prices
• 5 Seeds – $65
• 10 Seeds – $120
• 25 Seeds – $240
---
Main Category Page:
Cannabis Seed Reviews
– A curated index of the world's best cannabis seed strains. Each review contains vital information, such as cultivation tips, strain profiles, and where to buy the best cannabis seeds.