Grape Ape Seeds
Your complete guide to the tolerance-smashing Grape Ape strain. Find grow tips, effects, and background information in this Grape Ape strain review.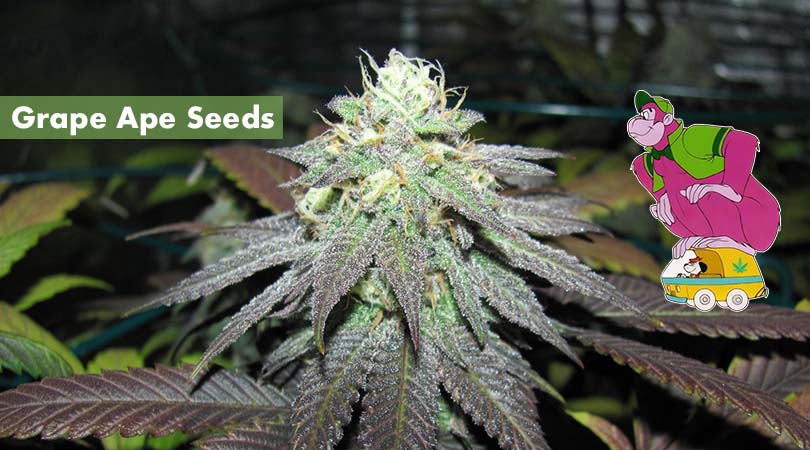 Question: What are the two common denominators in most classic cannabis strains?
Answer: The color purple, and old-school strength that decimates even the most battle-tested tolerance levels.
Grape Ape combines both of these characteristics to great effect in a dense yet moist nug that actually smells like grapes and will put you on the couch faster than a glass of wine.
Unlike modern-day hybrid strains, Grape Ape isn't interested in creating cerebral effects or trying to be something for everyone. Instead, it Donkey Kong smashes you over the head with a mind-erasing indica potency that is all body, all the time.
Growing Grape Ape seeds is a must for medicinal tokers seeking relief from pain, stress, and insomnia, while also being a ton of fun in the grow room for beginners.
Ready to grow some weed that looks like frosted blueberries and smells like brown sugar? Then keep reading 'cause this guide to Grape Ape seeds will tell you how.

Grape Ape Seeds – Strain ID:
Type: Indica
Cannabinoids: 14-22% THC
Terpenes: Myrcene, Pinene, Caryophyllene
Effects: Euphoric, Relaxing, Couch-Lock
Landrace Strain: Mendocino Purps x Skunk #1 x Afghani
Grow Difficulty: Easy
Harvest: 6-8 Weeks / 10 Weeks
Yield: Up to 500g/㎡ / Up to 700g/plant
Height: Up to 2.5 feet/ >2.5 feet
(*Indoor / Outdoor)
The Best Grape Ape Feminized Seeds in 2023:
• Up to 19% THC
• Harvest: 8 Weeks
• Yield: 500g/㎡
• Shipping Worldwide
• Germination Guarantee
• Credit Cards & Bitcoin Accepted
Prices
• 5 Seeds – $65
• 10 Seeds – $120
• 25 Seeds – $240
---
About Grape Ape Seeds
Background
In the early 2000s, cannabis industry legend Bret Bogue was doing what he does best — popping cannabis seeds under the banner of his company Apothecary Genetics.
Old-timers probably recognize the word apothecary. Back in the day, an apothecary was what you called someone who created medicine before selling it to paying customers.
Apothecaries would roam the states, big leather bags in tow, glass bottles of medicine clinking as they walked up people's driveways to make a sale. Bret Bogue doesn't see his mission as all that different from early apothecaries.
When he was still quite young, he was diagnosed with skin cancer. In turning himself from skin cancer patient to survivor, Bogue treated many of the associated symptoms with cannabis. As such, he learned first-hand the true medicinal benefits of marijuana.
Going back to the early 2000s, and Bogue had just crossed Mendocino Purps, Skunk #1, and Afghani, thus creating the Grape Ape strain and Grape Ape seeds.
At the time, Bogue had no idea that the Grape Ape strain was to become world-famous with everyone from star rappers to the most influential growers in the cannabis industry.
Not long after Grape Ape seeds first dropped, the strain won at multiple Green Cups and a High Times Cannabis cup several years apart. The longevity of the Grape Ape strain's winning streak shows you just how important this strain was — and still is today.
Snoop Dogg once said that Grape Ape is the only weed he smokes, and Bogue himself had this to say about the Grape Ape strain:
It basically put us on the map, as far as being able to both financially, not only to help ourselves but help other groups of people and develop more strains that we have, so the Grape Ape by far, has given us the most notoriety, especially here in the States.
Growing Grape Ape Seeds
Grape Ape seeds are a pleasure to grow for one simple reason — this strain rewards your hard work in the garden with insanely sugary buds that are everything you look for in weed. They're round, dense, and sweet on the nose and smoke.
But before dreaming about your harvest, the first thing to do is choose which Grape Ape seeds to grow.
You can usually choose from three types of cannabis seeds: autoflowering, feminized, and regular seeds. However, grape Ape seeds are boutique-bred, meaning these special seeds are only available as regular or feminized Grape Ape seeds.
Regular Grape Ape seeds are better for experienced cultivators and beginners who want to learn in-depth about growing cannabis. In comparison, feminized Grape Ape seeds are better for pure beginners who are short on time.
Grow Difficulty:
Growing Grape Ape seeds are easy to grow for any skill level.
Apothecary Genetics, the company responsible for creating Grape Ape seeds, chose these plants in part because the strain is valued for its medicinal properties. The easier the strain is to grow, the more people who need it can grow it themselves.
Optimal Growing Conditions and Climate:
Grape Ape seeds have a background consisting of mostly landrace indicas from Afghanistan. Given that lineage, they have a preference for warm but dry climates.
However, Grape Ape seeds are known for growing into plants that can adapt to most conditions as long as you don't throw any prolonged extreme temperatures at them. Stick with an average temperature range of 65°F to 80°F.
An important note about growing Grape Ape seeds is that because the plants grow very dense buds in a clustered canopy, you absolutely must keep relative humidity levels down. Otherwise, you run a high risk of causing the plants to develop bud rot, which is a fast way to lose your harvest.
Flowering Time:
Grape Ape plants are fast finishers with a 6-8 week flowering time.
As heavy feeders, staying on top of your plants' nutrition is a key factor in wrapping up the grow quickly and with a packed harvest at the end of September.
Yield:
Expect a moderately heavy to very heavy yield from the Grape Ape cannabis strain.
Indoor Grape Ape plants yield up to 500 grams per meter squared, whereas outdoor plants can yield up to 700 grams per plant.
Height:
Grape Ape is a very typical indica plant growing short and bushy with wide fan leaves. Expect plant height to max out between 70cm and 80cm.
Resistance to Pests and Mold:
With strong landrace indica genetics and careful selection by the skillful breeders at Apothecary Genetics, Grape Ape plants are resistant to most diseases and mold.
Your main concern with Grape Ape in the garden is bud rot, a consequence of high relative humidity. Keep RH down and your grow room spotless, and the Grape Ape strain will reward you with magnificent flowers.
Strain Description and Properties
The Appearance of Grape Ape Weed:
Grape Ape weed is what you break out of the bag when you're ready to impress somebody.
Held in the palm of your hand, Grape Ape nugs have such weight to them that, if thrown, they'll surely land with a thud.
Their brilliant coating of frost is reminiscent of a wintery morning after fresh snow. But, instead of that snow coating regular 'ol green leaves, Grape Ape's trichomes rest atop resinous purple-sapphire hues that stand against brilliant hi-viz orange pistils.
Dominant Cannabinoids Found in Grape Ape Seeds:
Grape Ape seeds are THC dominant with trace amounts of CBD. In lab tests, Grape Ape has been shown THC concentrations between 14% and 22%.
Dominant Terpenes Found in Grape Ape Seeds:
Grape Ape seeds feature a combination of three intriguing terpenes, resulting in the strain's highly unique grape aroma and flavor profile.
Myrcene — Known for producing sedative effects, myrcene is also responsible for herbal fragrance found in plants like lemongrass and basil.
Pinene — As the name suggests, pinene is found in pine needles as well as similarly sharp-leaved plants like rosemary. Present in many types of trees and leafy greens, pinene is also thought to be pain-relieving.
Caryophyllene — The frontline defense terpene when it comes to relieving pain. Caryophyllene is also known for adding aromatic spice notes.
Effects of Grape Ape Weed:
Sometimes, you just want to view the world from a distance.
Like an astronaut watching the Earth spin from the International Space Station, after hitting Grape Ape, you'll notice that everything seems so much nicer when seen from above.
Pushing the 20%+ THC barrier with 80/20 indica potency, Grape Ape is the kind of weed you roll into a blunt at the end of a long day. Not that you'll get anywhere near finishing said blunt.
Even high-tolerance stoners will find that a couple of hits puts your brain on pause, slows down time, and lets relaxation take center stage. As the ultimate Netflix and chill strain, the effects of Grape Ape weed make it one for the night, or those lazy days when the alarm is definitely off.
Medical Properties of Grape Ape Seeds:
Grape Ape packs highly effective cannabis medicine as a consequence of special breeding by Apothecary Genetics.
The Grape Ape strain's pain-alleviating qualities and cloud nine relaxation effects create a potent duo capable of breaking up even the most persistent medical symptoms.
Pain
Stress-related effects
PTSD
Anxiety
Depression
Insomnia
Eating disorders
Negative Effects of Grape Ape Weed:
Grape Ape is loved for its potent relaxation effects and sedation. As such, it will make you sleepy, tired, and a touch lazy. It may also cause dry mouth, but a glass of water will help you with that.
Pros/Cons of Growing Grape Ape Seeds
Pros
Amazing jewel-encrusted purple flowers
Sweet grape aroma that is easy to love
Great strain for beginners
Compact plant size
Legendary indica
Cons
Autoflowering Grape Ape seeds aren't available
Susceptible to bud rot in humid climates
Watch: Grape Ape Strain Harvest
The Best Grape Ape Feminized Seeds in 2023:
• Up to 19% THC
• Harvest: 8 Weeks
• Yield: 500g/㎡
• Shipping Worldwide
• Germination Guarantee
• Credit Cards & Bitcoin Accepted
Prices
• 5 Seeds – $65
• 10 Seeds – $120
• 25 Seeds – $240
---
Main Category Page:
Cannabis Seed Index
– A curated index of the world's best cannabis seed strains. Each review contains vital information, such as cultivation tips, strain profiles, and where to buy the best cannabis seeds.