Herijuana Seeds
A deep dive into the Herijuana strain. Discover Herijuana's narcotic-like effects, growth characteristics, and where to buy Herijuana seeds.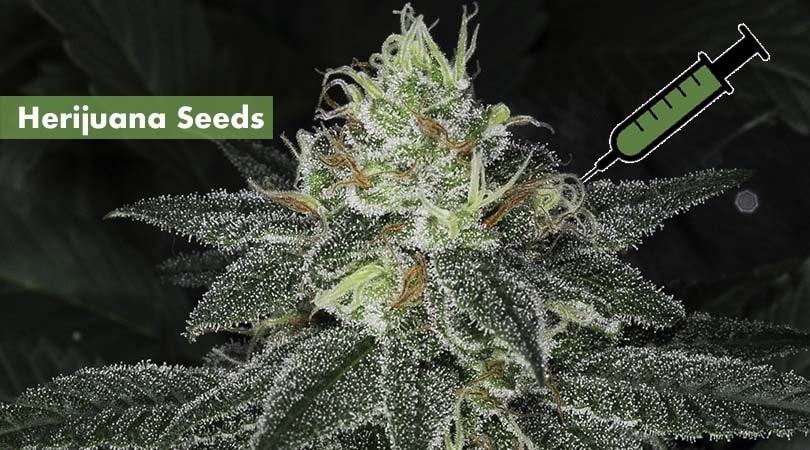 When you read about most indica strains, you'll come across specific descriptors, such as bone-crushing, body-numbing, and couch-locking. However, these effects are seldom seen and only found in a handful of indica-dominant gems.
One of these brilliant strains is none other than Herijuana. Whether you're a medical marijuana patient or a recreational enthusiast, Herijuana is the perfect choice when nothing else works.
Renowned for its ultra-potent and long-lasting effects, Herijuana isn't for the faint of heart. If you're ready to experience a real heavy hitter, it's time to grow a pack of Herijuana seeds.
Read along to learn everything there is to know about Herijuana. Discover Herijuana's ultra-medicinal properties, terpene profile, effects, cultivation tips, and where to find Herijuana seeds.

Herijuana Seeds – Strain ID:
Type: Indica
Cannabinoids: 22-25% THC
Terpenes: Myrcene, Limonene, Caryophyllene
Effects: Relaxing, Pain-Relieving, Euphoria
Landrace Strain: Killer New Haven x Petrolia Headstash
Grow Difficulty: Easy
Harvest: 7-9 Weeks / 9 Weeks
Yield: Up to 400g/㎡ / Up to 500g/plant
Height: Up to 2.5 feet/ >2.5 feet
(*Indoor / Outdoor)
---
About Herijuana Seeds
Background
As you search for information about the Herijuana strain, you'll encounter incomplete stories that do not tell the full tale.
The Herijuana strain has been around for over 20 years and was initially created by Steve Tuck from Hillbilly Seeds. Steve's objective was to create a medical-grade strain for specific illnesses.
To create this new extraordinary hybrid, Steve used a prominent outdoor phenotype from Kentucky, known as Killer New Haven. Next, Steve sourced a well-known strain from Humboldt, known as Petrolia Headstash.
The result of this cross was indica-dominant Herijuana seeds — one of the most potent medical and recreational strains to date.
Since Herijuana was bred, multiple breeders have improved upon the line, such as Woodhorse, Motarebel, and Sannie.
Now, Herijuana is available in both regular and feminized seeds for your growing pleasure. As you search for Herijuana seeds, you'll find multiple names, such as Herojuana and Herojuana OG. However, the original name for this strain is Herijuana — not Herojuana.
Growing Herijuana Seeds
Once you've procured Herijuana seeds, it's time to establish a game plan.
Herijuana plants are incredibly branchy, which makes them ideal for the ScrOG technique. By understanding this, you can plan and create the perfect trellis system.
Furthermore, Herijuana plants require a long vegetative period — especially if you seek a bountiful harvest. 6-weeks of vegetative time is typical for the Herijuana strain, so prepare your garden to accommodate this lengthy veg cycle.
Grow Difficulty:
Herijuana is an easy to grow strain.
Herijuana is perfect for beginners and professionals alike — especially for medical marijuana patients that have mobility issues.
Overall, Herijuana requires a standard dosage of macro and micronutrients, along with an even watering schedule. As long as you pay attention to Herijuana's needs, you'll find a bountiful harvest of rock-solid buds.
Optimal Growing Conditions and Climate:
Herijuana prefers a Mediterranean climate. However, cultivators in temperate climates can benefit from growing Herijuana as well.
Overall, Herijuana prefers a temperature range between 68-84°F. Remember, Herijuana produces rock-hard buds like you've never seen, so low RH is a must. Maintain a relative humidity between 35-45% for the best results.
Lastly, Herijuana flourishes in both indoor and outdoor environments. However, indoor grows typically produce dense flowers encrusted with a generous resin layer.
Flowering Time:
Herijuana flowers in 7-9-weeks.
If you grow Herijuana seeds indoors, you may harvest in as little as 7-weeks. Outdoors, Herijuana will finish flowering before September 20th. If you're an outdoor grower that needs a lightning-fast harvest — Herijuana seeds are it.
Yield:
Herijuana's yield is surprisingly heavy, especially when you consider its incredible medical potential.
Indoors, Herijuana can eventually produce upwards of 400-grams per meter squared. Outdoors, Herijuana seeds may yield up to 500-grams per plant. With this much weed, you won't need to stock your medicine cabinet for quite some time.
Height:
Herijuana is the perfect indoor plant because it grows up to 75-100cm.
However, this also means that you must allow up to 6-weeks of vegetation before switching to 12/12. If you grow Herijuana outdoors, you must germinate the seeds early to allow them to bulk up in size.
Resistance to Pests and Mold:
Herijuana is incredibly resistant to common pests, diseases, and mold.
When you consider Herijuana's buds' density, high resistance to mold should be music to your ears. Remember, you must incorporate preventative measures to prevent outbreaks or infestations. Always ensure your Herijuana plants receive optimal conditions and adequate airflow.
Strain Description and Properties
The Appearance of Herijuana Weed:
When you gaze upon Herijuana's pistil-packed nugs, you'll know that it's packing mind-blowing amounts of THC.
The flowers are outrageously dense and similar in size and shape of golfballs. Herijuana produces a plethora of pistils that criss-cross across the surface. The calyxes are buried beneath a thick resin layer that bodes extreme potency.
Dominant Cannabinoids Found in Herijuana Seeds:
The dominant cannabinoid in Herijuana weed is THC.
The THC content in Herijuana is lab-tested between 22-25%. In other words, Herijuana is a potent cannabis strain that isn't meant for beginners.
Dominant Terpenes Found in Herijuana Seeds:
If you've ever wondered what it's like to walk through Morocco's famed hashish markets, open a jar filled with Herijuana weed.
As you take in the pungent fumes, you'll note overpowering tones of sweet hashish, coffee, grape, and skunk. Once you indulge, your taste buds will experience an overture of dark coffee, cacao nibs, sour grape, and skunk.
The three primary terpenes in Herijuana seeds are:
Myrcene
Limonene
Caryophyllene
Effects of Herijuana Weed:
The Herijuana strain lives up to its name — and then some.
As you inhale the lung-expanding smoke of Herijuana weed, a cascade of relaxation washes across the mind and body. As your limbs begin to numb, you'll experience a sense of lethargy that you couldn't imagine as being possible.
When it comes to Herijuana weed, one hit is more than enough. Additional effects of Herijuana weed is euphoria, happiness, and a massive case of the munchies.
Nothing will stop your eyes from sealing shut and entering into a profound state of sleep as the effects wane.
Medical Properties of Herijuana Seeds:
When it comes to medical marijuana — it's difficult to top the therapeutic effects of Herijuana.
Medical marijuana patients enjoy Herijuana's ability to fight a plethora of medical issues, such as:
Anxiety
Pain
Asthma
Cancer
Substance Abuse
Depression
If you need one of the most medically useful cannabis strains, look no further than Herijuana seeds.
Negative Effects of Herijuana Weed:
Herijuana is an incredibly potent strain, which means you may experience adverse effects if you overindulge.
One puff-too-many may cause an immediate blackout or immense levels of lethargy. Furthermore, Herijuana produces a serious case of the munchies, which may be an issue for some.
Lastly, Herijuana will produce red eyes, cottonmouth, and laziness.
Pros/Cons of Growing Herijuana Seeds
Pros
Outstanding Medicinal Properties
Large Yield
Top-Shelf Bag Appeal
Heavy Resin Content
Delicious Terpene Profile
Short Plant
Fast Flowering Time
Easy To Grow
Cons
Challenging To Find Herijuana Seeds
May Be Too Potent For Beginners
Watch: Herijuana Strain Grow
---
Main Category Page:
Cannabis Seed Index
– A curated index of the world's best cannabis seed strains. Each review contains vital information, such as cultivation tips, strain profiles, and where to buy the best cannabis seeds.