Jilly Bean Seeds
An informative review of the Jilly Bean strain. Learn everything Jilly Bean offers, such as its wonderful hybrid qualities, growth traits, and where to find Feminized Jilly Bean seeds for sale online.
With so many cannabis strains on the market — it's challenging to find a true gem.
Although there are many incredible cannabis breeders, the number of untested genetics being sold is staggering. Therefore, cultivators must choose wisely when selecting a new seed strain for their garden.
Allow us to introduce Jilly Bean — a hybrid that's won the hearts and minds of cannabis connoisseurs worldwide for the last decade.
From its unbelievable terpene profile to bomb-proof grow-ability, there's no better choice than Jilly Bean. If you're ready to discover everything there is to know about the Jilly Bean strain — read along!
Soon, you'll discover Jilly Bean's creamsicle-like flavors, growth traits, effects, and where to buy Feminized Jilly Bean seeds online.
Let's go!

Jilly Bean Seeds – Strain ID: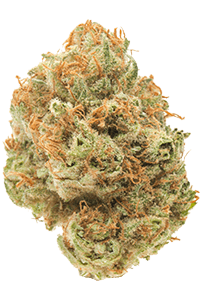 Type: Sativa-Dominant Hybrid
Cannabinoids: 15-22% THC
Terpenes: Myrcene, Pinene, Caryophyllene
Effects: Mood-Boosting, Uplifting, Relaxing
Landrace Strain: Space Queen x Orange Skunk
Grow Difficulty: Very Easy
Harvest: 8-10 Weeks / 10+ Weeks
Yield: Up to 500g/㎡ / 500g/plant
Height: Up to 4 feet / 4+ feet
(*Indoor / Outdoor)
The Best Jilly Bean Feminized Seeds in 2023:
---
About the Jilly Bean Strain
Background
The Jilly Bean strain is loaded with history since it was bred by TGA Genetics (A.K.A. MzJill Genetics, The Dank, Subcool Seeds, and The Green Avengers).
TGA Genetics was originally a collective of cannabis lovers that grew weed underground during the many years of cannabis prohibition. However, the spotlight soon fell on the two primary breeders of TGA Genetics — Subcool and his wife, MzJill.
MzJill was originally given an epic cutting of Orange Skunk (Orange Velvet) and crossed it with an equally epic Space Queen male. The resulting cross resulted in Jilly Bean seeds in honor of Mz.Jill.
MzJill and Subcool immediately recognized the quality of each phenotype resulting from Jilly Bean seeds. Overall, mouth-water flavors, ease of growth, and massive yields made Jilly Bean a clear winner.
Once thoroughly tested, TGA Genetics made Jilly Bean seeds available to the public. Since then, the Jilly Bean strain has won first place at the High Times Cannabis Cup in 2014 and many other accolades.
Recently, Subcool passed away, and TGA Genetics no longer exists. However, MzJill now owns MzJill Genetics, where she continues to improve upon Jilly Bean and create exciting new strains.
Luckily, Feminized Jilly Bean seeds are available online. If you're ready to experience the wild ride that Jilly Bean has to offer — it's time to grab a pack of Feminized Jilly Bean seeds!
Growing Jilly Bean Seeds
The best way to ensure a massive harvest of Jilly Bean flowers is to understand its growth traits.
Growth traits are the key to cultivating marijuana. By understanding a strain's strengths and weaknesses, you'll be prepared for anything that comes your way during the growing season.
Below, you'll find in-depth information on Jilly Bean's grow difficulty, optimal growing conditions, yield, and much more.
Grow Difficulty
The Jilly Bean strain is very easy to grow indoors or outdoors.
Whether you're a beginner or not, you'll be pleased by how straightforward Jilly Bean plants are. From grow tents to outdoor plots, Jilly Bean is equipped with enough tricks up its sleeve to guarantee a stress-free grow.
Overall, growers shouldn't be shy about topping Jilly Bean plants. By doing so, you'll produce multiple bud sites that'll produce rock-solid nugs. Believe us when we say that Jilly Bean practically grows herself!
Optimal Growing Conditions and Climate
The best outdoor growing conditions for Jilly Bean are found in a Mediterranean climate.
Overall, outdoor growers must provide Jilly Bean plants with bright sunshine, warmth, and mild humidity. Additionally, support poles are recommended, considering the weight of the final harvest.
If you grow Jilly Bean seeds indoors, you must provide a temperature range of 77-86F. However, Jilly Bean plants are resilient to temperature swings, given their adaptability to hot and cold climates.
Furthermore, indoor growers must ensure a relative humidity of 40-70% during the flowering stage. Last but not least, outdoor and indoor growers will produce maroon-colored buds if the temperature drops below 70F during the final week of flowering.
Flowering Time
The flowering time of the Jilly Bean strain is 8-10-weeks.
As you can see, Jilly Bean's flowering window is large. Jilly Bean provides various fast-flowering phenotypes that finish in as little as 56-days. However, you may end up with a phenotype that completes in 70-days.
In any case, Jilly Bean's overwhelmingly positive characteristics make up for a possibly extended flowering schedule.
Indoors, Jilly Bean plants may finish flowering faster when grown in hydro. Outdoors, expect to harvest your Jilly Bean crop by the beginning or the middle of October.
Yield
The yield of the Jilly Bean strain is monstrous.
Overall, indoor growers can expect up to 500g/m2. However, many beginners are known to harvest roughly 350g/m2 on their first attempt.
Outdoors, Jilly bean plants perform exceedingly well by producing upwards of 500-grams per plant. As long as you add support poles to Jilly Bean, you'll be covered in resin-packed buds for months.
Height
The height of the Jilly Bean strain is surprisingly short.
Although Jilly Bean is sativa-dominant, it grows like a full-blown indica. In any case, Jilly Bean plants flourish in outdoor or indoor settings.
Due to its size, Jilly Bean plants are best grown with the SOG method. By packing your grow tent with Jilly Bean plants with a low veg time, you'll find countless thick colas by harvest time.
Outdoor growers are recommended to provide ample space for each Jilly Bean plant. Remember, Jilly Bean grows laterally, making it necessary to give each seed room once it's time to start the crop.
Resistance to Pests and Diseases
The Jilly Bean strain is naturally resistant to common pests and diseases.
However, you should never rely on your plants to fend for themselves. Instead, always implement a sound IPM strategy to avoid disasters. In any case, it's always best to prevent outbreaks rather than react to them.
The best practices to ensure the health of your Jilly Bean plants are:
Remove the lowest growth (lollipop)
Add one oscillating fan per meter squared
Adequately space each plant
Keep your garden clean
Always wear clean clothes into the grow room
Apply organic neem oil during the vegetative stage
Inspect your crop daily
Jilly Bean Strain Description and Properties
The Appearance of Jilly Bean Weed
The appearance of the Jilly Bean strain is exactly how you'd imagine an award-winning variety would be.
Jilly Bean's flowers are stacked with thick resin glands and shimmer in the light. Furthermore, the buds are lime green to maroon, depending on the nighttime temperatures at the end of flowering.
The vibrant orange pistils cascade across the flowers in a magnificent display of color. Overall, you won't be able to take your eyes off of each plump bud once it's in your hands.
Dominant Cannabinoids Found in Jilly Bean's Buds
The dominant cannabinoid found in Jilly Bean weed is THC.
Typically, lab results place Jilly Bean's THC content between 15-22%. Overall, dialing in Jilly Bean results in higher THC percentages. Therefore, you may need to grow the Jilly Bean strain multiple times to achieve 20% or higher!
Dominant Terpenes Found in Jilly Bean Weed
When MzJill created the Jilly Bean strain, her thought process was entirely focused on the incredible aroma and flavor of Orange Velvet and Space Queen.
Ultimately, her choice to breed Jilly Bean was the right decision because it produced a mixture of terpenes unlike any other.
As you unlock a jar full of Jilly Bean weed, you'll experience a wave of dank mango, citrus, pineapple, and tangy apple. Overall, your nose won't believe what it's smelling at first!
Once you indulge, your taste buds will go into overdrive. The flavors range from juicy pineapple to fuel-filled citrus. Furthermore, Jilly Bean weed provides flavors of sour apple and fermenting mango.
The three primary terpenes found in Jilly Bean's buds are myrcene, pinene, and caryophyllene. The myrcene and pinene offer fresh floral notes, while the caryophyllene brings spice to the table.
Ultimately, Jilly Bean's terpene profile is one to experience and savor.
Effects of the Jilly Bean Strain
The effects of the Jilly Bean strain are long-lasting and filled with good vibes.
From the moment you indulge, get ready for hours of laughter, motivation, and outright creativity. Although Jilly Bean weed is sativa-leaning with abundant indica characteristics, the clarity of thought is striking.
Furthermore, Jilly Bean weed is uplifting in the extreme. Whether your thoughts are clouded over with worries, or you just want to kick your mind into high gear, Jilly Bean weed is all you need.
Day or night, Jilly Bean's luscious buds are the golden ticket to happiness. Jilly Bean is nothing but a good time, from wake and bake rituals to pre-gaming for the party.
Medical Properties of the Jilly Bean Strain
The medical properties of Jilly Bean weed are second-to-none for medical marijuana patients that need to shove off anxious or depressive thoughts.
Overall, medical marijuana patients that need uplifting cannabis should grow Feminized Jilly Bean seeds. Additionally, Jilly Bean offers a bounty of indica-like relaxation that pairs beautifully with the sativa side.
In other words, MMJ patients worldwide select Jilly Bean weed as their go-to when the going gets tough.
Here's a list of the major medical attributes that Jilly Bean can assist with:
PTSD
Depression
Anxiety
Mobility issues
Stress
Pain
Negative Effects of Jilly Bean Weed
With so many positive attributes, it only makes sense that there are a few adverse effects while indulging in the Jilly Bean strain.
If you consume too much Jillybean weed — you may experience:
Extreme drowsiness or paranoia
Red eyes
Dry mouth
Additionally, if you're new to cannabis — take it easy with Jillybean. The THC content is moderate to high, but beginners may become too stoned if they consume a large quantity of Jilly Bean weed in a single session.
Therefore, always gauge your tolerance and adjust your intake accordingly for an enjoyable time with Jilly Bean weed. Lastly, Jilly Bean is known for its uplifting effects, which is why you should never operate a vehicle or any other heavy machinery while under Jilly Bean's energetic properties.
Pros/Cons of Growing Jilly Bean Seeds
Pros
Incredible bag appeal
Delicious terpene content
High THC potential
Long-lasting effects
Easy to grow
Low plant height
Large yield
Cons
Challenging to find real Feminized Jilly Bean seeds
Average flowering time
Watch: Jilly Bean Strain Grow Day 56
The Best Jilly Bean Feminized Seeds in 2023:
---
Main Category Page:
Weed Seed Index
– A curated index of the world's best cannabis seed strains. Each review contains vital information, such as cultivation tips, strain profiles, and where to buy the best cannabis seeds.