Larry OG Seeds
Larry OG is a heavy-hitting indica strain bred for maximum potency. This Larry OG strain review covers everything you need to know, including grow tips and where to buy Larry OG seeds.
Orange County is an affluent sun-drenched enclave an hour south of Los Angeles, California. Maybe you've heard of it because The OC TV show popularized the comfortable living and suburban drama that unfolds under its palm trees and backyard pools.
However, maybe you know about Orange County because of its weed. Long a home to several cannabis breeders and OG strain varieties, the OC has given us many famous indicas over the years.
Amongst them, Larry OG truly stands out. OG stands for Ocean Grown, referring to a pacific state of mind and grow characteristics. You see, OG is a truly West Coast strain type, with deep roots up and down the Golden State, from Tahoe to the indoor grow ops of Downtown LA.
Looking for an OG that smacks of loud, gassy lemons soaked in fuel? Your search is over — Larry OG is what you want.
Learn about the origins of this ultra-potent indica hybrid while also discovering how to grow your Larry OG seeds right the first time.

Larry OG Seeds – Strain ID: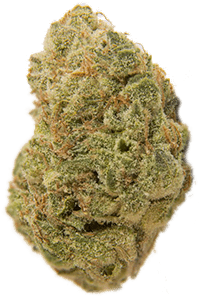 Type: Indica-Dominant Hybrid
Cannabinoids: 22% THC
Terpenes: Myrcene, Limonene, Caryophyllene
Effects: Uplifting, Focus, Relaxing
Landrace Strain: SFV OG Kush x Tahoe OG
Grow Difficulty: Easy to Moderate
Harvest: 9-10 Weeks / 10 Weeks
Yield: Up to 500g/㎡ / Up to 600g/plant
Height: Up to 5.5 feet/ >5.5 feet
(*Indoor / Outdoor)
---
About Larry OG Seeds
Background
Usually, any strain with OG tagged on at the end will be a phenotype, or cut, from an elite plant being closely held by breeders. The Larry OG story isn't too far off, except there are two elite OG cuts involved in this case.
Follow closely, because there is going to be a lot of OG involved in the telling of this tale. First, Larry OG is a strain bred by the famous Orange County breeders at Cali Connection. In creating Larry, they crossed SFV OG Kush with another OG Kush cut from Lake Tahoe.
The SFV OG Kush parent shouldn't be confused with SFV OG, which is simply an OG Kush phenotype. No, SFV OG Kush is more than that — its SFV OG crossed with ultra-indica Afghani.
On the other side of the cross, the unknown OG Kush cut from Tahoe is likely an elite Tahoe OG parent. Why this speculation? Well, because Cali Connection's feminized Larry OG seeds are SFV OG Kush crossed with a proprietary Tahoe OG pheno.
While their regular Larry OG seeds don't mention a Tahoe OG parent, the likelihood of such a lineage is strong since their feminized seeds aim to replicate the same profile.
Alright — enough about lineage — you probably want to know whether all this elite OG crossing has yielded a dank strain or not.
The answer is a resounding yes, made with a standing ovation from a crowd of Cannabis Cup judges. Over the years, Cali Connection's Larry OG strain has taken home multiple Cannabis Cup awards, including numerous first-place prizes in San Francisco and Denver.
Such accolades are meaningless if the strain doesn't pick up a following, but Larry has had no such problem doing so. Dispensaries simply can't keep Larry OG on the shelves, which means your best bet at tasting some is growing it yourself.
The next section will teach you how to easily grow Larry OG seeds at home.
Growing Larry OG Seeds
Larry OG is an incredible strain, full stop. Its buds are impressively weighty and take your scale by surprise with each gram — but, before you weigh out grams, you'll first need to care for your plants.
Growing Larry OG seeds can be tricky if you're not used to canopy management. As an indica-dominant hybrid, Larry can positively explode towards the tail end of vegetation into flowering, resulting in lots of lanky branches and stacked height.
Your mission is to deploy canopy control techniques like LST and healthy amounts of topping. Doing so will handsomely reward you with a treasure-trove of dense buds.
Here are the details.
Grow Difficulty:
Larry OG seeds are best grown by novices with at least one grow experience, or veteran green thumbs who have notched several grows on the belt.
Optimal Growing Conditions and Climate:
The Ocean Grown aspect of OG tells you plenty about the optimal growing conditions for Larry OG seeds.
Temperatures between 68°F and 83°F are optimal, but you have a little room for play on the high side of those numbers. Larry OG plants don't like to get cold, so do your best to ensure they never get exposed to sudden cold snaps.
Keep humidity and airflow in check. Don't allow relative humidity to creep above 55%, and always ensure that your plants get plenty of air circulation covering all surface areas.
Depending on your climate zone, it may be best to grow Larry OG seeds indoors. If you go that route, remember that your Larry OG plants will inevitably grow on top of each other without proper canopy control.
To reduce that risk, top them early. Doing so will reduce their stretch and introduce more cola sites. In the end, that means you'll get a bigger yield out of them.
Flowering Time:
Expect a 9 to 10-week flowering time.
Yield:
Larry OG is a big yielder if you play your cards right. Indoors, 450-500 grams per square meter, are possible while outdoor growers can harvest 600 grams per plant.
Height:
Larry OG plants tend to grow tall and lean, occupying plenty of space per plant.
Resistance to Pests and Mold:
Solid OG genetics keeps Larry OG seeds resistant to pests and mold.
Strain Description and Properties
The Appearance of Larry OG Weed:
OG lovers, rejoice. Larry OG is a real prize — each bud represents the height of the OG archetype. Dense, conical buds mix with golf-ball nuggets in a grab-bag of frosty fire.
Larry OG is everything you want in an ocean grown strain, from lime green leaves to neon orange pistils racing atop the buds.
Dominant Cannabinoids Found in Larry OG Seeds:
Larry OG seeds are THC dominant strain with concentrations of up to 22% THC.
Dominant Terpenes Found in Larry OG Seeds:
Pure, unfiltered, lemon-scented gasoline awaits you when you rip open the bag of Larry OG. Other phenotypes smell like store-bought Lemon Pledge. You can thank the terpenes for such fine flavors and aromas.
Myrcene — Produces feelings of calm, sedation, and general well-being.
Limonene — Found in citrus rinds, limonene creates dank fruit aromas while making you laugh uncontrollably.
Caryophyllene — A potent pain and inflammation fighter, caryophyllene amplifies flavors by bringing spicy sweetness to the fore.
Effects of Larry OG Weed:
Perhaps it's the high concentration of limonene terps found in Larry OG, but it's quite uplifting for a strain with this much indica lineage.
Expect each potent puff to take you higher and higher toward an it's all good state of mind — the kind of well being that makes even more sense with a pair of sunnies on.
Your body will undoubtedly feel the intensifying effects of Larry's indica heritage, but the beauty is it isn't overwhelming. While potent, Larry OG is still a daytime hybrid, and can help with focus and socializing — all while being incredibly relaxed.
Medical Properties of Larry OG Seeds:
Larry OG seeds are high in medicinal terpenes like limonene and myrcene, aiding the following:
Stress
Anxiety
Depression
ADD/ADHD
PTSD
Arthritis
Muscular pain
Athletic recovery
Negative Effects of Larry OG Weed:
There aren't many negative effects associated with smoking Larry OG. You may experience a dry mouth and dry eyes, but only significantly over-indulging may result in stronger effects like paranoia.
Pros/Cons of Growing Larry OG Seeds
Pros
Incredibly dank lemon aroma
Sizeable yields for an OG pheno
Not incredibly difficult to grow
Ridiculously potent
Cons
Authentic Larry OG seeds are hard to come by
Novice growers may run into complications
Needs a warm, dry climate to grow outdoors
Watch: Larry OG Strain Grow
---
Main Category Page:
Cannabis Seed Index
– A curated index of the world's best cannabis seed strains. Each review contains vital information, such as cultivation tips, strain profiles, and where to buy the best cannabis seeds.