Mendo Breath Seeds
An informative review of the Mendo Breath strain. Learn everything about Mendo Breath, such as its heavy-handed indica effects, growth traits, and where to find real Autoflowering Mendo Breath seeds for sale online.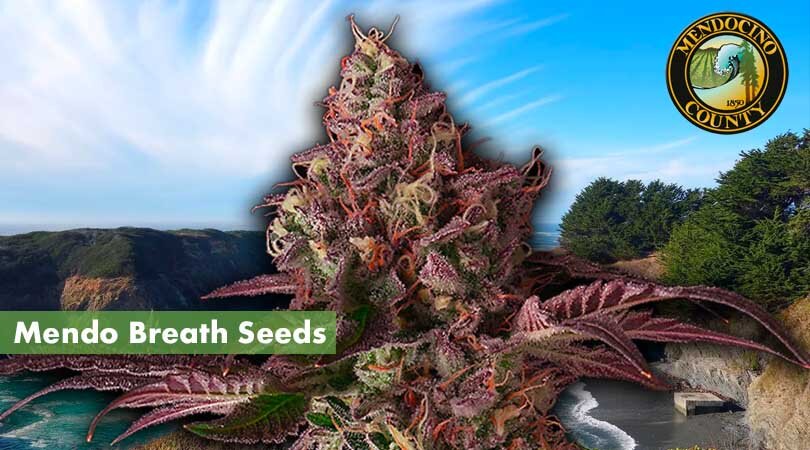 Your muscles are tense, your body aches, and your head is full of jumbled thoughts that won't settle down. You're not alone — we all experience these feelings after the grind.
Although kicking your feet up and inhaling some grub helps, nothing sedates your mind and body quite like indica-dominant weed.
For today's review, we'll go over the legendary Mendo Breath strain. Unlike other indica-dominant hybrids, Mendo Breath provides astonishing effects, bag appeal, and terps that'll have you wrapped in a warm blanket of bliss in no time.
If you're ready to explore the wonders of Mendo Breath — read along! Soon, you'll discover how to grow Mendo Breath, a list of its eye-popping traits, and where to buy Autoflowering Mendo Breath seeds online.

Mendo Breath Seeds – Strain ID:
Type: Indica-Dominant Hybrid
Cannabinoids: 18-21% THC
Terpenes: Caryophyllene, Limonene, Myrcene
Effects: Bliss, Relaxing, Sedative
Landrace Strain: Mendo Montage x OG Kush Breath
Grow Difficulty: Moderate
Harvest: 8 Weeks / 8+ Weeks
Yield: >350g/㎡ / >400g/plant
Height: 4-5 feet/ 5+ feet
(*Indoor / Outdoor)
The Best Mendo Breath Autoflower Seeds in 2023:
---
About the Mendo Breath Strain
Background
The original Mendo Breath F1 seeds were created by none other than the legendary group Gage Green Genetics (GGG).
For those that don't know — Gage Green Genetics are masters of their art. Some of the most mesmerizing strains in the cannabis industry are from GGG, which makes it a no-brainer that Mendo Breath is an automatic winner.
The breeders at GGG crossed OGKB (OG Kush Breath) and Mendo Montage to craft a unique indica-dominant hybrid with unbelievable traits. Once the breeding process was complete — Mendo Breath seeds were born.
Since its release, Mendo Breath has gained a cult-like following due to its ridiculous terpene profile, potency, effects, and bag appeal. Overall, growing Mendo Breath seeds is an absolute flex because only growers in the know cultivate it.
Since the original release, GGG has unveiled Mendo Breath F2 and Mendo Breath F3. In other words, you have a variety of choices if you want to grow the Mendo Breath strain.
Luckily, Autoflowering Mendo Breath seeds are now available online. The introduction of Autoflowering Mendo Breath seeds allows cultivators to grow without the constraint of light requirements.
If you're ready to grow a piece of history — the time is now to buy Autoflowering Mendo Breath seeds.
Growing Mendo Breath Seeds
If you're ready to grow your beloved Mendo Breath seeds — you must read below.
In this section, you'll discover key traits of the Mendo Breath strain. From grow difficulty to yield potential and everything in between, there are ounces of information to discover.
Without further ado, let's dive into everything you need to grow a bountiful (and resin-drenched) crop of Mendo Breath weed!
Grow Difficulty
The Mendo Breath strain is rated as moderately challenging to grow.
In other words, Mendo Breath can be grown by beginners and professionals. However, new growers must adopt certain techniques to ensure a smooth growing experience.
On the other hand, experienced cultivators will have an easy time growing Mendo Breath.
In particular, a moderate dose of balanced nutrients and optimal temperatures are the key to producing a massive harvest of Mendo Breath buds.
If you choose to grow Autoflowering Mendo Breath, you won't need to worry about lighting schedules since the auto version isn't dependent on photoperiods.
Optimal Growing Conditions and Climate
The Mendo Breath strain was born and bred in the hills of Mendocino.
Therefore, you'll want to grow Mendo Breath in Mediterranean-like conditions. From ample sunshine to low humidity, Mendo Breath appreciates easy-going climates without significant variations in day and night temperatures.
If you grow Mendo Breath seeds indoors, you must provide a temperature range of 72-86F. By allowing cooler temperatures at night, the Mendo Breath flowers will have a purple hue by harvest time.
Furthermore, never allow humidity to exceed 70% during the flowering stage. Due to the density of Mendo Breath's flowers, bud rot is a serious concern that you'll want to avoid.
Flowering Time
The average flowering time of Mendo Breath is 8-weeks.
If you grow Autoflowering Mendo Breath — the flowering time is 8-weeks without the sexing phase. Therefore, the entire growth cycle of Auto Mendo Breath is significantly shorter than regular or feminized versions.
When grown outdoors, the Mendo Breath strain will finish by September or earlier (depending on when germination began). Therefore, most climates throughout the world can handle the outdoor cultivation of Mendo Breath.
If you grow indoors, Mendo Breath may finish under the 8-week mark. However, the flowering time is determined by the overall phenotype.
Yield
The yield of Auto Mendo Breath is well worth your time and effort.
After eight short weeks, you'll find upwards of 350g/m2 of resin-drenched Mendo Breath buds when grown indoors. If you're a real green thumb — you may push this number higher.
When grown outdoors, the Mendo Breath strain is capable of unleashing upwards of 400-grams per plant. For those who've mastered the craft of marijuana cultivation — a pound of Mendo Breath weed per plant is attainable.
Height
The height of Mendo Breath plants depends on whether they are feminized or autoflowering versions.
Feminized versions of Mendo Breath are noted as moderate in size. However, Autoflowering Mendo Breath are rated as short to moderate in size.
Therefore, cultivators limited on space or not can benefit from the reduced size of Autoflowering Mendo Breath seeds. From small grow tents to massive outdoor plots, Mendo Breath is an excellent strain for indoor or outdoor growers.
Resistance to Pests and Diseases
Mendo Breath is moderately resistant to pests and diseases.
Therefore, you need to implement an IPM strategy to avoid the pitfalls of insects and diseases. Remember, your garden will thrive only if you prevent harmful issues from taking hold.
The best practices to ensure the health of your Mendo Breath plants are:
Remove the lowest growth (lollipop)
Add one oscillating fan per meter squared
Adequately space each plant
Keep your garden clean
Always wear clean clothes into the grow room
Apply organic neem oil during the vegetative phase
Inspect your crop daily
Mendo Breath Strain Description and Properties
The Appearance of Mendo Breath Weed
It's practically impossible to be unimpressed by Mendo Breath weed.
The flowers of Mendo Breath are one-of-a-kind, and once you see the amount of resin coverage — you'll never want anything else.
Overall, Mendo Breath buds glitter with seemingly endless trichomes. In other words, the Mendo Breath strain is an extract artist's dream.
Once you pull yourself from the trance, you'll notice purple calyxes and splashes of greenery. Gage Green Genetics is famous for the color profile found in their strains, making Mendo Breath a clear example of connoisseur-grade weed.
Dominant Cannabinoids Found in Mendo Breath Buds
The dominant cannabinoid found in Mendo Breath weed is THC.
The range of THC found in Mendo Breath buds is 18-21% THC. However, cultivators that treat their Mendo Breath plants with extreme care may produce higher THC concentrations (especially when grown indoors).
Overall, Mendo Breath is relatively potent. Beginners are advised to consume Mendo Breath at small doses to avoid extreme effects.
Dominant Terpenes Found in Mendo Breath Weed
The Mendo Breath strain is loud and proud.
There's no way to hide the profoundly pungent smell of Mendo Breath weed. In other words, don't grow Mendo Breath if you need to be discreet!
The aroma is composed of sweet vanilla, glazed caramel, and over-the-top tones of diesel-infused citrus.
The flavor of Mendo Breath weed is absolutely dank. From the moment the silky smoke hits your tongue, prepare for overwhelming levels of sweet vanilla, citrus funk, and pure fuel-dankness that'll put your senses on overdrive.
The three primary terpenes found in Mendo Breath are caryophyllene, limonene, and myrcene. Caryophyllene and limonene produce funky-sweet and spicy citrus overtones.
Lastly, the myrcene produces floral flavors with a sweet herbal kick.
Effects of Mendo Breath Weed
The effects of Mendo Breath are mesmerizing and long-lasting.
The moment you consume Mendo Breath, you'll experience a whiplash of pure euphoria. As your mind bathes in blissful thoughts, your body will quickly melt into a puddle of pure relaxation.
As the effects intensify, the sedative properties of Mendo Breath take front and center. Ultimately, your muscles and overall body will not want to get up for anything. Therefore, we recommend the Mendo Breath strain for nighttime use only.
As the effects wane, you'll likely fall into a deep state of sleep for hours on end.
Medical Properties of the Mendo Breath Strain
The Mendo Breath strain is a perfect variety for medical marijuana patients in need of deeply relaxing weed.
From anxiety to pain, there's nothing that Mendo Breath can't handle. Therefore, medical marijuana patients that need nighttime medicine should seek Mendo Breath seeds.
Here's a list of the significant medical attributes that Mendo Breath can assist with:
Pain
Insomnia
Anxiety
Depression
Stress
As you can see — Mendo Breath is suitable for anyone that needs a chill pill for their daily routine. Furthermore, there are few strains that are as effective as Mendo Breath for pain relief.
Whether you have insomnia or deep-rooted pain, Mendo Breath is a breath of fresh air for the medical marijuana community.
Negative Effects of Mendo Breath Buds
With so many positive attributes, it only makes sense that there are a few adverse effects while indulging in the Mendo Breath strain.
If you consume too much Mendo Breath weed — you may experience:
Extreme drowsiness or paranoia
Red eyes
Dry mouth
Additionally, if you're new to cannabis — take it easy with Mendo Breath. The THC content is incredibly high, making Mendo Breath a one-hit-quit for most.
Therefore, always gauge your tolerance and adjust your intake accordingly for an enjoyable time with Mendo Breath.
Pros/Cons of Growing Mendo Breath Seeds
Pros
Top-shelf bag appeal
Incredible resin coverage
High THC content
Purple flowers
Mouth-watering terpene content
Large yield
Cons
Challenging to find real Mendo Breath seeds
Moderate grow difficulty
Watch: Mendo Breath Strain Grow: Day 56
The Best Mendo Breath Autoflower Seeds in 2023:
---
Main Category Page:
Marijuana Seed Index
– A curated index of the world's best cannabis seed strains. Each review contains vital information, such as cultivation tips, strain profiles, and where to buy the best cannabis seeds.