NYC Diesel Seeds
Your guide to the NYC Diesel, a highly decorated sativa hybrid cannabis strain. Find grow tips, effects, and the best places to buy NYC Diesel seeds.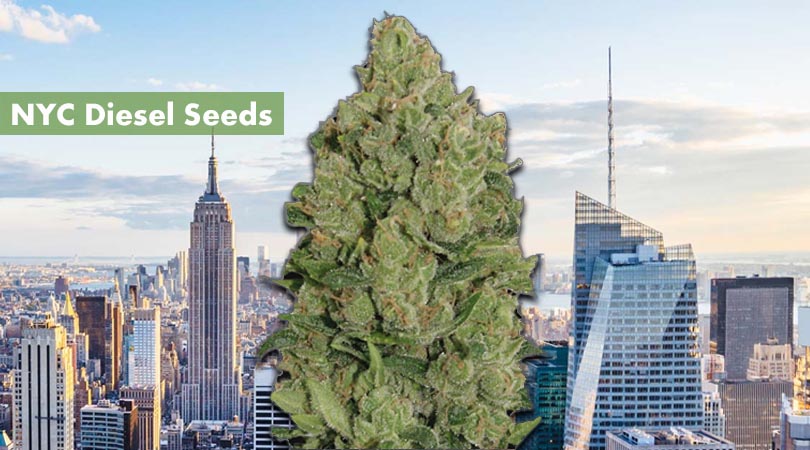 New York, New York — otherwise known as The Big Apple.
As a megalithic city of concrete, people, and dreams, NYC has long been known as the place to either make it or break it.
Most industries have a strong foothold in the city. Everything from entertainment to business is headquartered within its limits. Everything industry except cannabis, that is.
Which makes the NYC Diesel strain a true anomaly. NYC Diesel is a sativa-dominant cannabis strain with genetics originating from its namesake hometown.
With New York's reputation as the city that never sleeps, it makes total sense that NYC Diesel is an energizing smoke that simultaneously takes the edge off of stress.
Let's jump into the details of this metropolitan strain, along with shedding light on how to grow NYC Diesel seeds anywhere — including your inner-city bedroom closet.

NYC Diesel Seeds – Strain ID:
Type: Sativa-Dominant Hybrid
Cannabinoids: 15-22% THC
Terpenes: Myrcene, Limonene, Caryophyllene
Effects: Energizing, Social, Creative
Landrace Strain: Diesel x Afghani
Grow Difficulty: Moderate
Harvest: 10-13 Weeks / 13+ Weeks
Yield: 450g/㎡ / Up to 500g/plant
Height: Up to 4 feet/ >4 feet
(*Indoor / Outdoor)
The Best NYC Diesel Feminized Seeds in 2023:
• 19-22% THC
• Harvest: 12-14 Weeks
• Yield: 500-600g/㎡
• Shipping Worldwide
• Including Free Seeds
• Credit Cards & Bitcoin Accepted
Prices
• £10.9 Per Seed
• Bulk orders get discounted rate
• 17-21% THC
• Harvest: 12 Weeks
• Yield: 400-500g/㎡
• Shipping Worldwide
• Germination Guarantee
• Credit Cards & Bitcoin Accepted
Prices
• 5 Seeds – $65
• 10 Seeds – $120
• 25 Seeds – $240
---
About NYC Diesel Seeds
Background
The origins and history of NYC Diesel are rooted in New York, but take flight in Amsterdam. The latter city is where Soma Seeds, the creators of the NYC Diesel strain, are located.
According to the Soma Seeds crew, some time back in the mid-1990s, a friend of theirs was gifted a bag of weed in New York's infamous Central Park.
The weed, so said their friend, was the best he'd ever puffed on. Moreover, the said friend's ankle-length dreadlocks gave him all the necessary qualifications to make such a statement.
So, what's a dreadlocked friend to do with the bag seed upon returning to Holland? Why, pass them on to famous breeders, of course.
By the late 1990s, Soma Seeds was already making big waves with some of their cannabis creations. Their Reclining Buddha strain had already taken top honors at early High Times Cannabis Cups, proving their chops as breeders.
The Soma Seeds team got to work stabilizing the genetics of the bag seed. Nobody knew exactly from whence the seeds came. However, most speculators on the matter agree that they're likely Chemdog or Sour Diesel — two strains that were popular in NYC at the time.
Eventually, Soma crossed these (likely) Diesel seeds with a landrace Afghani indica plant, thus toning down the original Diesel's sativa raciness with a based indica vibe.
Today, many claim that NYC Diesel is a cross of landrace Mexican and Afghani parents, but that story counters the seemingly official version given by Soma themselves.
Besides, if you've ever smoked a bowl of NYC Diesel, you'd be hard-pressed to dispute the validity of the genetics given as Diesel x Afghani.
Want to grow this historic sativa-dominant hybrid for yourself? You can still buy Soma NYC Diesel seeds online to this very day.
Ready to grow? Find tips below.
Growing NYC Diesel Seeds
NYC Diesel seeds are convenient to buy because the original breeder still produces and sells them. That always beats going after third-party versions of the originals.
But, because NYC Diesel seeds stem from an unknown bag seed parent, the range of phenotypes and strain expressions are somewhat unwieldy.
Translation: NYC Diesel seeds are not always the easiest to grow, but can reward you with some of the most stunning buds you've ever laid your eyes on.
Need proof? Just as the dozen or more juries that have awarded NYC Diesel with accolades.
Grow Difficulty:
Growing NYC Diesel seeds is moderately difficult for novices but relatively straightforward for experienced growers.
Optimal Growing Conditions and Climate:
NYC Diesel seeds are best planted indoors in nutrient-rich organic soil. Outdoors growers will have plenty of success with this strain if climate conditions are favorable.
In a word, NYC Diesel plants thrive in warmth. This is not a good strain for northern latitude outdoor growers to experiment with. If you experience very cool to cold shoulder season months, your window of opportunity for growing NYC Diesel seeds is very short.
Keep temperatures between 70°F and 83°F. Relative humidity should remain below 60% throughout veg, then taper below 50% during flowering.
Flowering Time:
Expect a typically long sativa flowering time of 10 to 13 weeks.
Yield:
NYC Diesel is a high yielding strain putting out approximately 450 grams per square meter indoors. Outdoor growers can expect up to 500 grams per plant.
Height:
As a sativa-dominant hybrid strain, NYC Diesel stacks on height if you let her. Top your plants throughout veg to reduce the effects of stretch during flowering.
Resistance to Pests and Mold:
With robust landrace strain genetics coming from both parents, NYC Diesel seeds contain resistance to pests and mold.
Strain Description and Properties
The Appearance of NYC Diesel Weed:
NYC Diesel buds display classic cannabis beauty through and through. Trichomes glisten in such density that leaves take on the whites of freshly starched bed sheets. Greens range a spectrum of limes, conifer canopy, and juicy aloe.
These colors play out across huge, healthy sativa flowers wrought with pistils that range and whip from the buds like solar flares. Hints of Afghani show up in the slightly conical shape some flowers display, making it a pleasure to pinch and grind them.
Dominant Cannabinoids Found in NYC Diesel Seeds:
NYC Diesel seeds are THC dominant. THC levels range between a potent 15% to 22%.
Dominant Terpenes Found in NYC Diesel Seeds:
Grapefruit is a love it or hate it fruit due to its pungent flavor and stringent citrus aroma. NYC Diesel smells like a deep red grapefruit dipped in gas owing to a unique combo of terpenes.
Myrcene — The most common terpene found in cannabis. Myrcene brings relaxation, pain relief, and herbal aromas.
Limonene — Found in citrus rinds, limonene is an effective stress and inflammation fighter with amazing sweet aromas to boot.
Caryophyllene — Spicy, sweet, and even a bit sour, caryophyllene brings complexity to the nose and tongue while fighting pain.
Effects of NYC Diesel Weed:
NYC Diesel gets a lot of attention for being a sativa strain when, in fact, it's a sativa dominant hybrid. This means it has a decent amount of indica circulating in it — 30% indica, to be exact.
The play between sativa and indica effects in this strain gives it the remarkably relaxing, social, and energizing array of qualities it's best known for. In short, NYC Diesel effects make it perfect for working, creative tasks, focusing, hitting the club, or watching a cerebral flick.
Medical Properties of NYC Diesel Seeds:
NYC Diesel is good for treating a variety of conditions with remarkable medicinal efficacy.
Stress
Anxiety
Depression
PTSD
ADD, ADHD
Daytime pain
Arthritis
Glaucoma
Negative Effects of NYC Diesel Weed:
Like many cannabis strains, NYC Diesel can cause a dry mouth and eye irritation.
Pros/Cons of Growing NYC Diesel Seeds
Pros
Classic sativa hybrid strain
Produces large yields
Stable genetics with deep history
Cons
Grows tall and lanky
Tricky for beginners
NYC Diesel seeds often sold out
Watch: NYC Diesel Strain Harvest
The Best NYC Diesel Feminized Seeds in 2023:
• 19-22% THC
• Harvest: 12-14 Weeks
• Yield: 500-600g/㎡
• Shipping Worldwide
• Including Free Seeds
• Credit Cards & Bitcoin Accepted
Prices
• £10.9 Per Seed
• Bulk orders get discounted rate
• 17-21% THC
• Harvest: 12 Weeks
• Yield: 400-500g/㎡
• Shipping Worldwide
• Germination Guarantee
• Credit Cards & Bitcoin Accepted
Prices
• 5 Seeds – $65
• 10 Seeds – $120
• 25 Seeds – $240
---
Main Category Page:
Cannabis Seed Index
– A curated index of the world's best cannabis seed strains. Each review contains vital information, such as cultivation tips, strain profiles, and where to buy the best cannabis seeds.