OG Kush Seeds
For many, the OG Kush cannabis strain is where it all started. Inside this complete OG Kush review, you'll find pro growing tips, details about effects, and the best places to buy OG Kush seeds online.
In the cannabis world, the two most sought after emblems of quality are OG and Kush. Both of these names come from the same plant — OG Kush, the world's most famous and influential strain today.
To say that OG Kush has revolutionized marijuana cultivation would be a massive understatement. Almost every strain available today has, in some way, been touched by the OG Kush phenomenon — so much so that at one point, cannabis dispensaries had three sections on their menus: indica, sativa, and OG.
The sheer proliferation of OG Kush varieties, phenotypes, and crosses have made it very difficult to tell what strain OG Kush really is. With a few telltale signs, you can always identify the real thing, especially if you grow your own OG kush seeds.
Sit back, relax, and keep scrolling through this OG Kush review to find out how to grow OG Kush seeds into the dankest fuel-doused nugs that have ever graced your bong.

OG Kush Seeds – Strain ID:
Type: Sativa-Dominant Hybrid
Cannabinoids: 17-27% THC
Terpenes: Myrcene, Caryophyllene, Limonene
Effects: Euphoria, Uplifting, Relaxing
Landrace Strain: Hindu Kush x Unknown
Grow Difficulty: Difficult
Harvest: 8-9 Weeks / 12 Weeks
Yield: Up to 550g/㎡ / 550g/plant
Height: Up to 6.5 feet/ >6.5 feet
(*Indoor / Outdoor)
The Best OG Kush Feminized Seeds in 2023:
• 19-22% THC
• Harvest: 10-12 Weeks
• Yield: 400-500g/㎡
• Shipping Worldwide
• Including Free Seeds
• Credit Cards & Bitcoin Accepted
Prices
• £5.5 Per Seed
• Bulk orders get discounted rate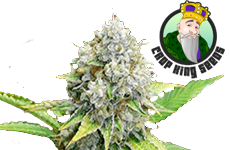 • 16-21% THC
• Harvest: 9-10 Weeks
• Yield: 400g/㎡
• Shipping Worldwide
• Germination Guarantee
• Credit Cards & Bitcoin Accepted
Prices
• 5 Seeds – $65
• 10 Seeds – $120
• 25 Seeds – $240
---
About OG Kush Seeds
Background
Famed strains often have hazy backgrounds because the marijuana industry has only recently come out of the shadows.
Unfortunately, this means that the legacies of some of today's most influential varieties are potentially lost forever, with nothing but tall tales and legends passed down.
The OG Kush story is a bit like that — a tall tale, however, some details have real bite to them. Amongst the seeds of (probable) truth are that at some point in the 1990s, an unknown strain was crossed with Hindu Kush somewhere in Florida.
Josh Del Rosso, an old-school cultivator who has grown nothing but OG Kush since first getting his hands on real OG Kush seeds in the 90s, supports the Florida connection with first-hand testimony:
"It came as Kush so that's what we all called it."
According to Del Rosso, Matt Berger, the cultivator behind the Bubba Kush strain, brought OG Kush seeds back to Los Angeles from a trip to Florida, sparking the West Coast Kush revolution.
From that moment on, OG Kush seeds, phenotypes, crosses, and extracts spread across California like wildfire, burning holes in the pockets of cannabis enthusiasts everywhere with per gram prices as high as $30.
Diable OG, XXX OG, Fire OG, SFV OG — the endless varieties all brought something to the table, but at the end of the day, there's one thing every OG has in common: pure, unadulterated fire in the form of heavy-lemon-pine-fuel on the nose and small, sticky buds that shine with trichomes.
The vast array of OG Kush phenotypes and crosses has led to smokers worldwide wondering whether OG Kush is an indica or a sativa. The truth is, real OG Kush seeds give rise to hybrid sativa dominant flowers.
These days, finding plain ol' OG Kush is getting harder and harder. However, many dispensaries, especially on the American West Coast, still keep OG under lock and key — as OG aficionado Snoop Dogg once said.
Growing OG Kush Seeds
Growing OG Kush seeds into bud-bestowing resin factories is probably high up on your list if you've smoked this strain on the beach, hanging with friends, or relaxing with your significant other for a night of Netflix and chill.
The problem is, it takes a little time to track down the best OG Kush seeds for sale online. At the end of the day, your choices boil down to two options.
Feminized OG Kush seeds — These seeds save you time and money by weeding out (no pun intended) male plants from your grow. For novice growers, having some guarantee that you'll have female plants cropping up from the soil is a convenient way to learn marijuana cultivation.
Regular OG Kush seeds — For experienced growers and those with time to learn the details of OG Kush seeds cultivation, there are regular seeds. These seeds are a mixed bag, meaning you get both males and females. The advantage of growing regular OG Kush seeds is you have more genetic variety, meaning you can cultivate and select your own phenotypes, perhaps even finding your own 20%+ THC pheno.
After you choose the OG Kush seeds that work best for your skill level and aspirations, it's time to put them in the soil and begin the rewarding process of cultivating your own plants.
Grow Difficulty:
OG Kush has a reputation for being the ultimate cool, chilled out, and high-powered strain.
While smoking OG Kush is easy, growing OG Kush seeds is not.
OK, walk that statement back a smidge. Growing OG Kush seeds is tough, but not so tough that a well-prepared and committed beginner can't successfully pull a harvest down.
Like many hybrids, OG Kush seeds have very specific preferences when it comes to growing conditions, climate, and nutrition. Just a slight imbalance anywhere in the harmonic trifecta between these three elements can bring about root rot, nutrient deficiency, or powdery mildew.
So, the best way to approach growing OG Kush seeds is very carefully, beginning with an optimal indoor or outdoor environment.
Optimal Growing Conditions and Climate:
OG Kush is the perfect strain for growing both indoors and outdoors, as it will do equally well in both environments.
While OG Kush seeds are not finicky about whether the lumens are natural or artificial, they are very particular about temperature, humidity, and nutrition.
To get the most out of your OG Kush seeds, you should plant them in either organic soil amended with compost tea or a hydroponic setup that can really maximize nute delivery.
Throughout your grow, focus on regular CalMag feedings. OG Kush plants are big feeders in general, but they especially depend on large, continuous doses of these two important minerals. Keeping on top of plant nutrition and amending the soil with boosters like compost tea will help your plants grow dense buds and fend off disease with a strong immune system.
Watch for calcium deficiency clues, including yellowing leaves, slow growth, and leaves that curl at the "fingers" toward the light.
Grow OG Kush seeds in a warm, dry climate between 65°F and 82°F. These plants can tolerate slightly hotter and slightly colder temperatures but are happiest within the regular range of a Mediterranean climate.
Keep humidity to an arid minimum and train the canopy using SOG or SCROG methods to deliver greater lumen saturation to the leaf surface area. Doing so not only provides greater airflow to your OG Kush plants and pays dividends come harvest time.
Flowering Time:
In 8 to 9 weeks, your OG Kush plants will flower as long as everything has gone according to plan. If you're growing outdoors, expect to flush and begin harvesting in early October.
As a somewhat fast finisher, OG Kush seeds are phenomenal in the field or grow room for cultivators who are looking for a high-quality smoke with quick turnaround time.
Yield:
OG Kush buds are known for being somewhat small, dense, and resinous. This characteristic, combined with having a certain mind of its own during cultivation, makes the OG Kush cannabis strain a medium yielder during harvest.
Indoors, you can expect between 17 and 20 ounces per square meter, and roughly the same amount per plant when grown outdoors.
Height:
OG Kush seeds grow into bushy, vigorous plants of medium to tall height over time, depending on the phenotype.
Plants with a higher indica influence will remain shorter and bushier, while those leaning to the sativa side can stretch up to 78 inches tall.
Resistance to Pests and Mold:
OG Kush plants are very susceptible to powdery mildew, bud rot, and occasional gray mold issues.
The key to avoiding or lessening diseases during your OG Kush grow is increasing ventilation, closely monitoring humidity levels, and training the canopy to increase airflow around densely growing buds.
Strain Description and Properties
The Appearance of OG Kush Weed:
After mentions in countless hip-hop lyrics for nearly three decades, the looks, feel, smell, and taste of OG Kush are as well documented as red wines.
On the nose is instant, intense, and unmitigated fuel — the kind of whiff you might get when just pulling into the gas station with your windows rolled down. This isn't just any gas though, it's lemony Pine-Sol sweetness with honeysuckle undertones and earthy spice.
Crack the jar open a bit more, reach in, and feel around between the nugs. With proper curing, OG Kush buds are tender, moist, and spongy.
Take one of the nugs out into the light and watch as the opal trichomes reflect a hazy brightness across buds that look natural, wild, and utterly organic. Orange-pistil infused forest-green buds flash pale green on the underside of leaves like mugwort.
Now, drop the OG Kush nug into your grinder, and roll it up.
Dominant Cannabinoids Found in OG Kush Seeds:
OG Kush seeds are concentrated sources of THC cannabinoids, with many lab-tested specimens registering up to 30% THC.
On overage, you can expect anywhere from 17% to 27% THC depending on the phenotypes found in the originating OG Kush seeds genetics.
Dominant Terpenes Found in OG Kush Seeds:
OG Kush is famous for its incredible aroma, flavor, and effects. However, all three of these categories derive from the unique combination of three dominant terpenes found in OG Kush seeds.
Myrcene — Depending on your specific OG Kush phenotype, either myrcene or limonene will be the most heavily concentrated terpene. Myrcene is a sedating, calming, and relaxing terpene with medicinal benefits for a wide range of users.
Limonene — The sweet pine-fuel aroma and smooth, almost sour smoke of OG Kush derives from the high amounts of limonene terpenes found in OG Kush seeds. Limonene is ultra-effective at relieving stress and makes you feel giddy, happy, and positive.
Caryophyllene — On the peppery, spicy, even earthy side of the flavor spectrum is caryophyllene, a pain-killing terpene that also works at relieving muscle tension.
Effects of OG Kush Weed:
Smoking on OG Kush weed is a lot like rolling your window down on a hot summer day — it just feels damn good.
OG Kush delivers all the effects you'd expect from the hybrid that started it all. In a way, it's also whatever you want it to be. Great during the day, perfect for the evening, and relaxing at night, OG Kush is a true jack of all trades.
At the onset, an easy-creeping euphoria comes on, injecting calm into the mind and body along with a feeling of peace with the world.
After the initial onset, your eyelids droop a tad, giving way to an unavoidable smile on your face as the OG works casts a spell of good humor, reduced inhibition, and friendliness.
For some, the lack of inhibition that arises from a solid hit of OG Kush makes this strain awesome for intimacy, boosting arousal, talkativeness, and feelings of joy.
Toward the end of the high, OG will likely tire you out some, so be sure to have a soft place to chill or bed down for the night once the effects dissipate.
Medical Properties of OG Kush Seeds:
Despite its reputation as a recreational strain, OG Kush has potent medicinal properties that position it well for self-treating several ailments.
With a welcome mixture of mental and physical relief, OG Kush flowers are highly effective at relieving stress, along with conditions deriving from stress.
Stress
Depression
Anxiety
Insomnia
Lack of appetite
Body aches & pain
OG Kush is recommended for medicinal users seeking a relaxant with long-lasting psychotropic effects and pain-relieving efficacy.
Negative Effects of OG Kush Weed:
As a general rule, drink two glasses of water for every hit of OG Kush weed — seriously. This flower will make you feel parched.
Apart from a walloping case of cottonmouth, other negative effects associated with smoking OG Kush weed are dry eyes and paranoia — with the latter coming on as a result of smoking too much.
Always smoke small at first, which means you should gradually increase the amount of OG Kush you're smoking according to how each progressive hit settles on your mind and body.
Pros/Cons of Growing OG Kush Seeds
Pros
World-famous flower
Perfect for the grinder
Crowd-pleasing, giddy effects
Amazing Pine-Sol aroma
Easy on the lungs
Unique terpene profile
Cons
Hard to find OG Kush seeds for sale in the USA
Tricky to grow for novice cultivators
Requires lots of nutrients
Watch: OG Kush Strain Harvest Day
The Best OG Kush Feminized Seeds in 2023:
• 19-22% THC
• Harvest: 10-12 Weeks
• Yield: 400-500g/㎡
• Shipping Worldwide
• Including Free Seeds
• Credit Cards & Bitcoin Accepted
Prices
• £5.5 Per Seed
• Bulk orders get discounted rate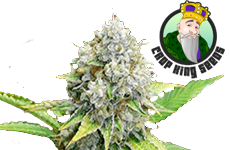 • 16-21% THC
• Harvest: 9-10 Weeks
• Yield: 400g/㎡
• Shipping Worldwide
• Germination Guarantee
• Credit Cards & Bitcoin Accepted
Prices
• 5 Seeds – $65
• 10 Seeds – $120
• 25 Seeds – $240
---
Main Category Page:
Cannabis Strain Index
– A curated index of the world's best cannabis seed strains. Each review contains vital information, such as cultivation tips, strain profiles, and where to buy the best cannabis seeds.