Peanut Butter Breath Seeds
The ultimate strain review of Peanut Butter Breath includes growing information, characteristics, and where to buy real Peanut Butter Breath seeds online.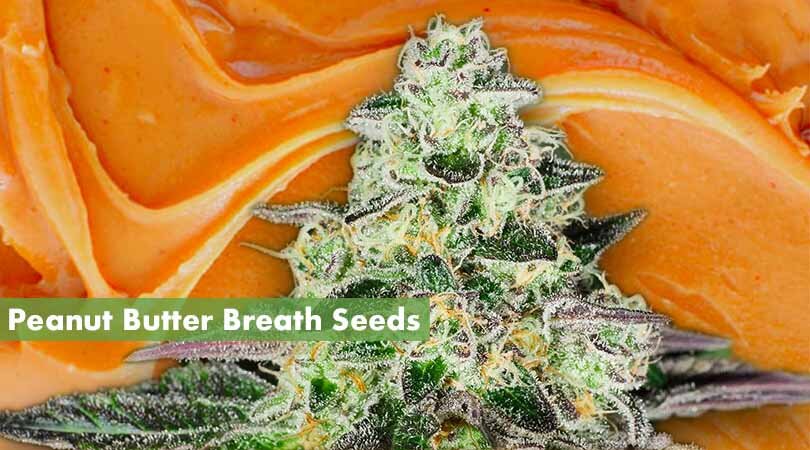 Whether it's breakfast, lunch, or dinner — Peanut Butter Breath is the ultimate weed strain that's ready to satisfy your every need for hours on end.
From unbelievable terps to a body-rocking high, the Peanut Butter Breath strain is an absolute showstopper. If you're ready to learn how to grow Peanut Butter Breath seeds and all of their delicious traits — continue reading below!

Peanut Butter Breath Seeds – Strain ID:
Type: Hybrid
Cannabinoids: 20% THC, 1% CBG
Terpenes: Caryophyllene, Limonene, Linalool
Effects: Uplifting, Couch-Lock, Relaxed
Landrace Strain: Do-Si-Dos x Mendo Breath
Grow Difficulty: Moderate
Harvest: 8-10 Weeks / 10+ Weeks
Yield: >300g/㎡ / Up to 350g/plant
Height: Up to 4-5 feet / 5+ feet
(*Indoor / Outdoor)
The Best Peanut Butter Breath Feminized Seeds in 2023:
---
About Peanut Breath Seeds
The History of the Peanut Butter Strain
The Peanut Breath strain entered this world through the hard work of ThugPug Genetics.
ThugPug hit this cross out of the park thanks to their genius idea of using Do-Si-Dos and Studly Spewright's Mendo Breath F2. The result was a terpene-forward and heavy-hitting hybrid that offers ample layers of sativa and indica genetics.
Most notably, the flavor of the Peanut Breath strain tastes exactly like lightly roasted peanuts — go figure!
Once released to the world, the Peanut Breath strain quickly gained acclaim by taking home 1st place at the 2019 Karma Cup. Since then, Peanut Butter Breath has won two other awards, most notably a 3rd place at the 2018 Emerald Cup.
Peanut Butter Breath goes by multiple names, such as Peanut Butter and Peanut Breath. Many strains tried to re-create the legendary Peanut Butter Breath, so make sure you're buying the right seeds!
Overall, original Peanut Butter Breath seeds are nearly impossible to find. Luckily, Peanut Butter Breath was released in feminized form — making it accessible to growers worldwide.
How to Grow Peanut Butter Breath Seeds
Next, let's talk about growing the Peanut Butter strain.
From optimal growing conditions to overall yield, you'll soon learn all of Peanut Butter Breath's intriguing traits. By understanding PBB's likes and dislikes — you'll pull a massive yield come harvest time.
Grow Difficulty
The Peanut Breath strain is a moderately challenging strain to cultivate.
Given PBB's unique genetic makeup, it shouldn't come as a surprise that it's temperamental. In other words, you'll need to give Peanut Butter Breath an extra dose of TLC during the cycle.
After growing Peanut Butter Breath plants multiple times, we've found a few aspects regarding its growth traits that are important to know before cultivating:
Leaves typically curl inward even when healthy (this makes beginners nervous)
Provides a larger yield when trained correctly
Requires a medium-level of nutrients (do not overfeed)
Does best with support
As you can see, a few variables make Peanut Breath seeds moderately challenging to cultivate. However, providing a balanced diet and focusing on proper training techniques will ensure a top-heavy harvest that's drenched in potent resin.
Optimal Growing Conditions and Climate
The Peanut Breath strain deeply enjoys a Mediterranean climate.
Overall, growers who cultivate PBB should always maintain a stable environment. Specifically, it's best to maintain the humidity around 50-60% during flowering.
With buds this dense, you don't want to risk your entire Peanut Butter Breath crop to mold or mildew. Therefore, make sure your indoor grow room is equipped with a well-tuned environmental controller.
Below, we've listed a few tips to help you pull off a massive harvest of sticky Peanut Butter Breath buds:
Provide abundant light (HPS or LED grow light system)
Maintain relative humidity between 40-60%
Maintain temperature between 78-85F
Never overwater
Provide medium-strength nutrients (unless you're experienced)
Next, here's a list of tips when growing Peanut Butter Breath seeds outdoors:
Plant PBB in an area with ample sunlight
Protect PBB from the wind
Ensure the temperature ranges from 68-85F
Humidity should not exceed 60%
Overall, every grower's outdoor or indoor climate varies. Therefore, it's your duty to keep your environment as close to these numbers as possible.
Remember, the Peanut Butter Breath strain is slightly picky, so you'll need to pamper it to ensure it provides you with its deliciously potent buds come harvest time.
Flowering time
The Peanut Butter Breath strain is known to flower within 8-10-weeks.
As you can see, there is a large gap that can be attributed to the wide variety of phenotypes found in this strain. Therefore, you need to be prepared to flower Peanut Butter Breath plants all the way up to 10-weeks (or more!).
In any case, indoor growers can generally expect to harvest around the 9-10-week mark. By observing the trichomes, you'll be able to determine when it's time to begin harvesting your buds.
If you grow Peanut Butter plants outdoors, you'll likely begin harvesting by the middle of October. Always make sure that your local climate can handle Peanut Butter plants into the middle of October without the threat of frost.
Yield
The yield of the Peanut Butter strain is relatively average.
However, growers don't mind an average haul when the buds are this top-shelf. Once again, Peanut Butter weed is the epitome of high-end cannabis, and the idea of quality over quantity rings loud and clear.
Overall, indoor cultivators can expect their Peanut Breath crop to produce upwards of 300-grams per meter squared. Peanut Butter plants may yield up to 350-grams per plant when grown outdoors.
Ultimately, the yield of Peanut Butter Breath is a blessing in disguise because you'll feel hard-pressed to break up such perfect-looking buds.
Height
The Peanut Butter strain's growth trait is reminiscent of landrace sativas.
Overall, Peanut Butter plants grow to a medium to large height. Furthermore, the growth structure of the Peanut Butter Breath strain is rather leggy, which requires support poles to prevent it from toppling over once buds form.
Therefore, indoor cultivators must:
Reduce vegetative time to 1-3-weeks
Use the topping method to create bushier (as opposed to vertical) growth
Harness the LST method to pull side branches down to create an open canopy
If you grow Peanut Butter seeds outdoor, you must:
Allow ample space between plants
Ensure plants are attached to support poles
Utilize training methods to reduce canopy height
As you can see, the general height of the Peanut Butter strain makes cultivation slightly challenging for indoor growers. However, a few training methods, such as topping or LST, prove fruitful when growing Peanut Butter plants.
Resistance to Pests and Diseases
The Peanut Breath strain is moderately resistant to commons pests and diseases.
Therefore, you cannot let your guard down during the vegetative or flowering process. The best way to prevent pests and diseases is by following an insect pest management protocol.
Below, we've provided a basic outline of an IPM program that will help you protect your Peanut Butter Breath plants with relative ease. Furthermore, this IPM program does not rely on chemicals or unethical practices.
Apply organic pesticides 1-3 times prior to flowering
Trim undergrowth to improve air circulation
Space plants accordingly
Ensure climate (temperature and humidity) are at ideal levels
Provide adequate nutrition and water applications
Ultimately, this IPM program is here to serve as a deterrent. The worst thing a cannabis cultivator can do is wait until problems arise in the garden.
Since the Peanut Butter strain does not contain high disease and pest resistance, you must make the extra effort to safeguard your future crop. The last thing you want to see is your strenuous efforts lost to a few hungry mites in the middle of the flowering phase!
Peanut Butter Strain Description and Properties
Peanut Butter Breath's Bag Appeal
The bag appeal of Peanut Butter Breath weed is second to none.
Although there are many high-quality strains out there, few compare to Peanut Butter Breath's outrageous trichome coverage and density.
Peanut Breath's flowers are lime green and absolutely creamy. Additionally, the faint orange trichomes blend beautifully into each calyx, creating a delicate masterpiece that any cannabis connoisseur can enjoy.
Ultimately, you'll be floored by the sheer juiciness of the Peanut Butter Breath strain. Each flower is a magnum opus in its own right, and you'll feel guilty once you break into these gorgeous buds.
Peanut Butter Breath's Cannabinoid Content
Peanut Butter Breath weed is jam-packed with 20% THC and 1% CBG.
At 20% THC, it's safe to say that Peanut Butter weed isn't for the faint of heart. Instead, one toke too many will land you on your couch for hours on end.
Furthermore, Peanut Butter Breath weed typically contains up to 1% CBG. CBG is a minor cannabinoid that's known to assist with a wide variety of medical conditions.
Peanut Butter Breath's Terpene Concentration
The main event of the Peanut Butter Breath strain is its terpene content.
The initial aroma of Peanut Butter weed is loaded with musky sandalwood, sweet nectar, and floral spice. However, nothing will prepare you for the flavors once you indulge in the legendary Peanut Butter Breath strain.
The flavor of Peanut Butter Breath is literally reminiscent of lightly roasted peanut butter. To make things even more awesome — you'll get a mouthful of dank sweetness that rounds out the overall flavor profile.
The three primary terpenes found in Peanut Butter Breath are:
Limonene
Caryophyllene
Linalool
Peanut Butter Breath's Recreational Effects
As you indulge in the delicious flavors of Peanut Butter Breath weed — you'll immediately feel a tingly sensation ripple across your body.
From a surge of energy to utter mental clarity, Peanut Butter weed is initially the perfect pick-me-up. However, as time passes, Peanut Butter Breath sends relaxing vibes throughout the mind and body that are impossible to resist.
Furthermore, Peanut Butter Breath is ideal for nearly any time of the day or night. Thanks to its hybrid nature, you'll find that every moment is the perfect time to indulge in Peanut Butter Breath.
If you're looking for an uplifting hybrid that produces one of the most enjoyable couch-lock effects — look no further than buying Peanut Breath seeds.
Ultimately, Peanut Butter Breath is potent and long-lasting. A single puff is more than enough to keep you stoned to the bone for hours on end.
Peanut Butter Breath's Medical Potential
Although the name doesn't imply it — Peanut Butter Breath is a top medical marijuana contender.
Considering its profoundly calming nature, Peanut Butter Breath is a go-to strain for medical marijuana patients across the United States, Canada, Australia, and Europe. However, Peanut Butter weed isn't easy to find in nearby dispensaries and it always has a sky-high price.
If you want to treat your mind and body to a dose of pure bliss — you'll need to buy Peanut Butter Breath seeds the moment you see them for sale.
Below, we've provided a list of medical issues that Peanut Butter weed is known to assist:
Depression
Fatigue
Anxiety
Social or mental disorders
Pain
Insomnia
Adverse Effects of Peanut Butter Breath Weed
The name Peanut Butter Breath sounds friendly enough; however, too much of it can lead to adverse effects.
Here's a list of adverse effects that commonly occur when overindulging in Peanut Butter Breath weed:
Anxiety
Blackout
Cottonmouth
Munchies
Although cottonmouth and munchies aren't things to get worried about, anxiety and blackouts are. Therefore, you must consume Peanut Butter weed responsibly to avoid any instance of panic attacks or passing out.
The best way to prevent any negative effects from occurring is to always consume small amounts of Peanut Butter weed at a time. As you increase your THC tolerance — you can consume more of the delicious Peanut Butter bud without worrying about adverse effects.
The Benefits of Growing Peanut Breath Seeds
Pros
Top-tier bag appeal
Extreme resin content
Mouth-watering terpene profile
High THC concentration
Medical-grade
Available in feminized form
Balanced hybrid
Cons
Moderately challenging to grow
Seeds sell out fast
average to long flowering time
medium to tall height
Watch: Peanut Butter Breath Strain Organic Grow
The Best Peanut Butter Breath Feminized Seeds in 2023:
---
Main Category Page:
Cannabis Seed Index
– A curated index of the world's best cannabis seed strains. Each review contains vital information, such as cultivation tips, strain profiles, and where to buy the best cannabis seeds.