Pennywise Seeds
The ultimate review of the medical-grade Pennywise strain. Discover Pennywise's growth habits, CBD potential, and where to buy feminized Pennywise seeds online.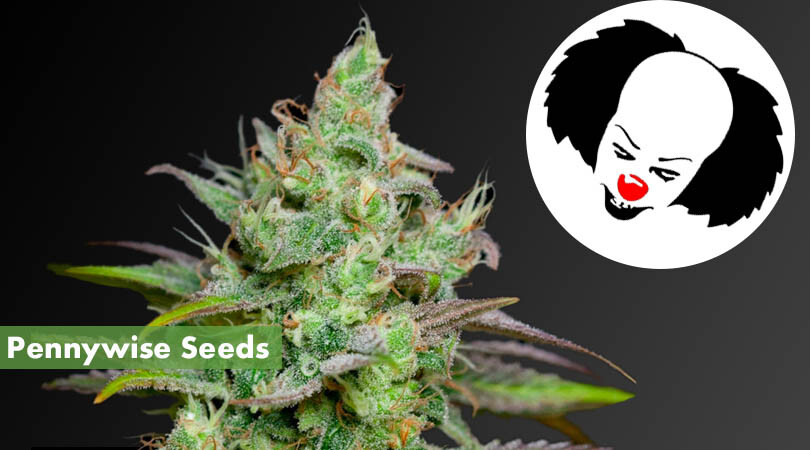 In this day and age — personal wellness is the key to happiness.
With so much worldwide stress, it's clear that medical marijuana patients aren't the only individuals that can benefit from high-CBD marijuana strains. If you're ready to grow weed that contains THC and CBD, it's time to learn about one of our favorite medical-grade strains.
Meet Pennywise — an indica-dominant hybrid that contains a 1:1 ratio of THC and CBD. Don't worry; the Pennywise strain doesn't have anything to do with Stephen King's It.
Read along as we detail the Pennywise strain, such as growing tips, growth traits, effects, and, ultimately, where to find feminized Pennywise seeds for sale online.

Pennywise Seeds – Strain ID:
Type: Indica-Dominant Hybrid
Cannabinoids: 15% THC, 15% CBD
Terpenes: Caryophyllene, Limonene, Linalool
Effects: Bliss, Social, Sleepy
Landrace Strain: Jack the Ripper x Harlequin
Grow Difficulty: Easy
Harvest: 9 Weeks / 9-10 Weeks
Yield: Up to 450g/㎡ / >800g/plant
Height: Up to 3-4 feet / 4+ feet
(*Indoor / Outdoor)
The Best Pennywise Feminized Seeds in 2023:
---
About Pennywise Seeds
The History of the Pennywise Strain
The history of the Pennywise strain began with the legendary cannabis breeder Subcool.
Subcool is one of the most remarkable breeders in the cannabis industry and is credited with creating Jack the Ripper and many other notable strains. In the case of Pennywise, Subcool's goal was to create a high-CBD strain with equal parts THC.
Subcool crossed Jack the Ripper and Harlequin together to create the first batch of Pennywise seeds. After testing hundreds (if not thousands) of plants, Subcool found that 70% of the plants contained over 10% CBD and THC.
Soon, Subcool perfected the Pennywise strain and achieved 15% THC and CBD levels. Since its release, recreational enthusiasts and medical marijuana patients have enjoyed the Pennywise strain's relaxing effects and mouth-watering terpene profile.
Luckily, cultivators can easily find feminized Pennywise seeds online. Remember, Pennywise may be found under various names, such as Purple Pennywise and Crazy Clown.
If you find Crazy Clown seeds online — make sure they contain the same genetic lineage as Pennywise before making a purchase!
How to Grow Pennywise Seeds
The Pennywise strain provides some of the most blissful weed on the planet.
If you want to stack your jars full of this therapeutic strain, you'll need to understand how Pennywise grows. From plant height to pest and disease resistance, you're about to discover all of Pennywise's growth traits.
Grow Difficulty
The Pennywise strain is easy to grow and highly recommended for beginners.
Overall, Pennywise plants are extremely forgiving of rookie mistakes. Thus, beginners and professionals can benefit from growing Pennywise seeds indoors or outdoors.
However, a few aspects to note that may trip up new cannabis growers. Below, we'll list a few points to focus on and keep in mind while growing the Pennywise strain.
Do not overfeed Pennywise plants
Only top once to manage height and limit stretch
Ensure humidity levels don't go too high
Always allow adequate space between plants
As long as you keep these tips in mind, your Pennywise garden will go off without a hitch!
Optimal Growing Conditions and Climate
The Pennywise strain enjoys moderate conditions, such as a Mediterranean climate.
When grown outdoors, Pennywise requires a lot of sunshine and space. Most importantly, Pennywise plants dislike cold nighttime temperatures — especially if frost occurs.
Therefore, only grow Pennywise seeds outdoors if you are sure your climate doesn't experience freezing temperatures by mid-October.
If you grow Pennywise seeds indoors, you'll need to follow these parameters to maximize your overall yield:
68-84F
35-65% RH
Complete HVAC system synced to a climate controller
Adequate plant spacing
Air circulation
Pennywise weed is renowned for its purple-hued flowers, which is made possible by cool nighttime temperatures during the end of the flowering phase. Overall, maintaining optimal growing conditions is essential for top-shelf buds.
Flowering time
The Pennywise strain flowers within 9-10-weeks.
Although Pennywise is indica-dominant, it flowers like a sativa-dominant hybrid. In any case, cultivators must be ready to commit to a full 10-weeks of flowering.
When grown indoors, Pennywise typically finishes within the 9-week range. Outdoors, the Pennywise strain will finish within the first two weeks of October.
Cultivators should always use a magnifying glass (loupe) to check for peak trichome ripeness to determine the optimal harvest time.
Yield
The yield of the Pennywise strain is considered average to high.
However, skilled cultivators can push Pennywise plants and squeeze additional yield. When grown indoors, Pennywise can produce up to 450-grams per meter squared.
Outdoors, Pennywise outperforms most strains by producing upwards of 800-grams per plant. As you can see, outdoor cultivators will be rewarded with a bountiful yield of CBD-rich buds.
Height
The height of Pennywise is rated medium to tall.
When grown indoors, cultivators are recommended to top Pennywise plants once. By doing so, growth will occur laterally and limit the final height.
Additionally, cultivators can harness a series of training techniques, such as:
FIM
LST
ScrOG
Reduce vegetative time
Outdoors, Pennywise plants can grow to a relatively tall height. Depending on your needs, you may train outdoor Pennywise plants or let them grow to their natural height.
Resistance to Pests and Diseases
The Pennywise strain is surprisingly resistant to every grower's worst nightmare: powdery mildew.
However, you should never leave your cannabis garden up to chance. Furthermore, Pennywise isn't resistant to dangerous pests, such as spider mites and thrips.
Below, we'll discuss the best methods to prevent a serious outbreak of pests and diseases in your Pennywise garden.
Apply organic pesticides 1-3 times prior to flowering
Trim undergrowth to improve air circulation
Space plants accordingly
Ensure climate (temperature and humidity) are at ideal levels
Provide adequate nutrition and water applications
Pennywise Strain Description and Properties
Pennywise's Bag Appeal
The Pennywise strain produces long, finger-like buds caked in frost.
The buds are decked in foxtail calyxes and electric-orange pistils. The color ranges from dark green to light purple, adding to its overall bag appeal.
One glance at Pennywise weed, and you'll you're in for a relaxing treat!
Pennywise's Cannabinoid Content
Pennywise weed contains two primary cannabinoids — THC and CBD.
Overall, lab results show that Pennywise generally produces 15% CBD and 15% THC. If you're wondering — Pennywise is a rare strain that contains a high level of THC and CBD.
In this case, Pennywise is the perfect strain that bridges the gap between recreational weed and medical marijuana. Furthermore, 15% THC is potent enough to elicit strong psychoactive effects without feeling overwhelming.
Pennywise's Terpene Concentration
The terpene profile of Pennywise is surprisingly complex and loaded with mouth-watering features.
The aroma of Pennywise weed is a mixture of roasted coffee, black pepper, sweet lemon, and bubblegum. Ultimately, Pennywise weed is incredibly alluring, making it easy to overindulge.
The flavor of Pennywise is a prime example of tastebud-bending weed. The taste is composed of lemon bubblegum, freshly ground coffee, and hashish.
Pennywise's Recreational Effects
The effects of Pennywise weed are completely unique for recreational cannabis consumers.
Unlike THC-specific weed, Pennywise offers much more for those who desire both psychoactive and medical potential. Although we'll discuss the medical aspects below, we'll focus on the recreational effects in this section.
A nearly instant euphoric sensation cuts across the mind as you consume Pennywise weed. Within moments, any feelings of stress are wiped clean and replaced with a sense of utmost happiness.
As blissful sensations increase, so do the relaxing effects throughout the body. The body effects are intriguing because they produce a numbing sensation.
In other words, Pennywise makes the body feel light and nimble. Pennywise weed is perfect for an evening stroll around the neighborhood or park.
Day or night, Pennywise weed is the perfect strain for social gatherings, movie night, or any moment that you'd like to dive deep into moments of bliss.
As the effects wane, you'll gently fall back to Earth. However, you may experience a sense of drowsiness that builds into a desire for sleep.
Last but not least, Pennywise weed does not leave a hungover feeling the next day. Instead, users typically feel refreshed the day after consuming Pennywise buds.
Pennywise's Medical Potential
Pennywise is a rare strain that provides astounding medical potential while maintaining a high level of THC.
Due to its 15% CBD rating, Pennywise seeds are highly sought after by medical marijuana patients. Furthermore, cultivators enjoy its ease of growth, especially when its yield comes into play.
Therefore, medical marijuana patients in North America and Europe clamor for a chance to buy feminized Pennywise seeds. If you're lucky enough to find these seeds for sale — don't pass up the opportunity!
Remember, most CBD strains contain a maximum of 10% CBD. At 15% CBD and THC, Pennywise offers a roundhouse kick of holistic effects that are known to assist:
Anxiety
Depression
Chronic pain
Insomnia
Epilepsy
Neurological disorders
Loss of appetite
Ultimately, Pennywise is the holy grail for medical marijuana patients worldwide. If you're ready to experience rapid relief within a puff — give Pennywise weed a try!
Adverse Effects of Pennywise Weed
Remember, Pennywise weed contains THC.
If you're used to CBD-only strains, you must be ready for the psychoactive effects of THC. Aside from feeling too high, Pennywise may produce adverse effects, such as:
Anxiety
Loss of motor skills
Blackout
Cottonmouth
Red eyes
Although the likelihood of adverse effects decreases with high-CBD strains — you must be aware that these effects are possible. Beginners should always exercise caution while consuming Pennywise weed — especially if they have a low tolerance to THC.
The Benefits of Growing Pennywise Seeds
Pros
High THC and CBD content
Top-shelf bag appeal
Long-lasting medical-grade effects
Medium to large yield
Easy to grow plants
Cons
Medium to long flowering time
Medium to tall plants
Watch: Pennywise Strain Grow
The Best Pennywise Feminized Seeds in 2023:
---
Main Category Page:
Cannabis Seed Index
– A curated index of the world's best cannabis seed strains. Each review contains vital information, such as cultivation tips, strain profiles, and where to buy the best cannabis seeds.