Purple Urkle Seeds
An informative guide on everything you need to know about Purple Urkle strain, including its sedative properties, cultivation tips, and where to buy Purple Urkle seeds online.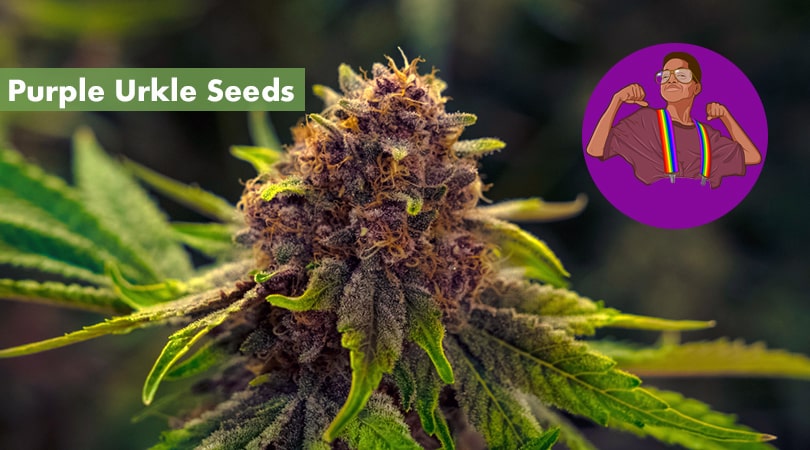 Of all of cannabis' use cases, getting a good night's rest may be the most popular one. Whether bouts of insomnia afflict you or just need to relax — indica-dominant cannabis strains are your ticket to tranquility.
One of the most stand out indica-dominant strains available is Purple Urkle. Owning up to its name, this purple-hued powerhouse is filled with potent cannabinoids that are set to put your mind and body into cruise control.
Read along to understand everything there is to know about Purple Urkle, along with information on growing Purple Urkle seeds and insight into its incredible effects.

Purple Urkle Seeds – Strain ID: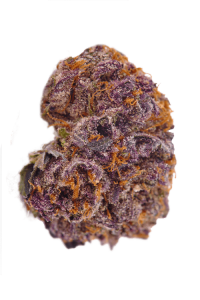 Type: Indica
Cannabinoids: 20% THC
Terpenes: Myrcene, caryophyllene, pinene
Effects: Couch-Lock, Relaxing, Sleepy
Landrace Strain: Pheno of GD Purple or Mendo Purps
Grow Difficulty: Medium
Harvest: 8 Weeks / 9-10 Weeks
Yield: 500g/㎡ / Up to 250g/plant
Height: About 6.5 feet/ >6.5-Feet
(*Indoor / Outdoor)
The Best Purple Urkle Feminized Seeds in 2022:
• 15-18% THC
• Harvest: 10-12 Weeks
• Yield: 400-500g/㎡
• Shipping Worldwide
• Including Free Seeds
• Credit Cards & Bitcoin Accepted
Prices
• £8.66 Per Seed
• Bulk orders get discounted rate
---
About Purple Urkle Seeds
Background
The Purple Urkle strain is a mysterious beauty.
The genetic history is uncertain, but it's known that Purple Urkle seeds originated in the Emerald Triangle of Northern California's Humboldt County. Humboldt County is world-renowned for its deeply rooted cannabis scene, where generations of families have cultivated marijuana for years on end.
The Purple Urkle strain is believed to have been introduced in the 1980s. Some historians think that the Purple Urkle cannabis strain is a phenotype of Granddaddy Purple. Others believe that it's a select phenotype of Mendocino Purps.
Regardless of its genetic makeup, growers in the Emerald Triangle became infatuated with Purple Urkle. Furthermore, there's no doubt that the Purple Urkle strain fueled an unprecedented demand for its ultra-potent and purple flowers among medical marijuana patients.
To this day, it's unlikely that you can find a cannabis strain as profoundly satisfying as Purple Urkle.
Growing Purple Urkle Seeds
Every once in a while — life gives you a break. In this case, acquiring Purple Urkle seeds is as-good-as-it-gets because they are always in demand. If you manage to get your hands on genuine Purple Urkle seeds, then you're set for one of the best grows of your life.
Purple Urkle seeds, just like all other cannabis seeds, require a special amount of attention to push it to the limit. Whether you decide to grow Purple Urkle seeds indoors or outdoors, there are various aspects that you must consider for a successful harvest.
Let's begin.
Grow Difficulty:
The Purple Urkle strain's grow difficulty is medium.
A medium growing difficulty means that beginners and professionals alike can grow Purple Urkle seeds. However, it also means that novices need to pay special attention while caring for their Purple Urkle plants.
In other words, The Purple Urkle strain does not grow on its own, but instead, requires finesse to make it reveal its true potential. The Purple Urkle strain will shower you with the most strikingly gorgeous flowers you've ever laid your eyes on if grown correctly.
Optimal Growing Conditions and Climate:
The Purple Urkle strain prefers a Mediterranean climate.
Although Northern California isn't known for its abundance of sunshine, the temperatures are milder throughout the year due to the ocean's regulation. Thanks to this unique environment, Purple Urkle seeds can grow in a wide variety of regions.
When you're ready to plant your Purple Urkle seeds, a little bit of planning goes a long way—germinating Purple Urkle seeds after the last frost is crucial, along with observing weather patterns in your local area.
Since Purple Urkle produces dense flowers, you should only grow it if you can ensure an environment that's low in humidity. Humidity is the primary force that produces mold and mildew, and the last thing you want is to walk into your grow room to find a disaster.
Lastly, you must know that the Purple Urkle strain is picky with food. You must pick your nutrients carefully and slowly increase feeding strength gradually. Once flowering begins, you'll want to give the Purple Urkle strain a heavy dose of phosphorus and potassium to get the flowers to beef up the flowers.
Flowering Time:
The Purple Urkle cannabis strain is unique because its flowering time varies widely when grown indoors versus outdoors.
When Purple Urkle seeds are grown indoors, you can typically expect a harvest within 8-weeks. However, growing Purple Urkle seeds outdoors may result in a flowering time of 9-10-weeks.
In general, the Purple Urkle strain requires warmth to finish flowering, which makes things complicated when flowering outdoors. Purple Urkle will finish flowering outdoors in mid-October, and in most regions, it is the beginning of cooler temperatures.
Yield:
If you're growing Purple Urkle seeds, you should know that it's all about quality and quantity. It's uncommon to find a high yielding connoisseur-grade strain, but with Purple Urkle, anything is possible.
When growing Purple Urkle seeds indoors, expect up to 500-grams of lip-smacking and nose curling buds that'll leave stars in your eyes.
If you grow Purple Urkle seeds outdoors, expect an average of 250-grams per plant.
Whether you grow your Purple Urkle seeds indoors or outdoors, the result is the same — a bounty of perfect flowers.
Height:
Purple Urkle is not a tall cannabis plant and stays true to its indica-leaning roots. The Purple Urkle strain can reach upwards of 6.5′. Remember, 6.5′ is the maximum height, and you can grow the Purple Urkle strain in small spaces as long as you use shortening techniques, such as FIM, topping, or LST.
Furthermore, you must know that Purple Urkle is a slow-growing strain. Purple Urkle's slow growth may be a blessing or a curse — depending on your garden.
Resistance to Pests and Mold:
Purple Urkle does not have significant resistance to bacteria, fungi, pests, or environmental factors. In other words, you must protect your Purple Urkle plants from everything.
If you want to prevent any pest or mold from your prized Purple Urkle plants, then you must provide adequate airflow in the grow area. You can accomplish airflow by:
• Using oscillating fans
• Removing the lowest growth (lollipop)
• Avoid overwatering
• Removing fallen leaves
• Cleaning any spills in the garden
• Wearing clean clothes in the garden
To prevent pests, it's essential that you apply organic pesticides before flowering begins. It's not recommended to apply organic (or synthetic for that matter) pesticides on flowering cannabis plants. If available, neem oil is an excellent organic pesticide that can keep your Purple Urkle pest-free.
Strain Description and Properties
The Appearance of Purple Urkle Weed:
Breathless. Shocked. Astounded.
All of these words adequately describe the emotions that occur the moment you lay your eyes on Purple Urkle weed. The vibrant purple, electric orange, and shower of trichomes is a feast for the eyes. There's just no other way to put it — Purple Urkle buds might be the best you'll ever see.
Each flower is perfectly shaped and dense. You can feel the weight as it sits in your hand. Everything about Purple Urkle weed exudes quality, and you'll become the talk of the town once your friends find out that you have real Purple Urkle weed.
The appearance of Purple Urkle alone is half the reason why Purple Urkle seeds are commonly sold out. Whether in the USA or abroad, Purple Urkle seeds are a treasure.
Dominant Cannabinoids Found in Purple Urkle Seeds:
If you're looking for sky-high THC content, then you'll find it with Purple Urkle seeds.
Purple Urkle seeds routinely test above 20% THC. Even the most seasoned veterans call Purple Urkle a one-hit-quitter, which describes it's mind-blowing potency. According to lab results, all other cannabinoids are found in negligible amounts.
Dominant Terpenes Found in Purple Urkle Seeds:
Terpene content is where Purple Urkle seeds shine.
As you break apart Purple Urkle weed, your senses will be overwhelmed by an explosion of dank berry, Malbec wine, skunk-covered candy, and even a pine-like undertone. This myriad of aroma is created by the terpenes found in Purple Urkle seeds.
The three dominant terpenes found in Purple Urkle seeds are myrcene, caryophyllene, and pinene. Because of these terpenes, you'll experience a rush of spicy, sweet, and refreshing aroma and flavors that will have you begging for more.
Effects of Purple Urkle:
The effects of Purple Urkle are second-to-none.
The moment you exhale the thick and flavorful smoke, everything will slow down. Suddenly, you can't remember your worries. If you had any semblance of pain — it's gone. What you do know is that you are stoned-to-the-bone.
The body-numbing and couch-locking effects of Purple Urkle are long-lasting, and you will feel the primary effects of 1-4-hours.
The initial effects are unadulterated bliss and relaxation. After the initial onset, many users claim that Purple Urkle weed makes them feel incredibly sleepy. Once you close your eyes, you're in for one of the best nights of sleep.
Medical Properties of Purple Urkle Seeds:
Purple Urkle seeds contain a plethora of medicinal benefits. Thanks to the high-THC and terpene concentration, medicinal users benefit from using Purple Urkle weed.
THC, along with terpenes, plays a crucial role in stimulating the endocannabinoid system. It's because of the cascade of effects that Purple Urkle seeds are world-renowned among medical marijuana users.
Here's a list of the medical issues that Purple Urkle helps to nip-in-the-bud.
• Depression
• Anxiety
• Loss of Appetite
• Insomnia
• Chronic Pain
• Inflammation
• Seizures
• And more
Negative Effects of Purple Urkle:
The adverse effects of Purple Urkle are that you might fall asleep after the second hit. Aside from its astounding potency, Purple Urkle may leave your eyes red and mouth dry.
Pros/Cons of Growing Purple Urkle Seeds
Pros
Connoisseur-grade quality
Incredible flavor and aroma
Powerful medical qualities
Long-lasting effect
Large Yield
Small to medium-sized plant
Ideal for extract artists
Cons
Moderate grow difficulty
May be too intense for novices
Watch: Purple Urkle Home Grow
The Best Purple Urkle Feminized Seeds in 2022:
• 15-18% THC
• Harvest: 10-12 Weeks
• Yield: 400-500g/㎡
• Shipping Worldwide
• Including Free Seeds
• Credit Cards & Bitcoin Accepted
Prices
• £8.66 Per Seed
• Bulk orders get discounted rate
---
Main Category Page:
Cannabis Strain Seed Index
– A curated index of the world's best cannabis seed strains. Each review contains vital information, such as cultivation tips, strain profiles, and where to buy the best cannabis seeds.