Raskal OG Seeds
An in-depth review of the Raskal OG strain. Discover what makes Raskal OG one of the most sought after strains, along with growing information and where to buy Raskal OG seeds.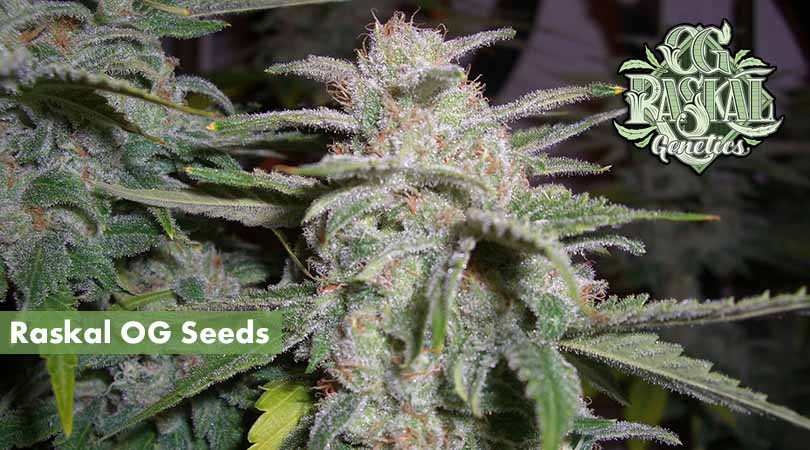 There's nothing wrong with being a cannabis snob.
With thousands of strains available, only a handful of genetics hit the bull's eye in terms of potency, bag appeal, and terpenes. If you've been searching for the creme-dela-creme of cannabis strains — it's time to hunker down and read this review.
Meet Raskal OG — the strain named after the legendary West Coast cannabis breeder. Raskal OG is one of those strains that will make you feel guilty for breaking apart its picture-perfect buds — it's that good.
If you're ready to make it rain trichomes in the garden with Raskal OG, remember, when it rains — it pours!

Raskal OG Seeds – Strain ID:
Type: Sativa-Dominant Hybrid
Cannabinoids: 17-22% THC
Terpenes: Limonene, Caryophyllene, Myrcene
Effects: Euphoria, Energetic, Uplifting
Landrace Strain: SFV OG Kush x OG Kush (Fire Cut)
Grow Difficulty: Moderate
Harvest: 8-9 Weeks / 10 Weeks
Yield: >550g/㎡ / Up to 600g/plant
Height: Up to 6 feet/ >6 feet
(*Indoor / Outdoor)
---
About Raskal OG Seeds
Background
The Cali Connection bred Raskal OG. Before we describe the origin of Raskal OG, you must understand the history of OG Raskal.
If there's one name in the cannabis industry that'll make you think of the dankest buds — it's OG Raskal.
OG Raskal reshaped the cannabis industry with pure fire, such as WiFi OG and Fire Alien Kush. From the West Coast and beyond, cannabis breeders aspire to produce hard-hitting genetics like OG Raskal.
OG Raskal's cuts are some of the most tight-kept genetics in the industry. Furthermore, OG Raskal abides by old-school rules, where respect outweighs the money. Luckily, the breeders at The Cali Connection knew OG Raskal, which is where the story begins.
One of the most famous OG Kush cuts is held by OG Raskal — the Fire Cut. It's this gem of an OG that OG Raskal gifted to The Cali Connection.
The Cali Connection used their SFV OG Kush male and OG Raskal's OG Kush (Fire Cut) to create Raskal OG seeds.
The result of Raskal OG seeds is an obvious homage to heavy-hitting sativa-dominant OGs. From its pure lemon flavor to lung-expanding qualities, Raskal OG is one of the most genuine OGs money can buy.
Ever since the release of Raskal OG seeds, cannabis enthusiasts worldwide scramble at the chance to buy Raskal OG seeds.
Growing Raskal OG Seeds
If you found a pack of Raskal OG seeds for sale — consider yourself lucky.
The Cali Connection has yet to do another run of Raskal OG seeds, which means there's a finite supply. Before you germinate your prized Raskal OG seeds, you must understand a few characteristics of the Raskal OG strain.
First, Raskal OG, like all OGs, requires a concentrated dose of nutrients during the vegetative and flowering cycle. Furthermore, Raskal OG prefers a lot of space to grow.
As long as you understand these two traits, you will be prepared to grow the impeccable buds that Raskal OG is known for.
Grow Difficulty:
Raskal OG is a moderately tricky strain to grow.
Overall, Raskal OG is best suited for professionals that understand the needs of pure-bred OG Kush varieties. However, beginners can grow Raskal OG as long as they have patience and are willing to learn.
By reading this strain review, you will produce a massive harvest of Raskal OG buds in no time.
Optimal Growing Conditions and Climate:
Raskal OG was born and bred in sunny California. Overall, Raskal OG plants prefer a Mediterranean climate that boasts long summer days and mild autumn conditions.
The optimal temperature range for Raskal OG is between 72-84°F. Furthermore, Raskal OG's flowers are dense and require a humidity level of 40-45%.
Raskal OG excels in both indoor and outdoor conditions. Regardless of where you grow Raskal OG seeds — you must give each plant enough space to grow.
Flowering Time:
Raskal OG flowers in as little as 8-9-weeks.
If you grow Raskal OG seeds indoors, you'll likely harvest an armful of top-shelf buds in 8-weeks — or less. Outdoors, cultivators can expect to harvest Raskal OG by mid-September.
Yield:
The yield of Raskal OG is what you can expect from connoisseur-grade genetics.
Indoors, Raskal OG can yield upwards of 550-grams per meter squared. Outdoors, Raskal OG seeds can eventually produce 600-grams per plant.
Height:
Raskal OG's height is where many growers have difficulty.
When cultivators hear "OG" or "Kush" — they immediately think it's an indica. However, Raskal OG is pure to its OG roots, which means it's sativa-dominant.
Overall, Raskal OG can reach upwards of 200cm, surprising even the most seasoned cultivators. If you grow Raskal OG seeds indoors, you must implement the ScrOG method. If you decide to grow Raskal OG seeds outdoors, allow your crop to reach for the sky.
Resistance to Pests and Mold:
Raskal OG is moderately resistant to pests, diseases, and mold.
Due to Raskal OG's ultra-dense flowers, you must avoid high humidity at all costs. If you don't, your efforts will be in vain, and your entire canopy of Raskal OG buds will be covered in mold.
Many growers fail to understand the importance of air exchange and air circulation. You must space your Raskal OG plants adequately and harness the help of oscillating fans or dehumidifiers.
As long as you keep the environment conditions at an optimal level, your Raskal OG crop will reward you with trichome-laden gifts.
Strain Description and Properties
The Appearance of Raskal OG Weed:
Raskal OG doesn't mess around.
From the moment you gaze at Raskal OG weed, you'll immediately understand that you're playing with fire. Raskal OG flowers are decked out in a thick layer of frost as if it just weathered a record-breaking blizzard.
Raskal OG weed is classic-OG in appearance — dense buds, medium-sized nugs, and slightly fox tailed calyxes. Raskal OG's buds are deep green and present a multitude of flame-orange pistils at every opportunity.
Overall, Raskal OG is premium-quality cannabis that you need to see to believe.
Dominant Cannabinoids Found in Raskal OG Seeds:
Raskal OG weed is dominant in THC.
Lab results show that Raskal OG contains between 17-22% THC. The overall THC concentration depends on the phenotype of Raskal OG seeds. Overall, 17-22% THC is a medium-level of THC; however, the effects will make you think the THC concentration is much higher.
Dominant Terpenes Found in Raskal OG Seeds:
One of Raskal OG's top qualities is its terpene profile.
With SFV OG Kush and OG Kush as its parents, it's no wonder why Raskal OG is renowned for its lemon-fuel-pine aroma that wow's the senses. Furthermore, Raskal OG's flavor is characterized by a Lemon Pledge-Pine Sol taste that will leave you begging for more.
The dominant terpenes in Raskal OG seeds are:
Limonene – The limonene content in Raskal OG is responsible for the pure Pine Sol aroma and flavor in Raskal OG flowers.
Caryophyllene – The caryophyllene in Raskal OG seeds produces an unmistakable flavor and aroma of spicy hashish.
Myrcene – The myrcene in Raskal OG seeds provides a subtly-sweet and savory flavor of pine and rosemary.
Effects of Raskal OG Weed:
As you inhale the velvet-like smoke of Raskal OG weed, your lungs will quickly expand. As the THC diffuses into your capillaries, an immediate euphoric sensation will take root in your mind.
As your mood soars into the sky, a whirlwind of energy will thrust your motivation into high gear. Once the energetic effects of Raskal OG wear off, the indica-side of this OG masterpiece takes effect.
The comedown of Raskal OG weed is characterized by an urge to kick back and relax. Overall, Raskal OG is classified as the perfect daytime strain; however, it can be used in the evening when your energy levels are low.
The fun and energetic effects of Raskal OG are some of the primary reasons why its seeds continuously sell out.
Medical Properties of Raskal OG Seeds:
Raskal OG, like all other OGs, is a perfect medical marijuana candidate.
Medical marijuana patients worldwide seek Raskal OG seeds to stock their medicine cabinet with effective herbs. If you're a medical marijuana patient in need of sativa-leaning therapy, look no further than Raskal OG seeds.
Here's a list of medical issues that Raskal OG can assist:
Depression
Fatigue
Anxiety
Chronic Pain
Inflammation
PTSD
Negative Effects of Raskal OG Weed:
The primary adverse effect of Raskal OG weed is paranoia.
It's difficult not to overindulge in buds this nice, but you may experience a sudden feeling of fear if you do. If you are diagnosed with anxiety, you must begin slowly with Raskal OG. Although Raskal OG is ideal for warding off anxious thoughts, too much can bring fearful sensations on.
Aside from paranoia, Raskal OG may produce red eyes and a dry mouth.
Pros/Cons of Growing Raskal OG Seeds
Pros
Legendary Genetics
Substantial Yield
Rapid Flowering Time
Incredible Bag Appeal
Potent
Cons
Moderately Difficult To Grow
Challenging To Find Raskal OG Seeds
Watch: Raskal OG Strain Overview
---
Main Category Page:
Cannabis Strain Index
– A curated index of the world's best cannabis seed strains. Each review contains vital information, such as cultivation tips, strain profiles, and where to buy the best cannabis seeds.