Somango Seeds
An all-in-one review of the legendary Somango strain. Discover Somango's tropical flavor, body-numbing effects, grow tips, and, ultimately, where to buy Somango seeds online.
Whether you need a change in perspective or you've been craving a smoke that's loaded with tropical sweetness — the Somango strain fits the bill.
Somango is a legendary indica-dominant strain that's coveted for its top-shelf buds, mind-blowing effects, and mouth-watering terpene content. If you consider yourself a cannabis cultivator — you need Somango in your garden by all means necessary.
Below, you'll discover everything you need to know about Somango, such as helpful grow tips, effects, flavors, growth traits, and where to find Somango seeds for sale online.

Somango Seeds – Strain ID: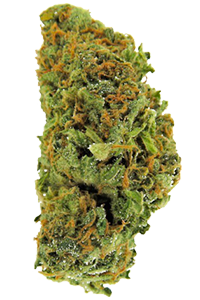 Type: Indica-Dominant Hybrid
Cannabinoids: 20-22% THC
Terpenes: Pinene, Limonene, Myrcene
Effects: Euphoria, Focus, Relaxation
Landrace Strain: Big Skunk Korean x Jack Herer
Grow Difficulty: Easy – Moderate
Harvest: 9-10 Weeks / 10+ Weeks
Yield: Up to 300g/㎡ / 400g/plant
Height: Up to 2-4 feet / 4+ feet
(*Indoor / Outdoor)
The Best Somango Feminized Seeds in 2023: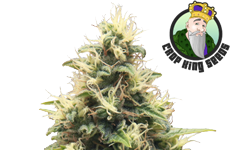 • 20% THC
• Harvest: 9-10 Weeks
• Yield: 200-300g/㎡
• Shipping Worldwide
• Germination Guarantee
• Credit Cards & Bitcoin Accepted
Prices
• 5 Seeds – $65
• 10 Seeds – $120
• 25 Seeds – $240
---
About Somango Seeds
The History of the Somango Strain
The Somango strain is the brainchild of the legendary breeder Soma.
Soma of Soma Seeds is a master breeder in the cannabis industry, and, having bred G-13 Haze, NYC Diesel, Reclining Buddha, and many more, it's safe to say that Soma knows how to create unforgettable weed strains.
Soma crossed Jack Herer with Big Skunk Korean to create a fruit-flavored indica-dominant hybrid. After initial testing, Soma couldn't help but fuse his name with the most prominent flavor — mango.
Thus, Somango was born, and history was made. However, Somango was commonly known as Soma #5 — given it was this specific phenotype that made the cut.
Whether you call it the Somango or Soma #5 strain — you'll be handsomely rewarded with top-shelf buds once you introduce this beauty into your garden.
How to Grow Somango Seeds
Whether you have Soma #5 seeds or not — it's a good idea to learn what this indica-dominant strain likes and doesn't like.
By learning how to grow Somango seeds, you'll be ready for anything that these plants have to throw at you. From flowering time to height, you're about to discover all of Somango's growth traits below.
Grow Difficulty
The Somango strain is relatively easy to grow.
Cultivators can rest assured that Soma #5 is stable, considering Soma's breeding skills. Therefore, hermies are not something to worry about unless you stress your plants to a high degree.
From standard nutrient doses to regular irrigation intervals, your Somango crop will thrive. However, there are a few considerations to remember, which we've listed below.
Somango plants grow tall
Somango's branches may become unruly when untrained
10-weeks flowering time is an above-average flowering time
Optimal Growing Conditions and Climate
The Somango strain prefers easy-going conditions — such as a Mediterranean climate.
However, outdoor growers can get away with various conditions, such as continental climates. Ultimately, outdoor growers must strive to provide sunny and dry conditions to ensure a healthy Soma #5 harvest.
Indoors, cultivators can fine-tune the environment to produce peak bag appeal and yield. Below, we'll list the optimal conditions for the Somango strain.
64-84F
40-60% RH
Bright light (LED or HID)
Adequate space
Constant air circulation
HVAC attached to an environmental controller
Last but not least, if you want purple/pink-tinged flowers — you'll want to drop nighttime temperatures to the low 60s.
Flowering time
The Soma #5 strain flowers within 9-10-weeks on average.
Therefore, Somango isn't a fast flowering strain even though it's indica-dominant. However, you'll be rewarded for your patience once the flowering period ends.
Outdoors, Somango flowers will likely ripen by the middle of October. Therefore, you must ensure your environment does not experience frost at night.
Indoors, the Somango strain will likely finish by the 9th week. However, always consult your loupe to ensure trichome ripeness.
Yield
The yield of the Somango strain is relatively average.
However, the terpene profile and effects are more than enough to make up for Somango's moderate yield.
Indoors, Somango seeds can produce up to 300-grams per meter squared. Outdoors, cultivators can squeeze nearly 400-grams of weed from each Somango plant.
Height
The height of Somango is surprising given its indica-dominant genetics.
In any case, be prepared for tall plants once you sprout Somango. Due to its height, we recommend cultivators implement various training techniques, such as:
Additionally, indoor growers shouldn't allow their Somango crop to exceed three weeks of vegetative growth. Lastly, Somango may double in size when pre-flowering begins, which you must remember when growing indoors.
Resistance to Pests and Diseases
The Somango strain offers moderate resistance to common pests and diseases.
Therefore, you need to do everything in your power to prevent dangerous outbreaks of mold and spider mites in your garden. From thrips to aphids, Somango is considered lunch by many insects, making it a prime target during the summer months.
Below, we've listed a series of preventative tips to keep your marijuana garden healthy all year long:
Apply organic pesticides 1-3 times prior to flowering
Trim undergrowth to improve air circulation
Space plants accordingly
Ensure climate (temperature and humidity) are at ideal levels
Provide adequate nutrition and water applications
Somango Strain Description and Properties
Somango's Bag Appeal
Soma #5's bag appeal is off the charts — especially in the resin department.
From explosive calyxes to purple and pink flowers, Somango is a showstopper. Additionally, extractors will fall head over heels once they see how much each flower bursts with resin.
Somango's Cannabinoid Content
The Somango strain generally contains 20-22% THC.
Overall, Somango's THC content is above average and coveted among beginners and professionals alike.
Somango's Terpene Concentration
The terpene profile of Somango weed is the star of the show.
Loaded with juicy mango, sweet citrus, and crisp pine, you can rest assured that Somango weed will transport your taste buds to a tropical paradise.
Overall, Somango's three primary terpenes are:
Somango's Recreational Effects
The recreational effects of Somango weed are as bright and playful as its terpene profile.
From uplifting euphoria to increased focus, the Somango strain is optimized to bring a smile to your face while relaxing every inch of your body. That's why both professional and beginner growers seek out feminized somango seeds.
Below, you'll find Somango's most common effects:
Relaxed
Sleepy
Motivated
Creative
Uplifted
Somango's Medical Potential
Soma #5 is classified as a medical marijuana strain by the MMJ community for a good reason.
Below, we've listed all of the issues that Somango weed may assist:
Chronic pain
Insomnia
Depression
Anxiety
Appetite loss
Day or night, medical marijuana patients reach for Somango's uplifting and relaxing qualities. Considering its ease of growth, we recommend the Somango strain for patients that require a bountiful harvest of effective cannabis.
Adverse Effects of Somango Weed
Although Somango is filled with uplifting effects and medical potential — it may produce adverse effects.
Overall, consumers who overindulge in Somango weed may experience adverse effects. Somango contains 20% THC, making it a potent variety that can send beginners over the edge.
Below, we've listed prominent adverse effects of Soma #5 weed:
Red eyes
Cottonmouth
Blackout
Dizziness
The Benefits of Growing Somango Seeds
Pros
Top-shelf bag appeal
Fruity terpene content
High THC profile
Easy to grow
Medical-grade marijuana
Ideal for day or night use
Cons
Low to average yield
Tall plant height
Watch: Somango Strain Grow Week 9
The Best Somango Feminized Seeds in 2023: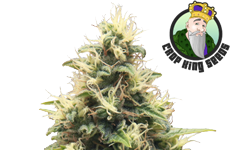 • 20% THC
• Harvest: 9-10 Weeks
• Yield: 200-300g/㎡
• Shipping Worldwide
• Germination Guarantee
• Credit Cards & Bitcoin Accepted
Prices
• 5 Seeds – $65
• 10 Seeds – $120
• 25 Seeds – $240
---
Main Category Page:
Weed Seed Index
– A curated index of the world's best cannabis seed strains. Each review contains vital information, such as cultivation tips, strain profiles, and where to buy the best cannabis seeds.