Strawberry Cough Seeds
Find everything you need to know about Strawberry Cough, a legendarily sweet cannabis strain. This Strawberry Cough review covers strain history, effects, and a detailed grow guide.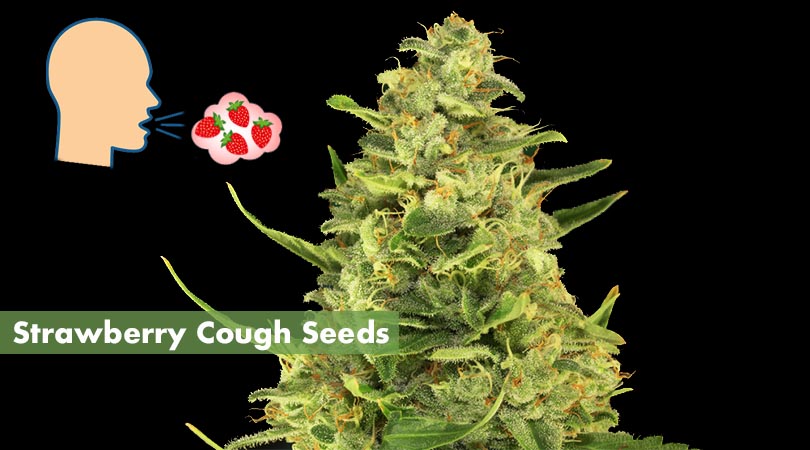 In the futuristic sci-fi flick Children of Men, Jasper, an old hippy played by Michael Caine, offers his friend Miriam a joint.
Jasper: Taste that.
[Miriam takes the joint and inhales]
Jasper: Now, cough!
Miriam: Cough?
[Jasper begins coughing profusely]
Jasper: Do you taste it? Strawberries. This is Strawberry Cough!
So goes one of the greatest scenes in stoner history, thus immortalizing the Strawberry Cough cannabis strain. After all, how could a strain named after strawberries be anything but legendary?
Sweet, relaxing, and paradoxically energetic, Strawberry Cough is everything you need it to be.
Like Pineapple Express before it, Strawberry Cough is part of the small, rarified group of cannabis strains made so famous in films that they almost seem imaginary.
But, doubt not — this is the real deal. Ready to find out how to grow Strawberry Cough seeds for yourself?
This guide to Strawberry Cough covers everything from grow tips to effects, so don't change that channel.

Strawberry Cough Seeds – Strain ID:
Type: Sativa Dominant Hybrid
Cannabinoids: 15-21% THC
Terpenes: Myrcene, Pinene, Caryophyllene
Effects: Euphoria, Clarity, Creative
Landrace Strain: Unknown Sativa x Unknown Indica
Grow Difficulty: Easy
Harvest: 9-11 Weeks / 11+ Weeks
Yield: 350-500g/㎡ / Up to 600g/plant
Height: Up to 4 feet/ >4 feet
(*Indoor / Outdoor)
The Best Strawberry Cough Feminized Seeds in 2023:
• 19-22% THC
• Harvest: 12-14 Weeks
• Yield: 400-500g/㎡
• Shipping Worldwide
• Including Free Seeds
• Credit Cards & Bitcoin Accepted
Prices
• £7.9 Per Seed
• Bulk orders get discounted rate
• Up to 20% THC
• Harvest: 12 Weeks
• Yield: 400g/㎡
• Shipping Worldwide
• Germination Guarantee
• Credit Cards & Bitcoin Accepted
Prices
• 5 Seeds – $65
• 10 Seeds – $120
• 25 Seeds – $240
---
About Strawberry Cough Seeds
Background
The Strawberry Cough strain story is undoubtedly a unique one, closely related as it is to famed cannabis cultivator Kyle Kushman.
For years, legend had it that Kushman created Strawberry Cough seeds. In reality, the real breeder goes unknown to this day.
However, Kushman recently went on the record to clear up the backstory on how Strawberry Cough bud came to be. It all starts back in 1999…
You see, Kyle Kushman used to write for High Times magazine. His columns, reports, and strain reviews drew widespread acclaim and following. As such, from time to time, smaller growers would request a meet-up.
A friend of a friend reached out to Kushman and asked him to swing by his modest grow operation. After checking it out, Kushman left, but not before the mystery breeder handed him a clone.
Cryptically, the strain's genetics were noted as a sativa haze crossed with an unknown indica grown next to strawberry fields.
Shortly after, Kushman planted his nose in the tiny clone and caught strong, unambiguous strawberries emanating forth. After growing the clone out, he realized that the plant was a sensation in more ways than one.
On the exhale, Strawberry Cough retained its crushed strawberry essence. Where the strain really shone, however, was in its magnifying glass-like, mind-clarifying effects. Kushman was smitten.
Not long after fate brought Strawberry Cough his way, Kushman moved across the country to California. As he drove the country's length, he handed out Strawberry Cough clones to friends.
From there, the strain's legend sprouted. So, while Kyle Kushman didn't create Strawberry Cough seeds, he's the man responsible for popularizing them and evangelizing the strain to this very day.
What makes Strawberry Cough seeds so unique in the grow room, and even more of a pleasure in the bowl?
You'll have to grow them to find out — just below, find reliable grow tips for your Strawberry Cough seeds.
Growing Strawberry Cough Seeds
Planting Strawberry Cough seeds growing in your garden is literally one of the sweetest things you can do. When the strain flips to flowering, breezes of fresh berries will waft your way, giving you a preview of what's to come.
Which Strawberry Cough seeds should you choose? Today, the strain's become quite popular, leading to a bevy of choices. Despite the abundance of seed varieties, two options make the most sense.
Feminized Strawberry Cough seeds — If you want to take the most direct path to flowering, choose feminized Strawberry Cough seeds. These seeds are genetically pre-sorted so that you only get female plants in the garden. Having a feminized crop means you don't have to bust out an anatomy of cannabis chart to identify potential males.
Regular Strawberry Cough seeds — While feminized seeds are pretty convenient, everything in life is a trade-off. What you lose with feminized seeds is genetic diversity. Regular Strawberry Cough seeds give you access to a broader possibility of phenotype outcomes. Some plants will be taller, others shorter — so, choose regular seeds if you're getting into the finer points of growing cannabis.
Grow Difficulty:
Strawberry Cough seeds are easy to grow for all skill levels. Beginners will especially appreciate the plant's low-maintenance characteristics.
Optimal Growing Conditions and Climate:
Kyle Kushman has long advocated organic cannabis cultivation, a method resulting in what he calls veganic cannabis.
Strawberry Cough seeds tend to do exceptionally well when grown without pesticides, treatments, or other synthetic growing aids. As such, Strawberry Cough plants do best in an organic soil mix and fed with all-natural nutrients.
Speaking of nutrients, feed your Strawberry Cough seeds with nitrogen well into the fourth week of flowering for the best results once harvest time rolls around.
Strawberry Cough plants tolerate heat well and like a semi-arid temperature range between 72°F and 85°F. For this reason, Strawberry Cough bud is best grown indoors where overnight temperatures can be regulated.
Flowering Time:
Strawberry Cough plants flower for 9 to 11 weeks. For the best buds, err on the side of 10 to 11 weeks.
Yield:
Enjoy heavy yields as Strawberry Cough buds dense up and weigh branches down. Indoor plants can yield 350 grams to 500 grams per square meter. Outdoor plants produce up to 600 grams per plant.
Height:
Some Strawberry Cough plants stretch up to 200% once thrown into the 12/12 light cycle. However, the result is usually a medium height plant shorter than most sativa-dominant varieties.
Resistance to Pests and Mold:
As a low-maintenance plant, Strawberry Cough seeds grow without significant disease issues. One thing to watch for is feeding — keep your plants well-stocked with nitrogen to fend off leaf necrosis during flowering.
Strain Description and Properties
The Appearance of Strawberry Cough Weed:
If Strawberry Cough bud is good enough for Kyle Kushman, then you had better believe it's good enough for even the most discerning stoner.
These nugs will have you saying holy mother of frost upon feasting your eyes on them. An overload of milky-white trichomes saturate leaves ranging the full green-light spectrum.
If you decide to go the veganic Strawberry Cough route, you may even find brilliant waves of purple hidden behind the frost.
Strawberry Cough bud is incredibly dense, packing a deceiving amount of weight per nug. There are few pleasures in life on the level of mindfully grinding this nug and slowly spreading it across a rolling paper.
Dominant Cannabinoids Found in Strawberry Cough Seeds:
Strawberry Cough seeds are THC dominant and contain only trace amounts of CBD. The average THC concentration found in lab-tested samples is between 15% and 21% THC.
Dominant Terpenes Found in Strawberry Cough Seeds:
It's safe to say that Strawberry Cough seeds are all about the terpenes. This terpinous strain is composed of a unique assemblage of common terpenes, resulting in standout flavors of freshly harvested berries right out of the bag.
Myrcene — As the chill terpene, myrcene is all about making you feel sedated, relaxed, and calm. However, when found in a sativa like Strawberry Cough, myrcene adds relaxation without taking away from energy levels. On the nose, myrcene brings herbal aromas.
Pinene — Found in an incredible variety of forest-dwelling plants, pinene has innate abilities to reduce feelings of stress while contributing uniquely organic scents of plant life.
Caryophyllene — As one of nature's very own painkillers, caryophyllene reduces physical discomfort and adds spicy complexity to natural flavors.
Effects of Strawberry Cough Weed:
Switch your mind into a focused laser beam with unstoppable powers of focus, clarity, and motivation with a few puffs of Strawberry Cough bud.
Rather than turn you into a molding couch potato, smoking Strawberry Cough animates you and extends your ability to concentrate, create, and connect while feeling unambiguously relaxed.
Medical Properties of Strawberry Cough Seeds:
Tiny Strawberry Cough seeds contain immense medicinal value for stress, mood, and fatigue-related issues. Additionally, smoking Strawberry Cough can bring higher concentration levels to the fore, providing natural treatment for ADD and ADHD.
As a daytime medication, Strawberry Cough is also indicated for treating pain when retaining mental clarity is a must.
Strawberry Cough can help with the following:
Anxiety
Depression
PTSD
ADD/ADHD
Fatigue
Pain
Negative Effects of Strawberry Cough Weed:
Dry mouth is a common negative effect associated with smoking cannabis, and in this respect, Strawberry Cough weed is no different.
However, apart from a dry mouth and eyes, the negative effects of smoking Strawberry Cough are minimal.
Pros/Cons of Growing Strawberry Cough Seeds
Pros
Kyle Kushman approved strain
Strawberry scented smoke and flavor
Large yield of dense, frosty buds
Easy to grow
Cons
Can grow a little tall for some indoor spaces
Aroma is too loud for discrete growers
Watch: Strawberry Cough Strain Seed to Harvest
The Best Strawberry Cough Feminized Seeds in 2023:
• 19-22% THC
• Harvest: 12-14 Weeks
• Yield: 400-500g/㎡
• Shipping Worldwide
• Including Free Seeds
• Credit Cards & Bitcoin Accepted
Prices
• £7.9 Per Seed
• Bulk orders get discounted rate
• Up to 20% THC
• Harvest: 12 Weeks
• Yield: 400g/㎡
• Shipping Worldwide
• Germination Guarantee
• Credit Cards & Bitcoin Accepted
Prices
• 5 Seeds – $65
• 10 Seeds – $120
• 25 Seeds – $240
---
Main Category Page:
Cannabis Strain Seed Index
– A curated index of the world's best cannabis seed strains. Each review contains vital information, such as cultivation tips, strain profiles, and where to buy the best cannabis seeds.