Sundae Driver Seeds
Enjoy a smooth ride with Sundae Driver, a balanced hybrid with mellow effects. Learn everything you need to know in this complete Sundae Driver strain review.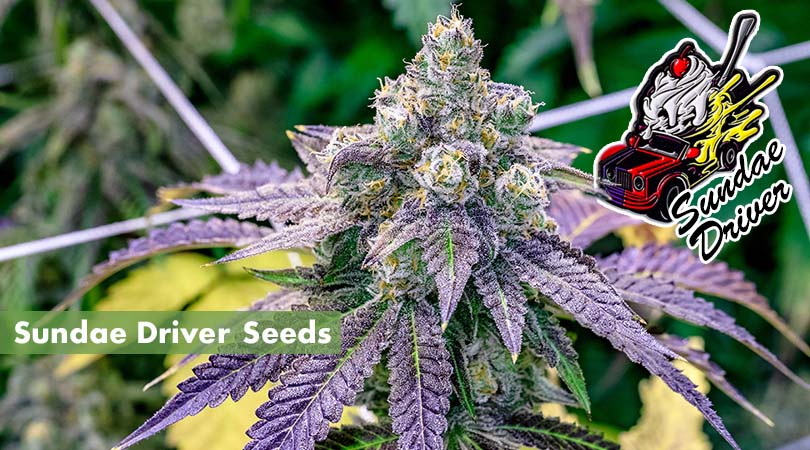 Nothing is more mellow than going for a Sunday drive. With the windows down as you cruise along the highway, you'd be hard-pressed to find anything wrong with the world.
That's the same spirit perfectly captured by Sundae Driver, an elite hybrid bred by cannabis industry all-stars Cannarado Genetics. Cannarado's gear is in huge demand for a reason — they put out nothing but fire.
Sundae Driver is a lot like a Tesla on autopilot — kick back and enjoy the ride. There's nothing to worry about as you watch the world pass by to the sounds of your favorite songs.
Cannarado managed to capture the essence of chill Sunday vibes, but more importantly, you can treat yourself to them anytime by growing Sundae Driver seeds.
This strain review will teach you everything you need to know about one of today's most in-demand strains along with providing awesome grow tips.

Sundae Driver Seeds – Strain ID:
Type: Hybrid
Cannabinoids: 15-25% THC
Terpenes: Limonene, Caryophyllene, Myrcene
Effects: Creative, Happy, Relaxing
Landrace Strain: Fruity Pebbles OG x Grape Pie
Grow Difficulty: Moderate
Harvest: 8-9 Weeks / 9+ Weeks
Yield: Up to 350g/㎡ / Up to 500g/plant
Height: Up to 6 feet/ >6 feet
(*Indoor / Outdoor)
---
About Sundae Driver Seeds
Background
Cannarado Genetics is at today's forefront of inventive, fruity, and incredibly frosty strains.
There's a reason why rock stars like the Jungle Boys request gear from Cannarado — and subsequently pop hundreds of their seeds. Everyone knows Cannarado breeds fire, but inner-circle breeders were already knee-deep in Cannarado strains before the secret was out.
Orange Daiquiri, Sour Dubble, Grape Pie, and Legend OG have all come from deep within the Cannarado vaults. However, most of these strains became known after being blown up big time by the Jungle Boys in Los Angeles.
Los Angeles is a litmus test for strain potential. If and when a strain succeeds in the extremely competitive Los Angeles cannabis market, then the likelihood it'll take off in other legal states and countries is almost assured.
Tastemaking Los Angelenos are known for their trend-setting attitudes toward good weed, but even more so for their ability to market the cannabis lifestyle via social media.
This is all to say that when LA big-wigs adopted sundae Driver, Cannarado knew right away they had a hit on their hands.
Sundae Driver is a hybrid cross between Fruity Pebbles OG and Grape Pie. Fruity Pebbles OG, or FPOG, contains a very complex lineage that touches on Skunk, Mendo Purps, Afghani, and Tahoe Alien.
There's another wide-ranging batch of strains on the Grape Pie side, including Cherry Pie, Sour Diesel, Northern Lights, and Headband. Suffice to say, the sheer variety of genetics that went into creating Sunday Driver makes for an interesting smoke.
So, are you ready to test drive Sundae Driver seeds in your personal garden? The next section has grow tips for a smooth experience.
Growing Sundae Driver Seeds
Sundae Driver seeds are a rare treat for anyone who wants to grow something truly unique.
Sure, growing out another OG or kush strain is great, especially if you're just starting as a grower. But, nothing can compare to the feeling of having some once in a lifetime bud like Sundae Driver.
Dessert strains are all the rage these days, but Sundae Driver is the backbone of most of them. If you're into the dessert strain craze, growing Sundae Driver seeds should be your starting point.
Grow Difficulty:
Sundae Driver seeds are moderately challenging to grow.
Optimal Growing Conditions and Climate:
Dessert strains like Sundae Driver love warm conditions. If you look back at our summary of this strain's lineage, you'll see both Sunday's parents grow well in sunny, dry, and sometimes hot environments.
Sundae Driver seeds grow well indoors and outdoors within a 70°F to 85°F temperature range. If you're growing this strain outdoors, check night time temperatures. If nights get chilly in your area, consider doing a greenhouse grow rather than full outdoor exposure.
Keep relative humidity at or below 50% — especially during flowering. Sundae Driver seeds are a low humidity variety and need somewhat dry conditions along with vigorous air circulation.
Flowering Time:
Sundae Driver plants flower in 8 to 9 weeks.
Yield:
Expect a medium yield of 350 grams per square meter indoors, or 500 grams per plant outdoors.
Height:
Sundae Driver is known for being a stretchy, tall, and lanky plant. Use LST to keep the canopy under control and reduce some of the effects of stretching.
Resistance to Pests and Mold:
There are no known issues regarding pests and mold.
Strain Description and Properties
The Appearance of Sundae Driver Weed:
If you're going to grow Sundae Driver seeds for one reason — do it for the looks. Sundae Driver is known as the queen of all dessert strains, but any dessert lover knows that half the pleasure is in appearance.
Intense flourishes of candied purple, lavender, and even magenta show up to offset the bud's forest green leaves and fiery pistils. Moreover, since the strain is even more famous in concentrate form, expect heavy trichome content enveloping the entire nug.
Dominant Cannabinoids Found in Sundae Driver Seeds:
Sundae Driver seeds are THC dominant and contain an average 15% to 25% THC concentration.
Dominant Terpenes Found in Sundae Driver Seeds:
When you open a freshly cured bag of Sundae Driver nugs, expect a sweet lemon tart aroma with a creamy, somewhat earthy flavor on the inhale. The complex and decidedly smooth flavor is brought to you by a unique combination of terpenes.
Limonene — Found in citrus fruit rinds, limonene brings lemon tang to the nose while soothing stress and bad moods.
Caryophyllene — Sometimes spicy, sometimes sweet, caryophyllene is a terpene well known for reducing pain and inflammation.
Myrcene — The ultimate chill terpene, myrcene has relaxing, sedating properties, and herbal aromas.
Effects of Sundae Driver Weed:
Going for a Sunday drive is a mellow affair. You get in the car without a fixed destination and just roll.
Loading your bowl with Sundae Driver weed is pretty similar. All you're after is a good vibe — and that's precisely what Sundae Driver delivers.
A sweet, easygoing, even light high takes over that sets everything aglow with a friendly feeling. Your creative side takes over, it's easy to smile, and anything your friend says is suddenly overwhelmingly hilarious.
It's exactly that kind of feeling anyone would want on a Sunday, whether morning, afternoon, or night.
Medical Properties of Sundae Driver Seeds:
Sundae Driver seeds are grown for the medicinal benefits by patients treating both physical and psychological symptoms.
Stress
Anxiety
Depression
PTSD
ADD, ADHD
Arthritis
Glaucoma
Pain
Negative Effects of Sundae Driver Weed:
Smoking Sundae Driver may cause a dry mouth and irritated eyes. Other effects, such as dizziness, may occur if you smoke more than your tolerance can handle.
Pros/Cons of Growing Sundae Driver Seeds
Pros
The queen of all dessert strains
Very mellow, easygoing effects
Lemony custard pie aroma
Incredible bag appeal
Cons
Tough to find Sundae Driver seeds for sale
Plant stretches significantly
Not the biggest yielder
Watch: Sundae Driver Strain Review
---
Main Category Page:
Cannabis Seed Index
– A curated index of the world's best cannabis seed strains. Each review contains vital information, such as cultivation tips, strain profiles, and where to buy the best cannabis seeds.