Tangie Seeds
A deep dive into the flavor-forward Tangie strain. Discover Tangie's delicious terpenes, uplifting effects, and where to find Tangie seeds for sale.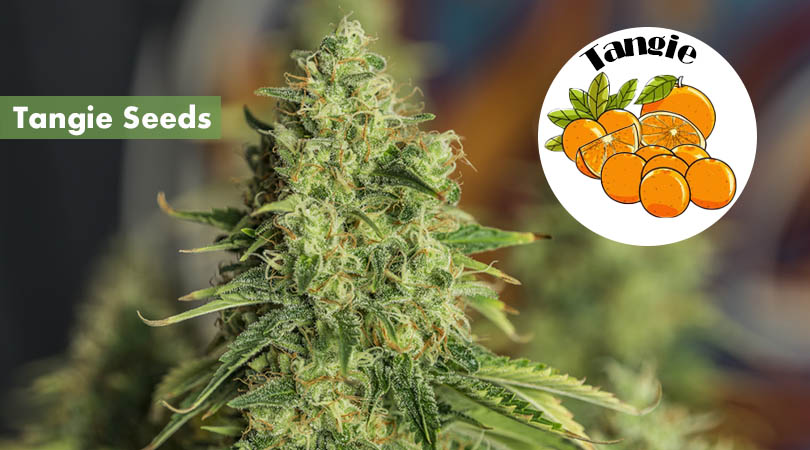 Since the beginning of time, humans have been drawn to a myriad of flavors and scents. From pungent cannabis flowers to fine wine, our senses are always on the hunt for a delightful experience.
Like wine enthusiasts, the cannabis industry has spawned its sommeliers' group who make it their life's work to decipher the complexity of scent, flavor, effects, and terpenes.
If you're ready to cultivate a terpene-forward cannabis strain, look no further than Tangie. Tangie's unreal aroma and flavor profile spark deep-rooted pleasure in anyone who experiences its frosty flowers.
Read this strain review to discover what makes Tangie so irresistible, how to grow the Tangie strain, and where to buy Tangie cannabis seeds.

Tangie Seeds – Strain ID:
Type: Sativa-Dominant Hybrid
Cannabinoids: 19-22% THC
Terpenes: Myrcene, Pinene, Limonene
Effects: Euphoria, Creative, Energetic
Landrace Strain: Cali Orange x Skunk
Grow Difficulty: Easy
Harvest: 8-9 Weeks / 10 Weeks
Yield: >550g/㎡ / Up to 500g/plant
Height: Up to 5.5 feet/ >5.5 feet
(*Indoor / Outdoor)
The Best Tangie Feminized Seeds in 2023:
---
About Tangie Seeds
Background
Tangie was created by none other than Dave Crockett from Crockett Family Farms.
As a third-generation cannabis cultivator, Dave Crockett understands how to grow great weed. However, Dave realized early in his career that he wanted to produce something that tasted different from run-of-the-mill Kush varieties.
In 1995, Dave crossed a clone of Cali Orange with the legendary Skunk. The result was something that caught his taste buds off guard. The Tangie seeds produced sativa-dominant plants that had a hefty load of terpene and trichome-rich flowers.
With a bouquet of tangerine-laced scent and taste, Crockett knew he had something that would revolutionize the cannabis industry. Dave entered Tangie into every cannabis competition that he could within eight months — and won every single award.
Now, Crockett Family Farms recently merged with DNA Genetics. Before the merger, Tangie was primarily a clone-only strain. With the help of DNA Genetics, you can now find regular or feminized Tangie seeds.
Growing Tangie Seeds
Before you germinate a pack of Tangie seeds, let's take a look at a few essential tips that will help you maximize Tangie's yield potential.
First, you must understand that Tangie doesn't stop stretching until the 5th week of flowering. With this knowledge, you won't be caught off guard halfway through the flowering cycle.
Next, your Tangie seeds will produce incredibly aromatic plants. In other words, make sure you incorporate a carbon filter if you have nosy neighbors.
Now, let's look at Tangie's characteristics and how you can utilize them to your benefit.
Grow Difficulty:
Tangie is an easy strain to grow.
Whether this is your first grow or not, Tangie provides a stress-free experience from start to finish.
Optimal Growing Conditions and Climate:
The best environment to start your Tangie seeds is in a Mediterranean climate.
Crockett bred Tangie in the hills of the Sierra Nevada in Central California. Therefore, Tangie is accustomed to bright sun, warmth, and low humidity.
Overall, Tangie enjoys a temperature range between 72-84°F. Furthermore, Tangie's large buds benefit from a moisture level of 40-45%.
Indoor and outdoor growers will enjoy Tangie's ease-of-growth — whether you use soil or hydroponic systems.
Flowering Time:
Tangie's sativa-dominance shines in its flowering time.
Overall, expect to harvest tangerine-scented weed within 9-10-weeks. If you grow Tangie seeds indoors, expect to harvest on the earlier side, such as 8-9-weeks. Outdoors, Tangie seeds produce plants ready for harvest by the middle of September.
Yield:
Growers worldwide love Tangie for its bountiful harvest.
Indoors, Tangie seeds may produce upwards of 550-grams per meter squared. Outdoors, Tangie can unload as much as 500-grams per plant.
As you begin to harvest Tangie, your senses will become immersed in a citrus-like grove. Overall, gathering Tangie's aromatic flowers is an experience you can't miss.
Height:
Tangie plants can grow upwards of 175cm.
If you grow Tangie seeds indoors, we recommend that you utilize the ScrOG or FIM technique. By creating multiple bud sites, you will increase the overall yield while reducing Tangie's size.
If you grow Tangie plants outdoors, you will understand what we mean when describing Tangie as a cannabis citrus grove.
Resistance to Pests and Mold:
Tangie's lineage is filled with tried-and-true genetics. In other words, Tangie is highly resistant and nearly bomb-proof.
However, you must take precautions and always use preventative measures. A clean garden, and, above all, optimal environmental conditions are necessary to deter pests, diseases, and mold.
Strain Description and Properties
The Appearance of Tangie Weed:
Nobody can resist the enticing appearance of Tangie weed.
As you admire Tangie's perfectly-shaped flowers, you'll quickly notice its delicate features. First, the extreme resin coat produces a creamy appearance that's a feast-for-the-eyes. Next, the fat calyxes and vibrant pistils are visually stunning, not to mention mouth-watering.
It's no wonder why Tangie has won over 20 awards in two years — it's just too fire.
When terpenes, potency, and bag appeal are of utmost concern — Tangie seeds are an absolute no-brainer.
Dominant Cannabinoids Found in Tangie Seeds:
The dominant cannabinoid in Tangie weed is THC.
The THC content of Tangie weed, according to lab results, is 19-22%. With terpenes this delicious, you must check yourself before you overindulge in Tangie's zesty flavors.
Dominant Terpenes Found in Tangie Seeds:
Terpenes are Tangie's stand-out trait.
As you unlock a jar of Tangie weed, you'll become immersed in a world filled with citrus zest, ocean spray, floral honey, and sour spice. Once you indulge, your taste buds will be greeted by overtones of tangerine peel, sweet honey, pine sap, and cloves.
The three dominant terpenes in Tangie seeds are:
Effects of Tangie Weed:
If you allow yourself to become hypnotized by Tangie's incredible terpene profile, you will quickly realize its potency.
Tangie is potent weed that comes on fast — so be prepared. Overall, the first hit produces a tidal wave of euphoria that may catch some users off guard. As your mind soars above the clouds, a myriad of creative thoughts come into focus.
From mind-bending creativity to abundant energy, Tangie weed is a truly sativa-dominant experience. If you're a sativa-lover, Tangie is a must-have for your collection.
Medical Properties of Tangie Seeds:
Medical marijuana patients rave about Tangie's therapeutic potential. If you're a medical marijuana patient, there's no better choice than Tangie weed to get you motivated for the day ahead.
Tangie is known to contain medicinal properties that can assist with:
Depression
Pain
Fatigue
Stress
Lack of Appetite
Negative Effects of Tangie Weed:
Remember, the irresistible terpene profile of Tangie weed may lure you into overindulging.
If you consume too much Tangie weed, you may experience a strong feeling of paranoia. Furthermore, fear and anxiety are additional adverse effects if you overindulge.
Lastly, Tangie weed may generate cottonmouth and red eyes. As long as you start slow and manage your dose, you will experience the positive side of Tangie weed.
Pros/Cons of Growing Tangie Seeds
Pros
Incredible Terpene Profile
Resin-Covered Buds
Large Yield
Potent Effects
Medical-Grade
Cons
May Be Challenging To Find Tangie Seeds
Average Flowering Time
May Be Too Strong For Beginners
Watch: Tangie Strain Grow
The Best Tangie Feminized Seeds in 2023:
---
Main Category Page:
Cannabis Seed Index
– A curated index of the world's best cannabis seed strains. Each review contains vital information, such as cultivation tips, strain profiles, and where to buy the best cannabis seeds.