Tropicana Cookies Seeds
A must-read review of the sativa-forward Tropicana Cookies strain. Discover everything about Tropicanna Cookies, such as its buzz-worthy flavor, growth traits, and where to find Tropicana Cookies seeds for sale online.
When we dream of paradise, images of blue skies, palm trees, and white sand beaches come to mind.
However, what if we told you that you could transform your weed garden into a tropical wonderland filled with delicious terpenes and heavy-hitting THC?
Meet Tropicana Cookies — a delightful sativa-dominant hybrid that'll have you surfing massive waves of bliss for hours on end. From gloriously frosty buds to jaw-dropping yields, you'll always keep the Tropicanna Cookies strain on the roster.
Read along as we take a deep dive into Tropicana Cookie's growth traits, bud appearance, and where to buy real Feminized Tropicana Cookies seeds. Believe us — you don't want to miss out on this review!

Tropicana Cookies Seeds – Strain ID: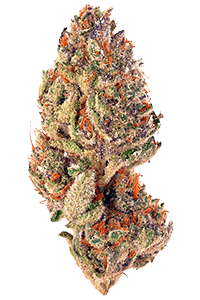 Type: Sativa-Dominant
Cannabinoids: 16-22% THC
Terpenes: Caryophyllene, Limonene, Humulene
Effects: Euphoric, Energetic, Social
Landrace Strain: GSC x Crockett's Tangie
Grow Difficulty: Easy
Harvest: 9 Weeks / 9+ Weeks
Yield: 500g/㎡ / >600g/plant
Height: 4-6 feet/ 6+ feet
(*Indoor / Outdoor)
The Best Tropicana Cookies Feminized Seeds in 2022:
---
About the Tropicana Cookies Strain
Background
The Tropicana Cookies strain was bred by a little-known group called Bloom Seed Co.
The goal of the Bloom Seed Co was to create something that tasted and felt completely different from other Cookie-based hybrids. To do so, Bloom Seed Co crossed Girl Scout Cookies (GSC) and Crockett's Tangie.
In other words, a dessert indica and fruit-forward sativa joined to create a sativa-dominant powerhouse: Tropicana Cookies seeds.
Soon after the release of Tropicana Cookies seeds, Oni Seed Co of Colorado decided to improve upon the strain. Soon, Oni Seed Co released Tropicanna Cookies F2 seeds — thus stabilizing the strain with improved characteristics.
In 2019, Tropicanna Cookies F2 weed took home 1st place at the IC 420 Grower's Cup. Since then, Tropicana Cookies has gained legendary status among cannabis enthusiasts worldwide.
If you're looking for Tropicana Cookies, don't forget that it goes by multiple names, such as MOTN Trop, Trop Cookies, Tropicanna Cookies, and Tropical Cookies.
Luckily, Feminized Tropicana Cookies seeds are finally available to the cannabis community!
Growing Tropicana Cookies Seeds
Before you sprout your valuable Tropicana Cookies seeds — you need to break out a checklist to ensure everything is ready.
As long as your grow room or outdoor garden is set up — it's time to get the ball rolling. Below, you'll discover relevant aspects of growing the Tropicana Cookies strain.
From grow difficulty to overall yield, you'll gain useful insight on cultivating mind-blowing Tropicanna Cookies plants. If you're ready to discover everything that makes Tropicanna Cookies top-shelf — read on!
Grow Difficulty
Who said amazing weed is challenging to grow?
As long as you're growing the Tropicana Cookies strain — you'll find nothing but easy-going plants that produce top-shelf buds in no time.
Overall, Tropicana Cookies is perfect for beginners and professionals that want a stress-free grow. Whether you grow marijuana indoors or outdoors, you'll find Tropicana Cookies is a breath of fresh air compared to other strains.
However, this does not mean you can walk away from your crop and expect it to do all the work. Instead, a little bit of TLC goes a long way, and you'll soon find tropical-tasting weed that's unlike anything you've ever experienced.
Optimal Growing Conditions and Climate
The Tropicana Cookies strain prefers a Mediterranean climate when grown outdoors.
In other words, abundant sunshine, warmth, and relatively low humidity are key conditions that you must ensure while growing Tropicana Cookies outside. Most locations during the summer months can easily grow Tropicana Cookies. However, you must protect your Tropicana Cookies once Autumn begins and temperatures drop.
If you grow Tropicana Cookies seeds indoors, you must maintain the temperature between 68-84F. Of course, a few degrees above or below this range is fine. However, massive fluctuations in temperature will damage your crop and yield potential.
Additionally, you must maintain humidity between 50-70% flowering for mind-blowing yields. Lastly, air circulation is key to avoiding instances with mold or mildew.
As long as you provide your Tropicana Cookies plants with average conditions — you'll experience a harvest to remember.
Flowering Time
Considering the sativa-dominant traits of Tropicana Cookies — a 9-week flowering time shouldn't come as a surprise.
Unlike full-blown sativas, the Tropicana Cookies strain offers a much more manageable flowering time. However, outdoor growers must consider their weather forecast during the end of September and the beginning of October.
When grown outdoors, Tropicana Cookies will finish by the beginning or middle of October. Therefore, you must protect your crop if there is any chance of frost.
When grown indoors, Tropicana Cookies may finish within 8-weeks. However, the average time for ripe buds is at the 9-week mark.
Yield
The yield of the Tropicana Cookies strain is impressive.
If you grow Tropicana Cookies seeds indoors, prepare your trimming scissors for up to 500g/m2. When grown outdoors, Tropicana Cookies can unleash upwards of 600-grams per plant.
Considering the resin content on Tropicana Cookies weed — you're in for a treat once you begin trimming this tropical haul of gorgeous buds.
Height
The height of Tropicana Cookies is medium.
Thankfully, the Tangie side of things was dampened by GSC during the breeding process. Therefore, you can expect plants in the range of 120-180cm.
If you grow Tropicana Cookies outdoors, you may allow the plants to grow to their maximum height. Indoors, however, require cultivators to practice training to ensure Tropicana Cookies doesn't overtake the room.
In other words, you must consider the size of your garden when growing the Tropicana Cookies strain. If you are in a small grow tent, you can train the Tropicanna Cookies plants and reduce the vegetative time.
Resistance to Pests and Diseases
One of the best traits of the Tropicanna Cookies strain is its high resistance to pests and diseases.
This, however, is not a reason to stop checking in on your garden. Instead, it's in your best interest to implement a sound IPM strategy to guard against potential insects or diseases.
The best practices to ensure the health of your Tropicana Cookies plants are:
Remove the lowest growth (lollipop)
Add one oscillating fan per meter squared
Adequately space each plant
Keep your garden clean
Always wear clean clothes into the grow room
Apply organic neem oil during the vegetative phase
Always inspect your crop daily
Tropicana Cookies Strain Description and Properties
The Appearance of Tropicana Cookies Weed
Now, let's go over the eye-popping quality of Tropicana Cookies weed.
Each flower from Tropicana Cookies is utterly decked in a tremendous amount of resin. As you break apart each bud, you'll find deep purple calyxes jumping out towards you.
Overall, the flowers are a mixture of green and purple. In general, a decrease in temperature during the last two weeks of flowering allows the flowers to take on a purple color, thus enhancing their bag appeal.
Lastly, the orange pistils dance across the purple buds to create a show-stopping effect.
Dominant Cannabinoids Found in Tropicana Cookies Weed
The dominant cannabinoid found in Tropicanna Cookies weed is THC.
However, there is a small amount of CBD, according to lab reports. Although there is CBD found in Tropicana Cookies — it's a negligible amount.
Overall, the Tropicana Cookies strain is capable of producing 21% THC. Therefore, you can expect your Tropicana Cookies weed to test between 16-22% THC.
Remember, you may increase the THC potential of the Tropicana Cookies strain by providing ideal growing conditions.
Dominant Terpenes Found in Tropicana Cookies Buds
One of the reasons for creating the Tropicana Cookies strain was to offer a delightfully flavorful variety.
As you unlock a jar filled with Tropicana Cookies weed, a tidal wave of spicy dough, citrus spritz, and sour pineapple sweeps across the nostrils. If you're trying to be discreet, beware; Tropicana Cookies weed is loud.
As for the flavor, your taste buds are about to get the party started. The taste of Tropicana Cookies is full of tropical dankness, citrus-infused cacao, and bright layers of sweetness.
One of the most special aspects of Tropicana Cookies is that you'll always find unique flavors during each sesh. The three primary terpenes responsible for the aroma and flavor are caryophyllene, limonene, and humulene.
Caryophyllene and limonene are responsible for the spicy-citrus-tropical collaboration. Humulene is found in hops, which lends Tropicana Cookies its earthy sweetness that gets better after each hit.
Effects of the Tropicana Cookies Strain
If you need a potent pick-me-up day or night — the Tropicana Cookies strain does the trick.
Immediately after exhaling the citrus dankness of Tropicana Cookies, the effects strike the mind and body. From jaw-dropping euphoria to increased energy, Tropicana Cookies offers shock and awe from the start.
The Tropicana Cookies strain is perfect for instilling users with laughter, bliss, and an urge to socialize. In other words, you'll be curious about your world and everything around you once you indulge in Tropicana Cookies.
As the effects wane, a satisfying relaxation spreads throughout the body. Once complete, you won't experience a "hangover" found in other potent varieties.
Medical Properties of Tropicana Cookies Weed
The Tropicana Cookies strain was practically bred for medical marijuana patients.
If you're a medical marijuana patient that needs an uplifting strain to grow — it's time to grab a pack of Feminized Tropicana Cookies seeds today. Here's a list of the major medical attributes that Tropicana Cookies can assist with:
Depression
Fatigue
Anxiety
Pain
As you can see, Tropicana Cookies is the best strain to nip away sad thoughts and fatigue. Once you experience the awesome vibes of Tropicana Cookies — you'll never want anything else!
Lastly, the ease-of-growth of Tropicana Cookies allows medical marijuana patients to cultivate effective medicine without adding more stress.
Negative Effects of the Tropicana Cookies Strain
With so many positive attributes, it only makes sense that there are a few adverse effects while indulging in the Tropicanna Cookies strain.
If you consume too much Tropicana Cookies weed — you may experience:
Extreme drowsiness or paranoia
Red eyes
Dry mouth
Additionally, if you're new to cannabis — take it easy with Tropicana Cookies. The THC content is relatively high, making Tropicana Cookies a one-hit-quit for most beginners.
Therefore, always gauge your tolerance and adjust your intake accordingly for an enjoyable time with Tropicana Cookies.
Pros/Cons of Growing Tropicana Cookies Seeds
Pros
Easy to grow
Incredible bag appeal
Purple buds
Massive yield
High THC Content
Delicious terpene profile
Cons
Challenging to find real Feminized Tropicana Cookies seeds
Moderate height
Watch: Tropicana Cookies Strain Hravest
The Best Tropicana Cookies Feminized Seeds in 2022:
---
Main Category Page:
Cannabis Seed Index
– A curated index of the world's best cannabis seed strains. Each review contains vital information, such as cultivation tips, strain profiles, and where to buy the best cannabis seeds.