Wedding Cake Seeds
Are you ready to have, to hold, and to love the Wedding Cake strain? This guide provides an in-depth analysis of Wedding Cake's unique traits and where to find the best Wedding Cake seeds online.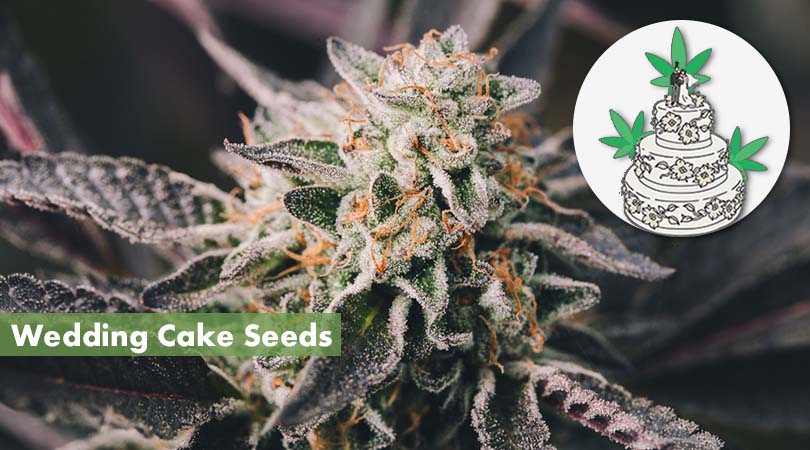 After getting married, people are often keen to report that the day on which it happened was their happiest ever.
Until, of course, those same people smoke a bowl filled with sumptuous Wedding Cake.
As you float in blissful oblivion post-toke, you might also find yourself saying that the happiest day of your life is the one when Wedding Cake walked through the door.
Some might call that love at first sight.
Just like true love, Wedding Cake's terpenous flavors alternate between sweet and spice while its knock-out effects contain everything nice.
What is it about Wedding Cake that captivates everyone who puffs its dense yet tender flowers? There's something about the indica-leaning hybrid with stellar genetics that's worth a much deeper look.
Before the nuptials, it's crucial to know who you're getting involved with.
Below, you'll find everything you need to know including how to grow Wedding Cake yourself, what to expect from its flavor and effects, as well as where to find Wedding Cake seeds.

Wedding Cake Seeds – Strain ID:
Type: Indica-Dominant Hybrid
Cannabinoids: 20-25%+ THC
Terpenes: Myrcene, Limonene, Caryophyllene
Effects: Euphoria, Creative, Relaxing
Landrace Strain: Triangle Kush x Animal Mints
Grow Difficulty: Moderate
Harvest: 9 Weeks / 10-12 Weeks
Yield: 450-500g/㎡ / >500g/plant
Height: Up to 5 feet/ >5-Feet
(*Indoor / Outdoor)
The Best Wedding Cake Feminized Seeds in 2023:
• 24-26% THC
• Harvest: 8-9 Weeks
• Yield: Up to 650g/㎡
• Shipping Discreetly Worldwide
• Germination Guarantee
• Free Seeds With Every Order
Prices
• 3 Seeds – $36.67
• 5 Seeds – $60.73
• 22-25% THC
• Harvest: 8-10 Weeks
• Yield: 500-600g/㎡
• Shipping Worldwide
• Including Free Seeds
• Credit Cards & Bitcoin Accepted
Prices
• £6.5 Per Seed
• Bulk orders get discounted rate
---
About Wedding Cake Seeds
Background
Also known as the Pink Cookies strain, the Wedding Cake story goes back to a ménage à trois between Jbeezy of Seed Junky Genetics, Triangle Kush, and Animal Mints cannabis strains.
After crossing the latter two in a fit of experimental love, Triangle Mints were born. Renowned for an intensely frosty appearance, Triangle Mints possesses the compact, stone-like density of its Girl Scout Cookies ancestry while retaining OG influences made apparent by whipped solar flare-like calyxes bursting from the bud edges.
After Jbeezy selected a prized phenotype and named it Triangle Mints #3, it's said that the Jungle Boys, legendary California cultivators in their own right, came along and dubbed the pheno Wedding Cake for its sweet aroma and thick powdered sugar coating.
Since its debut, cannabis connoisseurs have lined up for a slice of Wedding Cake at dispensaries everywhere. Going far beyond the hype, the Wedding Cake strain packs measurable potency with THC levels regularly measured above 24%.
As such, Wedding Cake seeds don't hold back when it comes to decadent, indica-induced pleasure that starts all the way in the growing room.
Growing Wedding Cake Seeds
Just like any marriage, growing Wedding Cake seeds takes plenty of hard work and dedication.
However, if plied with tenderness, love, and patience, you'll produce a heavy yield of shimmering, frost-white coated flowers with a golf ball-like density belying Cookies genetics.
Not only does Wedding Cake lay on the pounds when it comes to yield but its pure, unadulterated potency gives an entirely new meaning to the saying a little goes a long way.
If you've made it this far and are ready to exchange vows, you'll need to pass one all-important test first — that of actually finding Wedding Cake seeds.
At first, it was nearly impossible to find Wedding Cake seeds — but times have changed. When you do find Wedding Cake seeds for sale, hold tight, don't let go, and make sure to read every word of this Wedding Cake grow guide.
Grow Difficulty:
As an offshoot indica-dominant hybrid, growing Wedding Cake isn't exactly a piece of cake, though it isn't just for the experts, either.
If you've got at least a few grows under your belt and are ready to try your hand at a connoisseur strain, then growing Wedding Cake should make for a satisfying challenge.
However, if you're a beginner at growing weed, then you may want to start elsewhere before returning to Wedding Cake with more experience and a greener thumb.
That being said, Wedding Cake is rooted in some of the marijuana cultivation world's heartiest genetics, with Cherry Pie being a particularly tough strain. These qualities make growing Wedding Cake seeds a real treat if you stick closely to a few principles in this grow guide.
Optimal Growing Conditions and Climate:
In general, growing Wedding Cake seeds indoors allows you to exert better control over some of its more finicky characteristics, but the plant's stout bushiness is also very well suited to outdoor conditions and a variety of growing techniques.
Like most indica-leaning hybrids with an OG lineage, when grown indoors, Wedding Cake's medium stature with bushy outcroppings makes it agreeable to a variety of mediums.
However, you may find that growing Wedding Cake seeds in a high-quality, rich organic soil medium returns superior buds if you pay strict attention to maintaining correct humidity levels.
Fine-tuning the indoor humidity level is key to creating optimal growing conditions for growing primo Wedding Cake seeds. When grown outdoors, the plant desires warmth that is at once lightly humid without being overpowering. Think coastal summer conditions rather than inland, arid, and sun-blasted fields.
For these reasons, maintaining a delicate balance between warmth in the upper 70°F to 79°F range is an absolute must.
Flowering Time:
Learning how to grow Wedding Cake seeds is all about nailing the right mix of warmth and humidity. Once you dial those two factors in, the average 9-week flowering time can potentially drop by one or two weeks, quickly rewarding your dedication with remarkable flowers.
When grown outdoors, Wedding Cake harvest time is typically around mid-October but may begin as early as late September in certain climates.
Yield:
Known for being a heavy yielder, indoor-grown Wedding Cake plants can drop between 450-500 grams per meter squared.
When grown outdoors, your Wedding Cake seeds should yield at least 500 grams per plant come harvest time.
Keep in mind that looks can be deceiving when it comes to the sheer density of these buds versus apparent quantity. Strains with Girl Scout Cookies lineage produce stoney buds with immense heft.
So, while they don't take up tons of real estate on the plant itself, Wedding Cake buds will weigh your scales down with pure density.
Height:
If you're short on space or like to maximize your yield using growing techniques like the Sea of Green to create a giant canopy, then Wedding Cake seeds will be very much to your liking.
The Wedding Cake strain height averages between 100cm to 150cm, putting it squarely in the medium height category.
Resistance to Pests and Mold:
Wedding Cake seeds are famed for its mold-resistance. With Cherry Pie in its lineage, Wedding Cake is a very tough cookie to crack.
Considering how much growers are universally plagued by mold issues in the grow tent, Wedding Cake's resistance to mold and the ability to handle changes in temperature, light, and pest pressure makes it a winner.
Strain Description and Properties
The Appearance of Wedding Cake Weed:
When you're in the same room as Wedding Cake nugs, you'll be hypnotized by them the moment you make eye contact.
Glistening, satin-frost trichomes cake all available surface area of these weighted buds, leaving barely enough space for their saffron-like pistils to escape.
Lime green gives way to shaded deep forest tones while at times flashes of purple find themselves in the mix.
You'd be forgiven for imagining that the Wedding Cake flowers in your palm were rare jewels, such is the resinous density of their trichomes.
Dominant Cannabinoids Found in Wedding Cake Seeds:
Wedding Cake seeds are a vastly THC-dominant strain that ranks with some of the world's most potent flowers.
In lab tests, Wedding Cake routinely tests between 20% and 25%, with 27%+ commonly found in well-grown samples.
Dominant Terpenes Found in Wedding Cake Seeds:
Once you open a jar filled with Wedding Cake weed, there's no need to wonder about lineage the moment you open the bag.
Sure, there are fleeting instances of vanilla on the nose, but what lingers longer is the pure gas lemon-citrus dankness backed by undertones of sweet pumpkin spice and Italian seasoning herbaceousness.
Limonene, caryophyllene, and myrcene combine their respective powers to create a complex sensorial experience that both brightens the palate and calls the attention of anyone within a 10-foot radius of your slice of Wedding Cake.
Effects of Wedding Cake Weed:
Wedding Cake weed provides nothing short of pure, unadulterated euphoria.
A gentle puff is all one needs to let Wedding Cake's rising tide of good vibes transport them to a better place than where they began.
As a comforting sense of joyousness sets in, feelings of creativity become clearer, and expressing yourself seems more directly accomplished and natural.
As a heavy-leaning Indica dominant strain, Wedding Cake may not deliver tons of energy for getting through a stacked workday, but it does make a perfect match for spending one-on-one time with others, or quietly enjoying a hike in the woods.
Medical Properties of Wedding Cake Seeds:
As a medical marijuana strain, Wedding Cake possesses exceptional properties for assuaging even the most persistent of ailments.
Because of its unique concentration of high THC levels, complimentary terpenes, and pleasing sensorial qualities, the Wedding Cake strain makes for a relaxing experience that's ideal for:
Stress
Depression
Pain
Insomnia
Negative Effects of Wedding Cake Weed:
For some, the intense effects of Wedding Cake are a major draw stemming from THC levels that sometimes reach the stratospheric heights of 30%.
Not everyone enjoys such potency, however, with others finding themselves knocked flat and unable to complete even the easiest tasks.
The only other consistent drawback of the Wedding Cake strain is dry mouth, aka cottonmouth, so make sure to keep a bottle of water on hand when indulging.
Pros/Cons of Growing Wedding Cake Seeds
Pros
Stunning appearance and bag appeal
Medical-grade strain
Complex terpene profile
Immense potency
Heavy yield
Mold-resistant
Cons
Seeds aren't the easiest to find
Limited information about growing Wedding Cake online
Watch: Harvesting Wedding Cake Strain
The Best Wedding Cake Feminized Seeds in 2023:
• 24-26% THC
• Harvest: 8-9 Weeks
• Yield: 500-600g/㎡
• Shipping Discreetly Worldwide
• Germination Guarantee
• Free Seeds With Every Order
Prices
• 3 Seeds – $36.67
• 5 Seeds – $60.73
• 22-25% THC
• Harvest: 8-10 Weeks
• Yield: 500-600g/㎡
• Shipping Worldwide
• Including Free Seeds
• Credit Cards & Bitcoin Accepted
Prices
• £6.5 Per Seed
• Bulk orders get discounted rate
---
Main Category Page:
Cannabis Seed Index
– A curated index of the world's best cannabis seed strains. Each review contains vital information, such as cultivation tips, strain profiles, and where to buy the best cannabis seeds.