Spider Farmer SF-4000 LED Grow Light Review
An in-depth review of the Spider Farmer SF4000 LED Grow Light. From canopy coverage to the overall design, discover everything you need to know about the SF4000 for the 2022 growing season.
The recently updated Spider Farmer SF-4000 LED grow light for the 2022 growing season has arrived.
Considering the rave reviews of the SF line from Spider Farmer — we're rolling out the red carpet for the new and improved version of the SF-4000. After countless hours of (ab)use, we dug deep to determine just how good the Spider Farmer SF-4000 really is.
Below, you'll find all the necessary details of the SF-4000 and if it's a right fit for your upcoming cannabis garden.
Let's go!
General Overview of the SF-4000 LED Grow Light
First, let's take an upfront look at the specifications for the Spider Farmer SF-4000.
Spider Farmer SF-4000 Specifications
Dimensions:
25.3″D x 21.1″W x 2.3″H
Diodes:
Samsung LM301B
Driver:
MeanWell
umol/J:
2.7
Actual Wattage:
450w
Full-Spectrum:
Yes
Max Coverage:
5'x5′
Dimmable:
Yes
Daisy Chain Compatible:
Yes
Voltage:
100-277
The Pros and Cons of the SF-4000 LED Grow Light
Next, let's dive into the pros and cons of Spider Farmer's new rendition of the SF-4000 LED grow light.
Pros:
● Harnesses Samsung's ultra-powerful LM301B diodes
● Produces full-spectrum and infrared light (IR) to maximize weed yield
● Large 5'x5' canopy coverage without hot spots
● Penetrates deep below the canopy
● Efficient MeanWell driver optimizes electricity consumption
● Consumes 450-watts (replaces at 600w HID)
● Fully dimmable (5-100%) design
● Ultra-sturdy construction and high-quality materials
● Passive cooling system reduces heat output
● Rock solid 3-year local warranty
● Competitive price
Cons:
● Not made in the USA
Spider Farmer SF-4000 LED Grow Light Review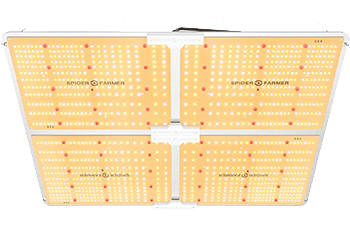 Now, let's get our hands dirty with the SF-4000 LED review.
After using various Spider Farmer SF models for multiple harvests, I was giddy with excitement once I heard Spider Farmer was releasing the lumen-packed SF-4000 for the 2022 growing season.
It's safe to say that I jumped at the chance the moment the new SF-4000 went on sale. Below, I'll discuss everything, from internal to external features, and how the SF-4000 LED grow light performed during a variety of indoor cannabis cycles.
Unboxing the SF-4000 and Initial Impression
If you're as much of a gear junkie as me — you'll understand my feeling when I saw the UPS driver strolling up my driveway with a package in hand.
After wiping down the package (hello COVID protocols) — it was time to break open the box and take my first look at Spider Farmer's SF-4000 LED.
I wasn't surprised to find a picture-perfect LED grow light within the package. As if untouched by human hands, the SF-4000 looked as if it just exited the quality control inspection.
In other words, there wasn't a blemish in sight. Additionally, all the accessories were present. The Spider Farmer SF-4000 LED grow light comes with:
1 x SF-4000 LED Grow Light
2 x Stainless Steel Hanger Hook
2 x Adjustable Rope Hanger
1 x User Manual for Installation
1 x Power Cord (US, UK, AU, EU plug depending on your region)
After drooling over the design of the SF-4000 — it was time to set it up and rev it up for the first time.
Setting Up and Testing the Spider Farmer SF-4000 LED Grow Light
For this review, I used a 5'x5' Gorilla Grow tent that contained a full-blown ventilation system and carbon scrubber.
Although I've set up many LED grow lights in my time, the installation process for the SF-4000 was exceedingly easy. The stainless steel hooks and adjustable rope hangers provided by Spider Farmer were simple by design and hassle-free.
Once set up — I plugged in the power cord and nearly fell back from the intensity of the light.
After fumbling for my sunglasses, I noticed the flood of PAR-rich light across all ends of the grow tent. After adjusting the height, it was time to get to the real part of the review — growing some cannabis plants!
Growing Weed With the Spider Farmer SF-4000 LED Grow Light
For this review; I chose to grow 4 Feminized Zkittlez seeds in ScrOG fashion.
Once germinated, I dialed the SF-4000 back to the 30% mark to avoid stressing the seedlings. As each day passed, I gently began turning up the dimmable dial.
Within a week, I was stunned by the level of growth of my Zkittlez crop. Unlike my 600-watt HPS, the seedlings looked like picture-perfect juvenile cannabis plants.
After four weeks of vegetative growth, my Zkittlez crop was perfectly uniform across the canopy and ready for the flowering process. The 12/12 schedule was ready to rock n' roll by simply adjusting the timer.
During the 9-week flowering stage, I witnessed phenomenal growth that encompassed massive trichome accumulation, dank aromas, and jaw-dropping bud growth. During the final two weeks of flowering, I knew I was about to break a personal yield record.
Overall, the canopy was uniform during the entire grow, and I noticed significant bud accumulation in the undergrowth, signaling the raw power of the Spider Farmer SF-4000 LED grow light. Unlike other LED brands, the Spider Farmer SF-4000 didn't overheat and was relatively cool to the touch during the duration of the grow.
Ultimately, the SF-4000 LED blessed me with a whopping 1.8g/watt harvest!
For those of you new to watt per gram figures, the holy grail was previously 1.5g/watt. Now, LED technology is pushing the yield potential to new territory. In this case, the 1.8g/watt harvest was massive and only the beginning of the SF-4000's capability.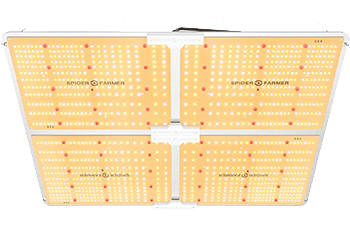 Final Thoughts Regarding the Spider Farmer SF-4000
Ultimately, I was absolutely impressed by the functionality of the SF-4000.
The SF-4000 is incredibly versatile due to its onboard dimming function. Whether I was growing seedlings or plants in full flower — the SF-4000 was ready for the job.
Most notable was the PAR-rich light that produced massive buds covered in resin. Unlike many LED grow lights, the SF-4000 offers a dash of infrared light, which helps stack calyxes.
Furthermore, large-scale marijuana cultivators will love the fact that the SF-4000 is daisy chain compatible. Overall, the SF-4000 is a must-have LED grow light for anyone growing in a 4'x4' grow tent and above.
Additional Information and Tips to Using the Spider Farmer SF-4000
What is the Best Distance Between the SF-4000 LED Grow Light and Weed Canopy?
Although LED grow lights like the SF-4000 can be placed much closer to the canopy than HIDs, there are ideal distances to experiment with.
Below is a chart that shows the ideal light distance for each cannabis stage:
SF-4000 LED Distance Chart
SF-4000 LED Grow Light Wattage
Distance to the Canopy (in inches)
450
20-25″
340
15-20″
226
12-15″
114
10-12″
Understanding the PAR Value of the Spider Farmer SF-4000 LED Grow Light
Next, let's talk about the PAR value since this figure is incredibly important for cannabis cultivators.
As you may or may not know, PAR is photosynthetic active radiation. PAR represents the amount of light that's useful to plants to perform the critical function of photosynthesis.
Going back to Bio-101 — plants need to photosynthesize light to produce sugar to power themselves from germination to harvest.
Overall, the SF-4000 LED grow light is rated at 2.7 umol/J, which is considered extremely efficient and optimal for cannabis production.
Conclusion
Overall, the Spider Farmer SF-4000 is an incredible LED grow light that offers a lot of bang for your buck.
Although the SF-4000 isn't considered cheap (price-wise) — it surely provides a massive amount of power and crucial features that'll make any cannabis cultivator smile.
Whether you're a beginner or a green thumb — the SF-4000 is a must-buy LED grow light for the 2022 growing season. From yield busting potential to versatile use, the SF-4000 LED grow light by Spider Farmer is ready to push your weed crop beyond the limit!
If you're interested in learning about Spider Farmer's other award-winning models, head over to The Best Spider Farmer LED Grow Lights for Cannabis Cultivators.
Alternatively, we offer more reviews of other top-quality LEDs found at The Best LED Grow Lights for Cannabis Cultivators.
Lastly, jump over to our Grow Guide once you buy the SF-4000 LED system to learn all the tips and tricks for a stellar weed harvest.

---
Category Pages:
If you've come this far then you're probably doing your research on all LED grow lights. Luckily, we've reviewed dozens of high-quality LED grow lights so you don't have to. We have more LED grow lights for you to look at and find the one that will suit your garden!
The Best Spider Farmer LED Grow Lights
Product
Rating
More Info

Best Overall

Spider Farmer SF-4000 Quantum Board LED Grow Light
[Read Review]

Best for Small Spaces

Spider Farmer SF-1000 LED Grow Light
[Read Review]

Best for Medium Spaces

Spider Farmer SF-2000 LED Grow Light
[Read Review]

Best For Large Spaces

Spider Farmer SE7000 LED Grow Light
[Read Review]

Best Budget

Spider Farmer SF-1000D LED Grow Light
[Read Review]

Best Premium

Spider Farmer SE1000W LED Grow Light
[Read Review]