Bubble Gum Seeds
An eye-opening guide on the cannabis classic Bubble Gum strain. Learn everything about Bubblegum, such as its jaw-dropping effects and where to find real Feminized Bubble Gum seeds for sale online.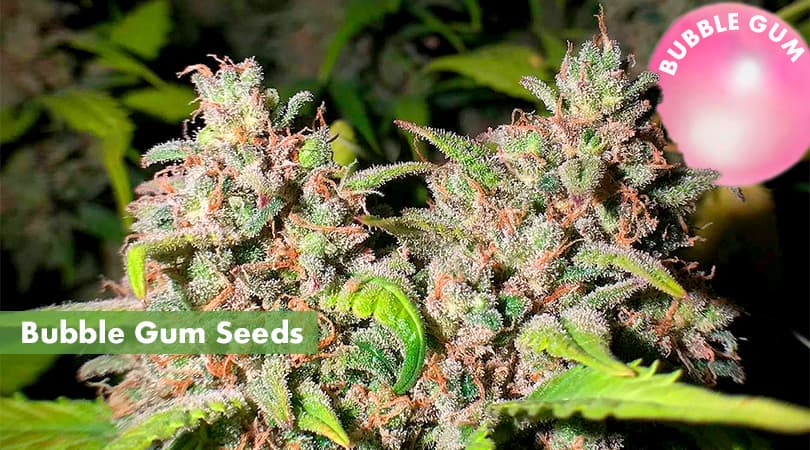 Out of thousands of weed strains available — few hit the bullseye or stand the test of time.
As trends fade into obscurity, cannabis classics march on to provide incredible effects, lip-smacking flavors, and ounces of top-shelf buds that you'll never forget.
For today's review, we'll discuss everything you need to know about the indica-dominant Bubble Gum (Bubblegum) strain. From its numerous Cannabis Cup awards to ease-of-growth, every weed grower needs Bubble Gum in their arsenal.
Read along and discover essential grow tips, drool-worthy traits, and where to buy the best Feminized Bubblegum seeds online.

Bubble Gum Seeds – Strain ID: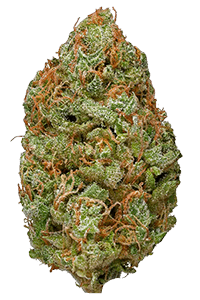 Type: Indica-Dominant
Cannabinoids: Up to 18% THC
Terpenes: Caryophyllene, Pinene, Myrcene
Effects: Uplifting, Anti-Anxiety, Relaxing
Landrace Strain: Indiana BG
Grow Difficulty: Easy
Harvest: 7-9 Weeks / 9+ Weeks
Yield: Up to 600g/㎡ / 500g/plant
Height: 3-4 feet/ 4+ feet
(*Indoor / Outdoor)
The Best Bubble Gum Feminized Seeds in 2023:
---
About the Bubble Gum Strain
Background
To understand the history of Bubblegum seeds, we need to go way back to the early '90s.
During the heyday of cannabis cultivation, growers were forced underground if they wanted to continue their trade. It was these founders that crafted the backbone genetics that all hybrid strains are made of today.
In Indiana, USA, growers became accustomed to a new strain making waves in the close-knit community. The strain was dubbed Indiana BG — short for Indiana Bubblegum due to its audaciously sweet flavor and aroma.
Unlike most weed of that era, Indiana Bubble Gum was insanely flavorful, loaded with resin, and easy to grow. Therefore, cultivators in Indiana only grew Indiana Bubblegum seeds and left everything else by the wayside.
However, it wasn't until Dutch cannabis enthusiasts discovered Indiana Bubble Gum seeds that it went from a local favorite to a worldwide phenomenon.
The breeders at Serious Seeds worked on the Indiana Bubble Gum line and inbred it until it was stable. Once stable, Serious Seeds released their iteration of Bubble Gum to the public.
Now, you can enjoy this fabled strain in the form of Feminized Bubble Gum seeds.
Growing Bubble Gum Seeds
Although newer marijuana strains are exciting to grow — there's nothing like growing a stable variety.
For example, Feminized Bubble Gum seeds are less sensitive than untested genetics. In other words, Bubble Gum is less likely to hermie during the flowering stage.
Therefore, growing Bubblegum is an excellent idea when you need reliable weed. Whether your indoor or outdoor setup isn't up to snuff or you want to avoid any issues down the road, Bubble Gum is one of those few strains that push on when the going gets tough.
Lastly, don't assume that Bubble Gum is only meant for growers that need bullet-proof weed. Instead, there's a reason why Bubble Gum has taken home armfuls of awards around the world.
Below, you'll find all the information you need to grow the best Bubble Gum buds in your indoor or outdoor garden.
Grow Difficulty
The Bubblegum strain is easy to grow, making it perfect for beginners needing a forgiving variety.
Therefore, aspects such as feeding are standard and don't require extensive fine-tuning. In other words, standard doses of plant nutrients suffice and produce healthy Bubble Gum plants.
Additionally, Bubble Gum's stability is a key benefit for beginners and professionals. Considering hermies aren't a common worry during the flowering period, cultivators can focus on other aspects of growing a successful crop of Bubblegum weed.
Lastly, Bubble Gum is easy to train. From SOG to LST, cultivators will have an easy time manipulating Bubblegum plants for the best possible yield.
Optimal Growing Conditions and Climate
Although the original Bubble Gum strain hails from Indiana, it's best to provide a Mediterranean-like climate for the best results.
Therefore, outdoor growers must provide adequate sunshine, warmth, and low humidity during the prime growing season. Remember, your Bubblegum plants must be ready for harvest before the frigid temperatures of autumn arrive.
If you grow Feminized Bubblegum seeds indoors — you must keep the temperature range between 77-88F. Although the temperature can fluctuate above or below this range, the best buds are produced in a comfortable climate.
Additionally, do not let humidity exceed 70% during the flowering stage. As long as you maintain an adequate climate — you'll be in for an epic harvest!
Flowering time
The Bubble Gum strain flowers in 7-9-weeks.
Ultimately, the holy grail phenotype to watch out for is the fast finisher at 49-days. However, all phenotypes of Bubble Gum produce stellar buds that taste and smell exactly like sweet bubblegum.
However, indoor growers are likely to harvest their crop within 7-8-weeks due to the ideal climate. On the other hand, outdoor growers should expect to pull down their Bubble Gum plants by the end of September or October.
Yield
The yield of the Bubble Gum strain is why cultivators come back for more year after year.
As if you could ever have enough bubblegum — the Bubble Gum strain is known as a heavy yielder that'll make you feel like the ultimate green thumb. Indoors, Bubble Gum plants unload up to 600g/m2 when appropriately trained.
Outdoors, Feminized Bubble Gum plants are liable to pump out up to 500-grams per plant. Therefore, you'll be swimming in Bubble Gum weed for months whether you grow indoors or outdoors.
Height
One of the best aspects of the Bubble Gum strain is its height.
At 100-120cm, the Bubble Gum strain is optimized for most locations. Whether you grow weed in a closet or a massive backyard, the Bubble Gum plant's height will suit your needs.
Remember, decreasing the length of the veg cycle will naturally reduce the height of the plants. Alternatively, training or topping the Bubble Gum plants will keep their size down to a manageable level.
Therefore, top early and often if you require small cannabis plants!
Resistance to Pests and Diseases
Bubble Gum plants offer moderate resistance to pests and diseases.
Therefore, you need to pay special attention to the humidity in your grow room or local environment. Remember, elevated moisture content leads to the proliferation of pests and diseases — especially mold.
Therefore, a solid IPM program is essential to protecting your beloved Bubble Gum plants. The best practices to ensure the health of your Bubble Gum plants are:
Remove the lowest growth (lollipop)
Add one oscillating fan per meter squared
Adequately space each plant
Keep your garden clean
Always wear clean clothes into the grow room
Apply organic neem oil during the vegetative stage
Monitor your crop daily
Bubble Gum Strain Description and Properties
The Appearance of Bubblegum Weed
You might faint the first time you see Bubble Gum weed — it's that good.
Although many cannabis strains claim their buds are frosty — you haven't seen anything until you see the Bubble Gum strain decked out in a gown of crystals. From head to toe, it's nothing but resin, and you might have to rub your eyes to make sure you see straight.
The frost content is so heavy that you won't be able to see what's underneath. However, once you break up the dense buds, you'll find perfectly shaped calyxes and electric orange pistils that'll make your mouth water.
Overall, Bubble Gum buds are as good as it gets, and you're probably the only person with it in town.
Dominant Cannabinoids Found in Bubble Gum Weed
The dominant cannabinoid found in the Bubble Gum strain is THC.
Although it's not a world record, Bubble Gum weed offers up to 18% THC. However, average test results peg the THC content at 17%.
Therefore, beginners with a low tolerance will experience an intense yet manageable high. However, don't let this sub 20% THC strain fool you — it'll put you down for the count if you overindulge.
Dominant Terpenes Found in Bubblegum Weed
It's time to bask in the sweet smell of Bubble Gum weed once you crack open a jar that's done curing.
The first notes to hit your nostrils are full of über sweet candy. Once you take the time to delve into the aroma, you'll notice hints of jasmine, raw sugar, fermenting fruit, and sour candy.
As you indulge, the flavor of Bubble Gum weed is 100% Big Chew bubblegum from your childhood. Aside from the mouthful of bubblegum sweetness, citrus, spice, and everything nice rounds off the edges to make a truly mouth-watering experience.
The three dominant terpenes found in the Bubble Gum strain are myrcene, pinene, and caryophyllene. The myrcene in Bubble Gum weed produces sweet floral accents, while the pinene generates sour sweetness.
Lastly, the caryophyllene content is responsible for the spice and raw sugar element.
Effects of the Bubble Gum Strain
If you want to experience perfection — reach for the Bubble Gum jar and pack your bowl tight.
As you exhale the silky-smooth smoke, an overwhelming embrace of good vibes takes over. All your problems fade away from one moment to the next, and your mood elevates above the clouds.
From jaw-breaking laughter to pure happiness, the Bubble Gum strain provides one hell of a good time. As the mind is stimulated and capable of creative thoughts, the body is entrenched in pure relaxation.
As if numb to the world, Bubblegum weed levels your body into its most relaxed state. However, too much Bubblegum may lead you directly down the rabbit hole of sleep.
In any case, the effects of Bubble Gum last for 1-4-hours depending on your tolerance.
Medical Properties of the Bubblegum Strain
Known as a medical marijuana workhorse, Feminized Bubble Gum seeds are a must-have for anyone in need of soothing weed.
From the USA to every corner of the world, Bubble Gum is renowned for assisting patients suffering from many different issues. Here's a list of the major medical attributes that Bubble Gum weed can help with:
Insomnia
Pain
Depression
Anxiety
Nausea
If you need an effective marijuana strain — you need to grab a pack of Feminized Bubblegum seeds. Although challenging to find for sale — it's well worth the leg work once you harvest your Bubble Gum crop!
Negative Effects of Bubble Gum Weed
As with anything — too much of a good thing has its downsides.
When consuming too much Bubble Gum weed, you may experience:
Extreme drowsiness or sleepiness
Paranoia
Dry mouth
Red eyes
As you can see, you must always consume Bubblegum weed with care. Unless your THC tolerance is high, you should always begin with a small dose to ensure an enjoyable time!
Pros/Cons of Growing Feminized Bubblegum Seeds
Pros
Top-shelf bag appeal
Extreme resin content
Long-lasting effects for medical marijuana patients
Massive yield
Lip-smacking terpene profile
Easy to grow
Medium to low height
Cons
Medium THC content
Challenging to find real Feminized Bubblegum seeds
Watch: Bubble Gum Strain Grow: Week 9
The Best Bubble Gum Feminized Seeds in 2023:
---
Main Category Page:
Weed Seed Index
– A curated index of the world's best cannabis seed strains. Each review contains vital information, such as cultivation tips, strain profiles, and where to buy the best cannabis seeds.