Juicy Fruit Seeds
An in-depth review of the sativa-dominant Juicy Fruit strain. Learn everything about Juicy Fruit, such as its fruit-forward terpene profile, growth traits, and where to find real Feminized Juicy Fruit seeds for sale online.
Come rain or shine — there's nothing better than laughing out loud with your friends and family.
As the world contends with one problem after another, it's important to focus on uplifting weed strains that bring creativity, energy, and good vibes to the table. For today's review, we'll take a deep dive into the Juicy Fruit strain.
Known as one of the most mind-blowing sativa-dominant hybrids in town, you'll always want to have Juicy Fruit growing in the garden once you give it a try.
Below, you'll learn about Juicy Fruit's growth traits, cannabinoid content, terpene profile, and ultimately, where to buy Juicy Fruit seeds online.
If you're ready to experience fruity flavors, sky-high potency, and hours of blissful fun — join us with this Juicy Fruit review!

Juicy Fruit Seeds – Strain ID: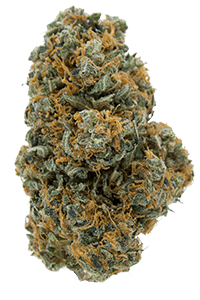 Type: Sativa-Dominant Hybrid
Cannabinoids: 20-23% THC
Terpenes: Myrcene, Caryophyllene, Pinene
Effects: Euphoria, Creative, Relaxing
Landrace Strain: Afghan x Thai
Grow Difficulty: Easy to Moderate
Harvest: 7-9 Weeks / 9+ Weeks
Yield: Up to 750g/㎡ / 800g/plant
Height: 4-6 feet/ 6+ feet
(*Indoor / Outdoor)
The Best Juicy Fruit Feminized Seeds in 2023:
---
About the Juicy Fruit Strain
Background
The Juicy Fruit strain was created by the legends at Sensi Seeds.
To avoid confusion, Juicy Fruit goes by multiple names, such as Fruity Juice (official name from Sensi Seeds) and Juicy Fruit OG. In any case, the name Fruity Juice and Juicy Fruit are interchangeable, and you'll likely find the right seeds when using these names.
Now, let's get back to the history of the Fruity Juice strain.
Sensi Seeds crafted Fruity Juice seeds by crossing a landrace Afghan and Thai. The result of this epic pairing was the legendary Juicy Fruit strain.
As the breeders at Sensi Seeds tested Juicy Fruit, they realized that they had created a sativa-dominant hybrid with incredible traits. From fast-flowering to mind-blowing effects and everything in between, it was clear that a star was born.
Once released, Juicy Fruit became the gold standard for cultivators who needed top-shelf sativa-dominant weed — fast.
Although difficult to find in-person, Feminized Juicy Fruit seeds are available for sale via online seed banks.
Growing Juicy Fruit Seeds
As with all cannabis strains, it's essential to know before you grow.
In other words, you must learn about the weed strain you intend to cultivate. In this case, Juicy Fruit presents a wide range of elements that will impact your growing season.
From grow difficulty to height and everything in between, you need to consider these facts to ensure a bountiful harvest. By reading below, you'll discover all of Juicy Fruit's unique traits.
Grow Difficulty
The Juicy Fruit strain's grow difficulty is rated as easy to moderate.
Overall, all skill levels are capable of producing a bumper-crop of Fruity Juice buds. However, there are a few essential aspects to note to ensure a straightforward experience.
First, Juicy Fruit plants can get tall. Unless you get the compact growing phenotype, you may need to implement training techniques.
Second, outdoor growers must understand that harvest time may occur when temperatures drop. Therefore, you must consider your local climate before you germinate your Fruity Juice seeds.
As long as you consider these tips, your experience will be fruitful.
Optimal Growing Conditions and Climate
Next, let's talk about the optimal conditions and climate to grow Feminized Juicy Fruit seeds.
Juicy Fruit plants enjoy bright sunshine, warmth, and medium humidity when grown outdoors. Additionally, Juicy Fruit can handle mild summer rain and wind.
Lastly, Juicy Fruit plants can get big. Therefore, allow 1-2 meters between plants when grown outdoors.
If you grow Juicy Fruit seeds indoors, you must reduce the vegetative stage to 1-2-weeks maximum. Overall, the Sea of Green or ScrOG methods can only be used when utilizing a short veg stage.
Remember, the Juicy Fruit strain can double or triple in size once flowering begins. Therefore, training is necessary when grown indoors.
For indoor growers, the temperature range of 77-86F is optimal. Additionally, Juicy Fruit can handle up to 70% humidity as long as you provide adequate ventilation.
As a final note, Juicy Fruit enjoys bright light, which means 600W of light is the minimum per meter squared.
Flowering Time
The flowering time of Juicy Fruit is incredibly fast.
However, we're not surprised because Juicy Fruit is the result of crossing a landrace indica and sativa. Therefore, we're left with flowering results that span ultra-fast and average.
Overall, Juicy Fruit plants finish flowering within 7-9-weeks.
As you can see, 7-weeks is ultra-fast when considering Juicy Fruit's sativa dominance. Indoor growers that find fast-flowering phenotypes will harvest by the 7-8-week mark.
Outdoor growers may harvest by the end of September or the beginning of October. Ultimately, the Juicy Fruit strain is perfect for growers searching for a rapid sativa without the 10-week wait.
Yield
Juicy Fruit's yield is enormous.
There's nothing like admiring the long spears of dense buds that Juicy Fruit plants produce. From sticky resin to bright colors, Juicy Fruit is jam-packed with yield potential.
When grown indoors, Juicy Fruit plants can produce upwards of 750g/m2. If you grow Juicy Fruit seeds outdoors, the yield potential rises to 800-grams per plant.
In any case, harvest day is going to be epic as long as you have a few friends to help at your trimming party!
Height
The height of Juicy Fruit plants ranges from medium to tall.
If you find the compact phenotype, the height is manageable and suitable for indoor growing conditions. If you get the tall phenotype, you'll need to reduce veg indoors or give it ample space outdoors.
When left to grow outdoors, Juicy Fruit plants can exceed 3-meters. In other words, Juicy Fruit can transform into a tree in a few months after germination.
As long as you're prepared and understand how to train cannabis plants — you'll have a stress-free experience with the Juicy Fruit strain!
Resistance to Pests and Diseases
The Juicy Fruit strain presents a high resistance to pests and diseases.
However, Juicy Fruit plants cannot defend themselves in the case of spider mites or mildew outbreaks. In other words, it's your duty to protect your crop to ensure a hefty harvest.
The best practices to ensure the health of your Juicy Fruit plants are:
Remove the lowest growth (lollipop)
Add one oscillating fan per meter squared
Adequately space each plant
Keep your garden clean
Always wear clean clothes into the grow room
Apply organic neem oil during the vegetative stage
Inspect your crop daily
Juicy Fruit Strain Description and Properties
The Appearance of Juicy Fruit Weed
The appearance of Juicy Fruit weed is strictly top-shelf.
Juicy Fruit's buds are long, dense, and drenched in thick resin glands. Additionally, the lime green calyxes are blown out to create a truly mesmerizing display.
Lastly, the pistils are bright orange and lend a gorgeous element to the already perfect-looking buds of Juicy Fruit.
Dominant Cannabinoids Found in Juicy Fruit Weed
The dominant cannabinoid found in Fruity Juice weed is THC.
However, there are minimal amounts of CBD found in Juicy Fruit buds as well. In any case, THC is the primary cannabinoid that you will experience with Juicy Fruit.
In general, Juicy Fruit weed contains 20-23% THC. However, experienced growers can exceed the 23% mark once they have their crop dialed in.
Remember, Juicy Fruit is incredibly potent, making it suitable for users with a high THC tolerance. If you're new to cannabis, you must consume Juicy Fruit slowly to avoid adverse effects.
Dominant Terpenes Found in Juicy Fruit Buds
The Juicy Fruit strain provides distinctive aromas and flavors that hit just right.
As you smell Juicy Fruit weed, you'll immediately pick up on notes of spice, tropical fruit, and dank sweetness. The aroma is not overpowering but instead relaxing.
Once you indulge, your taste buds will reach maximum satisfaction. The flavors of sweetened hash, fermenting fruit, and spicy herbal notes are truly mouth-watering.
If you're ready to experience an entirely new terpene profile — Juicy Fruit is it!
Lastly, the three dominant terpenes found in Juicy Fruit are myrcene, caryophyllene, and pinene. Myrcene and caryophyllene produce spicy sweetness, and the pinene offers minty fresh accents.
Overall, you'll pamper your senses with the Juicy Fruit strain.
Effects of the Juicy Fruit Strain
The effects of Juicy Fruit strain are strong and long-lasting.
First, the effects begin with a rush of euphoria that elevates your senses to the extreme. From sensory awareness to heightened creativity, your mind and body become responsive.
Soon, everything becomes hilarious. Whether it's the movie you're watching or the car passing by, you won't be able to hold in a big smile and a hearty laugh.
As the heady effects calm down, your body may experience the stronger indica effects produced by Juicy Fruit. The latter period of the experience is filled with relaxation and clarity — two valuable traits for individuals who don't want to feel lazy.
Overall, Juicy Fruit provides hours of fun and relaxation when consumed responsibly.
Medical Properties of the Juicy Fruit Strain
Juicy Fruit is ideal for medical marijuana patients that require energetic and emotional support.
If you're a medical marijuana patient that's ready for a fast-flowering sativa, there's no better option than Juicy Fruit seeds. From the ease of growth to big yields, there's no better time than now to experience the bounty that Juicy Fruit provides.
Here's a list of the major medical attributes that Juicy Fruit can assist with:
Fatigue
Depression
Anxiety
Stress
Negative Effects of Juicy Fruit Weed
With so many positive attributes, it only makes sense that there are a few adverse effects while indulging in the Fruity Juice.
If you consume too much Fruity Juice weed — you may experience:
Extreme drowsiness or paranoia
Red eyes
Dry mouth
Additionally, if you're new to cannabis — take it easy with Fruity Juice. The THC content is incredibly high, making Fruity Juice OG a one-hit-quit for most beginners.
Therefore, always gauge your tolerance and adjust your intake accordingly for an enjoyable time with Fruity Juice.
Pros/Cons of Growing Juicy Fruit Seeds
Pros
Massive yield
Stunning bag appeal
Unique terpene profile
Sky-high THC content
Easy to grow
Fast flowering
Cons
Challenging to find real Feminized Juicy Fruit seeds
Grows tall
Watch: Juicy Fruit Strain Grow: Week 9
The Best Juicy Fruit Feminized Seeds in 2023:
---
Main Category Page:
Weed Seed Index
– A curated index of the world's best cannabis seed strains. Each review contains vital information, such as cultivation tips, strain profiles, and where to buy the best cannabis seeds.