Kandy Kush Seeds
An eye-opening guide on the legendary Kandy Kush strain. Discover everything about the Kandy Kush, such as its private reserve quality, growth traits, potency, and where to find Feminized Candy Kush seeds for sale online.
Growing any strain of cannabis takes time.
Therefore, you should always get the most bang for your buck by growing top-shelf strains that pack a punch in all departments. In other words, it's worth growing marijuana strains that provide private reserve quality.
If you're ready to cultivate weed that you'll never want to share — it's time to read our review on the Kandy Kush strain.
Kandy Kush plants produce phenomenal buds drenched in sticky crystals that'll have everyone begging for a piece. Believe us when we say that Candy Kush is strictly head stash material — and nothing else!
Continue reading below to learn about Kandy Kush's growth traits, terpene profile, THC content, and where to buy Feminized Kandy Kush seeds online.

Kandy Kush Seeds – Strain ID:
Type: Indica-Dominant Hybrid
Cannabinoids: 14-20% THC
Terpenes: Limonene, Caryophyllene, Myrcene
Effects: Euphoria, Relaxing, Couch-Lock
Landrace Strain: OG Kush x Trainwreck
Grow Difficulty: Very Easy
Harvest: 9-10 Weeks / 10+ Weeks
Yield: Up to 550g/㎡ / >600g/plant
Height: Up to 4-5 feet / 5+ feet
(*Indoor / Outdoor)
The Best Kandy Kush Feminized Seeds in 2023: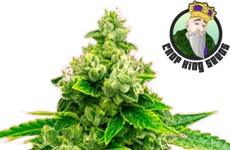 • 14-19% THC
• Harvest: 9 Weeks
• Yield: 500g/㎡
• Shipping Worldwide
• Germination Guarantee
• Credit Cards & Bitcoin Accepted
Prices
• 5 Seeds – $65
• 10 Seeds – $120
• 25 Seeds – $240
---
About the Kandy Kush Strain
Background
The Kandy Kush strain is the brainchild of master growers and legendary genetic parentage.
DNA Genetics is the group behind Reserva Privada, a sub-brand that creates ultra top-shelf varieties. In this case, Reserva Privada wanted to introduce an indica-dominant hybrid to its offerings.
To do so, Reserva Privada crossed OG Kush with Trainwreck, two of the most loved weed strains in history. Therefore, one could assume that a killer hybrid would result from such a high-end lineage.
The resulting Kandy Kush seeds were exactly what Reserva Privada hoped for — an indica-dominant powerhouse that produced connoisseur-grade weed and easy-to-grow plants.
As such, Kandy Kush garnered non-stop attention and collected multiple cannabis awards. As Kandy Kush seeds circulated, medical marijuana patients and cannabis enthusiasts worldwide became convinced of its superiority.
Now, Kandy Kush is available in feminized form via online seed banks. However, Kandy Kush is known by various names, such as Candy Kush, Kush Kandy, and Kandy OG.
If you're ready to pop a pack of Candy Kush seeds — you'll find everything you need to know below.
Growing Kandy Kush Seeds
As we previously mentioned — growing marijuana takes time and effort.
Therefore, it's best to know before you grow. In other words, you should always research the strain you intend to grow.
In this case, we've compiled all the essential details for cultivating Kandy Kush plants (indoors or outdoors). From optimal growing conditions to yield potential and everything in between, you'll find out how to push your Kandy Kush crop to the limit below.
Grow Difficulty
The Candy Kush strain is one of the easiest top-shelf varieties to grow.
Unlike most high-end varieties, Kandy Kush is beginner-friendly, making it the perfect strain for newbies and professionals alike.
Whether this is your first grow or hundredth, the Kandy Kush strain will light up your indoor or outdoor garden with gorgeous buds caked in frost.
The Kandy Kush strain offers beginner-friendly traits, such as:
Short growth
Low maintenance requirements
Produces massive yields with little effort
As you can see, the grow difficulty is practically non-existent. Therefore, growing Candy Kush is a no-brainer if you're wondering which strain to grow next.
Optimal Growing Conditions and Climate
The Kandy Kush strain hails from the sunny climate of California.
Therefore, Mediterranean-like climates are your best bet if you intend on cultivating Kandy Kush seeds outdoors. From bright light to mild humidity, Candy Kush plants excel when given what they want.
When grown indoors, Kandy Kush plants desire ultra-bright light from HIDs and a temperature range of 77-86F. Furthermore, Candy Kush plants prefer 40-70% RH to pack on the pounds during the flowering stage.
Additionally, air circulation is a must when growing massive buds such as those pumped out by Kandy Kush.
Last but not least, Kandy Kush is a heavy feeder and never says no to a meal. However, reign in your feeding schedule if you ever encounter burned leaf tips.
Flowering Time
The Kandy Kush strain flowers within 9-10-weeks.
Although this may seem like an eternity — the results are well worth the wait. From bottle-sized buds to irresistible traits, you'll be dreaming about your next Kandy Kush crop.
If you grow Kandy Kush seeds indoors, you'll likely harvest by the 9-week mark. Furthermore, cultivators that use hydroponics are likely to harvest the fastest compared to those growing in soil.
However, all Candy Kush seeds contain various phenotypes, which ultimately dictate the flowering time.
If you grow Candy Kush seeds outdoors, prepare to harvest by the middle of October. Remember, the middle of October may become miserably cold in your local climate. Therefore, keep an eye on your forecast to ensure your Candy Kush plants do not experience frost overnight.
Yield
The yield of Kandy Kush is one of the highest when it comes to Kush varieties.
Overall, indoor growers with optimal conditions may produce up to 550g/m2 of Candy Kush flowers. At 550-grams, the indica-dominant Kandy Kush will likely outperform most heavy-yielding sativa-dominant hybrids!
When grown outdoors, Kandy Kush plants may produce upwards of 600-grams per plant. As you can see, the Candy Kush strain is a heavy yielder that's well worth your time and effort.
Height
The height of the Kandy Kush plant is rated as short and manageable.
Overall, Kandy Kush plants grow in a compact and short form, enhancing their ease of growth. Therefore, the SOG and ScrOG methods are recommended for indoor growers that want to maximize their yields.
Lastly, the stretching phase after flowering begins is not as extreme as other Kush and OG hybrids. Instead, Candy Kush plants do not stretch much, making it the perfect strain for limited grow spaces.
Resistance to Pests and Diseases
The pest and disease resistance of the Kandy Kush strain is rated as moderate.
Therefore, you must be proactive by implementing a sound IPM strategy in your indoor or outdoor garden. Remember, your objective as a cannabis grower is to prevent disasters from occurring — not reacting to them!
The best practices to ensure the health of your Candy Kush plants are:
Remove the lowest growth (lollipop)
Add one oscillating fan per meter squared
Adequately space each plant
Keep your garden clean
Always wear clean clothes into the grow room
Apply organic neem oil during the vegetative stage
Inspect your crop daily
Kandy Kush Strain Description and Properties
The Appearance of Kandy Kush Weed
Kandy Kush weed is breathtaking in every regard — especially in its appearance.
The flowers of Candy Kush are large and in charge. From bottle-sized buds to foxtail calyxes, there's nothing short of mesmerizing as you gaze at your Kandy Kush crop during the final week of flowering.
Kandy Kush's buds are coated in a thick layer of resin that'll leave your fingers glued together. Additionally, the flowers of Candy Kush are a vibrant green that practically jumps out at you.
Ultimately, Kandy Kush weed is private reserve territory. In other words, this isn't weed you share with just anyone. Instead, Kandy Kush weed is meant to be shared with the real ones that have stuck it out with you through thick and thin.
Dominant Cannabinoids Found in Kandy Kush's Buds
The dominant cannabinoid found in Kandy Kush's luscious buds is none other than THC.
According to lab results, the THC content of Candy Kush weed ranges from 14-20%. However, skilled weed cultivators can push the THC content above 20% by giving Kandy Kush everything it needs.
Although Kandy Kush isn't the strongest strain on the block — it will level beginners who indulge too much. Therefore, allow your body to build a tolerance to THC if you're new to marijuana.
Dominant Terpenes Found in Kandy Kush Weed
The Kandy Kush strain smells and tastes like weed-infused candy.
As you break open a jar filled with dense Kandy Kush buds, you'll be greeted by overtones of sweet n' sour citrus, lemon-infused diesel, and unrefined sugar. Believe us when we say that Kandy Kush will stink up the entire block — so be careful!
As for the taste, prepare your taste buds to bathe in overwhelming citrus zest, lemonade gas, Muscovado sugar, and elements of tropical fruit. Overall, you'll understand where the "Kandy" in Kandy Kush comes from after the first puff.
The three primary terpenes found in the Candy Kush strain are limonene, caryophyllene, and myrcene. The caryophyllene and myrcene combine to create a sweet and spicy floral bouquet that's unlike anything you've ever experienced. The limonene, on the other hand, provides astounding lemon-fueled diesel around every corner.
Effects of the Candy Kush Strain
The effects of the Candy Kush strain will take you on the express elevator to heaven.
Kandy Kush provides users with unparalleled levels of relaxation from the first to last puff. Overall, cannabis enthusiasts will be blown away by Candy Kush's long-lasting effects.
From the get-go, you'll experience a rush of euphoria that's calming and uplifting. As your mind settles in the clouds, your body will instantly melt into the couch. As the effects continue, you'll notice an urge to converse with others and an influx of creative thoughts.
Overall, Kandy Kush boosts the mood and allows users to experience the here and now of life. As the effects wane, the urge to settle into bed becomes apparent. Overall, Candy Kush ends the experience with hours of blissful sleep.
Medical Properties of Candy Kush Weed
The Kandy Kush strain is one of the premier medical marijuana strains that the industry has to offer.
If you've been waiting on the sidelines to grow weed at home, it's time to take a hard look at Candy Kush. From its ease of growth to medical-grade properties, Kandy Kush is a must-have strain by all accounts.
Kandy Kush ticks all the boxes due to its all-encompassing hybrid characteristics. From relaxation to motivation, Candy Kush has it all.
Here's a list of the major medical attributes that Kandy Kush weed can assist with:
Migraines
Nausea
Pain
Mobility issues
Depression
Anxiety
Insomnia
Negative Effects of the Candy Kush Strain
With so many positive attributes, it only makes sense that there are a few adverse effects while indulging in the Candy Kush strain.
If you consume too much Kandy Kush weed — you may experience:
Extreme drowsiness or paranoia
Red eyes
Dry mouth
Additionally, if you're new to cannabis — take it easy with Kandy Kush. The THC content is moderate, but beginners may become too high if they consume a large quantity of Kandy Kush in a single session.
Therefore, always gauge your tolerance and adjust your intake accordingly for an enjoyable time with Candy Kush. Lastly, Candy Kush is known for its calming effects, which is why you should never operate a vehicle or any other heavy machinery while under Kandy Kush's blissful properties.
Pros/Cons of Growing Kandy Kush Seeds
Pros
Private reserve bag appeal
Massive yield
Easy to grow
Mouth-watering terpene profile
High THC content
Manageable plants
Cons
Challenging to find real Feminized Kandy Kush seeds
Moderate flowering time
Watch: Kandy Kush Strain Harvest
The Best Kandy Kush Feminized Seeds in 2023: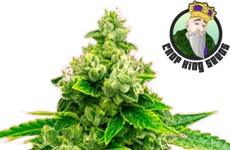 • 14-19% THC
• Harvest: 9 Weeks
• Yield: 500g/㎡
• Shipping Worldwide
• Germination Guarantee
• Credit Cards & Bitcoin Accepted
Prices
• 5 Seeds – $65
• 10 Seeds – $120
• 25 Seeds – $240
---
Main Category Page:
Marijuana Seed Index
– A curated index of the world's best cannabis seed strains. Each review contains vital information, such as cultivation tips, strain profiles, and where to buy the best cannabis seeds.