King Louis Seeds
An eye-opening guide on the royal King Louis strain. Learn everything about King Louis XIII, such as its kingly properties and where to find real feminized or autoflowering King Louis seeds for sale.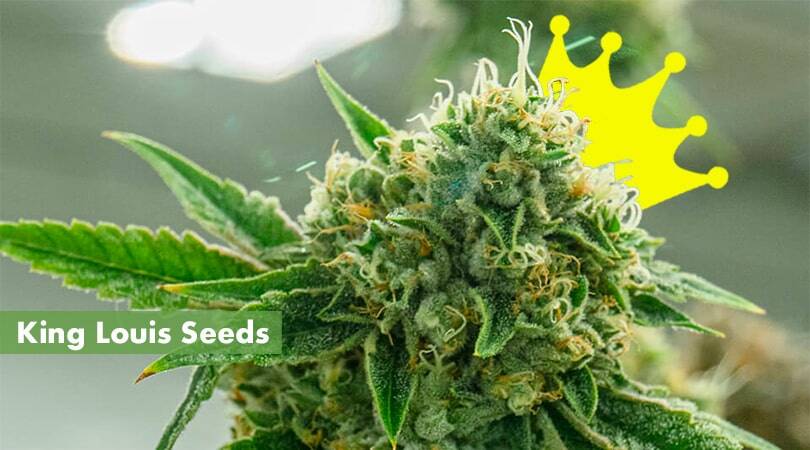 Sometimes, you have to pay the cost to be the boss.
In the case of cannabis — nothing compares to the overlord of top-shelf weed: King Louis XIII. The King Louis strain's lordly properties are enough to make all other strains seem like mere peasants in comparison.
If big yields of top-shelf buds fit your fancy — it's time to get on the throne and grow King Louis XIII seeds.
Continue to read along as we review King Louis and all of its omnipotent characteristics. From grow tips to where to buy autoflowering or feminized King Louis seeds — let this guide shine the light on the strain that makes the cannabis industry bend the knee.

King Louis Seeds – Strain ID:
Type: Indica
Cannabinoids: 20%+ THC
Terpenes: Myrcene, Caryophyllene, Limonene
Effects: Anti-stress, Couch-Lock, Sleepy
Landrace Strain: LA Confidential x OG Kush
Grow Difficulty: Challenging
Harvest: 8-9 Weeks / 9+ Weeks
Yield: 500g/㎡ / Up to 450g/plant
Height: Up to 4-6 feet/ 6+ feet
(*Indoor / Outdoor)
The Best King Louis Feminized Seeds in 2023:
---
About the King Louis Strain
Background
The King Louis strain is a fabled variety with minimal knowledge of its history.
Although Louis XIII didn't appear out of the blue — there are too many cultivators that claim the throne. In other words, we won't enter the fray by giving credit to one of the many potential suitors of Louis OG.
What is clear is King Louis' epic lineage. Whoever created King Louis seeds used a rare LA cut of OG Kush and LA Confidential. As you can see — King Louis is a purebred Los Angeles-based strain.
Once released, cannabis enthusiasts were shook by the insane resin content, blistering effects, loud terpene profile, and heavy-duty yield. Furthermore, the release of King Louis notched another win for the OG Kush family.
However, King Louis Kush seeds weren't easy to find before legalization. Now, however, growers can buy feminized or autoflowering King Louis seeds online.
Remember, King Louis goes by many different names, such as Louis the 13th, Louis OG, Louis Kush, King Louis XIII OG Kush, and King Louis Kush.
Growing King Louis Seeds
If you're ready to grow King Louis seeds at home — you need to understand a few aspects of cannabis cultivation.
First, King Louis isn't an easy strain to find for sale. Therefore, your garden should be adequately prepared before germinating these royal seeds.
Second, King Louis OG Kush plants are loud once flowering begins. Therefore, carbon filters are a must if you grow indoors.
Below, you'll find everything you need to get your King Louis crop from seed to harvest!
Grow Difficulty
You'll need to prove if you're worthy if you want to grow the King Louis strain.
In other words, King Louis is notably challenging to grow indoors or outdoors. However, cultivators with a few successful harvests under their belt will find the Louis OG strain as moderately challenging.
From nutrient requirements to climate sensitivity, the King Louis strain demands your utmost attention. Additionally, King Louis' growth traits are a challenge for many novice growers unless they understand plant training methods.
Ultimately, the King Louis strain will make you work for its buds. However, the final result is truly worth it.
Optimal Growing Conditions and Climate
The King Louis XIII strain is an LA native.
In other words, non-stop heat waves, mild humidity, and poor air quality are the norm. However, this isn't to say that King Louis thrives in such inhospitable conditions.
Instead, growers that produce top-shelf King Louis weed grow indoors under optimal conditions. From CO2 to climate-controlled air conditioning, the King Louis strain deserves to be pampered from the get-go.
If you grow King Louis XIII outdoors, ample sunlight, mild humidity, and occasional shade are a must. Furthermore, your climate must allow King Louis plants to mature fully before the cold weather arrives.
Flowering Time
Feminized King Louis plants flower within 9-weeks.
However, autoflowering King Louis seeds finish the flowering stage in as little as 9-weeks post-germination. Furthermore, autoflowering seeds do not require day and night hours to stimulate flowering.
When grown indoors, Louis the 13th plants can finish within 8-weeks. However, you should always check trichome maturity to ensure the ripeness of the flowers.
Outdoors, King Louis ripens by the end of September or the beginning of October. Once again, your climate must allow your crop to mature to avoid a lackluster harvest.
Yield
The yield of King Louis OG is why it's known as the kingmaker in the marijuana industry.
When grown under optimal conditions indoors, the King Louis XIII strain is capable of yielding 500g/m2. If you grow the autoflowering version of King Louis — expect yields in the range of 300-400g/m2.
If you grow King Louis seeds outdoors, each plant is capable of yielding 450-grams per plant or more. In other words, growing King Louis is well worth your time.
Height
King Louis grows to a medium height, making it suitable for indoor and outdoor growers.
However, when we say suitable, we are talking about grow tents or outdoor plots that can handle plants between 120-200cm in height. Therefore, most cultivators implement plant training techniques to keep their gardens in check.
From SOG to FIM, cultivators must use plant training methods to their benefit. Additionally, the King Louis strain is known to produce more weed when trained correctly.
Resistance to Pests and Diseases
Remember, the bigger they are — the harder they fall.
The same can be said with King Louis XIII. Although King Louis OG is beyond epic in terms of quality — it's moderately resistant to pests and diseases.
Therefore, a single pest or disease can wipe out your Louis XIII crop. If you want to ensure the safety of your green beauties — you need to implement a sound IPM strategy.
The best practices to guarantee the health of your King Louis plants are:
Remove the lowest growth (lollipop)
Add one oscillating fan per meter squared
Adequately space each plant
Keep your garden clean
Always wear clean clothes into the grow room
Apply organic neem oil during the vegetative stage
Inspect your crop daily
King Louis Strain Description and Properties
The Appearance of King Louis XIII Weed
It's time to describe what the king looks like.
In most cases, mere mortals are not allowed to look directly at the king. In this case, however, we've been given the green light to do so.
As you glance at King Louis XIII's plump buds, you'll instantly note the audacious level of resin. Similar to powdered wigs, the buds of King Louis weed are utterly coated in sticky trichomes.
Additionally, the flowers are dense and filled to the brim with large calyxes that give the bud its weight. Lastly, the orange pistils are delicately cast across the surface of Louis OG buds.
Ultimately, the appearance of King Louis weed can only be described as beyond regal.
Dominant Cannabinoids Found in King Louis XIII Weed
The dominant cannabinoid found in the King Louis strain is none other than THC.
On average, the THC content found in King Louis weed is 20%. However, the range of THC content in King Louis buds is 15-28%.
In other words, the King Louis XIII strain is strikingly potent. Unless you have a high THC tolerance — approach King Louis with caution!
Dominant Terpenes Found in King Louis Buds
From the moment you smell the aroma of the terpene-heavy King Louis strain — it's time to bow down.
The pungent aroma of dank pine, sweet and spicy muskiness, and floral undertones immediately wake the senses. Remember, King Louis' flowers are loud, which means they'll escape any container you put them in.
Once you indulge, the flavor of pine sap and sweet fruit dance along with your taste buds. In other words, King Louis weed is a flavor empire.
The three primary terpenes that make up King Louis' terp profile are limonene, caryophyllene, and myrcene. The limonene is present in the form of lemons and pine, and the caryophyllene lends the spicy background to King Louis.
Lastly, the myrcene adds a touch of floral sweetness that's sure to please your decadent taste.
Effects of King Louis Weed
Whether you load up a King Louis vape cartridge or roll a king-sized blunt — the effects are astounding.
Before you have the chance to exhale, the kingly embrace seizes your mind and body. First, a wave of blissful euphoria eliminates all forms of stress instantly.
After a few minutes, the body becomes totally relaxed, as if you've taken a potent sedative. In other words, get ready for the munchies and full-blown couch lock.
The most famous trait of King Louis weed is its ability to put you down for the count — regardless of your THC tolerance. Unless you have things to do — the King Louis strain is sure to put you to bed within a few hours.
Medical Properties of the King Louis Strain
King Louis is world-renowned for its medical properties.
Medical marijuana patients worldwide rely on King Louis' healing touch to lift pain, reduce insomnia and other key ailments. If you're a medical marijuana patient that needs potent weed — you need to buy feminized or autoflowering King Louis seeds.
Here's a list of the major medical attributes that King Louis XIII can assist with:
Pain
Insomnia
Depression
Anxiety
Nausea
Glaucoma
Although King Louis isn't the easiest strain to grow — it's worth it. Ultimately, stocking your stash jars with ultra-potent weed is a must if you're suffering from various medical issues.
Once you grow King Louis seeds at home — you'll never need to visit a dispensary ever again.
Negative Effects of the King Louis Strain
With so many positive attributes, it only makes sense that there are a few adverse effects while indulging in the King Louis strain.
If you consume too much Louis XIII weed — you may experience:
Extreme drowsiness or paranoia
Red eyes
Dry mouth
Additionally, if you're new to cannabis — take it easy with King Louis. The THC content is incredibly high, making King Louis a one-hit-quit for most.
Therefore, always gauge your tolerance and adjust your intake accordingly for an enjoyable time with Louis the 13th.
Pros/Cons of Growing King Louis Seeds
Pros
King-level bag appeal
Extreme resin content
Sky-high THC potential
Large yield
Mouth-watering terpene profile
Available in feminized or autoflowering form
Cons
Moderately challenging to grow
Difficult to find real King Louis seeds
Medium to tall plant height
Watch: King Louis Strain Grow: Week 8
The Best King Louis Feminized Seeds in 2023:
---
Main Category Page:
Cannabis Seed Index
– A curated index of the world's best cannabis seed strains. Each review contains vital information, such as cultivation tips, strain profiles, and where to buy the best cannabis seeds.