Pink Runtz Seeds
An in-depth analysis of the Pink Runtz strain. Learn everything about Pink Runtz, such as its mesmerizing bag appeal, growth characteristics, and where to buy real Pink Runtz seeds online.
Whether you have a sweet tooth or need an exciting new strain to cultivate this year — there's no better choice than Pink Runtz.
The Pink Runtz strain is one of the newest editions to an already stacked dessert lineup. However, Pink Runtz overflows with delicious terpenes, overwhelming potency, and looks that could kill.
Below, you'll discover an in-depth review that covers Pink Runtz's growth characteristics, grow tips, and where to find Pink Runtz seeds for sale.
Are you ready for a slice of heaven? Well, join us below and learn everything there is to know about the Pink Runtz strain!

Pink Runtz Seeds – Strain ID:
Type: Hybrid
Cannabinoids: 16-19% THC
Terpenes: Terpinolene, Caryophyllene, Pinene
Effects: Bliss, Anti-anxiety, Relaxing
Landrace Strain: Runtz Phenotype
Grow Difficulty: Moderate
Harvest: 8-10 Weeks / 10+ Weeks
Yield: Up to 550g/㎡ / 600g/plant
Height: 2-4 feet/ 4+ feet
(*Indoor / Outdoor)
The Best Pink Runtz Feminized Seeds in 2023: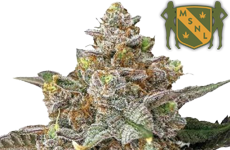 • 20-24% THC
• Harvest: 8-10 Weeks
• Yield: 300-400g/㎡
• Shipping Worldwide
• Including Free Seeds
• Credit Cards & Bitcoin Accepted
Prices
• £7.2 Per Seed
• Bulk orders get discounted rate
---
About the Pink Runtz Strain
Background
If you want to understand the Pink Runtz strain — you first need to learn about Runtz.
Runtz is the brainchild of Cookie Fam — the legendary breeders of some of the most popular weed strains, such as Girl Scout Cookies. As you can imagine, Runtz is a flavor-filled offering that was made from crossing Zkittlez and Gelato.
Thanks to phenotypes, not all Runtz plants are created equal. In this case, a grower stumbled upon an extremely rare pheno — Pink Runtz.
Once uncovered, the original grower of Pink Runtz immediately branded it due to its extreme purple hues and incredibly dense buds. At this point, Pink Runtz has become one of the de-facto dessert strains.
However, do not get Pink Runtz confused with White Runtz or the Original Runtz strain. Although each of these strains are genetically Runtz — they offer three unique phenotypes.
Therefore, if you enjoy dense and chunky weed with a major kick in the flavor department — the choice is clearly Pink Runtz!
Lastly, the original Pink Runtz phenotype is closely guarded and not available in seed form. Luckily, breeders have banded together to create feminized and autoflowering Pink Runtz seeds.
Growing Pink Runtz Seed
If you're lucky enough to own autoflowering or feminized Pink Runtz seeds — you need to make them count.
In other words, Pink Runtz is beyond connoisseur-grade bud, and you'll want to yield as much as possible during the growing process. Luckily, we've compiled all of Pink Runtz's growth traits below.
As you delve into each section, you'll find a few essential grow tips along the way. If you're ready to learn how to grow Pink Runtz seeds and what to expect — read along!
Grow Difficulty
The Pink Runtz strain is moderately challenging to grow.
However, beginners and professionals may cultivate Pink Runtz seeds without difficulty as long as plant training techniques are employed. In the case of Autoflowering Pink Runtz — your best bet is to use the Sea of Green method.
Remember, the SOG method relies on many plants to achieve large yields. Therefore, experienced users that understand the SOG technique will benefit when growing the Pink Runtz strain.
Lastly, Pink Runtz is a nutrient-demanding strain. In other words, don't forget to provide a standard to heavy dose of nutrients per feeding cycle.
Optimal Growing Conditions and Climate
Like all Cookie Fam strains, Pink Runtz happily grows in Mediterranean climates.
Therefore, outdoor growers must provide ample sunshine, warmth, and moderate humidity during the growing season. Although you don't have to live in Southern California or Greece to grow Pink Runtz — it sure does help!
If you grow Pink Runtz seeds indoors, you must provide a temperature range of 72-86F. Remember, lowering the temperature during the final week of flowering will stimulate purple hues to form across the canopy.
Additionally, Pink Runtz plants enjoy a humidity range of 40-70% during the flowering stage. Due to the intense density of Pink Runtz buds, you must ensure adequate airflow to guard against mold and mildew.
Flowering Time
Pink Runtz flowers within 8-10-weeks.
When growing feminized Pink Runtz, the plants cannot begin to flower until sexual maturity occurs. Therefore, we recommend growing Autoflowering Pink Runtz seeds because they provide a much faster turnaround time.
Overall, Autoflowering Pink Runtz plants may complete the entire lifecycle within 10-weeks post-germination. In other words, the autoflowering version of Pink Runtz is incredibly fast and allows for multiple outdoor harvests in a single season.
Yield
Unlike other connoisseur-grade hybrids, the Pink Runtz strain offers beastly yields.
When grown indoors, Pink Runtz plants may provide up to 550g/m2. If you grow Pink Runtz outdoors, the yield potential is elevated to 600-grams per plant.
Overall, Pink Runtz is rated as a heavy yielder and perfect for anyone that needs a lot of top-shelf weed in very little time.
Height
Luckily, the height of Pink Runtz is rated as average.
In other words, 80-140cm is a normal size for Pink Runtz plants. Remember, each Pink Runtz seed may bear different phenotypes, and thus, larger or smaller sizes.
Indoor and outdoor cultivators will be pleased by the average height of each Pink Runtz plant. Whether growing weed in a closet or a large backyard, the Pink Runtz strain will fit anywhere.
Resistance to Pests and Diseases
Pink Runtz offers mild pest and disease resistance.
Remember, Pink Runtz's flowers are outrageously dense, making them a prime target for but rot. Unless you want to find a canopy full of moldy flowers, we suggest implementing an IPM strategy before it's too late.
The best practices to ensure the health of your Pink Runtz plants are:
Remove the lowest growth (lollipop)
Add one oscillating fan per meter squared
Adequately space each plant
Keep your garden clean
Always wear clean clothes into the grow room
Apply organic neem oil during the vegetative stage
Inspect your crop daily
Pink Runtz Strain Description and Properties
The Appearance of Pink Runtz Weed
When weed looks this good — it's best to meditate on the bag appeal before indulging.
Besides, after spending weeks watching your Pink Runtz plants transform into green and purple beauties — you'll want to take a moment to observe your hard work.
The flowers of Pink Runtz glisten in resin and exhibit splotches of purple across the calyxes. From orange pistils to dark green leaf matter, Pink Runtz buds are loaded with color.
However, we need to reinforce the fact that Pink Runtz is drenched in trichomes. Whether you're an extract artist or not — you're about to be blown away by the stickiness of Pink Runtz weed.
Last but not least is the density of each Pink Runtz bud. Although each bud fits perfectly in the palm of your hand, you'll note the strange heavyweight.
Remember, Pink Runtz produces ultra-dense flowers, making each bud worth its weight in gold.
Dominant Cannabinoids Found in Pink Runtz Weed
The primary cannabinoid found in Pink Runtz weed is none other than THC.
Although the THC content isn't a record-breaker — it sure provides enough to get the job done. Ultimately, Pink Runtz flowers contain 16-19% THC.
Whether you're a beginner or an iron lung — Pink Runtz provides hours of blissful effects that are second-to-none.
Dominant Terpenes Found in Pink Runtz Bud
The Pink Runtz strain is a terpene-forward variety that'll knock your taste buds out.
The aroma of Pink Runtz is filled with colorful tones in the range of sweet candy, diesel-fueled citrus, and bright berry. One whiff of Pink Runtz, and you'll be hooked!
Whether you use a Pink Runtz vape cartridge or roll a perfect cone, the bold flavors of Pink Runtz stand out. As the silky smoke hits your tastebuds, you'll notice sweet berries, raw sugar, and citrus spritz.
Overall, the Pink Runtz terpene profile is overwhelmingly sweet. Believe us when we say that if you don't have a sweet tooth now — you will once you try Pink Runtz!
Lastly, the three dominant terpenes in Pink Runtz weed are terpinolene, caryophyllene, and pinene.
The terpinolene and caryophyllene are responsible for sweet citrus and spicy dankness. The pinene produces fresh flavors similar to pine sap. As the three of these unique terpenes collide, new flavors emerge to create Pink Runtz's profile.
Effects of the Pink Runtz Strain
The effects of Pink Runtz are exactly what you'd expect from a Cookie Fam strain.
Immediately after indulging in Pink Runtz — you're set for hours of peaceful bliss. Everything, from doing chores to watching a movie, will become an adventure.
From endless laughter to absolute curiosity and everything in between, the Pink Runtz strain is a one-way ticket to good vibes.
Additionally, Pink Runtz is known to produce immense relaxation — especially for athletes and workaholics that need a moment of rest.
Due to the home-run effects of Pink Runtz, growers worldwide clamor at the chance to grow feminized or autoflowering Pink Runtz seeds.
Medical Properties of the Pink Runtz Strain
The medical marijuana community rallies around the Pink Runtz strain because it offers something that pharmaceutical medicine cannot: relief.
Whether the relief is physical or mental, Pink Runtz is the perfect strain for medical marijuana users. Here's a list of the major medical attributes that Pink Runtz can assist with:
Stress
Anxiety
Depression
Fatigue
Pain
As you can see, Pink Runtz is capable of assisting many different medical conditions. From relieving stress to lowering instances of anxiety, Pink Runtz should be in every medical marijuana patient's medicine cabinet.
Negative Effects of Pink Runtz Weed
With so many positive attributes, it only makes sense that there are a few adverse effects while indulging in the Pink Runtz strain.
If you consume too much Pink Runtz weed — you may experience:
Extreme drowsiness or paranoia
Red eyes
Dry mouth
Additionally, if you're new to cannabis — take it easy with Pink Runtz. Although the THC content isn't incredibly high, Pink Runtz is potent and should be smoked in small increments.
Therefore, always gauge your tolerance and adjust your intake accordingly for an enjoyable time with Pink Runtz weed.
Pros/Cons of Growing Pink Runtz Seeds
Pros
Top-shelf bag appeal
High trichome production
Purple flowers
Heavy yield
Small to medium plant size
Delicious terpene profile
Cons
Moderately challenging to grow
Average flowering time
Difficult to find real Autoflowering Pink Runtz seeds
The Best Pink Runtz Feminized Seeds in 2023: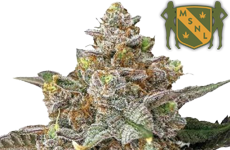 • 20-24% THC
• Harvest: 8-10 Weeks
• Yield: 300-400g/㎡
• Shipping Worldwide
• Including Free Seeds
• Credit Cards & Bitcoin Accepted
Prices
• £7.2 Per Seed
• Bulk orders get discounted rate
---
Main Category Page:
Cannabis Seed Index
– A curated index of the world's best cannabis seed strains. Each review contains vital information, such as cultivation tips, strain profiles, and where to buy the best cannabis seeds.